Trump signs $900 billion Covid-19 pandemic relief package
US President, DOnald Trump has signed a $900 billion pandemic relief package.
The President of the United State of America, Donald Trump, recently signed a $900 billion pandemic relief package, which finally puts to bed his delay in assenting to the bill.
The bill includes $1.4 trillion to fund government agencies through September and contains other end-of-session priorities such as money for cash-starved transit systems and an increase in food stamp benefits.
READ: U.S Stock futures propel high amid low volatility
The signing came after a day of vocal criticism from Republicans and Democrats over Trump's objections to the bipartisan agreement, which passed the House and Senate by large margins with lawmakers believing they had Trump's support.
Trump's eleventh-hour demands, including a push for larger relief checks and scaled-back spending, had blindsided members of both parties. His subsequent delay resulted in a lapse in unemployment benefits for millions struggling to make ends meet and threatened a government shutdown in the midst of a pandemic.
READ: U.S top regulator speaks on Cryptos and future of banking to U.S Congress
Aside from empowering Democrats to push for the higher checks that his party opposes, It was unclear what Trump had accomplished with the delay.
In his statement,
Trump repeated his frustrations with the Covid-19 relief bill for providing only US$600 checks to most Americans instead of the US$2,000 that his fellow Republicans rejected.
He also complained about what he considered unnecessary spending by the government at large.
READ: FG plans to purchase vaccines for N400 billion – Health Minister
What they are saying
The Senate Majority Leader, Mitch McConnell, said:
"The compromise bill is not perfect, but it will do an enormous amount of good for struggling Kentuckians and Americans across the country who need help now. I thank the President for signing this relief into law," he added.
READ: Coalition of African lawmakers seeks debt relief for African states
House Speaker Nancy Pelosi, submitted that:
"It is a welcome news for the fourteen million Americans who just lost the lifeline of unemployment benefits on Christmas Weekend, and for the millions more struggling to stay afloat during this historic pandemic and economic crisis."
Despite these positive comments, some slammed Trump's delay in turning the bill into law.
READ: US Supreme court dismisses Texas bid to overturn presidential election results
In a tweet, Representative Gerry Connolly said:
" Trump played Russian roulette with American lives. A familiar and comfortable place for him."
Senate Democratic leader, Chuck Schumer, stated that he would offer Trump's proposal for US$2,000 checks for a vote in Senate – putting Republicans on the spot.
READ: Trump proposes $25 billion bailout for U.S. airlines
"The House will pass a bill to give Americans $2,000 checks. Then, I will move to pass it in the Senate. No Democrats will object. Will Senate Republicans?"
Republican Sen. Pat Toomey of Pennsylvania said:
"I understand that Trump wants to be remembered for advocating for big checks, but the danger is he'll be remembered for chaos and misery and erratic behaviour if he allows this to expire. So, I think the best thing to do; as I said, sign this and then make the case for subsequent legislation."
READ: Air Peace's 737 Max order blocked by politics as Boeing struggles to get certification
Chad's President Deby dies of injuries suffered on the frontlines, as son takes over
The President had visited the frontlines to share his election victory with the soldiers before the unfortunate incident.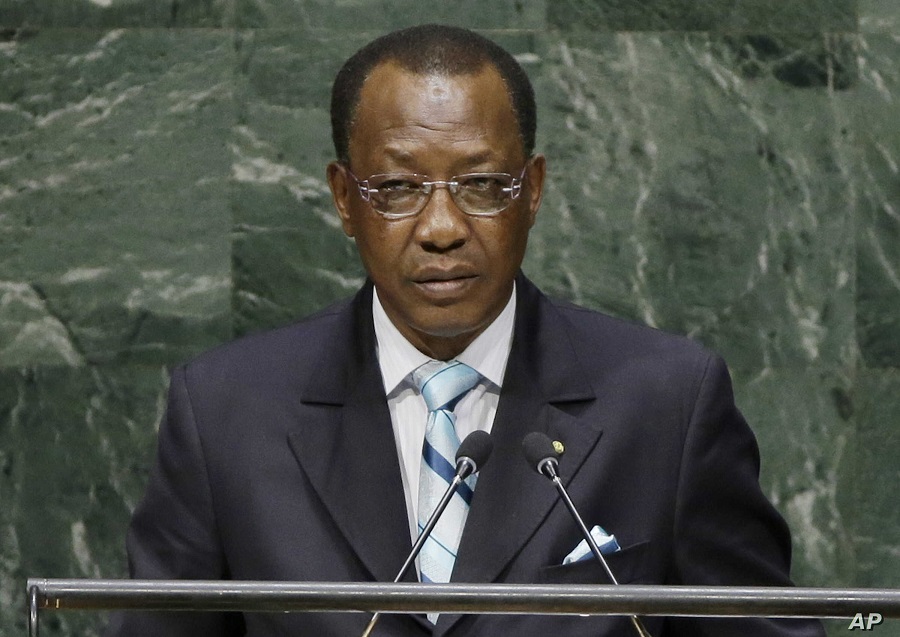 President Idriss Deby of Chad has died of injuries suffered on the frontlines when some terrorists attacked the army. The President had visited the frontlines to share his election victory with the soldiers before the unfortunate incident.
The departure of the newly re-elected President was disclosed by the AFP News Agency on Tuesday through its Twitter handle.
It tweeted, "#UPDATE Chad's newly re-elected President Idriss Deby Itno, in power for three decades, died Tuesday of injuries while fighting rebels in the north of the Sahel country, the army says."
Meanwhile, a four-star general who is a son of Chad's slain president Idriss Deby Itno will replace him at the head of a military council, the army announced Tuesday.
"A military council has been set up headed by his son, General Mahamat Idriss Deby Itno," the army's spokesman, General Azem Bermandoa Agouna, said on state radio, shortly after the announcement that the newly re-elected president had died of wounds while fighting rebels in the north of Chad.
Elon Musk loses an estimated $6bn after a Tesla car accident killed two people
Elon Musk's net worth dipped by $6 billion following a tragic Tesla car accident that killed two people.
The second richest man in the world, Elon Musk, witnessed his wealth shed an estimated $6bn after a Tesla car was involved in an accident that led to the death of two people.
Tesla stocks dropped by 3.8% after the news of the crash went mainstream. The resultant effect on Elon Musk's wealth was a $5.71bn loss in a single day.
READ: Google threatens to remove its search engine from Australia due to media code
The Accident
Two men lost their lives on Saturday night in Houston when their 2019 Tesla model car slammed into a tree. Police authorities on sight claimed the car might have been on autopilot due to the sitting position of the corpses.
They also struggled to put out the fire from the Tesla car and even called Tesla for help. The death of the two men has sparked a heated argument between Tesla and its critics. Autopilot or not?
Although police officers' assertion that the car may have been on autopilot remains unconfirmed, it has raised serious uncertainty about the safety of Tesla's autopilot feature and Tesla's critics are not backing down on this.
READ: Dealers explain why 'Tokunbo' Cars are expensive
Elon Musk reacts
Elon Musk has reacted to the news, insisting that the autopilot feature in the crashed vehicle was not enabled. According to him, the Wall Street Journal's coverage of the accident was not professional.
READ: Meet the 39 years old Chinese billionaire electric car maker 
What you should know
Elon Musk is now worth $183bn following the recent drop. He closed the gap on Amazon's Jeff Bezos to $4bn early last week. The gap has widened to $14bn today.
Nairametrics | Company Earnings
Access our Live Feed portal for the latest company earnings as they drop.