FG to buy only locally assembled vehicles for its use
The FG has disclosed plans to buy only locally assembled cars rather than imported foreign ones.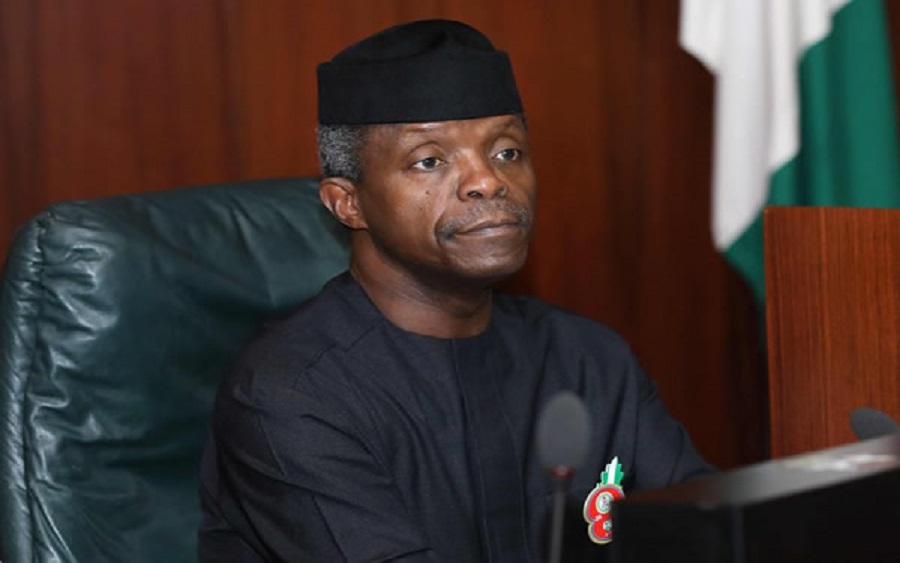 The Federal Government has announced plans to buy only locally assembled cars and discontinue the purchase of imported foreign ones for its use, as part of its bid to promote its policy on the local auto industry.
According to a report by Punch, this was disclosed by President Muhammadu Buhari in a speech delivered by Vice President Yemi Osinbajo, on Monday, November 23, 2020, at the opening session of the 26th Nigerian Economic Summit Group (NESG) Conference themed: "Building Partnerships for Resilience"
READ: Airsmat berths artificial intelligence platform to improve farm output
Osinbajo also explained that the Federal Government would buy locally assembled cars rather than imported foreign ones.
In his response on the issue of import duties which was raised at the summit during his presentation, the Vice President explained that the reduction of import duty on vehicles would help reduce the cost of transportation.
READ: Agriculture: CBN's revised policy on the dairy industry
Osinbajo said, "The point of the reduction in levies on motor vehicles, commercial vehicles for transportation is to reduce the cost of transportation by reducing the cost of vehicles.
"With subsidy removal and the increase in fuel price and the pass-through to food prices, transportation costs had to be reduced. Now the automotive policy is directed at localizing the production of vehicles.
READ: Court slams N5 million fine on Nigeria Customs Service for collecting duty on personal effects
"So, the logic was to increase the duty and levies, so that local production becomes more competitive. But the annual demand for vehicles is about 720,000 vehicles per year. Actual local production is 14,000 vehicles a year."
Osinbajo pointed out that the country's local production capacity is grossly inadequate to meet serious national needs and this would ultimately lead to higher prices of vehicles and more pressure on other sectors of the economy that depends on transportation.
READ: FG targets 22 non-oil commodities for export promotion
It can be recalled that in one of her outings, the Minister for Finance, Budget and National Planning, Zainab Ahmed, revealed that the major cause of the increase in inflation rate in the country is increased transportation costs.
Osinbajo, however, stated that the government was not giving up on the local auto industry.
"Two important things to note, the first is that we still have a relatively high duty at 35 per cent; So, there is still a disincentive for importation," he said.
READ: Elon Musk becomes World's 3rd richest person
He added that the government was also promoting a policy of buying only locally manufactured cars. "The introduction of a new automotive policy in 2013, which is currently up for review, was geared towards discouraging the importation of wholly assembled automobiles and encouraging local production. It specifically allows local assembly plants to import completely knocked down vehicles at 0% import duty and semi-knocked down vehicles at 5% import duty, while importers will pay 70% on new and fairly used vehicles."
53,460 3G and 4G Base Transceiver Stations (BTS) deployed in Nigeria – Prof. Danbatta
The 3G and 4G base transceiver stations deployed in Nigeria in the last 5 years increased from 30,000 to 53,460.
A total of 53,460 third-generation (3G) and fourth-generation (4G) base transceiver stations (BTS) have been deployed in Nigeria in the last five years.
This was disclosed by the Executive Vice Chairman of Nigerian Communications Commission (NCC), Prof. Umar Danbatta at a briefing session for the new Permanent Secretary of the Federal Ministry of Communications and Digital Economy, Engr. Festus Yusuf Daudu.
According to Danbatta, the effective regulatory regime put in place by his leadership has created the desired impetus for the increased deployment of infrastructure by various telecoms operators, which in turn, has helped to improve the broadband penetration and other related service delivery in the telecoms industry.
"The BTS, fibre optic cables and other related infrastructure are central to the provision of improved service experience for Nigerians by their respective telecoms service providers.
"The licensed Infrastructure Companies (InfraCos) are also expected to add 38,296km to optic fibre cables when they commence full operations."
What they are saying
According to Prof Danbatta:
"The Commission will continue to put in its best in the discharge of its mandates, especially in facilitating the deployment of broadband, which is central to diversifying the Nigerian economy and national development"
"Also, it is our belief that the communications industry, under the leadership of the Ministry of Communications and Digital Economy, will experience more quantum leaps and retain its current leadership role in the telecommunications space"
In his reaction and comment, the new Perm Sec, Engr. Festus Yusuf Daudu said:
"I want to thank NCC for its contribution to the Nigerian economy so far. I am not exaggerating about the achievements of NCC, in terms of contribution to GDP and how NCC's effective regulatory role has been helping the economy in so many ways"
What you should know
The BTS system is part of a GSM network that is responsible for the reception and transmission of radio signals from mobile phones.
A Base Transceiver Station is a general description of equipment consisting of the telecommunication technology and the air interface of the mobile network (GSM, UMTS etc.).
The deployment of the 3G and 4G base transceiver stations (BTS) increased from 30,000 to 53,460, in the last 5 years
While the Fibre Optic Transmission cables expanded from 47,000km to 54,725km
As at November, 2020, active telephony subscribers stood at 208 million with tele-density standing at 108.92%
Active Internet subscriptions of 154.9 million were achieved with broadband penetration rate of 45.07%
The number of subscriptions to DND service hit over 30 million as the service empowers Nigerians to be able to protect themselves from the menace of unsolicited text messages and calls.
Why this matters
Having more Base Transceiver Stations (BTS) is quite imperative for driving an improved broadband/telecoms service delivery to Nigerian subscribers.
The poor services currently experienced by many telephony subscribers, especially in areas not sufficiently covered by Base stations, will now be a thing of the past as even subscribers in the remotest rural areas can conveniently receive and make calls and as well as enjoy other subscription services, without hitches.
Steps to take to get your NIN
Getting your national identification number is free and would not take you a lot of time if you follow the right steps.
You cannot fully claim to be a citizen of a country if you don't have a means of identification. There are several means of identification for Nigerians like the international passport, voter's card, or driver's license. Still, the most recognized and widely accepted means of identification is the National Identity Card which carries a unique number.
Your national identification number is required for almost anything you do in Nigeria these days, including opening a bank account and get a sim card. Getting your national identification number is free and would not take you a lot of time if you follow the right steps. There are three types of enrolment processes:
READ: NIN Registration: NIMC adopts booking system for enrolment from December 30
1. Self Service:
In this case, you walk into an enrollment centre and apply by yourself. All you have to do is feel an enrollment form, submit it to the officer available and do your biometrics, after which your NIN would be given to you.
2. Assisted Service:
For the assisted service, you walk in and get assistance from a support officer who helps you fill your form correctly and make sure your application is submitted. This service is mostly for people that can neither read nor write. It makes the process easier for them and helps to avoid time wastage.
READ: FG directs the suspension of NIMC staff involved in extortion of NIN applicants
3. Mobile Service:
You also have the option of walking into a mobile enrollment centre in your neighbourhood, and either do a self or assisted service. Check online for the mobile enrollment centres close to you.
To get your unique national identification number, there are some steps you have to take. They include;
Step 1: Walk into the nearest NIMC enrolment centre with the required documents (any means of identification and your BVN if you have one). Make sure you have not enrolled before, if you have, go along with your old national identification number.
READ: FG extends deadline for Telcos to block SIMs without NIN to February 2021
Step 2: Get and fill the enrollment form providing all the required information.
Step 3: Submit the filled form to the enrollment officer, who then inputs your details into the online enrollment application.
Step 4: Verify and confirm the enrolment data on the system to avoid mistakes.
READ: Beware of fake NIN app, NIMC warns Nigerians
Step 5: Capture your headshot photo, fingerprints and signature
Step 6: Give the enrolment officer your supporting documents to scan
Step 7: Your enrolment is acknowledged, and two slips are generated for you. The first slip should be a transaction slip and the second slip should be a NIN slip indicating completion of enrolment.
READ: FG commences NIN enrollment for foreign diplomats
The federal government recently made it mandatory for all Nigerians to link their NIN with their sim, so it is essential for you to get your NIN if you don't have one. Getting your NIN should not be difficult if you have the required documents and follow the steps stated above.
FG commences NIN enrollment for foreign diplomats
The NIMC has announced that it has started the enrolment of NIN for foreign diplomats in Nigeria.
The National Identity Management Commission (NIMC) announced that it has started the enrolment of NIN for foreign diplomats in Nigeria.
This was disclosed by the NIMC in a statement on Friday.
"The Minister of Communications and Digital Economy, Isa Ali Ibrahim (Pantami) in his bid to ensure seamless enrolment of all diplomats in the country for the purpose of the ongoing NIN-SIM linkage and other need, directed the setting up of the enrolment center at the Ministry of Foreign Affairs, Abuja," the agency said.
READ: Beware of fake NIN app, NIMC warns Nigerians
The enrolment of diplomats started on Monday, 18th January 2021.
NIMC assured Nigerians that it would ensure the enrolment of all Nigerians and legal residents into the National Identity Database.
READ: FG invalidates SIM integration using BVN generated NIN, applicants must visit NIMC offices
What you should know: Nairametrics reported earlier that the Federal Government on Sunday announced the mandatory National Identity Number (NIN) enrolment for foreign diplomats in the country.