Accelerex Holdings secures $20m investment from ACA
Accelerex Holdings has announced an investment agreement with regional private equity firm, Africa Capital Alliance.
Accelerex Holdings, Mauritius ("Accelerex"), today announced that it has signed an investment agreement with regional private equity firm, Africa Capital Alliance ("ACA"), for the Capital Alliance Private Equity IV (CAPE IV) fund to invest $20 million in Accelerex. With this investment, CAPE IV will become a strategic partner in Accelerex and will hold three seats on the company's board.
Accelerex, which is the parent Company of African Fintech powerhouse, Global Accelerex Limited, was set up for investment into digital financial technology companies across Africa.
Global Accelerex was incorporated in 2008 and commenced payments services operation in October 2013 upon obtaining approval from the Central Bank of Nigeria (CBN). The company consistently ranked as the Number 1 Payment Terminal Service Provider in Nigeria in 2018 and 2019 and supports 95% of Nigerian banks and over 90,000 Merchants across the 36 states in the country.
Accelerex commenced operations in Ghana in 2019 and plans to expand into Cote d'Ivoire, Kenya, Tanzania and South Africa over the next 24 months with the new investment from ACA. This funding will also drive new product development across the group.
The agency banking arm of Accelerex, Accelerex Network Limited (ANL) is a major driver of financial inclusion in Nigeria. It supports the Federal Government of Nigeria and the CBN's financial inclusion agenda, targeted at the underserved and unserved segments of the population. Accelerex Network Limited has grown its Agent network to over 9,000 agents within the last 12 months and plans to reach 40,000 agents by the end of 2021.
In addition, Accelerex also acquired a majority stake in SLS Microfinance Bank to serve the financial needs of its fast-growing agent banking business.
In 2019, Accelerex acquired a significant minority stake in Connected Analytics (also known as ThankUCash), a Fintech platform provider that enables merchants offer loyalty rewards to their customers thereby boosting their sales.
Commenting on the ACA investment, Tunde Ogungbade, CEO of Global Accelerex, said; "I am very excited by the ACA investment. In our quest for the right investment and strategic partner, we were looking for a company that shares our vision to empower businesses in Sub-Saharan Africa to exceed all their customers' payment expectations. This partnership will help Accelerex to aggressively expand into Africa and accelerate product development. I see our vision becoming a reality with this move".
Paul Kokoricha, Partner at ACA, stated that with the huge potential of Fintechs in Africa, good funding and strong expertise are crucial to scalability. He added that "Accelerex's strong business model and its agile and dynamic management team makes it the ideal African Fintech group to back. We are thrilled about this alliance and are happy to bring our experience to the board".
Accelerex Holdings continuously develops and deploys convenient, secure and innovative financial and non-financial solutions that make life easier.
ACA is a leading pan-African investment firm, sponsoring funds and managing investments in Sub-Saharan Africa. Founded in 1997, ACA has an over 23-year history of investing across multiple market cycles, through five private equity and real estate funds. Its international structure and strong local expertise enable it to raise funds from investors across the globe for investment in specific sectors in Sub-Saharan Africa. CAPE IV is a $567m fund established by ACA to invest in companies with strong fundamentals and a growth track record in the financial services; technology, media and telecoms; FMCG; energy and various emerging sectors in West Africa.
CHI Limited celebrates its maiden Hollandia Dairy Day
The Hollandia Dairy Day Conference is a public interest initiative created to highlight the importance of dairy in everyday nutrition and healthy living in Nigeria.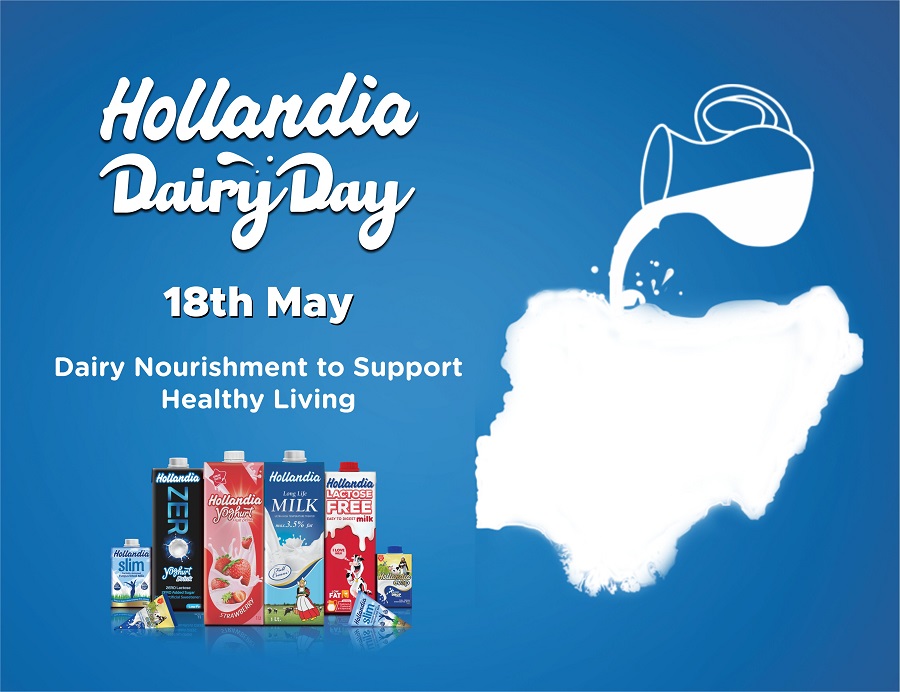 Nigeria's leading dairy brand, Hollandia, is set to hold the maiden edition of its Hollandia Dairy Day. The event which will be celebrated on the 18th of May 2021 will provide a veritable platform to drive national discourse on the unrivaled health and nutrition benefits of dairy consumption to people of all ages.
Set to be hosted as a conference, the theme of this year's event is "Dairy Nourishment to Support Healthy Living", and it focuses on the vital role dairy consumption plays in our everyday nourishment, its benefit to our overall health, and why dairy products should be included in our diets every day.
This conference, which is designed as a hybrid of physical and virtual event, will feature presentations, interviews and panel discussions from health experts and nutritionists as they provide insights and share perspectives to guide informed decisions about dairy consumption as part of a daily balanced diet. The event is opened to the public through the brand's multiple social media platforms.
According to a report by the Food and Agriculture Organization of the United Nations, 2019, Nigeria has low dairy consumption levels per head – 15 to 20 liters' per capita consumption. This is partly attributable to low purchasing power of the average Nigerian household, who rank milk and dairy products as non-essential luxuries and prioritize other staple foods such as rice, beans, and yam.
By provoking the conversations and stimulating public action/intervention, Hollandia aims to drive consciousness for dairy consumption and its importance to achieving optimum health, and to get many more Nigerians drinking, using, and consuming dairy products.
The past year has presented unprecedented shocks and disruptions, including a global COVID-19 pandemic. As communities throughout the world look for ways to minimize the risk of COVID-19, maintaining and boosting good health is top of mind for many. Dairy foods such as milk and yogurt contain essential nutrients, including Vitamins A and D, Zinc and Protein, which support immune function.
The Hollandia Dairy Day Conference is a public interest initiative created to highlight the importance of dairy in everyday nutrition and healthy living in Nigeria.
Key learnings from the Fintech Rising webinar with SEC
The main benefit of being regulated has to do with investor confidence, security, and scale.
Last week, Nairametrics hosted a webinar tagged "Fintech Rising: Creating synergy between fintech players and regulators" to discuss the regulatory environment within which the wealth-tech ecosystem operates and how it is transforming the sector.
The recent announcement by the SEC about its first license for Fintechs – Digital Sub-broker license – has led to several questions being asked about what this type of registration would mean for players within the space. Tosin Osibodu of Chaka, a digital trading platform for local and foreign stocks, who was present on the panel, provided insights into what being regulated by SEC means, and the benefits to the sector.
Being regulated does not limit your business:
He highlighted that from the start, Chaka has been extremely focused on being regulator friendly, explaining that being regulated does not mean that one's business would be limited. Regulators are committed to ensuring development and innovation within the ecosystem but will first make sure that businesses are aligned with their goals and are beneficial to the public.
SEC's intention for creating this new license:
The regulators' intention is to make sure that everyone participating is registered and structured in line with set guidelines, and it is incumbent for players to engage SEC to do that. The right approach to take is to engage regulators, show the benefits of your business to the economy as being an enabler of digital investing, making sure it is easier for people to tap into the markets, and so on; then get requisite registration.
The importance of regulation:
Tosin further highlighted that the main benefit of being regulated has to do with investor confidence, security, and scale. When a wealth-tech company just starts out, it is exciting both for the operators and the customers, but as it grows, it is necessary to scale, and that would require business and regulatory compliance according to set guidelines that obtain within the sector. Customers would want to know that in the long-term their money is safe, which the SEC is trying to ensure.  The disadvantage of not having regulation in this sector is the uncertainty for the investing public, which the SEC is guarding against.
With this new license, which Chaka is in line to receive, the SEC is ensuring that only compliant platforms would be allowed to operate so that investors will be more confident knowing that their assets are safe and stable. It would further encourage more people to invest, and encourage more players to enter the market, therefore spurring innovation.
Nairametrics | Company Earnings
Access our Live Feed portal for the latest company earnings as they drop.