Experts wary of profit-taking, but remain bullish long term on Nigerian Stocks
Stock prices are becoming expensive as a consequence of consecutive weekly gains for the All-Share Index.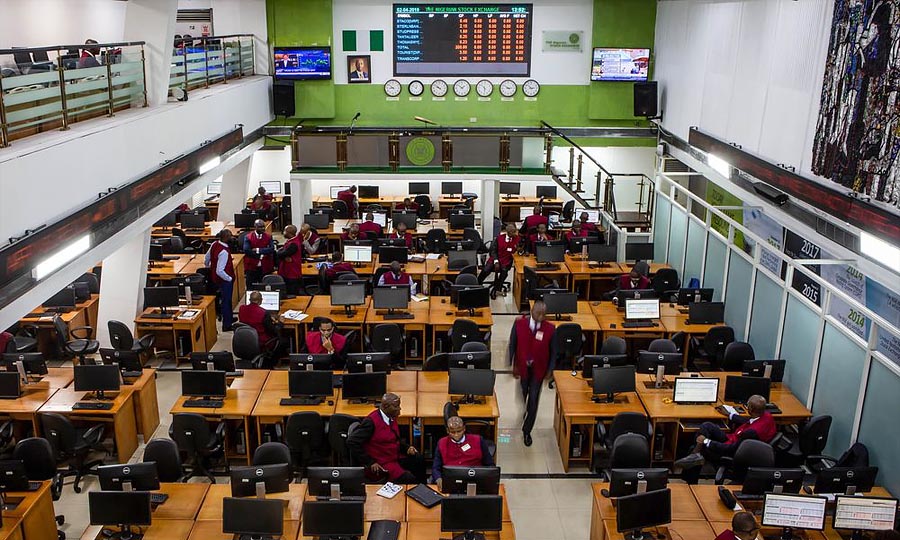 Nigerian bourse ended the last trading week on a very impressive note. Buying pressure among high and medium capitalized stocks pushed the Sub-Saharan Exchange to a market capitalization above the N18 trillion mark, as the Nigerian debt market becomes more unattractive, with recent 364-day Nigerian treasury bills going for 0.3%.
Abiodun Keripe, Managing Director, Afrinvest Research, in a note to Nairametrics, spoke on why Nigerian Stocks are rallying higher
"Last week, the domestic bourse continued the positive run as the market gained on all trading days save on Friday.
"Consequently, the benchmark index spiked 13.0% w/w to 35,037.46 points, buoyed by sharp gains in ZENITH (+21.7%), BUACEMENT (+20.9%), and DANGCEM (+14.6%). As such, market capitalization advanced by ₦2.1tn to ₦18.3tn, while YTD return surged to 30.5%.
"Also, there was a sharp increase in activity level as average volume and value traded rocketed 134.1% and 160.4% to 901.9m units and ₦11.7bn respectively.
"Ten most traded stocks by volume were FBNH (398.9m units), ZENITH (360.3m units), and ACCESS (263.2m units) while ZENITH (₦9.3bn), GUARANTY (₦5.0bn), and MTNN (₦4.2bn) led by value."
However, Michael Nwakalor, a Macroeconomist at CardinalStone Research, in a phone chat interview with Nairametrics, spoke on why it seems the Stock rally might suffer from some sort of exhaustion, as seen in its last trading session.
"Stock prices are becoming expensive as a consequence of consecutive weekly gains for the ASI. Several counter shave hit their 2-year highs without substantial changes to their earnings trajectory. Nonetheless, I expect buying sentiment to persist this week, albeit punctuated by profit-taking, as some of the fundamental drivers of the rally remain in place; low fixed income yields and a paucity of investment alternatives.
"Buying activity may also be more subdued as stock prices have become less attractive and as liquidity levels are expected to be lower than in recent weeks. Meanwhile, the quality of much-anticipated earnings releases from banks could have a material impact on market direction in the coming week."
Abdul-Rasheed Oshoma Momoh, Head, Capital Market in TRW Stockbrokers Ltd, in a phone interview with Nairametrics, concluded that a market correction seems very likely when considering the Elliot wave pattern's recent reading.
Abiodun Keripe, Managing Director, Afrinvest Research, also warned that the exponential bullish run seen lately at the world's best-performing stock market, makes traders to be a bit cautious, but he remained bullish for the long term.
"Fundamentally, stocks have heated up so fast and are trading close to our target prices (for the names that are rated by us). This suggests that there is little headroom for further gains from a valuation perspective.
"However, with the quantum of liquidity in the market combined with the strong risk appetite, I expect the Nigerian equities market to maintain a positive performance in the new week. Despite this outlook, I am mindful of profit-taking."
Understanding the challenges that have affected the PIB
The question on the lips of many is whether the Petroleum Industry Bill will ever be passed into law?
On September 28, 2020, President Muhammadu Buhari presented the reworked Petroleum Industry Bill (PIB) to the National Assembly for consideration and passage, after over a decade of delays in the legislative review process.
The Bill, which is intended as a complete overhaul of the Nigerian oil and gas sector, seeks to introduce pertinent changes to governance, administrative, regulatory and fiscal framework of the Nigerian oil and gas industry, in order to ensure an increased level of transparency and accountability, strengthen the governing institutions, and attract investment capital, among other objectives.
It also seeks to safeguard the long-term macroeconomic stability of the country, reform the extractive industry' institutional framework, and provide better clarity for Nigeria and its partners, thereby entrenching a domestic gas to power market, as well as increasing oil and gas production, whilst protecting the environment.
READ: Senate President says PIB will increase Nigeria's oil revenue
Evolution of Nigeria's Oil and Gas regulatory framework
The Nigerian oil and gas industry, which is the mainstay of the country's economy, is still largely governed by the Petroleum Act, and the Petroleum Profit Tax (PPT) Act, enacted in 1969 and 1959 respectively.
Since these laws were ratified, the global oil and gas industry has undergone significant changes, from investment, governance and fiscal perspectives. Although certain obsolete aspects of the Acts were amended, their inadequacies have led to community unrests, increased uncertainty which affects the flow of desired investments into the sector, inefficiencies plaguing the sector, the state-owned oil giant's (NNPC) budget shortfalls, and so on.
The emergence of the bill is a fallout of the activities of the Oil and Gas Reform Implementation Committee which was inaugurated on April 24, 2000 under the Chairmanship of the then Presidential Adviser on Petroleum and Energy, Rilwan Lukman. The body was charged with the responsibility of making recommendations for an extensive and holistic restructuring of Nigeria's oil and gas industry.
READ: What banks might do to avoid getting crushed by Oil & Gas Loans
The eventual report that came from the committee formed the basis of the first PIB that was submitted in 2008 as an Executive Bill under the administration of Late President Umaru Musa Yar'Adua.
Since then, the Bill has faced numerous crises and hit several roadblocks as different vested interests try to push their different agendas.
Having gone through several revisions, a new version of the bill was presented to the seventh session of the National Assembly under President Goodluck Jonathan's administration and subsequently, the legislature under the current administration of President Muhammadu Buhari.
In order to make it more manageable to legislate on, the Bill is structured into 4 major components namely: the Petroleum Industry Governance Bill (PIOB), Petroleum Industry Administration Bill (PIAB), Petroleum Industry Fiscal Bill (PIFB), and Petroleum Host Community Bill (PHCB).
READ: Indigenous oil firm institutes legal action against NCDMB and others
Today, the PIB essentially focuses on the taxation of oil companies, the commercialization of the NNPC, and the creation of community funds for oil-producing communities.
The PIGB, which was passed by the eighth session of the National Assembly, could not get presidential assent and was thereafter returned to the legislature for further revision.
The latest version of the Bill, which is now before the ninth session of the National Assembly for consideration and passage, seeks to replace the Nigeria National Petroleum Commission (NNPC) with NNPC Limited, create separate regulatory agencies for upstream, midstream and downstream operations, as well as reduce the royalty from 10% to 7.5% for offshore fields producing not more than 15,000 barrels per day.
It also increases the benchmark threshold of crude oil price for charging royalty from $35 per barrel to $50 per barrel, and make gas flaring penalties non-tax deductible in order to discourage the practice.
Fighting opposition
The PIB has been rocked by politics and stiff opposition from some stakeholders for over a decade, and even with a revised document, it still faces resistance from various parties.
Opposition from the leaders of host communities, who have kicked against certain provisions of the bill is just as strong as that of International Oil Companies (IOCs), who have also expressed dissatisfaction with some clauses in the proposed legislation.
At a national assembly hearing organised by the Joint Committee on Petroleum Upstream, Downstream and Gas, the Oil Producing Trade Section (OPTS) expressed discontent over some provisions of the proposed law.
During a public hearing organized by the National Assembly, the Chairman of the Oil Producers Trade Section (OPTS), Mike Sangster, representing Total, Chevron, Exxon Mobil and Shell companies, complained that the PIB created an unfavourable environment for future deep-water investments and launching of new projects.
He proposed that to ensure investors were encouraged to finance deep-water projects, the PIB should grant deep-water oil projects a full royalty relief during the first 5 years of production, and remove Hydrocarbon Tax considering that companies would still be subject to Company Income Tax (CIT), etc.
The representatives of the host communities at the public hearing, also objected to some sections of the Bill, claiming that the proposed piece of legislation was designed to further enslave them, and create more confusion in their communities and region as a whole.
They specifically objected to the 2.5% equity holding from oil companies, and insisted on 10% which was part of the initial Bill that was proposed under the administration of late President Umaru Yar'Adua. This is to enable the people to fully participate through the protection of infrastructure and oil installations.
They also rejected the governance structure proposed for the host communities' funds, denying any meaningful level of community participation, while covertly promoting oil companies' control and prominence.
They were against the empowering of oil companies to set up the Board of Trustees of the Trust fund, conduct needs assessment, and come up with development plans on behalf of the host communities.
Experts push for prompt passage of the bill
In his analysis of the development, the Director, Centre for Petroleum, Energy Economic and Law at the University of Ibadan, Professor Adeola Adenikinju, said that Nigeria had no justifiable reason not to pass the PIB this year, as it had lingered for too long.
While pointing out that the different stakeholders and groups had the right to pursue their self-interests, he said the pursuit of such should not be allowed to destroy the intentions of the bill.
The Professor said, "The public hearings in both houses are designed to allow stakeholders to present their views on the bill. These views should be carefully considered and those that will improve on the bill should be taken on board. However, the reality is that a law cannot please everyone or all stakeholders, however, it must promote the greater good. It should also improve on the present conditions of the host communities.
"We should not allow the pursuit of what is perceived to be the 'best' for us, to destroy the good intentions of the bill.
"The IOCs, while having the right to pursue their self-interests, should all be aware that the passage of the bill is in their long term interests, in that it will provide a stable environment for them to plan their investments. Moreover, the efficiency and greater effectiveness that the reforms embodied in the bill brings to the operations of the energy sector should be of interests to the IOCs also."
While providing his own insight on the issue, an oil and gas expert, Damola Adegun, said that communities' concerns about community funds were valid, adding that even the mechanisms for distribution of the funds was not well thought out.
He pointed out that though the Bill might not be perfect, it should not stop the passage of the bill.
Mr Adegun said, "Progress matters; if you do not take any step, there is nothing to learn from, so while it might not be perfect, it should not stop the passage of the Bill because you always have the opportunity to adjust it. I think whatever the downsides, whatever the challenges are it may be better to pass it first, then we can keep updating and adjusting the terms
"Another thing is laws are very difficult to change, so it's always better for Bills to provide frameworks, while agencies provide guidelines. The agencies and ministries are closer to the industry and can always provide better guidelines that encoding such into law. So that's one downside I see with the community issue, just provide a framework, set up that 2.5% and then let there be guidelines issued later. Maybe that can help.
"One truth is this, the communities will never agree, they will never say this is the best option, so there will always be doubts for whatever you ask in the community bill."
On the reservations by the IOCs on some sections of the Bill, Adegun disagreed with their view and said that the piece of legislation made Nigeria more competitive on the fiscal side and even reduced taxes.
He said, "If you tell IOCs to come and take our oil for free and Nigeria will be paying, they will still say that deal is not good and not competitive. The bill makes Nigeria more competitive on the fiscal side; in fact, we are likely to lose more money to the IOCs, they have dropped the taxation. A lot of other things, royalties have been dropped. For the offshore there is no change, in fact there are even bonuses for offshore.
"When I saw a ranking of our competitiveness with this new bill, compared to other countries, we have even improved by 10 to 12 places in ranking when it comes to competitiveness. So don't be worried, IOCs will complain, even if you give them the oil for free and pay them, they will tell you it's still not good.
"They are optimized not to agree that it is good. The deep-water act was already enacted early this year before the PIB, the PIB only maintains and improves and even increases the incentives, it doesn't make it harder on the IOCs, its better. The reason why it's better is because they want to attract more people into Nigeria because we are losing our position as the foremost destination for investment."
The delay and crisis of the PIB is primarily due to the pursuit of personal interests of various individuals and groups within and outside the country, far above national interest. The Senate President, Ahmed Lawan, said that PIB is like a demon with people both within and outside the country ready to work against it as they had been doing for the past 14 years.
He, however, declared that the ninth Senate and by extension, the ninth National Assembly, would "defeat the demon" with the current bill before both chambers.
How Nigeria can make more money from Oil?
Nigeria hedging its oil can create additional revenue needed for the country to rebalance its reserves
Crude oil still remains a major source of revenue for Nigeria despite a tumultuous 2020 for oil prices. The commodity contributes 90% of our export earnings and will still be a major revenue generator for the foreseeable future.
With this in mind, it is high time Nigeria explores other forms of revenues that can be derived from oil. 200 million Nigerians cannot be catered for with the proceeds of a country that has a production capacity of 1.4 – 1.9 million barrels per day (depending on the quota with OPEC). In contrast, Saudi Arabia has a production capacity of 11 million barrels per day and a population of 30 million.
This article does not only relate to the issue of macroeconomic stabilization, but highlights if the Nigerian government can make use of financial instruments 'hedging' to diversify and provide the government with added flexibility and additional tools to make more revenue.
Most countries who do not partake in this hedging programme, either have lower costs of production like Saudi Arabia and Russia, or do not want to take the risks associated with the programme.
READ: Total Plc must quickly move past one of its toughest year yet
Case Study: Mexico
Last year, when oil prices crashed and entered negative digits, Countries dependent on oil were adversely affected by the crash. But somehow, Mexico for the fourth time, cashed about $2.5 billion from its oil hedge program.
For over two decades, Mexico has guaranteed oil revenue via options contracts purchased from oil companies and Wall Street investment banks. Mexico's hedging experiences of its oil exports is often used as an example for other countries to follow.
In 2009, after the financial global crisis, Mexico made $5.089 billion from it's hedging position. In 2014, when oil prices plummeted and countries reliant on high oil prices were affected, Mexico was "unbothered". The Ministry of Finance had purchased put options with one year maturity to hedge 228 million barrels of oil, about 28 percent of production, at a strike price of US$ 76.4 per barrel — US$ 31.1 above the actual average oil price in 2015. Mexico earned $6.4 billion from that hedge. In 2016, Mexico earned $2.7 billion from its hedging.
READ: NNPC explains measures to cut cost of crude oil production
Since Mexico began running the hedge program in 2001, it has made a profit of $2.4 billion — payouts brought in $14.1 billion while the costs of running the programme cost $11.7 billion in fees to banks and brokers.
Last year, people argued that Mexico's hard stance during the OPEC+ talks in April is directly related to the fact that it had a hedging programme in place. I must add that hedging gives you an edge in the markets but It's far more technical, risky and in a few cases profitable. Sources within the NNPC say that the Nigerian government has not executed a hedging program yet.
So how does this programme work?
Mexico, a big exporter of oil and a member of OPEC, hedge their oil against declines that may occur in the market. Take for example, last year as a result of the pandemic and an unsuccessful OPEC meeting due to Russia and Saudi Arabia's oil supply war, oil prices dropped to negative digits.
A government like Mexico, who hedges their oil with trading schemes would have been benefited from the drop. In this case, for every drop below the "strike price" (A strike price is the set price at which an oil derivative contract can be bought or sold when it is exercised) revenue is being made.
READ: DPR warns against hoarding of petroleum products by depot owners, threatens sanctions
Hedging works both ways. It depends on who the hedger is. In the case above, Mexico is an exporter of oil, so it hedges against drop in prices. However, a country like Egypt, which announced it had executed its own hedging programme last year is a net importer of oil. Primarily, it hedges against the rise in prices. As oil prices rise, Egypt generates money despite naturally preferring low prices as an importer.
Additionally, the downstream sector needs to improve. This is another avenue Nigeria can take to make more money from Oil. The Nigerian downstream sector which involves petroleum product refining, storing, marketing and distribution has much room for development and can improve the fortunes of the millions of Nigerians. Oil accounts for 9% of Nigeria's GDP and if we look at that, it's very minimal if we take into context how important Oil is to our economy.
Conclusion
As I wrote in the earlier premise, this is not as straightforward as it sounds. There are insurance premiums to consider (the cost of the hedging programme), timing of the execution and general oil market outlook to examine.
For example, it appears that investors are going long on oil. All commodity analysts and banks are also favouring high oil prices as a result of vaccine availability and global supply cuts. Goldman Sachs forecasts oil to be $70 by Q2 2021 and Morgan Stanley also sees Oil at $70 by the third quarter. It would be highly risky to hedge against declining prices in this environment. (Recall prices going in the opposite direction doesn't favor the hedger).
A hedged economy might create additional revenue needed for the country to rebalance its reserves.
PS. I am willing to discuss further with interested stakeholders on the possibility of carrying hedging operations for Nigeria.
---
Dapo-Thomas Opeoluwa is an Investment Banker and Energy analyst. He holds a degree in MSc. International Business, Banking and Finance from the University of Dundee and also holds a B.Sc in Economics from Redeemers University. As an Oil Analyst at Nairametrics, he focuses mostly on the energy sector, fundamentals for oil prices and analysis behind every market move. Opeoluwa is also experienced in the areas of politics, business consultancy, and investments. You may contact him via his email- [email protected]
Nairametrics | Company Earnings