Experts wary of profit-taking, but remain bullish long term on Nigerian Stocks
Stock prices are becoming expensive as a consequence of consecutive weekly gains for the All-Share Index.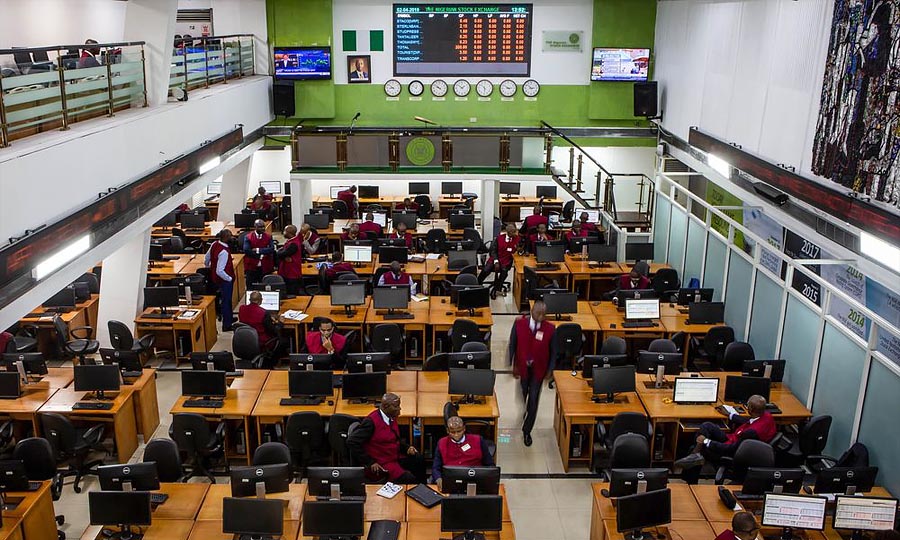 Nigerian bourse ended the last trading week on a very impressive note. Buying pressure among high and medium capitalized stocks pushed the Sub-Saharan Exchange to a market capitalization above the N18 trillion mark, as the Nigerian debt market becomes more unattractive, with recent 364-day Nigerian treasury bills going for 0.3%.
Abiodun Keripe, Managing Director, Afrinvest Research, in a note to Nairametrics, spoke on why Nigerian Stocks are rallying higher
"Last week, the domestic bourse continued the positive run as the market gained on all trading days save on Friday.
"Consequently, the benchmark index spiked 13.0% w/w to 35,037.46 points, buoyed by sharp gains in ZENITH (+21.7%), BUACEMENT (+20.9%), and DANGCEM (+14.6%). As such, market capitalization advanced by ₦2.1tn to ₦18.3tn, while YTD return surged to 30.5%.
"Also, there was a sharp increase in activity level as average volume and value traded rocketed 134.1% and 160.4% to 901.9m units and ₦11.7bn respectively.
"Ten most traded stocks by volume were FBNH (398.9m units), ZENITH (360.3m units), and ACCESS (263.2m units) while ZENITH (₦9.3bn), GUARANTY (₦5.0bn), and MTNN (₦4.2bn) led by value."
However, Michael Nwakalor, a Macroeconomist at CardinalStone Research, in a phone chat interview with Nairametrics, spoke on why it seems the Stock rally might suffer from some sort of exhaustion, as seen in its last trading session.
"Stock prices are becoming expensive as a consequence of consecutive weekly gains for the ASI. Several counter shave hit their 2-year highs without substantial changes to their earnings trajectory. Nonetheless, I expect buying sentiment to persist this week, albeit punctuated by profit-taking, as some of the fundamental drivers of the rally remain in place; low fixed income yields and a paucity of investment alternatives.
"Buying activity may also be more subdued as stock prices have become less attractive and as liquidity levels are expected to be lower than in recent weeks. Meanwhile, the quality of much-anticipated earnings releases from banks could have a material impact on market direction in the coming week."
Abdul-Rasheed Oshoma Momoh, Head, Capital Market in TRW Stockbrokers Ltd, in a phone interview with Nairametrics, concluded that a market correction seems very likely when considering the Elliot wave pattern's recent reading.
Abiodun Keripe, Managing Director, Afrinvest Research, also warned that the exponential bullish run seen lately at the world's best-performing stock market, makes traders to be a bit cautious, but he remained bullish for the long term.
"Fundamentally, stocks have heated up so fast and are trading close to our target prices (for the names that are rated by us). This suggests that there is little headroom for further gains from a valuation perspective.
"However, with the quantum of liquidity in the market combined with the strong risk appetite, I expect the Nigerian equities market to maintain a positive performance in the new week. Despite this outlook, I am mindful of profit-taking."
Fidelity Bank Plc must cover the chink in its curtains to keep rising 
Fidelity Bank Plc follows the narrative of top tier-2 banks, which have had better or easier years.
The Nigerian banking sector has consistently been one of the most profitable sectors in the Nigeria Stock Exchange market. However, in 2020, Deposit Money Banks (DMBs) have faced a flurry of impediments, which may have affected their solidity.
With reduced income from fee and commission implemented at the start of the year by the Central Bank of Nigeria, the paucity of foreign currency for international transactions, the resulting economic contraction from dire effects of the coronavirus pandemic, and the consequent operational constraints of keeping employees safe, 2020 is obviously fraught with numerous disorders for banking institutions.
---
No more N100 a plate meal in Nigeria
Food items across markets have experienced a spike in prices, making it impossible for one to find a decent meal for N100 today even in local outlets.
Gone are the days when an average Nigerian could purchase a meal with N100 and be filled to the brim. Even in Lagos, where foodstuffs are generally perceived to be expensive, a hungry Nigerian with just N100 could buy a loaf of 'Agege' bread for N60, beans for N30, and two sachets of pure water at N5 each; or White rice for N50, beans N30, spaghetti N10, and 2 pure water.
READ: Central Bank says monetary policy not to blame for rising food cost
Similarly, with N100, an average Nigerian could purchase 1 wrap of "amala" for N50 and 2 slices of meat at N20 each with 2 pure water, while some other person could prefer to buy "fufu" in place of "amala" and still be filled.
However, prices of food items are known to be downward sticky in Nigeria, as food items across diverse food classes have experienced price increases in recent times. Of all items, staple food items are the most affected, especially the prices of rice, garri, yam, potato, cassava, and yam flour, to the prices of relatively ostentatious items like semovita, semolina, or poundo yam.
READ: Poor state of roads, unfavourable policies hinder food production- So Fresh boss
Even the market prices of spaghetti and indomie, which are considered close substitutes for rice, have experienced major spike in recent times. By taking an investigative stance, one would realize that Golden penny pasta (spaghetti) which sold for between N120 – N150 a year ago, ow sells for between N230 – N250 a piece, marking about a 66.67% increase in 12 months.
Similarly, egg, a pocket-friendly and close substitute for fish, meat, chicken, and turkey, is not so pocket-friendly anymore, with a price increase from N25 a year ago to N50 as of today – a 100% increase.
READ: How the proposed minimum wage will affect those earning above N30,000
In line with the recent development, coupled with the widespread economic vulnerabilities in the nation, it is obvious that the cost of cooking a meal in Nigeria today is twice as expensive as it was a year ago. As the price of cooking ingredients like tomato paste has increased by more than 200% this year alone. The price of onion, which is a widely eaten vegetable in the country, has also increased.
READ: Delta State House of Assembly passes N384 billion 2021 Appropriation Bill
Consequently, the cost of buying cooked food from 'Mama Put', food restaurants, and other outlets has also gone skyrocketed — it is impossible to get a satisfying meal without spending as much as N300 or more in the process, depending on the type of outlet you patronise. If a person were to spend on meals, an average of N300 twice a day for 31 days, it therefore indicates that an average Nigerian spends at least N18,600 on feeding in a month considering that many Nigerians still earn below the minimum wage of N30,000.
READ: Update: FEC approves 2020 Finance bill as FG denies plans to increase taxes
What they are saying
A food vendor in Abule Egba, known by her street name, Iya Sodiq, said that the cost of items she uses in cooking has gone up recently, and the only option she had was to increase the price she charges her customers to compensate for the recent increase. She disclosed that most times when asked to sell a fixed amount of food by a customer, the quantity she sells now is considerably lower than what she would have sold at the same amount earlier this year.
She stressed that even the smallest bread she sells in her shop currently goes for nothing less than N100.
"The prices of everything in the market is now high. Even the customers are complaining that my food is now small, but they don't understand that I am not even making many gains anymore because food items are now so expensive in the market," Iya Sodiq said.
In a conversation with another food vendor at Ikeja, by the name Mrs. Tobiloba, she highlighted that the cost of preparing a pot of soup has spiked significantly, given that the price of tomato paste, onions, pepper, seasoning, fish, meat, and even rice has gone up relative to last year, which meant her customers have to spend above N100 to quench their hunger.
She said, "Onions, pepper, tomatoes, rice, fish, meat and everything you need to prepare soup or stew have increased in prices in the market. If I sell in the quantity I was selling before, I will definitely run at a loss."
What this means
The persistent increase in the prices of food items has put downward pressures on the real value of money and also the real income of Nigerians. With food inflation rate moving towards the 2017 level of 17.38%, the purchasing power of Nigerians has never been this constrained, with nothing to compensate for the recent increase in the prices of food items, despite the increase in the national minimum wage.
What you should know
After a careful comparison of the composite food index between September 2015 and September 2020, Nairametrics reported last month that food inflation increased by 110.5%, this shows that the purchasing power of Nigerians is constrained, as real income has reduced significantly, despite the 66.7% increase in the National minimum wage from N18,000 to N30,000.
---
Article jointly written by Samuel Oyekanmi and Omokolade Ajayi
How Crypto can curb Nigeria's high unemployment rate
Cryptos, when fully adopted, will have a considerable impact on Nigeria, by increasing the financial inclusion of individuals and companies.
Nigeria, the largest economy in Africa, has been unable to efficiently tackle its increasing unemployment rate – a ticking time bomb, if not addressed quickly. In 2020, the frontier market witnessed a rise in its unemployment rate, due to an ever-growing dependent population, reduction in the total output of goods and services, and the unprecedented COVID-19 pandemic, which negatively impacted the economy and led to job loss for thousands of Nigerians.
READ: CBN to drive implementation of zero balance account opening in banks
Data from the National Bureau of Statistics (NBS) revealed that:
Nigeria's unemployment rate as at 2020 Q2 reached 27.1% — indicating that about 21,764,614 (21.7 million) Nigerians are unemployed.
Also, 13.9 million Nigerian youths are unemployed.
Youths between 15-24 years constituted the highest unemployment rate, 40.8%; followed by youths between 25 – 34 years, 30.7%.
READ: How young Nigerians are investing to leave the country
Such unimpressive economic data can be curbed, if Nigerian regulators and stakeholders tap into the potentials inherent in cryptos, to further strengthen the development of Africa's largest economy.
Cryptocurrencies can help tackle the numerous challenges faced in international trade by many Nigerians, who don't have a bank account. With the help of blockchain technology, many unemployed Nigerians can utilize the tools behind crypto and blockchain to generate income, as traditional jobs steadily become outdated.
READ: Nigerian fintech companies raised $600 million in five years – McKinsey Report 
Cryptocurrencies like Bitcoin could also help the unemployed facilitate small-scale international trade. Bitcoin enables these parties to sell products in exchange for Bitcoin and a boycott of traditional e-commerce systems, which often involves having to set up a merchant account with traditional banks, coupled with its attendant charges.
Cryptos, when fully adopted, will have a considerable impact on Nigeria, by increasing financial inclusion of individuals and companies. Particularly, by reducing the transaction fees and time, cross-border payments can be improved. This is beneficial for remittance payments, peer-to-peer lending, and international trade.
READ: South South States lead in Nigerian unemployment
Experts discuss the utilization of cryptos to curb unemployment
In an exclusive interview with Nairametrics, Chike Okonkwo, Business Development Manager, OKEx, spoke on the role crypto can play in providing income for a substantial number of young Nigerians.
"Since the adoption of cryptocurrency in Africa, Nigeria has become a major hot zone in the African cryptocurrency space. The adoption of blockchain/cryptocurrency by Nigerians, has been able to give jobs to young Nigerians like me.
READ: Nigeria records lowest remittances from abroad since 2008
"The industry will further curb unemployment in Nigeria, but to achieve this — Blockchain and Crypto education must be a key focus because it's a young industry. I personally encourage a lot of young people looking for a career path to explore the blockchain and crypto space.
"We need people who understand business development, media, marketing, programming, Crypto trading, legal Compliance, design/graphics, etc. in the industry.
"Young Nigerians have built trusted platforms for buying and selling of cryptos and there is more to come. I am a member of Stakeholders in Blockchain Association (SiBAN), which aims to unite/self-regulate players in the industry and Blockchain Nigeria User Group (BNUG), with core focus on educating people about the Industry."
Charles Okaformbah, Blockchain Solutions Architect, in a note to Nairametrics, gave key insights on the job opportunities that crypto can offer Nigeria's growing population.
"Aside the trading activities carried out by Nigerians, DeFi products can be created with cryptos to help create businesses that will employ more Nigerians.
"Trading with little funds might not really yield much in comparison with the inflated cost of living, but long-term investments on solid crypto-assets have proven to be a game-changer or yielded much more returns.
"Remittances can also be done with cryptos at a charge for international traders, who are currently limited by government's monetary policies.
"There is also crypto-collateral. Aside crypto as an end-product, employment can also be provided via tech for tech enthusiasts/geeks, by creating their services like crypto/blockchain solutions for organizations, developing crypto-related products, providing audit for smart contracts, crypto forensic auditing, project management, and a whole lot more."
Bottom Line
Digital currencies or cryptocurrencies as a standalone will not make an all-encompassing impact on the Nigerian unemployment index. However, Nigeria must start building native Blockchain Infrastructures post-pandemic.
This way, the core sovereignty of the technology will originate and mutate in meeting our unique Nigerian market niche. The domino effect across the skilled, entrepreneurial and regular professional layers would be massive.
The improvement of financial inclusion is the most significant and most developed benefit of crypto-currencies for Nigerians.