Top 5 Nigerian stocks this year: This relatively unknown stock has gained 400% this year
Get great advice and stock recommendations when you subscribe to Nairametrics Stock Select Newsletter.
Nigerian Stocks are currently fired up on all cylinders in 2020. The Nigerian stock market Year-to-Date (YTD) returns presently stands at +27.72%. The Nigerian Stock Exchange capitalization presently stands at N18.3 Trillion.
Thursday, November 12, was a historic trading week, as the NSE All-Share Index (ASI) posted its largest daily gain in more than five years. Such outstanding returns prevailing Nigerian Stocks triggered Nairametrics Stock Select Newsletter (SSN), in revealing the top 5 stocks investors have made the most gain from, taking into consideration the year to date performance only.
Sunu Assurance Nigeria Plc
This relatively unpopular stock has gained 400% this year, as it continues to attract significant buying pressure in the Nigerian bourse. The company formerly known as Equity Assurance Plc is majorly into underwriting all classes of general business.
It has been able to attract investors' confidence on many fronts. Some of the key fronts include reports by its Chairman, Mr. Kyari Bukar, assuring investors that it will satisfy the newly required minimum paid-up capital of N5 billion before the close of 2020 amid the competitive environment in Nigeria's insurance sector; not to forget that the company's underwriting profit gained by 30% from N914 million in the 2018 financial year to N1.2 billion in 2019.
The Chairman of the fast-growing Nigerian assurance company also hinted at how the company has been able to stay remarkably efficient by improving operational efficiency and optimizing its current assets.
Livestock Feeds Plc
It is unsurprising to see a medium capitalized company with 190% YTD gains as Livestock Feeds have seen in its business growth rise over the years. This is attributable to the border closure by the Federal government, which increased animal production. Thus, demand for its primary product has helped its boom amid an era of COVID-19, as it presently controls half of the Nigerian market share for animal feed.
In its most recent financial statement, Livestock Feeds Plc recorded an 828.32% jump in profit after taxation to N130.466 million in Q3 2020 from N14.054 million in 2019.
Profit after taxation in 9 months surged to N224.804 million from N9.578 million in 2019.
BUA Cement Plc
The cement "tiger" has seen its stock price gain 187% YTD. The highly capitalized stock, BUA Cement Plc, ranks as Nigeria's second-largest cement company and the largest producer in South-South, North-West, and South-East regions of Nigeria.
It has recorded impressive gains this year amid a shortfall in construction projects across Africa's largest economy, showing resilience by expanding its operations across key regions. The cement juggernaut in its latest earnings recorded revenues of N156.6billion in its 2020 third quarter (Q3) financial results for the 9-months ended September 2020 – an increase of 21% from N129.4billion in the corresponding period of 2019. BUA Cement's Profit After Tax (PAT) also grew by 24% to N53.57billion.
United Capital Plc
The leading investment bank has seen its stock price gain 106% YTD. United Capital against headwinds has surprised investors amid the viral onslaught negatively disrupting the financial market, yet it has been able to leverage technology to empower businesses, governments, individuals, and with excellent financial services in investment banking, asset management, wealth management, and consumer finance.
As seen in its latest earnings result, United Capital Plc posted revenue of N7.07 billion and profit after tax (PAT) of N3.46 billion in 9 months. Looking deeper into these impressive results, it showed that total revenue gained 33% from N5.32 billion in 2019 to N7.07 billion in 2020.
Fidson Healthcare Plc
The medium-sized capitalized pharmaceutical company has seen its share price gain 93% YTD Plc. The surge is largely attributed to a major increase in its ethical drugs and OTC revenue-generating units.
It's important to note that pharmaceuticals have recently seen their revenues ticking up, as humans increase their demand for drugs amid the pandemic prevailing around the world. In its latest earning, it printed revenues of N13.65 billion in 2020 9M compared to N10.48 billion the same period in 2019 and had Pre-tax profits surge to N1.44 billion, showing a 257.74% gain.
Bottom-line
In a phone interview with Nairametrics, Mr. Abdul-Rasheed Oshoma Momoh, Head, Capital Market in TRW Stockbrokers Ltd, spoke on the bullish run prevailing at the Nigerian stock market, taking into consideration foreign portfolio investors'  little influence seen lately and the high demand seen lately for Nigerian medium and high capitalized stocks among Nigerian institutional investors, as the Nigerian money and debt market become less attractive.
On the top 5 performing Stocks, Mr. Momoh disclosed that his favorite is United Capital Plc, on the bias that it has a decent dividend yield coupled with a relatively strong performance in its earnings over some years now.
He concluded that though a market correction seems very likely when considering the Elliot wave pattern's recent reading, it's fair to say Nigerian Stock bulls might have a long ride, as record cash flows into Nigerian Stocks grow astronomically.
Subscribe to Nairametrics Stock Select Newsletter here.
Why external reserves is falling despite a rise in oil prices
Increased oil prices seem not to have stopped the further slide in Nigeria's foreign reserves.
Nigeria's external reserve declined from $36.3 billion as of January 29, 2021, to $34.998 billion as of March 1, 2021, losing about $1.4 billion in just a month.
The rapid drop in the country's external reserve is occurring despite the increase of Brent crude to over $66 per barrel as of February 24, 2021, from about $51 per barrel that it closed with on January 4, 2021.
Some analysts had attributed a couple of likely reasons for this drop. This includes the CBN intervention in the forex market to stabilize the exchange rate, low foreign inflows into the country, some CBN forex policies which discourage foreign investors.
The President of the Association of Bureau De Change Operators of Nigeria (ABCON), Aminu Gwadebe, during his chat with Nairametrics, said that the decline in Nigeria's external reserve despite the recent increase in oil prices was due to supply shocks and shortages of foreign exchange due to drop of forex inflow from various sources.
Gwadebe said, ''You know we have a lot of supply shocks and shortages even before the appreciation of the crude oil prices, we just came out of recession with less than even 0.1%. We know the prices of crude oil, the demand came down throughout the Covid-19 period, even now with the new variant. So the IMTOs inflow has reduced drastically, export proceeds have reduced drastically, the I & E window has also gone down drastically. You know you can appreciate what is happening at the I & E window, their trade transactions sometimes hover up to N420/$1.''
On why increased oil prices have not stopped the further slide in the reserves, the ABCON President said, ''Completely all the sources coming have dried up, the oil prices dried up, IMTO window dried up. We are talking about a month, and these are contracts that have been closed for 3, 6 months delivery, we are just witnessing it. It will take time, it's a very good buffer, no doubt we rely on it heavily for 90% of our foreign exchange supply. So if we have that improvement, it will give the CBN the muscle, the wherewithal to continue to support the local market. It will give CBN the muscle to make any speculation, check any hoarding."
''Now that we have prospects in oil prices definitely that news, that coming in of new inflows will give the CBN the muscle to make any speculation, to checkmate hoarding, because they are in I & E window, they are in BDC window, they are in a lot of windows, so they can come up with liquidity. Definitely, it is going to. And we have seen the impact because the way it was going before this increase in crude oil prices, it was worrisome and if you look at it now it has remained stable, the highest it went is N480 for the parallel market and its always trending down. There is that stability just for that news, so you can imagine when we start receiving the liquid grill just imagine what it will become just like people have predicted and analyzed N430, N450/$1 is what we might be looking at by the end of the year,'' he added.
On his part, a treasury and financial analyst, Odinaka Nwokonkwo, while giving reasons why it should be that way, pointed to CBN obligations. He said the apex bank paid Eurobond maturities in January or thereabout, and did FX swap with local and international counterparts which may have matured and needed to be paid down.
He said, ''There is a Eurobond maturity that CBN funded for, so that would also reduce the reserves, then another thing is when you look at, CBN has been intervening in the forex market. So on that space, you are seeing retail, you are seeing SME and invisibles intervention weekly. Retail is biweekly and SME and invisible about $100 million weekly. So sometimes CBN has bilateral transactions with international institutions and local banks where they take their FX and basically give them treasury bills, so that also is part of the reserves.
''So if some of those swaps have matured and CBN needs to pay down these bonds, they will also see a reduction. So it's a combination of a lot of things. And also what is the volume of sales of the oil, are we really selling more, is the quantity we are selling is the same as what we are selling before. The demand might drop a little bit because some countries also have a second lockdown.''
Nwokonkwo also believes that in the next quarter, there might see an accretion because some of those obligations may not be there.
While pointing out that the accretion rate is slower than the debit rate, he said the oil price at $65 is not a significant increase compared to CBN FX obligations.
These external reserve figures and swings point to two things: Nigeria seems to be overestimating the power of it oil to keep the country running and the enduring reality it needs to find other ways of earning foreign exchange.
Bitcoin surges past $51,500
Bitcoin traded above $51,508.78 with a daily trading volume of $51.7 billion and is up 4.83% for the day.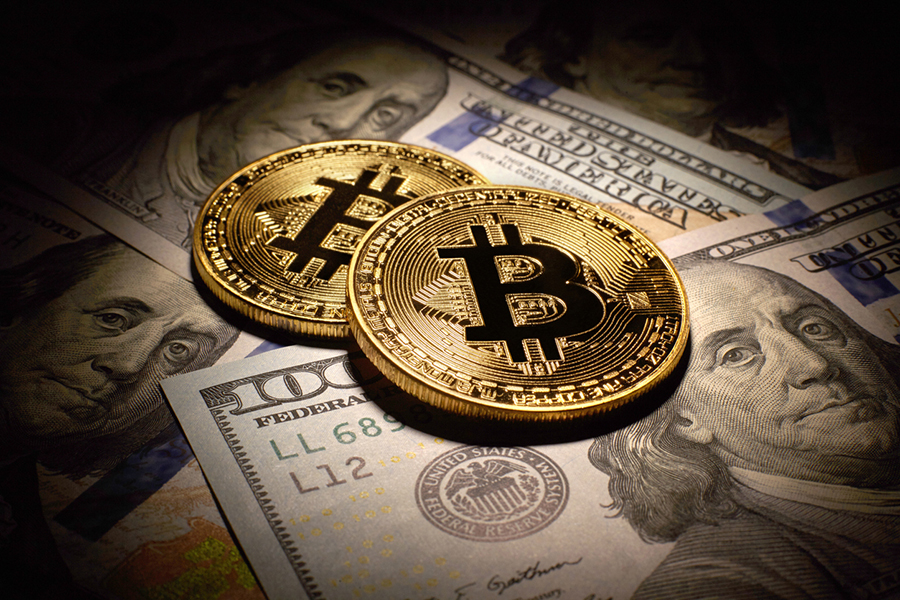 The flagship crypto-asset, Bitcoin surged past a one-week high as risk appetite in markets gained momentum despite growing concerns facing the crypto industry.
At the time of writing this report, Bitcoin traded above $51,508.78 with a daily trading volume of $51.7 billion. Bitcoin is up 4.83% for the day.
The world's most popular crypto asset had been under pressure, particularly on Tuesday when Gary Gensler, nominee for chairman of the U.S. SEC disclosed that protecting investors against the crypto market's manipulation and illicit activity is a challenge for the agency.
Institutional investors are perceived to be driving Bitcoin's bullish record-setting run. Amongst them; Anthony Scaramucci's Skybridge Capital, Mass Mutual, and Guggenheim (up to 10% of its $5 billion macro funds).
.
Bitcoin is fired up on all cylinders, smashing its past record highs at the speed of light, and it seems the momentum trade is strengthening as mass media outlets embrace crypto coverage, on the bias that the flagship crypto rallied to an all-time high today, as it broke above the $51,000 level.
Also, the flagship crypto is on its record high amid strong purchases seen in accredited investors gaining more exposure to Bitcoin through the world's biggest crypto hedge fund, Grayscale, and the CME Bitcoin futures market.
Nairametrics | Company Earnings