Crude oil prices close lower W/W, oil traders wary
Both oil contracts suffered heavy losses as reports from U.S oil rig count gained up to 211 from last week's level of 205.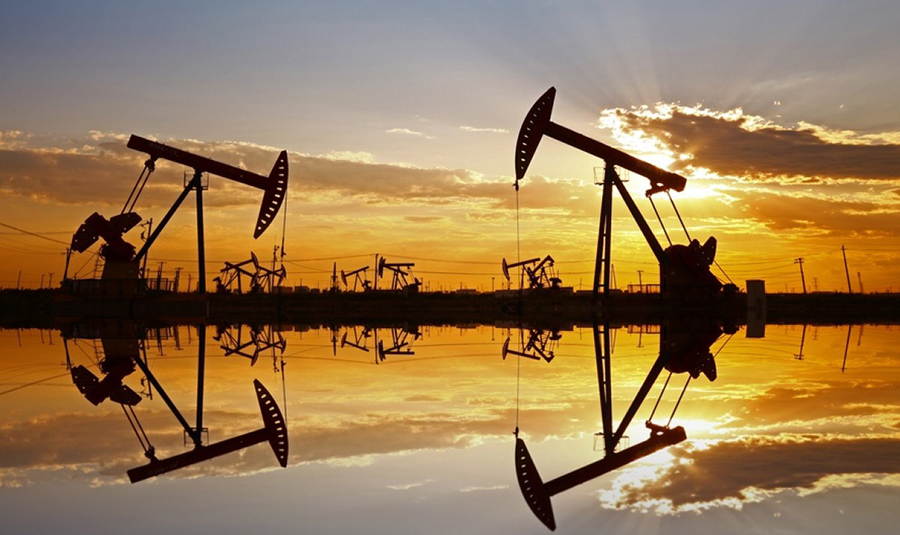 Crude oil prices ended W/W on a bearish note. The slide is significantly attributed to the soft demand in gasoline, as COVID-19 restrictions in certain emerged markets began to take its toll on crude oil demand.
New York-traded West Texas Intermediate futures settled at $39.85 per barrel. For the week, West Texas Intermediate dropped 2.5%.
Not forgetting the British traded oil contract, Brent crude settled at $41.77.
Both oil contracts suffered heavy losses as reports from U.S oil rig count gained up to 211 from last week's level of 205.
Oil rigs, indicators of future production have steadily climbed since the week ended Sept 4, when they stood at 180.
READ: OPEC predicts a deeper drop in global oil demand, based on serious coronavirus challenges
Adding to the weight on the market were estimates that Libyan oil output, mostly offline since January, had risen to 500,000 barrels per day and will likely grow further by October end.
In an explanatory note to Nairametrics, Stephen Innes, Chief Global Market Strategist at Axi, gave key insights on moves made by OPEC+ to keep pricing in check, as the virus negatively affects the fragile energy market.
READ: U.S dollar posts best monthly gains in 14 months
"One would have to assume OPEC+ decision will depend on the price/curve shape outcome for November. Traders remain unwavering that OPEC will continue to defend the downside for oil prices via a more calibrated monthly market evaluation and inventory management approach.
"OPEC hopes to tighten near-term balances push spot prices higher than 'forward prices', the elusive backwardation, encouraging inventory draws.
READ: Oil prices drop, currently on anemic demand
"My view is until this unambiguously occurs, OPEC will cover the markets back. Positively for OPEC compliance concerns, all the push pump-happy members appear to follow the compensation principles."
Explore Data on the Nairametrics Research Website 
What to expect
In the days ahead, crude oil prices are expected to be range-bound, as oil traders are now focusing on the most important election coming up in the world's largest economy in about two weeks' time. That said, crude oil prices will continue to be influenced by the outcome of the newly registered COVID-19 vaccine.
Oil prices slump, OPEC+ meets today
Brent crude futures prices were down by 0.3%, trading at $48.10/barrel after initially gaining 1.8%.
Crude oil prices were trading lower at the fourth trading session of the week, as major oil producers including Saudi Arabia and Russia are set to meet on oil production cuts extension set in place in the first wave of the COVID-19 onslaughts.
READ: Comparing the 2016 oil price crash to 2020 oil price crash
At the timing of writing this report, Brent crude futures prices were down by 0.3%, trading at $48.10/barrel after gaining 1.8% yesterday.
U.S. based oil contract, West Texas Intermediate futures, traded at $45.11/barrel, having ended 1.6% higher at Wednesday trading session.
OPEC+ are resuming talks in discussing policies for next year after earlier talks produced no agreement on how to tackle soft energy demand amid a new COVID-19 wave.
Oil traders anticipate that the popularly known oil cartel group will roll over oil cuts of 7.7 million barrels per day or about 8% of global oil production, at least until the end of Q1 2021.
But after hopes coming from three promising COVID-19 vaccines set for the market triggered a rally in oil prices at the end of last month, some major oil stakeholders recently questioned if such prevailing cuts are still needed
READ: Crude oil prices rally as investors remain optimistic about oil production cut
What they are saying
Stephen Innes, Chief Global Market Strategist at Axi, in a note to Nairametrics, gave vital insights on leading fundamentals weighing on oil prices including the expected outcome from the all-important meeting scheduled to hold today,
"I expect oil to be whippy but confined to current ranges, until OPEC+ signals the all-clear for traders to shift oil prices back to recent highs.
READ: Nigeria's 5,000 BPD refinery will produce 271 million liters of petrol every year
"Reports were hitting the streets of unnamed OPEC+ delegates saying that progress is being made on talks about production cuts. That, combined with the surprise US inventory draw today, has triggered a move up in oil.
"Discussions will continue in earnest and I think given what is at stake, the base case should be that OPEC+ agrees to an extension of cuts. There are clear tensions within OPEC that may undermine market confidence in the OPEC+ deal from now on.
"It will be more important than ever for OPEC+ to present a unified front, while waiting for demand to recover when the vaccine becomes widely distributed."
READ: OPEC crude oil production drops to its lowest in nearly 30 years
READ: Crude oil prices up 12% in barely 4 days, triggered by OPEC+ proposed cuts
What to expect
Any sign that OPEC+ is struggling to reach an agreement could weigh down on oil prices, at least in the near term.
Gold prices drop amid COVID-19 vaccine optimism
Gold futures prices dropped 0.32% at $1,813/ounce, though it's now trading above the $1,800 mark.
Gold prices drifted lower in Wednesday's trading session.
The plunge in the precious metal price is coming on growing optimism over U.S. talks for the latest stimulus deal and a COVID-19 vaccine hitting the market very soon saw a retreat from the safe-haven yellow metal.
At the time of writing this report, Gold futures prices dropped 0.32% at $1,813/ounce, though it's now trading above the $1,800 mark after it recorded impressive gains on Tuesday as the U.S dollar retreated, yet gold bulls still face uphill challenges from the COVID-19 vaccine optimism prevailing among global investors.
READ: Nigerian billionaire, Benedict Peters Plans to mine Platinium in Zimbabwe
Global investors are primarily reducing their bullish bias, taking into consideration the most recent testimony from U.S Treasury Secretary, Steve Mnuchin, and US Federal Reserve Chairman, Jerome Powell, on Monday to the Senate Banking Committee.
Though both hinted that the world's largest economy was on the path to recovery, they emphasized the need for a lifeline.
READ: U.S dollar set for weekly losses, currency traders buy Euro, British Pound
What you should know
In an explanatory note to Nairametrics, Stephen Innes, Chief Global Market Strategist at Axi, spoke on why the yellow metal could face more selling pressure in the coming weeks, taking into consideration, market sentiments that the future looks bright:
"Gold had been trading well below USD1,800/oz and came close to testing the psychological make or break for ETF concerns USD1,750/oz level. Flashing green lights at the end of the tunnel suggest investors should look through the immediate concerns and focus on the future, which seems incredibly bright and bullish.
"So, with month-end selling pressure mostly out of the way, it could allow investors to focus on those flashing green sectoral lights at the end of the Covid-19 tunnel."
READ: Germany's biggest bank says more people now prefer Bitcoin over gold
What to expect
Although, a weaker U.S dollar effectively threw a lifeline around gold prices yesterday, helping it rally back from two weeks of declines. That said, Gold prices might resume its bearish play amid high hopes on COVID-19 vaccines.
OPEC+ forced to delay talks as disagreement in the cartel deepens
OPEC+ was forced to reschedule its meeting as it could not reach a unanimous decision on key policies.
The OPEC+ talks have been delayed for 2 days after the meeting ended on Monday without an agreement among its members with respect to the production cuts next year.
The meeting however, ended with 3 of the group's heavyweights; Russia, Saudi Arabia, and the United Arab Emirates (UAE) holding different opinions as to how to handle things going forward. This outcome shows the deep division that exists within the cartel after several hours of talk did not achieve any result.
The meeting with OPEC+ was scheduled for resumption for tomorrow, but a rather surprising announcement came later in the day saying that the meetings had been moved forward to December 3 as more talks are needed.
According to a report by Oilprice.com, Saudi Arabia, regarded as the predominant and perhaps only swing producer in the group is said to favour an extension of the current level of oil production cuts, while Russia, the country that went against the deal in March over a similar issue, is said to favour a gradual increase in production starting in January.
On its own, the UAE, OPEC's third-most prolific oil producer, is in support of extending the production cuts as-is into January and beyond only after all other OPEC members comply with their cuts. This was earlier alluded to by the UAE Energy Minister a couple of weeks ago.
The run-up to the meeting saw new cracks emerge in the relationship between UAE and other members of the cartel. Some informal discussions are expected to continue amongst members before the OPEC+ meeting on Thursday.
Ministers of the cartel are discussing whether to increase output in January as planned or maintain the current level of production levels for another 3 months. Some members of the group think the market is still too fragile to accept an increase in production, while others want to take advantage of the current rise in crude oil prices to increase production and boost their revenue.
The UAE's Energy Ministry later issued a statement stressing the fact that it had always been a committed member of OPEC.
According to OPEC's Monthly Oil Market Report, the UAE either met or exceeded its 2.59 million BPD quota in September and October, but fell short of its goal in August.
What you should know
OPEC+ which is no stranger to disagreements had planned to ease some of its output cuts at the beginning of 2021 in anticipation of the recovery of the global economy after it had made huge production cuts in the wake of the coronavirus pandemic which had badly hit global oil demand.
Although a breakthrough in Covid-19 vaccine development had seen oil prices hit an 8-month high, the second wave of infections particularly in Europe and the Americas has led to new lockdown measures that are affecting fuel consumption.