Covid-19: Scientists from Oxford university develop 5 minute vaccine test device
Oxford University Scientists have announced the development of a rapid COVID-19 test process.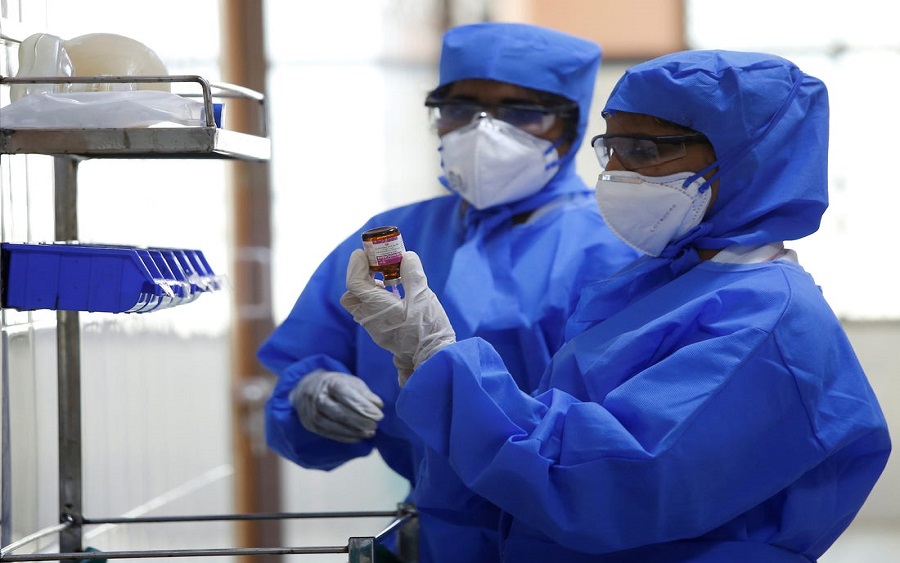 Scientists from Oxford University, UK have announced the development of a rapid COVID-19 test, which is able to identify the coronavirus status in less than 5 minutes.
While making the disclosure, Researchers on Thursday, October 15, 2020, said it could be used in mass testing at airports and business environments.
READ: Nigerian scientists announce development of cheaper, faster COVID-19 test kits
The University of Oxford said it hoped to start the development of the testing device in early 2021 and have an approved device available 6 months afterward. Early detection of the disease is very important in the management of the coronavirus pandemic, especially at this period of growing signs of a second wave of the virus.
In a pre-print study, the researchers said the device is able to detect the coronavirus and distinguish it from other viruses with high accuracy.
READ: China's Covid-19 vaccine may be ready for general public in November 2020
Professor Achilles Kapanidis of the Department of Physics at Oxford University said, "Our method quickly detects intact virus particles. This meant the test would be simple, extremely rapid, and cost-effective."
Rapid antigen tests are seen as key in rolling out mass-testing and re-opening economies while the coronavirus is still circulating, and those that are already in use are faster and cheaper but less accurate than existing molecular PCR tests.
READ: CBN invests over N120 billion on 320,000 farmers across CTG within four years
Siemens Healthineers on Wednesday announced the launch of a rapid antigen test kit in Europe to detect coronavirus infections but warned that the industry may struggle to meet a surge in demand.
Although the Oxford platform will only be ready next year, the tests could help manage the pandemic in time for next winter. Health officials have warned that the world will need to live with coronavirus, even if a vaccine is developed.
READ: Coronavirus: US's FDA approves use of new tool that delivers results in 5 minutes
Backstory
Nairametrics had earlier reported that the lead developer for the Oxford University's COVID-19 vaccine, Sarah Gilbert, revealed that the leading vaccine candidate could be rolled out by the end of 2020. The experimental vaccine, which is done in collaboration with AstraZeneca is in an advanced late-stage trial.
Why this matters
This is much faster than the COVID-19 test kits just developed by some Nigerian scientists to hasten the treatment and containment of the coronavirus disease across the country. The newly developed test is cheaper than other PCR tests and can give results in less than 40 minutes.
COVID-19 Update in Nigeria
On the 10th of April 2021, 84 new confirmed cases and death was recorded in Nigeria
---
The spread of novel Corona Virus Disease (COVID-19) in Nigeria continues to record significant increases as the latest statistics provided by the Nigeria Centre for Disease Control reveal Nigeria now has 163,736 confirmed cases.
On the 10th of April 2021, 84 new confirmed cases and 1 death was recorded in Nigeria.
To date, 163,736 cases have been confirmed, 154,098 cases have been discharged and 2,060 deaths have been recorded in 36 states and the Federal Capital Territory.
A total of 1.8 million tests have been carried out as of April 10th, 2021 compared to 1.7 million tests a day earlier.
COVID-19 Case Updates- 10th April 2021,
Total Number of Cases – 163,736
Total Number Discharged – 154,098
Total Deaths – 2,060
Total Tests Carried out – 1,803,177
According to the NCDC, the 84 new cases are reported from 13 states- Lagos (26), Akwa Ibom (16), Rivers (10), Ebonyi (9), Abia (6), Kano (6), Osun (3), Bauchi (2), Delta (2), Edo (1), Jigawa (1), Kaduna (1), and Ogun (1)
Meanwhile, the latest numbers bring Lagos state total confirmed cases to 57,950, followed by Abuja (19,703), Plateau (9,030), Kaduna (8,984), Rivers (6,986), Oyo (6,838), Edo (4,892), Ogun (4,620), Kano (3,924), Ondo (3,226), Kwara (3,120), Delta (2,615), Osun (2,547), Nasarawa (2,378), Enugu (2,259), Katsina (2,097), Gombe (2,034), Ebonyi (2,008), Anambra (1,909), Akwa Ibom (1,794), and Abia (1,677).
Imo State has recorded 1,655 cases, Bauchi (1,538), Borno (1,337), Benue (1,188), Adamawa (1,051), Niger (930), Taraba (910), Bayelsa (871), Ekiti (868), Sokoto (774), Jigawa (525), Kebbi (450), Cross River (385), Yobe (365), Zamfara (234), while Kogi state has recorded 5 cases only.
READ ALSO: COVID-19: Western diplomats warn of disease explosion, poor handling by government
Lock Down and Curfew
In a move to combat the spread of the pandemic disease, President Muhammadu Buhari directed the cessation of all movements in Lagos and the FCT for an initial period of 14 days, which took effect from 11 pm on Monday, 30th March 2020.
The movement restriction, which was extended by another two weeks period, has been partially put on hold with some businesses commencing operations from May 4. On April 27th, 2020, Nigeria's President, Muhammadu Buhari declared an overnight curfew from 8 pm to 6 am across the country, as part of new measures to contain the spread of the COVID-19. This comes along with the phased and gradual easing of lockdown measures in FCT, Lagos, and Ogun States, which took effect from Saturday, 2nd May 2020, at 9 am.
On Monday, 29th June 2020 the federal government extended the second phase of the eased lockdown by 4 weeks and approved interstate movement outside curfew hours with effect from July 1, 2020. Also, on Monday 27th July 2020, the federal government extended the second phase of eased lockdown by an additional one week.
On Thursday, 6th August 2020 the federal government through the secretary to the Government of the Federation (SGF) and Chairman of the Presidential Task Force (PTF) on COVID-19 announced the extension of the second phase of eased lockdown by another four (4) weeks.
Governor Babajide Sanwo-Olu of Lagos State announced the closed down of the Eti-Osa Isolation Centre, with effect from Friday, 31st July 2020. He also mentioned that the Agidingbi Isolation Centre would also be closed and the patients relocated to a large capacity centre.
Due to the increased number of covid-19 cases in Nigeria, the Nigerian government ordered the reopening of Isolation and treatment centres in the country on Thursday, 10th December 2020.
On 26th January 2021, the Federal Government announced the extension of the guidelines of phase 3 of the eased lockdown by one month following the rising cases of the coronavirus disease in the country and the expiration of phase 3 of the eased lockdown.
On 28th February 2021, the federal government confirmed that the first tranche of Covid-19 vaccines will arrive in Nigeria on Tuesday, March 2nd, 2021.
On Tuesday, 2nd March 2021, the National Primary health Care Development Agency announced the arrival of the expected COVX Astrazeneca/Oxford covid-19 vaccines.
On Saturday, 6th March 2021, President Muhammadu Buhari and his vice, Yemi Osinbajo received vaccination against the covid-19 as the State House in Abuja.
READ ALSO: Bill Gates says Trump's WHO funding suspension is dangerous
Lagos eases restrictions on social, event centres, sets new occupancy limit
The state government has pegged the occupancy limit for event centres in Lagos to 500 people while social events can now have 200 people at a time.
The Lagos state government has further eased restrictions on social and event centres in the state. This follows due consultations and deliberations between the Lagos State Governor, Babajide Sanow-Olu, and relevant stakeholders and MDAs.
The state government has pegged the occupancy limit for event centres in Lagos to 500 people while social events can now have 200 people at a time.
This disclosure is contained in a statement by the Lagos State Commissioner for Tourism, Arts and Culture, Uzamat Yusuff, and the Director-General of the Lagos State Safety Commission, Mr Lanre Mojola, on Friday, April 9, 2021.
The statement noted that safety marshals will be deployed to any social event with over 200 people and event centre exceeding the 500 limits.
The statement partly reads, "All event centres must hold a valid license of The Lagos State Ministry of Tourism, Arts and Culture prior to operating as an event centre in the State.
"All event centres must be duly registered and verified on The Lagos State Safety Commission website www.lasgsafetyreg.com prior to holding any event.
An Event Safety Clearance must be obtained from the Lagos State Safety Commission through the website www.lasgsafetyreg.com for any proposed event or exhibition.
Safety Marshals shall be deployed by an accredited event safety consultant from Lagos State Safety Commission for every social event with attendance exceeding over 200 people.
Occupancy limit at any event must not exceed 50% of the maximum design capacity of the hall, wherein Occupancy Limit stickers provided by the Lagos State Safety Commission must be boldly posted at the entrance of the event hall.
Maximum allowable capacity for event centres irrespective of the occupancy limit is 500 people. Deep cleaning must be carried out before and after every event. Physical distancing shall be maintained between seated guests and a maximum number of seated guests should be 6 (six) people on a table of 10 persons.
Event duration should not exceed a maximum period of 6-hours. All guests and service providers at the facility must wear a nose mask and make use of hand sanitisers All guests and service providers must endeavour to wash their hands before entering the venue or in the alternative use hand sanitisers. Temperature checks must be taken at all entry points into a facility.
Guests and service providers with temperature (above 37.5) are to be politely turned back and referred to paramedics or the emergency response team on the ground. Hand sanitizers must be positioned at the entry points and different spots within the hall.
All event centres must endeavour to display standard COVID-19 safety signs. The signs must be bold and installed at conspicuous locations. Event centre owners/ planners/vendors would be responsible for any breach of protocols by their staff."
In case you missed it
It can be recalled that in July 2020, the Lagos State Government had issued fresh guidelines on the reopening of event and social centres following their shutdown as part of measures to contain the spread of the coronavirus pandemic.
The state government insisted that the owners of such facilities must register with the government pending further directives.
FLASH: Lagos State Government has further eased restrictions on Social/Event centres in the State. This was disclosed today by the Commissioner for Tourism, Arts and Culture, Mrs. Uzamat Akinbile Yusuff and the DG, Lagos State Safety Commission, Mr. Lanre Mojola.@jidesanwoolu pic.twitter.com/Ai5KVOBfKC

— Jubril A. Gawat (@Mr_JAGs) April 9, 2021
Nairametrics | Company Earnings
Access our Live Feed portal for the latest company earnings as they drop.