Coronavirus: US's FDA approves use of new tool that delivers results in 5 minutes
The United States FDA has authorised the use of coronavirus test tool that delivers positive results within five minutes, and negative results within 13 minutes.
The United States' Food and Drug Administration (FDA), has issued an Emergency Use Authorisation (EUA) for Abbott's owned coronavirus test tool, that delivers positive results within five minutes, and negative results within 13 minutes.
According to Illinois-based medical device maker, Abbott Labs, the test tool will be made available from this week, as it expects to ramp up manufacturing to deliver 50,000 tests per day.
Abbott Labs has it that the test tool will run on the company's ID NOW platform, providing rapid results in a wide range of healthcare settings such as physicians' offices, urgent care clinics and hospital emergency departments.
BREAKING: We're launching a test that can detect COVID-19 in as little as 5 minutes—bringing rapid testing to the frontlines. https://t.co/LqnRpPpqMM pic.twitter.com/W8jyN2az8G

— Abbott (@AbbottNews) March 27, 2020
Speaking on the development, FDA Commissioner, Steve Hahn, said, "I am pleased that the FDA authorized Abbott's point-of-care test yesterday. This is big news and will help get more of these tests out in the field rapidly.
"We know how important it is to get point-of-care tests out in the field quickly. These tests that can give results quickly can be a game changer in diagnosing COVID-19."
[READ MORE: COVID-19: Western diplomats warn of disease explosion, poor handling by government)
On his part, Robert B. Ford, the president and chief operating officer of Abbot, stated, "The COVID-19 pandemic will be fought on multiple fronts, and a portable molecular test that offers results in minutes adds to the broad range of diagnostic solutions needed to combat this virus."
He continued, "With rapid testing on ID NOW, healthcare providers can perform molecular point-of-care testing outside the traditional four walls of a hospital in outbreak hotspots."
A brief description of the device: The ID NOW device is small, lightweight (6.6 pounds) and portable (the size of a small toaster), and uses molecular technology, which is valued by clinicians and the scientific community for its high degree of accuracy.
Meanwhile, in less than three months since the outbreak of the novel coronavirus on a global scale, there are over 650,000 reported cases around the world as of Saturday, March 28, 2020.
While over 30,000 people have died from the pandemic, there are more than 139,000 people who have recovered from the infectious disease.
Chad's President Deby dies of injuries suffered on the frontlines, as son takes over
The President had visited the frontlines to share his election victory with the soldiers before the unfortunate incident.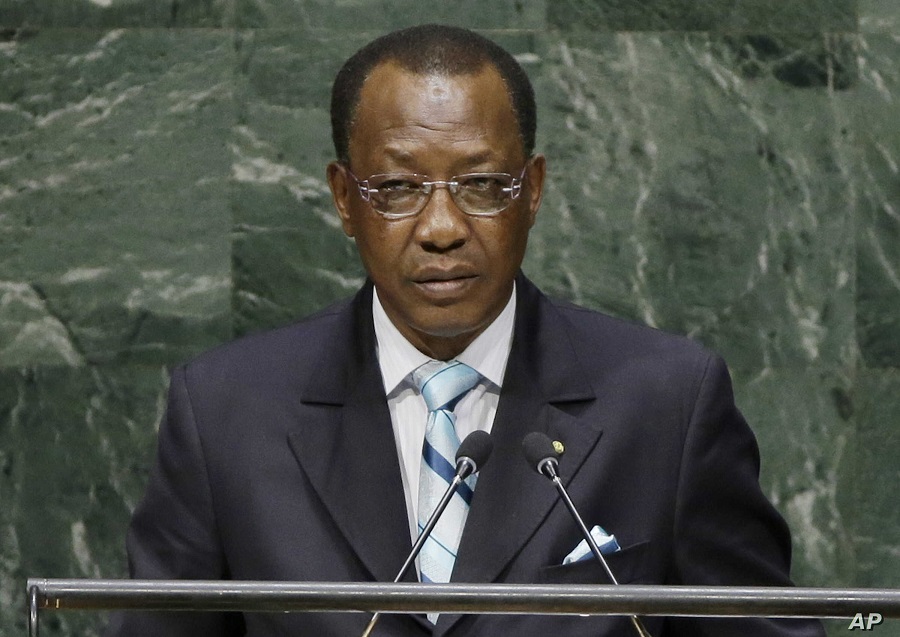 President Idriss Deby of Chad has died of injuries suffered on the frontlines when some terrorists attacked the army. The President had visited the frontlines to share his election victory with the soldiers before the unfortunate incident.
The departure of the newly re-elected President was disclosed by the AFP News Agency on Tuesday through its Twitter handle.
It tweeted, "#UPDATE Chad's newly re-elected President Idriss Deby Itno, in power for three decades, died Tuesday of injuries while fighting rebels in the north of the Sahel country, the army says."
Meanwhile, a four-star general who is a son of Chad's slain president Idriss Deby Itno will replace him at the head of a military council, the army announced Tuesday.
"A military council has been set up headed by his son, General Mahamat Idriss Deby Itno," the army's spokesman, General Azem Bermandoa Agouna, said on state radio, shortly after the announcement that the newly re-elected president had died of wounds while fighting rebels in the north of Chad.
Elon Musk loses an estimated $6bn after a Tesla car accident killed two people
Elon Musk's net worth dipped by $6 billion following a tragic Tesla car accident that killed two people.
The second richest man in the world, Elon Musk, witnessed his wealth shed an estimated $6bn after a Tesla car was involved in an accident that led to the death of two people.
Tesla stocks dropped by 3.8% after the news of the crash went mainstream. The resultant effect on Elon Musk's wealth was a $5.71bn loss in a single day.
READ: Google threatens to remove its search engine from Australia due to media code
The Accident
Two men lost their lives on Saturday night in Houston when their 2019 Tesla model car slammed into a tree. Police authorities on sight claimed the car might have been on autopilot due to the sitting position of the corpses.
They also struggled to put out the fire from the Tesla car and even called Tesla for help. The death of the two men has sparked a heated argument between Tesla and its critics. Autopilot or not?
Although police officers' assertion that the car may have been on autopilot remains unconfirmed, it has raised serious uncertainty about the safety of Tesla's autopilot feature and Tesla's critics are not backing down on this.
READ: Dealers explain why 'Tokunbo' Cars are expensive
Elon Musk reacts
Elon Musk has reacted to the news, insisting that the autopilot feature in the crashed vehicle was not enabled. According to him, the Wall Street Journal's coverage of the accident was not professional.
READ: Meet the 39 years old Chinese billionaire electric car maker 
What you should know
Elon Musk is now worth $183bn following the recent drop. He closed the gap on Amazon's Jeff Bezos to $4bn early last week. The gap has widened to $14bn today.
Nairametrics | Company Earnings
Access our Live Feed portal for the latest company earnings as they drop.