MTN Nigeria, Zenith Bank post gains, as investors gain N54.42 billion
Nigerian Stock Exchange trading turnover was also positive as volume climbed up by 22.64%.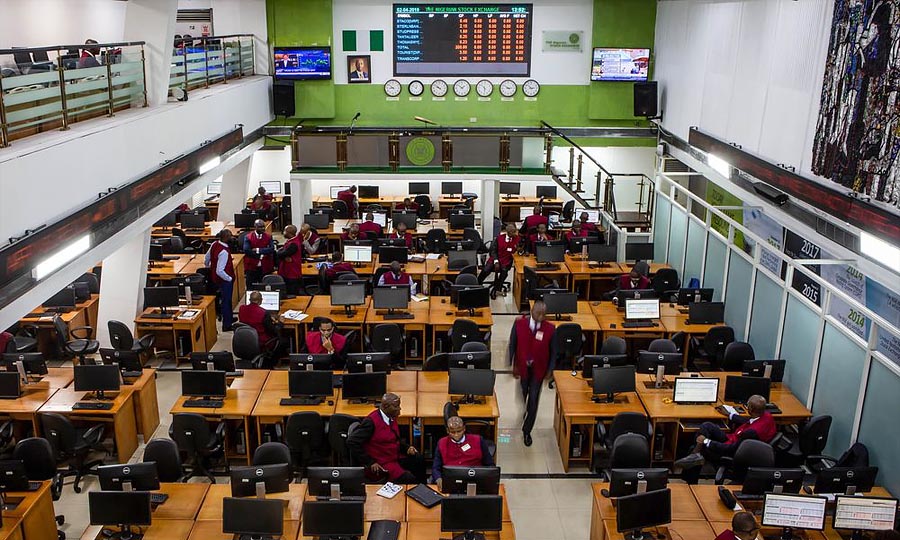 Nigeria bourse recorded bullish gains at Tuesday's trading session.
The All Share Index gained by 0.39% to close at 26,611.96 basis points as against the 0.72% gain recorded on Monday.
Its Year-to-Date (YTD) returns currently stands at -0.86%. Nigerian Stock Exchange market capitalization presently stands at N13.907 Billion. Investors gained N54.42 Billion.
Nigerian Stock Exchange trading turnover was also positive as volume climbed up by 22.64% as against +0.32% uptick recorded on Monday. ZENITH BANK, STERLNBANK, and UBA were the most active to boost market turnover.
ETRANZACT leads the list of active stocks that recorded an impressive volume spike at the end of today's session.
Market breadth closed positive as WEMABANK led 16 Gainers as against 11 Losers topped by ETRANZACT at the end of today's session – an unimproved performance when compared with the previous outlook.
Top gainers
BUACEMENT up 3.34% to close at N41.75
DANGSUGAR up 1.63% to close at N12.5
ZENITHBANK up 1.16% to close at N17.5
MTN up 0.79% to close at N127.5
SEPLAT up 0.50% to close at N400
Top losers
ETRANZACT down 9.96% to close at N2.35
WAPCO down 6.25% to close at N15
LEARNAFRCA down 6.14% to close at N1.07
FBNH down2.80% to close at N5.2
ARDOVA down 0.90% to close at N11
Outlook
Nigerian bourse continued its impressive upward run amid recent death toll globally reaching a million and significant selling pressures in Nigeria's major export product (Crude Oil).
Notably, NSE30 Stocks like MTN Nigeria and BUA cement in the past couple of days have experienced a decent amount of buying pressures.
Amidst the prevailing bullish run, Nairametrics envisage caution as a recent survey by Nigeria's Central bank has revealed business organizations were pessimistic about the local economy this month.
As inflation level is expected to rise at least in the next two quarters and the borrowing rate is expected to rise in September, October, and the next six months.
Most popular stock trading app for young traders ready to list on NASDAQ
The company has increasingly gained popularity during the COVID-19, as homebound young people turned to online trading to pass the time.
Robinhood, the most popular trading app among a significant number of millennials and Gen Z has chosen Nasdaq Exchange, the popular tech-dominated stock exchange for its initial public offering, according to reports seen on CNBC.
Robinhood whose major mission is to "democratize" investing is viewed as the main gateway to many young stock traders especially in emerged markets to access the equity and crypto markets.
The company has increasingly gained popularity during the COVID-19, as homebound young people turned to online trading to pass the time and make money.
Though it's important in noting that the stock trading app though has not yet officially filed for listing.
The report however failed to give clarity on what option Robinhood might choose to take in going public whether the direct listing or a traditional IPO option.
In addition, the American-based fintech company has lowered the obstacles many retail investors might have as its sets the stage for one of the biggest public debuts of the year.
That being said, all coast seems clear for the green-coloured trading app to file its S-1 with the U.S SEC.
Goldman Sachs, America's most elite bank is advising Robinhood on this matter.
However, its recent role at the center of the so-called WallStreetBets has lately attracted a big question mark among leading politicians and regulators.
The U.S SEC had already investigated why Robinhood temporarily suspended a significant number of retail traders from trading GameStop (GME) and a few other stocks at that time amid abnormal gains seen in those assets in the review.
Nestlé S.A. acquires additional shares in Nestlé Nigeria worth N2.92 billion
The Swiss multinational has acquired about 2.17 million additional shares in its Nigerian subsidiary worth N2.92 billion.
Nestlé S.A, the parent company of Nestlé Nigeria Plc, with more than 66.5% ownership stake in its Nigerian subsidiary, has acquired about 2.17 million additional shares in the FMCG company.
This information was contained in a notification of share dealing by an insider, issued by the leading consumer goods company in compliance with the Nigerian Stock Exchange policy on insider dealing.
The notification revealed that Nestlé S.A, the Switzerland-based consumer goods behemoth increased its stake in Nestlé Nigeria, with the acquisition of a total of 2,166,647 additional shares of the FMCG company, at a price of N1349.00 per share.
This puts the total consideration for the shares purchased by the Swiss multinational at N2.92 billion.
Why this matters
Dealings by insiders of listed companies are corporate actions to be disclosed by the management of the company.
This is in compliance with NSE's policy on insider dealing, as the disclosure is key in the effort to ensure transparency and reinforce the trust of the investing public.
The purchase of the shares of Nestle Nigeria further cements Nestle S.A's position as the majority shareholder of the company, with an ownership stake of 66.5% (without taking the recent acquisition into consideration).
What you should know
Nestle S.A is the majority shareholder of Nestlé Nigeria Plc, with 527,080,970 units of the total issued shares of the company (December 31st, 2020).
According to a recent report, the Swiss multinational is set to earn a mega N32 billion in dividend from its Nigerian subsidiary, for the year ended December 2020.
Nestlé Nigeria shares at the close of trade today are presently valued at N1350 per share. The share price of the company is down -10.32% YTD.
Nairametrics | Company Earnings
Access our Live Feed portal for the latest company earnings as they drop.