EU to buy $478 million WHO COVID-19 vaccine for low and middle income countries
The European Commission said that the financial support will be provided through guarantees.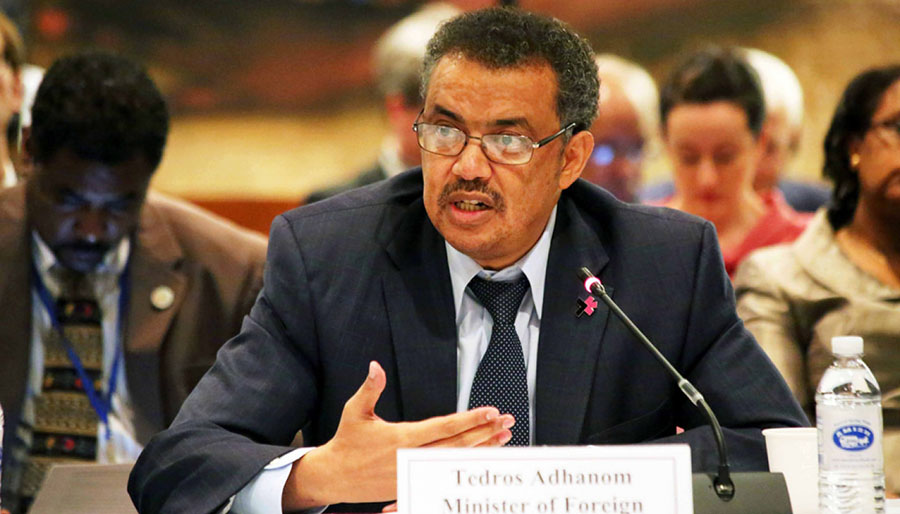 The European Commission has disclosed that it will provide $478 million in guarantees to purchase COVID-19 vaccine from a World Health Organization (WHO) led initiative.
Although the global health body said that Germany had joined the pact, the UN health agency was still negotiating with the bloc.
READ: Facebook launches new messaging app called 'Tuned', just for couples
The WHO Director-General, Tedros Adhanom Gheybreyesus during a news conference in Geneva said, "Germany has joined the COVAX facility today. And also we're negotiating with the rest of EU members. One possibility we are checking is for the EU members to join as a bloc. I think the best way to end this pandemic is through solidarity, through cooperation, through oneness."
The primary objective of COVAX initiative is to purchase for all countries in the world 2 billion doses of potential COVID-19 shots from several vaccine developers by the end of next year.
The European Commission said that the financial support will be provided through guarantees, although it was not clarified how these guarantees would be offered and why they were preferred to direct funding in cash.
READ: UK secures deals to supply 90 million doses of COVID-19 vaccine from Pfizer, others
The European Commission President, Ursula von der Leyen, said, ''Today, the Commission is announcing a 400 million euro contribution to COVAX for working together in purchasing future vaccines to the benefit of low and middle-income countries.''
The EU Commission is currently negotiating advance purchases of COVID-19 vaccines with several drugmakers on behalf of the 27 EU states and has previously said that the EU countries cannot buy vaccines through parallel procurement schemes.
READ: COVID-19 lockdown significantly impact Guinness Nigeria profits
Nairamentrics had reported last week that American Biotechnology firm, Moderna Inc announced that it has concluded advanced talks with the European Union to supply 80 million doses of its COVID-19 vaccine candidate, mRNA-1273.
The Commission said, ''The detailed terms and conditions for the EU's participation and contribution will be worked out in the coming backs and weeks.''
The Commission added in a statement that it was ready, together with EU states, "To put expertise and resources at work within COVAX to accelerate and scale-up development and manufacturing of global supply of vaccines for citizens across the world, in poor and rich countries."
Critics have however pointed out that the Commission was effectively undermining the WHO-led initiative by having exclusive access to the vaccines through an EU scheme. The commission said that it was committed to donating to developing countries some of the vaccines it buys through its procurement.
It can be recalled that the United States, Japan, Britain and the EU have all agreed on deals to secure millions of COVID-19 vaccine for their citizens despite the WHO's warning that vaccine nationalism will negatively impact on supplies of such vaccines.
Cost of Ivermectin soars after research suggest 75% chance of cutting Covid-19 deaths
Ivermectin prices have risen after Research published by the International Ivermectin Project Team shows drug can reduce Covid-19 deaths
As Azuka laid down in bed feverish, he had resigned to his fate believing he was not going to make it to the next day.
Just 3 days into the new year and all the fun he had, attending weddings and burial ceremonies in the east all seemed like a big mistake. He must have caught covid-19 at one of those events, he thought.
Since attending the last event, he fell sick and has been exhibiting the symptoms of Covid-19 and just waiting to die until someone recommended Ivermectin, a little known drug as a potential medicine that could help save his life.
READ: Only 68.8% of Nigerians believe Covid-19 is real – SBM Intel
A few days later he recovered and spread the news to friends and family – he believes Ivermectin cured him.
The rush to purchase Ivermectin in Lagos has increased of late after stories similar to that of Azuka (not his real name) spread. As Nigeria's caseloads rise past 120k cases, some Nigerians are increasingly worried about contracting Covid-19, rushing to pharmacies to purchase a drug that they all believe is the most portent to fight Covid-19.
READ: Hepatitis C drugs may be effective against COVID-19, virus may spread through high-rise buildings
What is Ivermectin?
According to the World Health Organisation, Ivermectin was originally produced in the 1980s as a veterinary drug used largely for nematode control in cattle, horses, pigs, and dogs and became the standard for control of the ectoparasitic disease, scabies. It soon became the world's most profitable veterinary drug.
Since then, Ivermectin has been used on humans for controlling strongyloidiasis, a human pathogenic parasitic roundworm causing the disease strongyloidiasis. According to medical sources, it is also known in the US as threadworm, UK, and Australia as pinworms.
In Nigeria, it has been used to treat worms, according to a pharmacist who spoke to Nairametrics.
READ: Nigeria, others to receive first-ever HIV generic drug for babies in the first half of 2021
"Originally it's a worm expeller (Antihelminthic) used in the elimination of parasitic worms from the body. They use it in combination with doxycycline. They also use Vitamin C in combination with Axrthromycin."
However, more recently, the drug is now being used for the treatment of Covid-19 pushing demands for the drug high across pharmacies in Lagos. A Nairametrics survey suggests the drug cost as high as N100,000.
Another pharmacist who craved anonymity explains.
"It was one of the available free drugs dispensed to patients at clinics in Nigeria – for eliminating different types of worms from the body. People usually don't buy it from pharmacies because of the low price, thinking it's not good quality tabled for expelling worms. It was not expensive and almost cost next to nothing, but now it sells for as high as N200 per tablet"
At N200 per tablet, a pack of 500 tablets could go for as high as N100,000. From all indications, the prices are unstable and could be purchased from as little as N20,000 per pack of 500 tablets to as high as N100,000. It all depends on demand and supply and who is under pressure to get a "cure".
READ: COVID-19: WHO warns against Gilead's remdesivir drug approved by US FDA
Is the drug credible?
Several social media posts and videos allude to the efficacy of the drug in "preventing and curing" Covid-19 but this is yet to be certified by the WHO.
The drug however came into the limelight after a Financial Times article claimed the drug had a chance of cutting covid-19 deaths by up to 75%.
The article was based on research published by the International Ivermectin Project Team led by the University of Liverpool lecturer Andrew Hill. A Nigerian Olufemi Emmanual Babalola, from Bingham University/Lagos University, Nigeria is also part of the group.
READ: WHO study reveals new discovery about remdesivir drug's effect on Covid-19 patients
Here is an excerpt of the result of the research conducted by the group
"Ivermectin was associated with reduced inflammatory markers (C-Reactive Protein, d-dimer, and ferritin) and faster viral clearance by PCR. Viral clearance was treatment dose- and duration-dependent. Ivermectin showed significantly shorter duration of hospitalization compared to control. In six RCTs of moderate or severe infection, there was a 75% reduction in mortality (Relative Risk=0.25 [95%CI 0.12- 0.52]; p=0.0002); 14/650 (2.1%) deaths on ivermectin; 57/597 (9.5%) deaths in controls) with favorable clinical recovery and reduced hospitalization. "
Currently, the only other drug with the same level of worldwide unofficial approval for treatment of Covid-19 is Remdesivir, after it also showed an effect on improving recovery rate for Covid-19 patients.
READ: US Mission recognises Nigerian doctor who helped develop COVID-19 vaccine
The choice between waiting for a vaccine or self-medication
More recently, the search for cures for Covid-19 has been overshadowed by vaccine breakthroughs across the world. For most governments, preventing covid-19 is better than curing it which is why more effort is geared towards vaccine distributions and other preventive measures such as insisting on facemasks and introducing new lockdowns.
But for developing economies like Nigeria, where self-medication is prevalent, drugs like Ivermectin are easier to purchase over the counter as well as administer. Just like the demand for chloroquine, zinc, and vitamin C soared in the first wave of Covid-19, demand for Ivermectin is rising along with its price.
Fortunately, Ivermectin is backed by research even though the researchers expressed caution as more trials need to be conducted.
READ: Nigeria records 1,964 new cases of Covid-19, highest daily surge
"Despite the encouraging trend this existing data base demonstrates, it is not yet a sufficiently robust evidence base to justify the use or regulatory approval of ivermectin. However, the current paucity of high-quality evidence only highlights the clear need for additional, higher-quality and larger-scale clinical trials, warranted to investigate the use of ivermectin further.
"The maximum effective dose of ivermectin needs to be clarified and new clinical trials should use a consistent multi-day dosing regime, with at least 0.4mg/kg/day. The appropriate dose and schedule of ivermectin still requires evaluation and the current randomized clinical trials of ivermectin need to be continued until ready for rigorous review by regulatory agencies." International Ivermectin Project Team 
Asides Ivermectin, Nigerians have also resorted to traditional medicine such as a beverage of lemongrass, dogonyaro leaves, garlic, ginger, and bitter kola to prevent and cure Covid-19, despite orthodox vaccines proven to be effective.
Perhaps it is because no one is sure when the vaccine will get to Nigeria after it was initially meant to arrive in January and since pushed to February 2021. And even if it does arrive in Nigeria, most people do not believe it will get to ordinary Nigerians on time especially when they cite the way the Covid-19 palliatives was handled.
For now, the need for self-reliance is driving people towards any drug they believe can cure covid-19.
Covid-19: Sanwo-Olu discloses how Lagos intends to fund vaccination programme
Lagos government has disclosed that it is in talks with the organised private sector to raise funds required to purchase vaccines.
Lagos State Governor, Babajide Sanwo-Olu, has revealed how the state government intends to fund the vaccination programme as they fight the Covid-19 pandemic.
The Governor said that although the Lagos State Government had earmarked billions in fighting the scourge of the Covid-19, his administration was engaging with the private sector as the amount they had would not be enough.
This disclosure was made by the governor while appearing on a Channels Television programme, Sunday politics, on Sunday, January 24, 2021.
What the Lagos State Governor is saying
Sanwo-Olu said, "The conversations are still at various levels. We are speaking with the organised private sector so they can help us raise some of the finance that is required.
"We have our friends in the private sector who are saying to us that they understand this is a public health issue but we also can work with you. The citizens are your citizens but they also are our staff.''
The governor also said that his administration did not need to vaccinate over 20 million residents of the state against the deadly coronavirus pandemic.
He said, "It is important for me to make this. We don't have to vaccinate the 20 or 22 million population that we have. The plan is to ensure that there is herd immunity and that typically speaks about 50 to 60 percent of your population, that is the kind of target that you really meet.
"We have started a conversation with some of the vaccine manufacturers. Pfizer for example. I have made contact with them. Johnson and Johnson are not out yet; the Moderna has written to us and we have written back to them."
What this means
The Lagos State Government is looking for private sector participation to help raise funds to fund the purchase of Covid-19 vaccines due to budgetary shortfalls.
The state, which has become the epicenter of the coronavirus pandemic in the country through the vaccination programme, is trying to get most of its population immune from the Covid-19 disease.
WHO warns Africa in danger of being left behind in Covid-19 vaccination
The WHO has warned that Africa is in danger of being left behind in Covid-19 vaccination.
The World Health Organisation (WHO) has warned that Africa is in danger of being left behind in Covid-19 vaccination as countries from other regions strike bilateral deals, thereby driving up prices.
This follows the development and approval of safe and effective vaccine less than a year after the emergence of the coronavirus pandemic, regarded as a stunning achievement.
This disclosure was made by the WHO's Regional Director for Africa, Dr Matshidiso Moeti while speaking during a virtual press conference which was facilitated by APO Group.
Dr Moeti was joined at the press briefing by the Managing Director, Country Programmes, Gavi, Thabani Maphosa and UNICEF Regional Director for Eastern and Southern Africa, Mohamed Fall.
What the WHO's Regional Director for Africa is saying
Dr Moeti stated that as of early this week, 40 million Covid-19 vaccine doses have been administered in 50 mostly high-income countries with Guinea being the only low-income country on the continent to have provided doses to only 25 people so far.
According to her, Seychelles is the only high-income country on the continent where a national Covid-19 vaccination campaign has started.
She said, "We first, not me first, is the only way to end the pandemic. Vaccine hoarding will only prolong the ordeal and delay Africa's recovery. It is deeply unjust that the most vulnerable Africans are forced to wait for vaccines while lower-risk groups in rich countries are made safe.
"Health workers and vulnerable people in Africa need urgent access to safe and effective COVID-19 vaccines.''
What the Managing Director, Country Programmes, GAVI, is saying
Mr Thabani Maphosa, the Managing Director, Country Programmes at GAVI, a partner in the alliance, was quoted as saying delivery would begin soon.
He said, "COVAX is on track to start delivering vaccine doses and begin ensuring global access to vaccines. This massive international undertaking has been made possible thanks to donations work towards dose-sharing deals and deals with manufacturers that have brought us to almost 2 billion doses secured. We look forward to rollout in the coming weeks."
What you should know
COVAX facility is an international alliance which is backed by the WHO, Gavi, the vaccine alliance and Coalition for Epidemic Preparedness Innovations (CEPI), to ensure equitable distribution of the Covid-19 vaccines among all countries regardless of income level.
The alliance has secured 2 billion doses of the Covid-19 vaccine for Africa from 5 producers, with options of over 1 billion more doses.
COVAX has committed to vaccinating no fewer than 20% of the population in Africa by the end of 2021.
Priority will be given to health workers and other vulnerable groups, such as older persons and those with pre-existing health conditions.
An initial 30 million vaccine doses are expected to begin arriving in countries by March.
The United Nations in its report said that a maximum of 600 million doses will be disbursed, based on 2 doses per person.