Brewery sector: A quarter to forget
Beer makers saw their revenues plummet in the second quarter of 2020 as the economic shut down extinguished sales.
The quarter ending June 2020 will be one to forget for Nigeria's struggling brewery sector. Whilst the negative effect of COVID-19 is still being reported across every sphere of the economy, the brewery sector was always one of those that were expected to suffer the most.
The latest results from two of the industry giants, Nigeria Breweries and International Breweries confirm our worst fears. Combined revenues for both companies was N93.9 billion, representing a 22% drop year on year. Both companies reported revenues of N120, 4billion in the corresponding quarter of 2019.
Disaggregated, Nigeria Breweries reported a 21% drop to N68.6 billion and International Breweries 24% drop in revenues to N25.2 billion. Guinness is yet to release its quarter ending June 2020 results which happens to be its year-end. Ahead of its release, the company issued a profit warning as it anticipated the worst. The drop in revenues recorded in the Brewery sector is not a surprise. With most parts of the country in complete economic lockdown, beer sales are expected to drop significantly.
READ MORE: Nigeria's triangular beer war on the rise with the arrival of Budweiser
As expected, the fall in revenues crashed margins significantly. While Nigeria Breweries was able to eke out a tiny N70 million in pre-tax profits, International Breweries lost N4.2 billion. Nigeria's Breweries actually fared worse when you consider that they reported a N7.9 billion in 2019 and N12.3 billion in 2018. Could it get any worse?
Beer companies have always posted some of their best revenues in the second quarter of the year and struggle in the third. With results this bad already in the second, things could only get worse in the third quarter. Though, economic activities are gradually picking up, entertainment life which it heavily relies on remains in comatose.
The industry has been struggling with dwindling sales and thin margins for years as younger Nigerians ditch beer for spirits, which are often cheaper, do not bloat the stomach and are quicker to intoxicate. Increase in beer sales are also seemingly positively correlated with an uptick in social events such as weddings, parties and birthday ceremonies. Hotels, bars, clubs and most entertainment centres remain shut since March. Some are expected to reopen in the coming weeks as the government eases lockdown. But till then, beer making companies are clutching on straws.
READ ALSO: Guinness Nigeria boss reveals factors pulling company's profit
COVID-19 could be blamed for the industry's woes, but a changing demographic still poses an existential threat to the sector. In fact, COVID-19 only showed how urgently they need to pivot away from relying on outdoor events to drive sales. Beer drinking is purely consumer product and needs to be pitched as such.
Rather, than advertise beer as a drink for bars during live events, it should be sold as a "must-have" beverage in the evening during family time. It should also be pitched as a must-have staple for house parties and close family gatherings or even casual remote working settings. The packaging should also gear off for a makeover. Beer dispensers anyone?
Nigeria is Africa's leader in Bitcoin transfers, transacts $8 million weekly
Data shows that the use of Bitcoin for peer to peer lending in Nigeria is on an astronomical run.
Nigerians increasing their use of BTC is no longer news, but what seems astonishing is the volume that they transact with BTCs weekly, compared to other African countries.
Data shows that the use of Bitcoin for peer to peer lending in Nigeria is on an astronomical run.
Recent statistics obtained from usefultulips, a BTC analytic data provider, stated that Nigeria leads Africa peer to peer lending in 2020, posting weekly P2P volumes of between $8million, followed by South Africa and Kenya posting about $2 million weekly.
READ: Has the President erred in stopping CBN from funding food imports?
Quick Facts: In BTC's case, peer to peer is the exchange of BTC between parties (such as individuals) without the involvement of a central authority. This means that peer to peer use of BTC takes a decentralized approach in the exchange of Bitcoins between individuals and groups.
It shows that BTC's long-running narrative as the "digital gold" for hedging against global economic turmoil is gaining the trust of Nigerians for payments and transfers.
READ: Unknown Bitcoin whale moves $1.3 billion in minutes
The financial market turmoil triggered by COVID-19 has definitely changed the way Nigerians view the whole financial system, as data also obtained from Google trend shows Nigeria leading the pack around the world in Bitcoin searches.
This is a testament to the fact that Nigerians truly love their Bitcoins.
It's important to note that Nigeria's Securities and Exchange Commission is aware of the high precedence of crypto use in Africa's biggest economy, and has up come with rules recording to the fast-changing financial sector
READ: SEC discovers 12 ponzi scheme operators, warns investing public
Chimezie Chuta, Founder, Blockchain Nigeria User Group, spoke with excitement on the long-overdue legal framework by the Nigerian Securities and Exchange Commission regulating digital assets and blockchain investments.
"SEC Nigeria has consistently shown that it has a clear understanding of her role in creating a conducive environment for the growth and development of Virtual Financial Assets, and Cryptocurrencies in general.
"This recent publication will act as a catalyst for mass adoption. It will also create much needed institutional investor confidence for the Nigeria Capital Market."
Nike stocks post gains, women's apparel division grow by 200%
Nike has used the COVID-19 pandemic as leverage to expand its digital business as it reported a surge in its in online sales.
Nike, the most valuable fashion brand in the sports business, saw its stock price rising on Tuesday, as the company reported an 82% surge in online sales and offered an impressive outlook that calls for demand to grow through the holidays.
Nike has used the COVID-19 pandemic as leverage to expand its digital business, and its women's apparel division grew by nearly 200%. Parents stocked up on back-to-school items, and its business picked up in key markets like China.
READ: Flour Mills and its diverse challenges
Highlights of the results 
First-quarter reported revenues were $10.6 billion, down 1 percent on a reported basis, and flat to the prior year on a currency-neutral basis.
Nike's direct sales were $3.7 billion, up 12 percent on a reported basis, and up 13 percent on a currency-neutral basis, with growth across all geographies.
Brand digital sales increased 82 percent, or 83 percent on a currency-neutral basis, with double-digit increases across North America, Greater China, and APLA and triple-digit growth in EMEA.
READ: Unmarked hotels and short-stay apartments report high occupancy rates during COVID-19
Diluted earnings per share for the quarter was $0.95, up 10 percent. Inventory rose 15 percent versus the prior year, but decreased 9 percent versus the prior quarter.
"Our results this quarter continue to demonstrate NIKE's full competitive advantage, as we strengthen our position in the midst of disruption," said John Donahoe, President, and CEO, Nike, Inc.
READ: UPDATED: Nigeria received $1.29 billion capital inflows in Q2 2020, down by 78.6%
"In this dynamic environment, no one can match our pace of launching innovative products and our Brand's deep connection to consumers. These strengths, coupled with our digital acceleration, are unlocking NIKE's long-term market potential."
COVID-19 pandemic is also helping Nike's digital potential. The company disclosed that its digital sales now make up at least 30% of its total quarterly sales, a threshold that Nike had previously aimed to hit in three years' time.
"Nike is recovering faster based on accelerating brand momentum and digital growth," CFO Matt Friend stated on Tuesday.
Full details of the results can be found here
Investors flock to US dollar, as Gold, Bitcoin, Global Stocks record heavy sell-offs
The US dollar is stronger this morning on the back of a marked drop in risk appetite in European and US markets.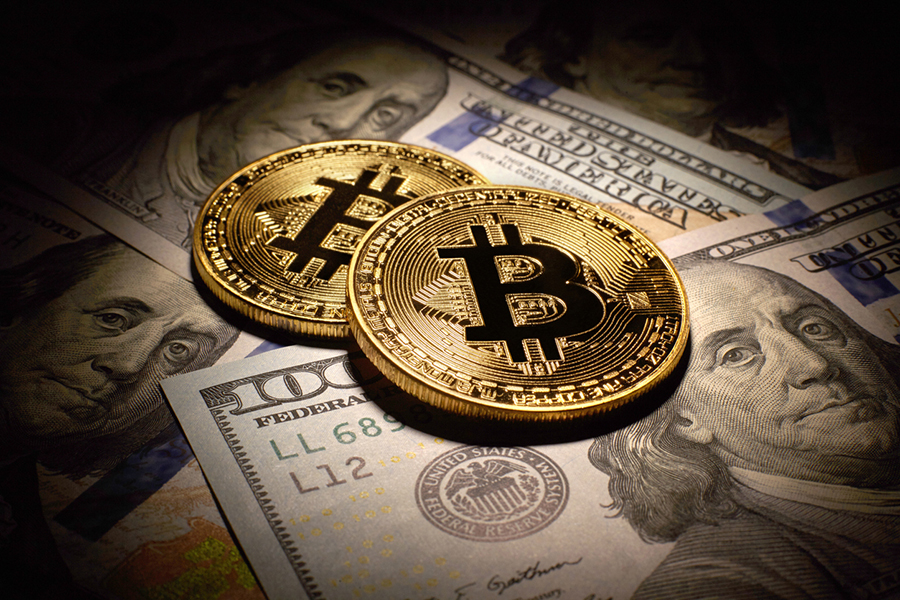 The U.S dollar closed high on Monday, hitting a six-week high, as currency traders and global investors rushed into the safe-haven currency.
This is coming on growing COVID-19 fears and worries over the U.S. Congress' stimulus impasse drove a heavy sell-off in almost all other assets that include gold, Bitcoin, and Stocks.
What we now; At the time this report was drafted, Bitcoin traded at $10,463.98 with a daily trading volume of $23,554,819,012. BTC price is down -4.6% in the last 24 hours.
READ: U.S dollar drops lower, as U.S Federal Reserve plans on boosting inflation
Overnight on Wall Street, the Dow Jones Industrial Average fell 1.84%, the S&P 500 lost 1.16%, and the Nasdaq Composite dropped 0.13%.
Gold spot lost about 2.1% to trade at $1,909.05 per ounce on Monday, after falling as much as 3.4% earlier in the session, its lowest since Aug. 12. U.S. gold futures settled down 2.6% at 1,910.60.
Australia's S&P/ASX 200 dropped 0.7% pressured by miners and energy stocks, while China's blue-chip index shed 0.1% and Hong Kong's Hang Seng index was down 0.5%. Japanese markets were closed for a public holiday
READ: U.S stock futures trade flat, Apple regains $2 trillion market value
However, at the time this report was drafted, U.S. Dollar Index, which tracks the greenback against a basket of other currencies, dropped some gains to trade at 93.608
Quick fact: The U.S. Dollar Index tracks the greenback against a basket of major global currencies such as the Japanese yen, British pound sterling, Swedish Krona, Euro, etc. Individuals hoping to meet foreign exchange payment obligations via dollar transactions to countries like Europe, and Japan, would need to pay more dollars in fulfilling such payment obligations.
READ: FIRS generates N490 billion tax revenue in July, collects 89% from non-oil sector
Stephen Innes, Chief Global Market Strategist at AxiCorp in a note to Nairametrics gave vital insights on the safe-haven currency, saying:
"The US dollar is stronger this morning on the back of a marked drop in risk appetite in European and US markets, but off overnight highs, as US stocks are rebounding in good order.
"Two factors explain much of the risk aversion. Banking shares are sharply lower following the International Consortium of Investigative Journalists report examining bank behavior in the context of Suspicious Activity Reports. Travel and leisure names are weaker in Europe on the back of continued angst around the rising COVID-19 case count in the Eurozone and the UK.
"The fickle nature of currency trading these days suggests that as US stocks fall, the USD rises, reflecting the USD's dominance in demand when there are big down moves in risk sentiment."