Lagos relaxes public gathering regulations, reopens restaurants, as nightclubs, cinemas remain shut
The new measures are due to a general decline in positive cases of the coronavirus pandemic in the state.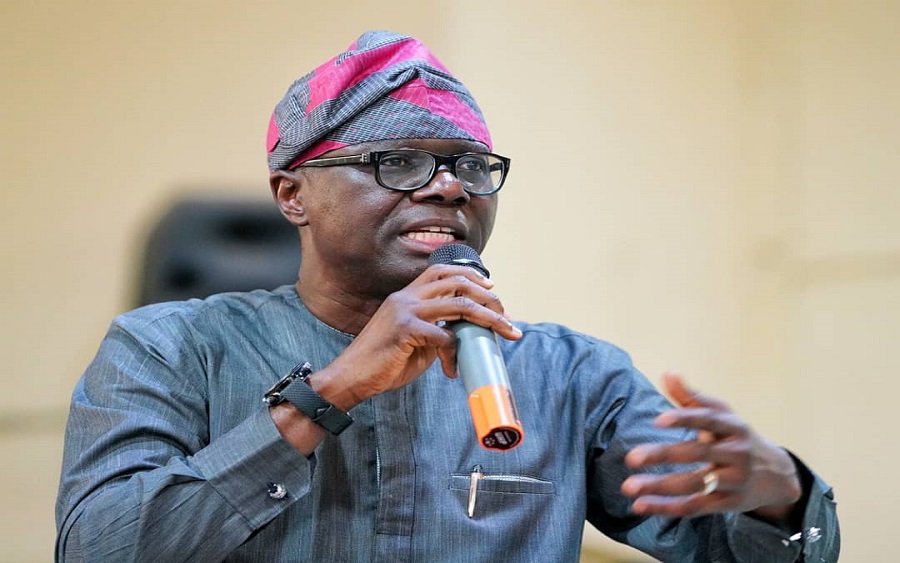 The Lagos State Government has relaxed the public gathering regulation, increasing the permissible capacity from 20 to 50 persons at any given period.
The government have also directed the re-opening of social clubs with registered trustees and recreational centres with effect from August 14, but with the condition that they must obtain a provisional safety compliance certification from the Lagos State Safety Commission (LSSC).
Nairametrics understands that these new measures were informed by the general decline in positive cases of COVID-19 in the state for a second week in a row.
READ ALSO: Covid-19: Lagos clarifies the 'N1 million daily' treatment cost for patients
The disclosure was made by the Lagos State Governor, Babajide Sanwo-Olu, during his 17th briefing on the COVID-19 response by the state at State House, Marina Lagos on Saturday, August 1, 2020.
According to the Governor, restaurants in the state can now resume in-dining services from August 14, but at 50% occupancy capacity. More so, a safety clearance is expected to be obtained by these restaurants from the Safety Commission before resuming in-dining services.
Meanwhile, the governor ordered that night clubs, entertainment centres, and cinemas should remain closed till further notice.
READ MORE: Lagos seals 16 properties in Ikoyi, to conduct compliance audit of Osborne Estate 
The Governor further disclosed that this new decisions were taken after a careful review of emerging positive events. He also stressed that the decisions to relax the lockdown measures was to create a balance between competing demands of safeguarding lives of the residents and preserving their means of livelihoods. He said:
"Having carefully reviewed the current scenario in Lagos, we have taken some important decisions in line with the ongoing objective of calibrating an effective balance between the competing demands of safeguarding lives and enabling livelihoods.
"Restaurants will now be permitted to open for in-dining services, from August 14, on the condition that they maintain a 50% occupancy capacity. The restaurants must obtain a provisional safety compliance certificate through the LSSC registration portal. We are also increasing the permissible capacity for public gatherings from 20 to 50 persons. This applies to a wide range of events, from funerals, social events to corporate meetings.
READ ALSO: Why some businesses in Lagos may not be allowed to open in 2 weeks
"Social clubs and recreational centres will also be allowed to open from August 14, on the condition that they have applied for and obtained a Provisional safety compliance certificate via registration on the LSSC website. The clearance certificates are at this time being issued only to social clubs with registered trustees."
The Governor also noted that all the mandatory prevention and control measures issued by the State Government must be strictly adhered to, including physical distancing, mandatory temperature checks, use of masks in public places, regular disinfection of premises, and strong personal hygiene.
He warned that social clubs that re-open without complying with the mandatory hygienic protocols and physical distancing requirements will be shut down and face the wrath of the law.
The Governor also added that in the coming days, the opening hours for food and non-food markets may be extended to 5 pm on their various opening days.
READ ALSO: Lagos to impose building insurance on properties above 2 floors, meets stakeholders
Sanwo-Olu revealed that the Lagos State Government patterned its response strategy after Mumbai, an Indian megacity that shares similar demographic and climatic conditions with Lagos. He also observed that Lagos had recorded similar results and successes with Mumbai in its COVID-19 response.
On the isolation centres, the Governor said, "We have run through a model that shows that we have built excess isolation capacity over the last five months. We have to come to a stage where we need to balance the economics of risk, as to which isolation facility should we need to keep running. Some of the isolation centres are having less than 20 per cent of their occupancy capacities. This is why we concluded to shut the Eti-Osa facility and another one in Lekki.''
Sanwo-Olu urged compliance with the measures outlined in the new regulations, stressing that LSSC has a statutory responsibility to monitor the activities and operations of all organizations and worship centres that have been permitted to re-open.
WHO warns Africa in danger of being left behind in Covid-19 vaccination
The WHO has warned that Africa is in danger of being left behind in Covid-19 vaccination.
The World Health Organisation (WHO) has warned that Africa is in danger of being left behind in Covid-19 vaccination as countries from other regions strike bilateral deals, thereby driving up prices.
This follows the development and approval of safe and effective vaccine less than a year after the emergence of the coronavirus pandemic, regarded as a stunning achievement.
This disclosure was made by the WHO's Regional Director for Africa, Dr Matshidiso Moeti while speaking during a virtual press conference which was facilitated by APO Group.
Dr Moeti was joined at the press briefing by the Managing Director, Country Programmes, Gavi, Thabani Maphosa and UNICEF Regional Director for Eastern and Southern Africa, Mohamed Fall.
What the WHO's Regional Director for Africa is saying
Dr Moeti stated that as of early this week, 40 million Covid-19 vaccine doses have been administered in 50 mostly high-income countries with Guinea being the only low-income country on the continent to have provided doses to only 25 people so far.
According to her, Seychelles is the only high-income country on the continent where a national Covid-19 vaccination campaign has started.
She said, "We first, not me first, is the only way to end the pandemic. Vaccine hoarding will only prolong the ordeal and delay Africa's recovery. It is deeply unjust that the most vulnerable Africans are forced to wait for vaccines while lower-risk groups in rich countries are made safe.
"Health workers and vulnerable people in Africa need urgent access to safe and effective COVID-19 vaccines.''
What the Managing Director, Country Programmes, GAVI, is saying
Mr Thabani Maphosa, the Managing Director, Country Programmes at GAVI, a partner in the alliance, was quoted as saying delivery would begin soon.
He said, "COVAX is on track to start delivering vaccine doses and begin ensuring global access to vaccines. This massive international undertaking has been made possible thanks to donations work towards dose-sharing deals and deals with manufacturers that have brought us to almost 2 billion doses secured. We look forward to rollout in the coming weeks."
What you should know
COVAX facility is an international alliance which is backed by the WHO, Gavi, the vaccine alliance and Coalition for Epidemic Preparedness Innovations (CEPI), to ensure equitable distribution of the Covid-19 vaccines among all countries regardless of income level.
The alliance has secured 2 billion doses of the Covid-19 vaccine for Africa from 5 producers, with options of over 1 billion more doses.
COVAX has committed to vaccinating no fewer than 20% of the population in Africa by the end of 2021.
Priority will be given to health workers and other vulnerable groups, such as older persons and those with pre-existing health conditions.
An initial 30 million vaccine doses are expected to begin arriving in countries by March.
The United Nations in its report said that a maximum of 600 million doses will be disbursed, based on 2 doses per person.
COVID-19: Evidence suggests that new variants could pose challenge for vaccines
The research findings show that the new COVID variants may likely not respond well to the vaccines.
Recent research findings suggest that the new coronavirus variants would likely pose a big challenge for the vaccines, as revealed by studies by several medical researchers.
The new variant was first discovered in South Africa in October but has now been spread to more than a dozen countries all over the world.
According to the most recent findings, as reported by CNN, researchers took antibodies from six people who were hospitalized with Covid-19 before the new variant was discovered. They found to varying degrees, that the antibodies for all six of the survivors were unable to fully fight off the virus.
According to Alex Sigal, a virologist at the Africa Health Research Institute and the Max Planck Institute for Infection Biology, "I think the evidence is building that these mutations — and I think other mutations — will emerge across the globe — and are emerging already — that are escaping antibodies from previous infection. It's concerning."
According to Jesse Bloom, a virologist at the Fred Hutchinson Cancer Research Center, "When you see two groups independently arriving at same basic answer, that good — there's more consonance that they are correct"
What you should know
Sigal's findings were very similar to those of a recent study by the National Institute for Communicable Diseases in South Africa.
A research study has revealed that mutations in the new variant allowed them to evade some of the immunity induced by vaccination, but it was far from a complete escape.
One thing that is critically safe for everyone is to get vaccinated, while the researchers are working to confirm whether these variants are dangerous or not to contain with the vaccines.
According to Alex Sigal, "I would for sure get it if I could. My father-in-law had the opportunity to fly to Israel and get it, and I was shooing him out of the house because you can't get it here in South Africa."
In a research study done at Rockefeller University, from a sample of 20 people who had received either the Moderna or the Pfizer vaccine, it was found that different mutations in the viruses did allow some escape from some types of antibodies, but the volunteers' immune systems threw an army of different types of antibodies at the viruses.
According to the research conducted in South Africa, blood was drawn from 44 people who had Covid-19 but the antibodies of about half of the 44 people were powerless against the new variant, while the other half, their antibody responses were weakened, but not totally knocked out.
Covid-19: Buhari approves N6.45 billion to set up 38 oxygen production plants
President Buhari has approved the sum of N6.45 billion for the set-up of 38 oxygen production plants across the country.
President Muhammadu Buhari has announced his approval of N6.45 billion for the set-up of 38 oxygen production plants across the country, in a bid to contain the second wave of Covid-19.
The President disclosed this in a statement on Thursday evening after the first National Economic Council meeting of the year presided over by Vice President Yemi Osinbajo, SAN, with State Governors, Federal Capital Territory Minister, Central Bank Governor, and other senior government officials in attendance.
READ: Covid-19: FG directs universities to suspend academic activities till further notice
"As part of efforts to contain the second wave of Covid-19, we're setting up new oxygen production plants in 38 locations across Nigeria—to enhance the management of patients in need of oxygen.
"I have equally approved funding for the rehabilitation of oxygen plants in 5 hospitals," Buhari said.
The Minister of Finance, Budget and National Planning, Zainab Ahmed said the President said the fund's release was necessitated by the rising cases of Covid-19 in the country with patients needing oxygen.
READ: Toyota suspends operations in China over Coronavirus outbreak 
What you should know 
Recall Nairametrics reported that the Lagos State Governor, Babajide Sanwo-Olu, warned that the rising second wave of the pandemic in Lagos had seen the demand for oxygen rise 5 times from 70 six-liter cylinders per day to 350 six-liter cylinders at Yaba Mainland Hospital alone.
He added that the state government had the decentralized provision of oxygen and other services needed for Covid-19 patients, citing the provision of oxygen kiosks.