How the Coronavirus has impacted Forex trading
As stock market begins to regain its losses as 2020 continues, many Forex traders are thriving.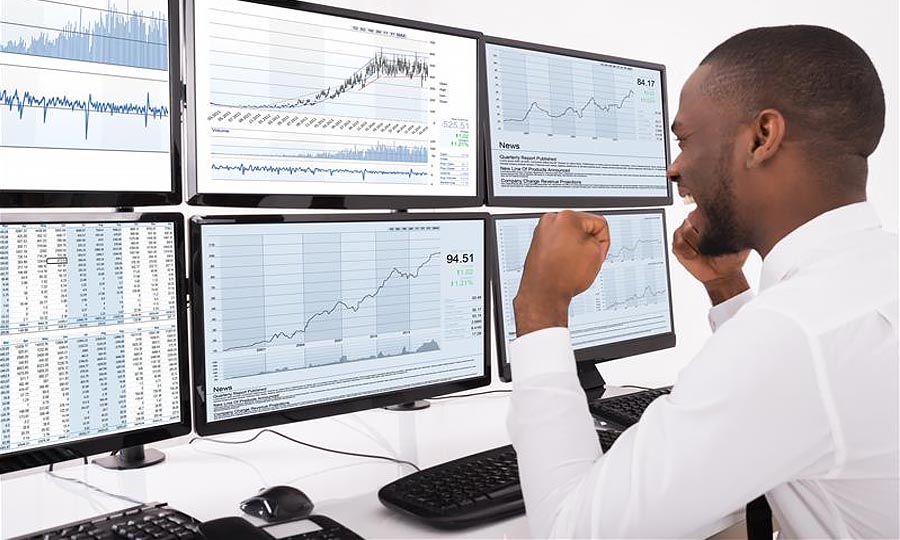 The Coronavirus pandemic has had a profound impact on the financial world, including on Forex trading. Global markets have crashed, and a worldwide recession is consequently looming. Forex bonuses, such as those offered on fxbonusoffers.com, have also been affected. Currently, global markets are trying to recover, but will this trend continue?
Levels of demand are changing in different countries
Demand for currencies is changing across the world due to a multitude of factors, including unemployment, reductions in interest rates, and governmental action that impacts industries – mainly travel, tourism, and hospitality.
In terms of Forex, China and Australia were the first companies to be impacted by the virus, due to the virus's alleged origins in China, and Australia's position as China's biggest trading partner.
As the virus spread throughout the world, and Spain, Germany, France, Italy and the UK saw their death tolls rise, investors began to favour the US dollar, believing that this was a more stable option, due to the Federal Reserve's willingness to provide as much liquidity to the market as possible.
Furthermore, the US is less reliant on external demand, compared to Europe, Africa, and Asia. The dollar has historically been seen as the 'currency of last resort', which gave it some security in terms of investment in the currency. However, this hasn't lasted long.
Due to increased strain on the dollar from, for example, health services and investors, the US is heading for an inevitable recession. This will impact the success of the recovery of the global economy.
However, Forex traders are taking advantage of the market's volatility
Market volatility (the likelihood of the price of securities changing in a short period of time) was low during 2019. This, in turn, led to a tough year for Forex traders due to the reluctance of many to engage in the trade of online currency. This led to low trading volume, and therefore low trading revenue.
However, as the stock market begins to regain its losses as 2020 continues, many Forex traders are thriving. The rapidity of the changes in the market has caused a high trading volume (due to high volatility), and high trading volumes mean high revenue.
The pressure on global currency markets will continue for quite a while, but as long as volatility stays high, there is a clear opportunity for Forex traders to reap the rewards from their risky manoeuvres.
As industries begin to re-open, especially in Europe, investors' confidence in the market should start to return. With this confidence, trading levels should continue to increase.
Forex trading levels have increased hugely in Africa during the pandemic
Since February 2020, Forex trading in Africa has increased by around 477%. This is due to several reasons:
• People have been confined to their homes and have therefore had more time to research and play the currency market.
• Forex trading, due to its speed, has low transaction costs which may be helpful for African traders with low capital.
• African currencies have begun to stabilise, and some are performing well against the US dollar.
What can we expect from the Forex market when life begins to return to normal?
It's hard to predict exactly what will happen in the Forex market throughout the remainder of 2020 and in 2021. Second, and even third, waves of Coronavirus across the world could further impact the already volatile global markets.
For the time being, volatility will likely remain high, maintaining a high trading volume. However, with uncertainties around the US presidential election, Brexit, and the future of the European markets, Forex trading remains quite risky for the time being.
However, with the impending global recession forecast, there will be potential for currencies to rise. Therefore, it should still be possible for Forex trading to be profitable come 2021.
Old Mutual supports LASG's remote learning drive in vulnerable communities
The programme is targeted at students with limited or zero access to internet-based virtual learnings.
In response to the Covid-19 inspired shutdown of schools in Lagos State, the Nigerian subsidiary of the pan-African
insurance firm and global financial services provider, Old Mutual Limited, has partnered the Lagos State Ministry of Education to drive remote learning for students in vulnerable communities.
Senior representatives from Old Mutual and the Lagos State Ministry of Education kicked off the presentation of free 10,000 radio units to students at St. Francis Jnr Grammar School in Iwaya Lagos on Monday, July 27, 2020
The programme, which involves the broadcast of curriculum-based education through radio, is targeted at students in vulnerable communities with limited or zero access to internet-based virtual learnings. Old Mutual is ensuring that the remote learning initiative reaches 10,000 homes by donating free radio units to be distributed to schoolchildren across these underprivileged districts in Lagos State.
In her remark, the Executive Head, Marketing & Customer Experience, Old Mutual, Alero Ladipo said, "we understand that despite the impressive growth in internet connectivity and access in Nigeria, there are low-income families who cannot afford to access internet-based virtual learnings, which is fast becoming the conduit of
remote education.
"As an organisation, we believe that no one should be left behind in the provision of quality education. So, we are proud to partner the Lagos State Government, who shares the same ethos and have evolved a low-tech and affordable strategy to drive remote education through radio broadcasting. Our support is to enable children from
10,000 low-income families, who cannot afford a radio set, to be able to tune in to this remote education during this pandemic."
The Lagos State Commissioner for Education, Mrs. Folashade Adefisayo, who was represented at the event by the Director, Public-Private Partnerships, Lagos State Ministry of Education, Dr. Olufunke Oyetola stated that the support from Old Mutual would help the state in its quest to broaden the scope of education in the state. "The Old Mutual support is coming at a critical time when we need more hands to help build the future of our children. This exemplary gesture will help us to accelerate the adoption of virtual and remote learning as education and schooling would never remain the same post-COVID-19," she said.
"As a government and promoters of quality education in the state, we have put in place adequate measures to track the development and usage of the devices by the children for educative purposes. We believe the children would put the materials to good use," she added.
ABOUT OLD MUTUAL
Old Mutual General Insurance Company and Old Mutual Nigeria Life Assurance Company are part of the globally acclaimed Old Mutual brand, which has over 175 years of experience in providing life assurance and wealth, personal finance, savings, and general insurance services.
Old Mutual, since its entry into the Nigerian market, had leveraged its heritage and expertise, launching a wide range of insurance solutions tailored to meet the unique needs of Nigerian's insurable population and corporate clients.
Heirs Holdings Appoints Dan Okeke as Group Executive Director
Mr Okeke joins Heirs Holdings following a distinguished three-decade career at the UBA.
Pan-African investment company, Heirs Holdings this week announced the appointment of Dan Okeke as Group Executive Director.  The appointment took effect from August 01, 2020.
Mr Okeke joins following a distinguished three-decade career at the United Bank for Africa Plc (UBA), where he most recently served as an Executive Director, responsible for leading consumer, commercial and public-sector businesses.  At HH, he will be responsible for business coordination and growth across Heirs Holdings' portfolio of pan-African investments in the power, financial services, oil and gas, hospitality, real estate, healthcare, and financial technology sectors.
Heirs Holdings is a family-owned investment company committed to improving lives and transforming Africa.  Our portfolio spans the power, oil and gas, financial services, hospitality, real estate, and healthcare sectors, operating in twenty-three countries worldwide.  Driven by the Africapitalism philosophy of the Group's founder, Tony Elumelu, which positions the private sector as the catalyst of African growth and seeks both social and economic returns on investment, Heirs Holdings invests for the long-term, bringing strategic capital, sector expertise, a track record of business turnaround accomplishment and operational excellence to companies within its investment portfolio. Celebrating its tenth anniversary this year, Heirs Holdings has recorded consistent business success across its portfolio of investments.
Commenting on the appointment, Chairman, Heirs Holdings, Tony Elumelu, stated: "As we continue to grow in scale and complexity, Dan's appointment demonstrates our ongoing commitment to institutionalisation.  We have always recognised the need to invest in human capital.  This announcement is a clear demonstration of our intent and determination to create sustainable value in all our business operations."
"I am delighted to take on this new challenge and look forward to contributing towards the fulfillment of Heirs Holdings' objective of improving lives and transforming the Continent," Mr Okeke stated on his appointment.
Rating agencies, Agusto and GCR affirm 'AAA' long term credit rating of Infracredit, with stable outlook
InfraCredit's "AAA" rating, with a stable outlook reflects its operational uniqueness as a guarantee provider.
Reflecting the strong fundamentals and credibility of Infrastructure Credit Guarantee Company Limited ("InfraCredit"), foremost rating agencies, Agusto & Co ("Agusto") and Global Credit Ratings (GCR) simultaneously reaffirmed the "AAA" credit rating of the premier infrastructure guarantee company. Notwithstanding the unprecedented impact of the COVID-19 pandemic, which continues to weaken global and domestic macroeconomic outlook, InfraCredit sustained its strong risk capital and broader balance sheet, with significant headroom to underwrite further guarantees in pursuit of its mission of unlocking long term local currency infrastructure finance in Nigeria's real sector.
READ MORE: InfraCredit secures $15m credit facility from AfDB
Notably, InfraCredit's "AAA" National Scale Rating, which is at par with the Nigerian Sovereign and reinforce the unparalleled credibility of its unconditional irrevocable guarantees, partly reflects the support of its shareholders and capital providers, which include the Nigeria Sovereign Investment Authority (NSIA), Africa Finance Corporation, GuarantCo (a Private Infrastructure Development Group company), and reputed multilateral institutions, including KfW Development Bank, who are committed capital providers. In addition, InfraCredit's balance sheet and guarantee programmes are further supported under risk-sharing arrangements with the United States Agency for International Development (USAID), amongst other development finance institutions.
In arriving at its rating decision, Agusto reiterated that "the rating assigned to InfraCredit recognises its strategic importance and developmental role in the provision of local currency guarantees to enhance the credit quality of debt instruments issued to finance creditworthy infrastructure assets in Nigeria". The foremost rating agency further noted that "the assigned rating reflects InfraCredit's quality guarantee and investment portfolios, backed by an acceptable risk management framework, good return on investments and an experienced management team".
READ MORE: AFC to ink $100 million investment deal in Nigeria's mining sector
Similarly, GCR emphasized, "InfraCredit's "AAA" rating, with a stable outlook reflects its operational uniqueness as a guarantee provider, strong ownership and management profile, demonstrated financial flexibility, strong liquidity position, and profitability track record so far". "The asset quality (in terms of issued guarantees) is sound, with nil non-performing exposure recorded from inception till date", GCR analysts added.
Noteworthy, InfraCredit maintains the highest national scale rating accorded to any financial institution by Agusto and GCR, having recorded nil recourse on all its guarantee exposures since inception, reinforcing the quality of its obligors, ingenuity of the financing structures and strong governance oversight. Credited for its innovative approach to infrastructure financing, InfraCredit is creating capital access for infrastructure corporates in the real sector of the Nigerian economy whilst unlocking investable assets for pension funds, insurance firms and asset managers. As the premier infrastructure credit guarantee company, InfraCredit is committed to its vision of playing a catalytic role in engendering market confidence and stimulating financial inclusion for real sector-induced growth and the sustainable development of Nigeria's economy.
READ: AFC grants Waltersmith Refinery $35 million debt facility
Speaking on the ratings actions, InfraCredit's Managing Director/CEO, Chinua Azubike said, "we are pleased with the simultaneous affirmations of InfraCredit's "AAA" rating, with stable outlook, by the duo foremost credit rating agencies, Agusto and GCR. This assertion, which follows the thorough independent assessments by these reputed institutions, is a testament of our balance sheet capacity, impeccable quality of our guarantees and sound risk management practice. We would continue to adhere to global best practice in transaction structuring, governance, and market development, as we continuously strengthen our capitalization and broader capacity in pursuit of our vision to catalyze real sector growth through innovative infrastructure financing. Notwithstanding the challenges presented by the current COVID-19 pandemic, we continue to preserve our strong fundamentals, as we are committed to unlocking domestic credit to the private sector for infrastructure development that will create jobs and promote local economic growth.''
---
About InfraCredit
InfraCredit is a 'AAA' rated specialised infrastructure credit guarantee institution backed by the Nigeria Sovereign Investment Authority, GuarantCo (a Private Infrastructure Development Group company), KfW Development Bank and Africa Finance Corporation to provide local currency guarantees and mobilize long term debt financing for infrastructure in Nigeria. InfraCredit's guarantees act as a catalyst to attract domestic credit from pension funds, insurance firms and other long-term investors into credit-worthy infrastructure projects, thereby deepening the Nigerian debt capital markets. InfraCredit operates on a commercial basis with a developmental role and benefits from private sector governance.
InfraCredit maintains the highest domestic financial strength ratings accorded to any financial institution by Agusto & Co. and Global Credit Ratings Co., two of the major domestic credit rating agencies.
For more information please visit www.infracredit.ng
InfraCredit Media & Guarantee Enquiries
Guarantee Enquiries : [email protected]
Media Enquiries: [email protected]
+234 (0) 1 631 2300
www.infracredit.ng