More gains than losses for Nigeria's billionaires in Q2, 2020
The reasons for this could be the crisis that we saw in the global oil sector.
After a dramatic first quarter which ended with the declaration of a nationwide lockdown, Nigeria's billionaires and entrepreneurs entered Q2 2020 uncertain of what the pandemic held for them.
The lockdown and restrictions on inter-state movement had lots of implications for all sectors of the economy, including the consumer goods sector which was allowed inter-state movement. The cost of transportation increased, with implications on the end-cost of the goods.
Amidst all of these, stock trading continued with the usual rise and fall which characterises the bourse. This article looks at the gains and losses of Nigerian billionaires in the midst of the drama that became a feature of the new normal.
READ ALSO: Aliko Dangote Foundation Engages 54gene Laboratory to Conduct 1,000 COVID-19 Tests per Day in Kano
Interestingly, there are major gains across the different sectors except for the oil and gas sector where we see a dip. The reasons for this could be the crisis that we saw in the global oil sector. Let's see the millions lost and gained.
Jim Ovia
Jim Ovia is not only the founder of Zenith Bank Plc, he is also the largest individual shareholder with 3,546,199,395 direct shares and 1,513,137,010 indirect shares.
His net worth is not quite easy to ascertain, although the shares which he holds and controls in the listed bank are not hidden; hence our ability to ascertain his losses in the quarter.
The stock market opened on April 1 with a share price of N11.40 for Zenith bank shares. At this time, Ovia's total 5 billion shares were worth N57 billion (N57,676,435,017).
After an interesting and highly positive quarter, the share price ended at N16.1 at the close of trading on June 30. With this, the worth of Ovia's shares rose to N81.45 billion (N81,455,316,120.50).
READ MORE: Top 10 Stockbrokers trade N391.9 billion in Q1 2020 despite bearish market
The Delta-born billionaire gained an impressive N23.78 billion in the quarter.
Herbert Wigwe
Group MD/CEO of Access Bank, Herbert Wigwe directly owns 201,231,713 shares and indirectly controls 1,157,082,349.75 shares with the bank, summing up to 1,323 billion shares.
As at April 1, a unit of Access Bank share was worth N5.75, putting the worth of Wigwe's 1.32 billion shares at N7.97 billion (N7,607,381,738.25).
When there was a dip in share price in June, Wigwe purchased shares amounting to 7,546,458 shares, and this brings his indirect shares to 1.129 million shares.
In addition to the 201,231,713 shares which he directly owns, Wigwe now has a total of 1.33 billion shares under his control.
READ ALSO: World Bank's $2.5bn loan will hurt Nigeria's economy – LCCI 
At the close of the quarter, on June 30, Access Bank shares closed the trading day with a unit share price of N6.55.
The market value of Wigwe's 1.33 billion shares (both direct and indirect) grew to N8.7 billion (N8,715,229,367).
Within the three-month period, Wigwe gained N1.1 billion (N 1,107,847,628.75) in his Access bank shares, from the appreciation in share price and gains on the additional shares he purchased.
Tony Elumelu
Founder and Chairman of United Bank for Africa Plc, Tony Onyemaechi Elumelu (TOE) had a total of 2.3 billion (2,304,211,118) units of shares – 190,100,234 direct and 2,114,110,884 indirect shares, valued at N11.4 billion (11,405,845,034.10) at the unit price of N4.95 on April 1.
He made a purchase of 45,378 additional shares between May and June to slightly increase his direct shares to 190,145,612, and total shares to 2,304,256,496 units.
UBA's share price was N4.95 on April 1 and N6.25 at the close of trading on June 30; a major growth for TOE and his 2.3 billion shares.
The total worth of Elumelu's shares grew significantly from N11.4 billion on April 1 to N14.4 billion (N14,401,603,100) on June 30.
READ ALSO: Nigerian billionaires lose billions amid COVID-19 pandemic
The billionaire gained N2.9 billion (N2,995,758,065.9) by the end of the second quarter, from the increase in share price and gains on the additional units bought.
This does not take into cognisance, other gains or losses he may have in other listed companies where he holds some shares.
Austin Avuru
Standing odd among the billionaires is co-founder of Seplat, Austin Avuru, the only one who recorded a loss for the quarter.
Avuru indirectly owns about 58,970,463 indirect shares in the oil and gas company, after selling off his direct shares.
However, the company awarded Avuru some shares under the Long-Term Incentive Plan for Directors, as well as some under the deferred bonuses, totaling to 1,774,436 units of shares. This addition now brings his shares to 60,744,889 units.
A stock price of N544.5 as at April 1 showed that these stocks were worth N33 billion (N 33,075,597,506) at the start of the quarter.
On June 30, unit share price had plummeted to N386 and Austin Avuru's shares were worth N23.44 billion (N 23,447,531,014).
He lost N9.6 billion (N 9,628,066,492 loss) in the quarter.
READ ALSO: Disclosed insider dealing seen impacting share prices.
Mike Adenuga
Chairman of Conoil Nigeria Plc, Mike Adenuga directly controls 516,298,603 units of shares, as well as 103,259,720 units of shares controlled through Conpetro Limited, making for about 74.4% of Conoil's issued share capital.
Conoil's stock prices started the period at N13.15 on April 1, and closed at N21.00 at the end of trading on June 30.
This trend puts the value of Adenuga's 619.55 million shares at a market value of N8.14 billion (N8,147,191,947.45) on April 1, and N13 billion (N13,010,724,783.00) at the close of the quarter.
Adenuga gained N4.86 billion (N4,863,532,835.55) in the second quarter of 2020.
READ MORE: What you need to know about proposed tariff review by DisCos
Aliko Dangote
Nigeria's richest man, Aliko Dangote owns both direct and indirect shares in the companies that make up the Dangote Group.
For Dangote Sugar, the share price opened the quarter at N8.90 and appreciated through the quarter to close at N12.00 on June 30.
The billionaire directly owns 653,095,014 shares and indirectly owns 8,122,446,281 shares through the Dangote Industries Limited in Dangote Sugar, summing up to 8.77 billion shares.
The upward trend in share price caused the worth of his shares in the company to rise from N78 billion (N78,102,317,525.50) on April 1 to N105 billion (N105,306,495,540.00) on June 30, 2020.
Aliko Dangote gained N27 billion (N27,204,178,014.50) in his investments in Dangote sugar in the period under review.
Dangote Cement share price also had an upward trend from N116.80 on April 1 to N127 at the end of June 2020.
As head of the Dangote Group, Aliko Dangote has 14.5 billion direct shares in the company and another 27 million share units which he indirectly controls through Dangote Industries Limited.
This brings the total shares under his control to N14.5 billion (14,527,958,138) units.
READ ALSO: These billionaires are set to cash out as banks pay interim 2019 dividends 
As at the beginning of the period, all 14.5 billion shares were worth N1.69 trillion (N1,696,865,510,518.40) at the market share price of N116.80. By the end of the period, the value had grown by N148 billion to N1.84 trillion (N1,845,050,683,526.00).
Adding his gains in Dangote sugar with that of Dangote Cement, we can see that the billionaire grew richer to the tune of N175 billion (N 175,389,351,022.10).
NASCON share price went up from N8.50 to N10.50 at the end of the period. However, the number of shares that Aliko Dangote owns in NASCON are not publicly available, so whatever gains he might have made from NASCON are not included in this figure.
Abdulsamad Rabiu
Abdulsamad Rabiu owns 19 billion (19,044,995,225) direct shares and 12,225,657,356 indirect shareholdings through 3 companies, totalling to 31.2 billion (31,270,652,581) units in BUA Cement.
BUA Cement stocks sold at N35.3 for a unit on April 1, and closed at N38.7 on June 30.
At the beginning of the quarter, Rabiu's 31.27 billion shares (direct and indirect) were worth N1.1 trillion, and by the end of Q2, the value of the shares had risen well above N1.2 trillion.
Rabiu gained over N106 billion (N 106,320,218,775) in Q2, 2020.
Summary: Gains/losses (N'billion)
Austin Avuru – 9.628
Aliko Dangote – 175.389
Mike Adenuga – 4.863
Elumelu Tony – 2.995
Jim Ovia – 23.778
Herbert Wigwe – 1.107
Abdulsamad Rabiu – 106.32
Download the Nairametrics News App
Note: Although these billionaires also have other private assets, and hold shares in some other listed companies, this article focuses on the major companies where they have recorded gains or losses.
Many Billionaires became richer by 27% during the COVID-19 pandemic – Swiss Bank UBS
The world's richest saw their wealth climb 27.5% to $10.2trn (£7.9trn) from April to July this year.
Many billionaires have seen their fortunes hit record highs during the pandemic, with top executives from technology and industry earning the most.
According to reports from Swiss bank UBS, the world's richest saw their wealth climb 27.5% to $10.2trn (£7.9trn) from April to July this year.
This is up from the previous peak of $8.9trn at the end of 2017, and largely due to rising global share prices.
READ: Only 9% of Nigerian households obtained loans from banks and microfinance institutions since March – NBS
It also said the number of billionaires had hit a new high of 2,189, up from 2,158 in 2017. It comes as the recent World Bank report showed that acute poverty is set to rise this year for the first time in more than two decades due to the pandemic.
Among the billionaires, the biggest winners this year have been industrialists, whose wealth rose by a staggering 44% in the three months leading to July.
According to Swiss Bank UBS, "Industrials benefited disproportionately as market price increased in a significant economic recovery [after lockdowns around the world]."
READ: NNPC releases audited financial statements, refineries record losses of N154 billion
Other lucky beneficiaries of the pandemic are the Tech billionaires, as their wealth soared by 41%, largely due to the corona-induced demand for their goods and services and social distancing, which accelerated and created the impetus for digital businesses; thereby, compressing several years' of evolution into a few months.
Healthcare billionaires also benefited as the crisis put drug makers and medical device companies in the spotlight.
READ: Wealth of world's billionaires hits $10.2 trillion
Amazon boss Jeff Bezos and Tesla founder Elon Musk – both multi-billionaires – saw their wealth hit new highs this summer, thanks to growth in the price of their companies' stock.
According to UBS, in the last 11 years, China's billionaires have increased their wealth by the biggest percentage, climbing 1,146% between 2009 and 2020.
READ: Senate investigates Nigerian banks over ATM, SMS, and maintenance charges
By comparison, over the same period, the wealth of British billionaires has risen by just 168%. But the biggest accumulation of wealth remains in the US, where American billionaires have $3.5trn, compared to China's $1.7trn.
The UK's wealthy billionaires have just $205bn, compared to Germany's $595bn and France's $443bn.
 READ: Bitcoin Mining just got harder, as mining difficulty reaches an all-time high
Donations
According to UBS, many billionaires benevolently donated some of their wealth to help with the fight against COVID-19,
"Our research has identified 209 billionaires who have publicly committed a total equivalent to $7.2bn from March to June 2020.
"They have reacted quickly, in a way that's akin to disaster relief, providing unrestricted grants to allow grantees to decide how best to use funds."
READ: Buhari earmarks N420 billion for N-Power, GEEP and others under NSIP in 2021 budget
The UBS report also revealed that the UK billionaires donated less than those from other countries.
In the US, 98 billionaires donated $4.5bn; in China, 12 billionaires gave $679m; and in Australia, just 2 billionaires donated $324m. But in the UK, 9 billionaires donated just $298m.
Wealth of world's billionaires hits $10.2 trillion
The total billionaire wealth globally has climbed by 27.5%, reaching $10.2 trillion, up from $8.0 trillion at the beginning of April.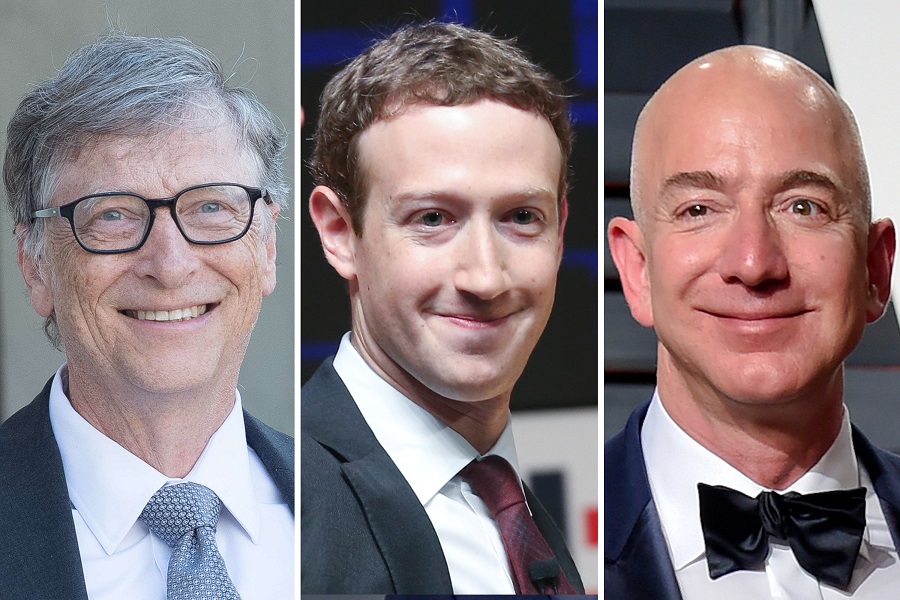 As market turbulence continues to propel the wealthiest amongst us; the world's billionaires have seen their wealth surge to a peak of $10.2 trillion in July, a 14.61% increase from the $8.9 trillion at the end of 2017. 
This was uncovered in the 2020 Billionaires report tagged the "Riding Storm" which was published today, by the Swiss bank UBS and the accounting firm PwC. 
The report found out that the COVID-19 pandemic turbocharged the global economy's transition to digital, and this has benefited today's billionaires, as the pipeline of fresh technologies grows by the day. 
READ: Elon Musk now the third-richest person in the world
The COVID-19 crisis indeed has been the real border between the old and the new economy, as it has spurred increased opportunities for the innovators and the disruptors who dominate the Technology, Health, Industrials, and Entertainment & Media.
However, the net wealth of traditional billionaires in the intermediate industries and sectors, such as entertainment, financial services, materials, and real estate sectors lagged the rest of the universe. While the wealth of those in older industries suffers. 
READ: World billionaires' wealth drop by $388 billion in 2018
With the number of billionaires declining by 43 to 2,058, the total billionaire wealth globally has climbed by 27.5%, reaching $10.2 trillion, up from $8.0 trillion at the beginning of April, and higher than the previous peak of $8.9 trillion at the end of 2017. The number of billionaires has increased from 2,158 in 2017 to 2,189. 
During 2018, 2019, and the first seven months of 2020, the Billionaire class as a whole saw their wealth increase by 19.1%. This clearly signals the polarization taking place, and the rising wealth divergence between billionaires across industries. 
READ: MTN Nigeria records gain, investors profit up by N42 billion
Technology billionaires' total wealth rose by 42.5% to $1.8 trillion, supported by the surge in tech shares. The net worth among those in entertainment, materials, real estate, and finance, lagged the rest of the universe with increases of 10% or less. 
However, healthcare billionaires' total wealth increased by 50.3% to $658.6 billion, boosted by a new age of drug discovery and innovations in diagnostics and medical technology, as well as COVID-19 treatments and equipment. 
READ: 5 habits of Nigeria's business billionaires you should emulate
Geographically, Mainland China benefited most, as billionaire wealth grew fastest in Asia. As of early April 2020, there were 389 Chinese billionaires, worth a total of $1.2 trillion. Their wealth had grown by almost nine times, compared with twice in the US.
The report also revealed that US billionaires collectively controlled $3.6 trillion of the $10.2 trillion global wealth. Billionaires in Mainland China accounted for $1.7 trillion, while Germany and Russia accounted for $594.9 billion and $467.6 billion of the total billionaire wealth respectively. 
The report also spiked concerns on the issues of the growing wealth gap and rising inequality in the world, as the majority at the end of the scale has seen their wealth decline owing to the disruption by the global pandemic. The research arm of the United Nations has warned that global poverty could increase this year for the first time since 1990, reversing a decade of progress. 
However, it was suggested in the report that higher productivity is needed to address the huge public financial deficits while taking care to reduce social inequality and to tackle the environmental resource scarcity by doing more with less.
Elon Musk now the third-richest person in the world
Musk has seen a meteoric rise in his wealth, with his net worth growing by $87.8 billion this year.
The recent surge in many leading U.S technology stocks have unsurprisingly created wealth for their founders, investors and stock traders.
What we know: Elon Musk just surpassed the co-founder of Facebook, Mark Zuckerberg to become the third richest person in the world. Shares of Tesla Inc. continued its unrelenting surge after the recent stock split of Tesla stocks. Musk is now estimated to be worth about $115.4 billion, according to the Bloomberg Billionaires Index.
Musk is the present chief executive officer of Tesla, a maker of electric vehicles.
The Palo Alto, California-based company sells sedans, sport utility vehicles, and is the state's largest automotive employer. He's also CEO of Space Exploration Technologies, a rocket manufacturer tapped by NASA to resupply the space station.
Musk, 49, has seen a meteoric rise in his wealth, with his net worth growing by $87.8 billion this year as Tesla shares surged almost 500%.
Also helpful: an audacious pay package – the largest corporate pay deal ever struck between a chief executive officer and a board of directors – that could yield him more than $50 billion if all goals are met.
On Monday, Nairametrics reported how Tesla's share price rose to almost $500 following a 5-for-1 split. Nearly 70 million shares had changed hands as at then, two-thirds of the daily average over the past year.
Tesla's $464 billion market value now exceeds that of retail behemoth Walmart Inc., the largest company in the U.S. by revenue.
Recall Nairametrics, about two weeks ago highlighted major reasons why Nairametrics believed the stock was a strong buy and could surpass the present most valuable listed technology company.
Tesla was founded in 2003 by a group of engineers who wanted to prove that people didn't need to compromise to drive electric – that electric vehicles can be better, quicker, and more fun to drive than gasoline cars.
Today, Tesla builds not only all-electric vehicles but also infinitely scalable clean energy generation and storage products. Tesla believes the faster the world stops relying on fossil fuels and moves towards a zero-emission future, the better.