More banks, insurance firms declare closed periods ahead of H1 results release
Insiders are prohibited from trading a company's stock during a closed period.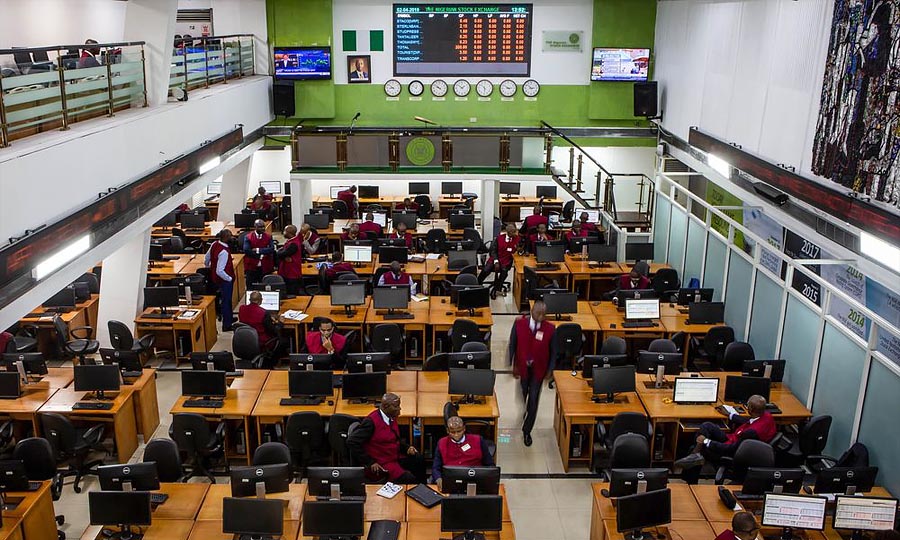 Access Bank Plc, NPF Microfinance Bank Plc, Regency Assurance Plc, FBN Holdings Plc, AXA Mansard Insurance Plc, and Consolidated Hallmark Insurance Plc are among the latest financial services firms that have declared closed periods and announced board meetings, ahead of the release of their half-year 2020 earnings reports.
In a statement issued to the Nigerian Stock Exchange on July 13, 2020, Access Bank Plc informed its stakeholders that its closed period will commence today and last until twenty-four hours after the company's audited interim financial statements for half-year 2020 has been released.
The tier-1 bank also announced that its directors will meet later this month (July 30th to be precise), to consider the financial statements as well as a proposed interim dividend payment to shareholders.
READ ALSO: AXA Mansard to downsize business, awaits shareholders' nod 
NPF Microfinance Bank Plc also notified stakeholders that its closed period began on July 13 and will last until twenty-four hours after the release of its Q2 2020 financial statement. In the meantime, the company's directors will meet on July 28th to deliberate on the results ahead of release.
Board members of Regency Assurance Plc will meet on July 28 to consider the company's Q2 2020 financial statements. The closed period started yesterday and will end one day after the Q2 report has been released.
As for FBN Holdings Plc, closed period started today July 14, 2020, even as the board members are scheduled to meet on July 29.
AXA Mansard Insurance Plc also notified the Nigerian Stock Exchange that its directors will also meet on July 29 to consider the company's Q2 2020 unaudited financial statements. The company also sent a separate notice informing stakeholders about the commencement of its closed period starting from today July 14.
READ MORE: Bank loans not main funding option for Nigerian MSMEs -PwC
Lastly, Consolidated Hallmark Insurance Plc's board will meet on the 29th of July to deliberate on some issues, including the company's Q2 financial result. The company's closed period started yesterday.
As Nairametrics explained in an earlier report,  the board members of companies listed on the NSE typically meet to consider/approve financial statements before the release of such statements. In view of half-year 2020 results releases, most directors are scheduled to meet this month.
READ MORE: Veritas Kapital Assurance Plc declares closed period, as directors meet July 23rd
Meanwhile, between the time a company's board of directors meet over their financial statements and the actual release of said financial statements, there is what is called "a closed period". During this closed period, all persons with insider knowledge of the company's affairs are prohibited from trading in the company's stock.
CBN says 22 banks to restructure over 35,000 loans due to COVID-19
This is seen as part of measures by the apex bank to curb the rise in non-performing loans.
The Central Bank of Nigeria (CBN) has disclosed that 22 Nigerian banks submitted requests to restructure 35,639 credit facilities of businesses that were impacted by the coronavirus pandemic, as of July 20, 2020.
This represents 41.92% of the total industry loan portfolio and has partly reflected in improved industry risk profile, as non-performing loans ratio declined from 6.6% in April 2020 to 6.4% in June 2020.
The disclosure is part of the personal statement made by the CBN Deputy Governor, Financial System, Aisha Ahmad, during the last Monetary Policy Committee (MPC) on July 20, 2020.
She said that the net interest margin remained quite robust despite lower interest income, due to much lower industry interest expense, as deposit rates continued to decline.
This is seen as part of measures by the apex bank to curb the rise in non-performing loans in the system due to the impact of the coronavirus pandemic and low oil prices.
Also, as part of the drive to reduce non-performing loans, Nairametrics reported that the CBN had given approval to banks to debit bank accounts of chronic loan defaulters with other banks. They were given the power to debit loans and accrued interests due from bank accounts of loan defaulters across the banking system.
She also said, "The loan-to-deposit ratio (LDR), Global Standing Instruction, streamlining of access to Open Market Operations securities and other complementary measures have been strong tailwinds which have strengthened intermediation via increased lending to the key sectors such as manufacturing, agriculture and consumer markets (gross credit grew by an additional N300 billion from N18.6 trillion to N18.9 trillion between end April and end June 2020 respectively) and lower market lending rates, which have insulated the financial system from the worst impact of the pandemic."
Aisha Ahmad explained that these efforts were supported by various ongoing CBN interventions to reduce the impact of the coronavirus pandemic on businesses and households.
Download the Nairametrics News App
Some of these interventions include the N50 billion SME and household facility, out of which N49.195 billion has been disbursed to over 92,000 beneficiaries; the N100 billion healthcare facility, and N1 trillion manufacturing and agricultural interventions alongside other significant interventions.
In her note, she said sustained credit to the real economy, particularly for SMEs and households, would be crucial to economic recovery, therefore maintaining banking industry liquidity would be paramount.
Fitch forecasts that banks' earnings will be hit hard by CBN's CRR policy, others
The CRR debits on Nigerian banks have exceeded the N2 trillion mark in 2020 alone.
Foremost International Rating Firm, Fitch Ratings, has forecast that punitive policies by the Central Bank of Nigeria (CBN), especially the Cash Reserve Ratio (CRR) debits on Nigerian banks, will negatively impact on their earnings.
According to the rating firm, this is coming at a time when most other countries are giving banks extra leeway to fight the economic fallout of the coronavirus.
READ MORE: CBN maintains MPR at 14% for the 11th consecutive time
The Senior Director for Europe, Middle East and Africa at Fitch, Mahin Dissanayake, in an interview, said:
"The Central Bank of Nigeria has been highly interventionist. Where peers like South Africa and Kenya followed the global trend of giving banks more room to lend, Nigeria hasn't budged. Instead, it stuck with a cash reserve ratio that compels lenders to park 27.5% of their deposits with the central bank.'
"The CRR is unique and hugely punitive. The regulation is aimed at reducing the amount of money in the financial system to keep inflation in check.''
READ MORE: Loan: CBN disburses over N300 billion to SMEs, health, agric, manufacturing sectors
Dissanayake pointed out that keeping those huge idle cash with the CBN in a non-interest yielding account puts a lot of pressure on the earnings of the banks, as they would have been put to better use through ventures such as lending. The inability of the banks to meet the requirements of the apex bank results in the debiting of the banks' accounts with the shortfall.
The CBN also debits the accounts of banks who fail to meet the 65% loan to deposit ratio (LDR) regulation, a policy which is aimed at stimulating credit in the economy.
READ ALSO: Nigerian banks have written off N1.9 trillion impaired loans in past 4 years
The CRR debits on Nigerian banks have exceeded the N2 trillion mark in 2020 alone, some of which are speculated to be aimed at reducing the capacity of the lenders to participate in the foreign exchange market and as a result reducing the pressure on the naira.
According to an earlier report from Nairametrics, some analysts suggest that the CBN debits the accounts of banks arbitrarily without adhering to the 22.5% CRR, just to manage the liquidity in the system.
Dissanayake disclosed that enforcement of these policies and penalties have caused an effective hit on capital to between 40% and 50%.
He said, "Nigerian banks compared to other markets operate in a volatile environment. The banks have to deal with economic shocks, short credit cycles and persistent problems in the oil sector. They also have to deal with policy actions, policy uncertainty and regulatory risks."
He, however, said that the positive side of this is that the strong revenue-generating capacity in a large Nigerian economy allows the banks to absorb the higher cost of risk even when income from interest charges on loans deteriorate.
Download the Nairametrics News App
The financial results for the first half of the year saw Nigerian banks record trading and foreign exchange revaluation gains which had neutralized the lower yields on government bond holdings, slower loan growth and fewer transactions from customers due to the effect of the coronavirus pandemic.
Dissanayake forecasted an estimated 20% decline in revenue, with a decline as well in profitability. The degree of decline in profitability will depend on the extent of loan impairment charges and the size of trading and translation gains.
Sterling Bank reveals N215 billion sequestered by CBN as CRR Debits
Sterling Bank Plc, one of Nigeria's tier 2 banks reported that the Central Bank of Nigeria's CBN restricted about N215.5 billion of its customer deposits as of June 2020.
Sterling Bank Plc, one of Nigeria's tier 2 banks reported that the Central Bank of Nigeria's CBN restricted about N215.5 billion of its customer deposits as of June 2020.
The bank reported this in its 2020 half-year interim results published on the website of the Nigerian Stock Exchange. According to the data, Sterling Bank's confirmed the amount of its customer deposits now held by the CBN is about N215.5 billion and explained it "represent mandatory reserve deposits and are not available for use in the bank's day-to-day operations" which can be interpreted as Cash Reserve Requirement "CRR".
READ ALSO: CBN debits banks another N459.7 billion for failure to meet CRR target
Sterling Bank Data
Deposits from Customers – N915.3b (N892. 6billion)
Loans to customers – N615 billion (Dec 2019: N618.7 billion)
Sterling Bank CRR – N215.5 billion (Dec 2019: N122.1 billion)
Sterling Bank got debited N93 billion so far this year
This breaks down to about N71.1 billion and N21.9 billion debited in the first and second quarters respectively.
CRR as a percentage of deposits as at June 2020 – 23.5%
READ MORE: As AMCON nears possible 'liquidation', what should we expect?
CBN CRR Policy
The central bank of Nigeria increased its cash reserve requirement (CRR) to 27.5% from 22.5% at the monetary policy committee meeting held on January 23rd to 24th. The CRR is the amount the CBN debits from banks accounts in compliance with its monetary policy objective of mandatorily keeping cash on behalf of banks. The amount is not available for banks to use.
Download the Nairametrics News App
Sterling Bank Results
The Bank also published its 2020 second-quarter results showing net interest income was up 16% to N18 billion.
Pre-tax profits also rose 24% YoY to N3.3 billion despite the Covid-19 pandemic induced economic lockdowns.
Despite the improved profits, the bank did report a spike in its provisions for impairments jumping almost 3 folds to N5.3 billion.
To put this into context, Sterling Bank suffered an impairment of N5.8 billion in the whole of 2019.
Sterling Bank's cost to income ratio remains high at about 86%.