NNPC spends N535.9 billion on subsidy, FAAC in Q1 2020
Petrol subsidy gulped N101.65bn in the first three months of the year.
The Nigerian National Petroleum Corporation (NNPC) spent over N535.9 billion on subsidy and Federation Account Allocation Committee in the first quarter of 2020.
This was disclosed by the corporation in its Monthly Financial and Operations March 2020 report.
The report revealed that while the petrol subsidy gulped N101.65bn in the first three months of the year, the sum of N434.25 billion was paid to FAAC within the same period.
The national oil firm described the subsidy spending as under-recovery. This means that Nigeria is incurring an additional cost in subsidizing the price of petrol to make sure it falls within the regulated price of N143.80 per litre, even though the real market price is above this regulated rate.
READ ALSO: NNPC's subsidiary to ship crude again after years of inactivity
It had consistently argued that only the National Assembly was empowered to approve petrol subsidy, despite the fact that NNPC's monthly under-recoveries were due to subsidy on petrol.
According to the report, while the corporation spent N43.31bn as subsidy on petrol in January 2020, in February, it incurred N20.68bn as under-recovery, and N37.66 billion in March as subsidy.
However, subsidy was halted in March 2020 by the Petroleum Products Pricing Regulatory Agency after the crash in global crude oil prices.
The development, according to the PPPRA, led to the end of petrol subsidy, as the agency stated that petrol price would be adjusted in accordance to global oil prices.
READ ALSO: 2021 Budget: FG projects spending plan of N11.86 trillion and deficit of N5.16 trillio
The PPPRA has adjusted petrol price about three times since after the first adjustment in March this year.
The NNPC report further stated that the corporation paid N434.25bn to the Federation Account Allocation Committee during the quarter under review.
It stated that in January, a total of N138.57bn was remitted to FAAC, while the committee received N148.53bn from the corporation in February 2020.
The NNPC said it paid N147.15bn to FAAC in March this year.
NNPC opens bid for repairs of pipelines and depots on a finance and operate basis
The project is expected to be operated on a public-private partnership basis.
The Nigerian National Petroleum Corporation (NNPC) declared open on Tuesday, August 11, bids by interested private investors to repair the pipelines and depots that are serving the refineries.
These pipelines, built almost 4 decades ago, are very critical in the successful movement of crude oil to the country's 3 refinery complexes located in Port Harcourt, Kaduna and Warri, and the subsequent movement of the finished petroleum products to the consumers.
The pipelines, which according to NNPC are in dire need of comprehensive repairs, have experienced years of incessant theft and vandalism as well as ageing.
READ MORE: Refinery operations still loss-making: Capacity utilisation of the four refineries still 0% 
This project is expected to be operated on a public-private partnership basis as the bidders are expected to finance and execute the project, then operate for an agreed number of years before transferring back to the NNPC. In other words, the bidders for the extensive repairs of these pipelines would have to finance them independently and operate for a defined period in order to recover their investment costs with throughput tariffs.
It must be noted that this model is similar to the one that had been in place by the state oil giant for the refineries. The NNPC had also announced plans to get private investors to invest in the repair of the 3 refineries on a repair and operate basis, as they do not want to be involved in the management of these refineries.
The NNPC Group Managing Director, Mele Kyari, had said that the ultimate plan for these refineries was to allow it to run on the LNG model, where the shareholders would be free to decide on the fate of these refineries going forward.
READ MORE: NNPC states why it failed to fix refineries, to build 200,000 capacity refinery
The refineries, which have only run sporadically, were shut down by NNPC earlier this year while awaiting repairs and upgrade. These 2 projects are expected to be handled separately according to information made available on Tuesday.
In addition, the new pipelines would need intrusion detection systems, as well as deep burial, to stop theft or vandalism. The deadline for the submission of these bids is due by September 18.
Five oil majors reduce value of their assets by $50 billion in Q2
Energy demand at one point was down by more than 30% globally.
Five oil majors (including Exxon Mobil and British Petroleum) reduced the value of their assets by $50 billion in Q2, 2020. They also reduced their production rates as the COVID-19 pandemic caused a downward trend in energy demand.
What this means: The cut in asset valuations and reduction in crude oil production by these oil majors showed the depth of damage the COVID-19 pandemic caused on the global energy sector in Q2, 2020.
Energy demand at one point was down by more than 30% globally and still remains below pre-pandemic levels.
READ MORE: Respite for Nigeria as Exxon Mobil and Shell lose $1.8 billion arbitration award  
Some of these conpanies' executives said they took these austerity measures because they expect demand to continue to be on the downward trend in the meantime. This is in view of the fact that people around the world are traveling less, even as many global industries are not in full capacity. The pandemic has already killed more than 700,000 people.
Of those five oil majors, only Exxon Mobil (XOM.N) did not book sizeable impairments, Reuters reported. However, an ongoing re-evaluation of Exxon Mobil plans could lead to a reasonable amount of its assets being impaired, and signal the removal of 20% or 4.4 billion barrels of its oil and gas reserves.
READ ALSO: Oil prices drop to 21-year low as demand and storage crises persist
Oil major BP (BP.L) took a $17 billion hot. It said its plans in the coming years would be a focus on renewables and fewer fossils.
About two weeks ago, Nairametrics reported how Exxon Mobil and Chevron posted their worst losses in modern history, as the COVID-19 pandemic and a glut in crude oil reduced the demand for energy products in the second quarter of 2020.
World's largest oil company to pay $75 billion annual dividend, despite plunge in profits
Saudi Aramco is the national energy company of Saudi Arabia.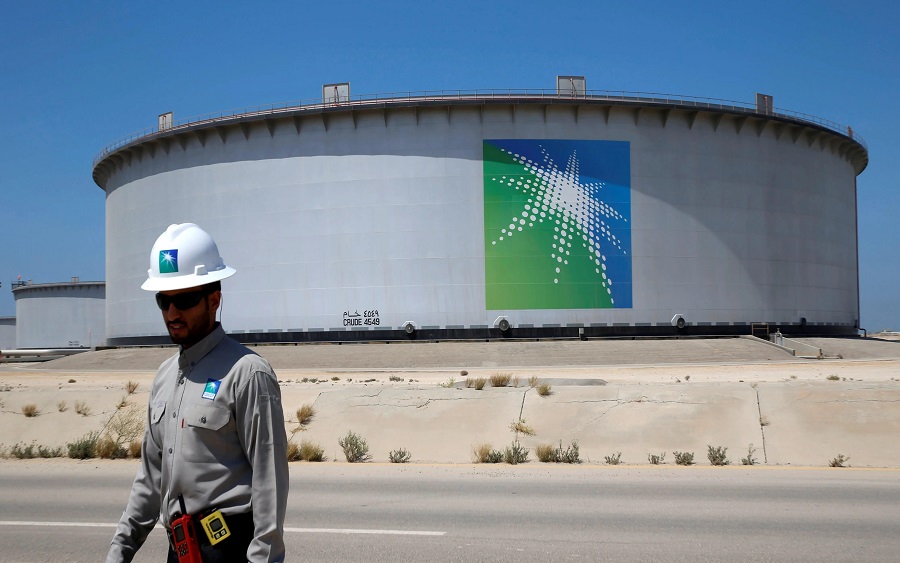 The world's largest oil company, Saudi Aramco reported a 73% drop in profit Q2,2020 profit and still kept its plans to pay $75 billion in annual dividends in a report credited to Bloomberg News
Saudi Aramco reported a plunge in profits for Q2,2020 of 24.6 billion riyals compared to 92.6 billion riyals recorded in the same corresponding year.
Aramco will pay a Q2,2020 dividend of $18.75 billion, most of it to the government of Saudi Arabia, the company's major shareholder.
READ MORE: Apple becomes world's largest public listed company, valued at $1.82 trillion
The plunge in profit was due mainly to "the impact of lower crude oil prices and declining refining and chemical margins," Aramco said in the statement to the Saudi stock exchange.
"Strong headwinds from reduced demand and lower oil prices are reflected in our second-quarter results," said Chief Executive Officer Amin Nasser.
"We are seeing a partial recovery in the energy market as countries around the world take steps to ease restrictions and reboot their economies."
READ ALSO: Shoprite's owners to leave Nigeria after 15 years
Quick fact; Saudi Aramco is the national energy company of Saudi Arabia. It produces five grades of crude oil and natural gas liquids.
It also produces refined energy products that include liquefied petroleum gas, ethanol, naphtha,  and other products.
It exports about 75% of its crude oil to foreign markets, most often with its oil tankers. Saudi Aramco has access to crude oil reserves of about 260 billion barrels, the largest in the world.
READ ALSO: Nigeria's Petroleum minister and Saudi Aramco discuss investment options
OPEC's largest oil exporter, Saudi Arabia has been hit hard by global economic restrictions aimed at curbing the spread of COVID-19.
The Saudis make most of its revenue from crude oil, which has dropped 33% in value this year.