BUA cement to build power and cement plants in Adamawa state
BUA Cement's newest plant in Sokoto is expected to be operational in 2021.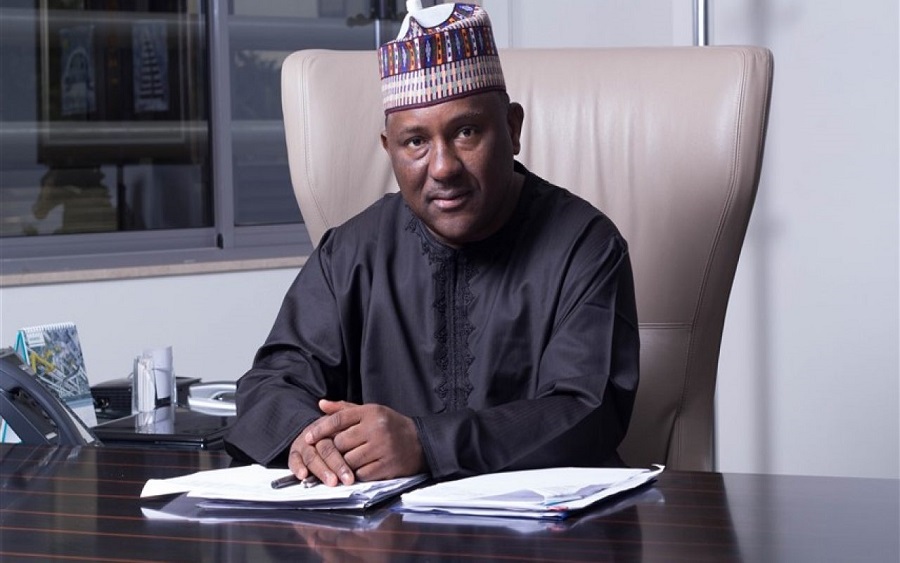 BUA Cement has announced plans to build a 50 megawatts power plant and 3 million metric tonnes cement plant in Lamurde and Guyuk local governments in Adamawa States.
BUA Cement which is Nigeria's second-largest cement producer by volume with plants in Sokoto and Edo States, with the projects wants the boost the country's power supply and increase the local production capacity for cement.
This was disclosed by the Chairman of BUA Cement, Abdul Samad Rabiu, in a press statement on Sunday, July 5, 2020, in Lagos.
The BUA Cement Chairman who led the company's management team on a courtesy visit to the Adamawa State Governor, Ahmadu Umaru Fintiri, after preliminary findings showed that Guyuk and Lamurde areas had quality limestone.
According to Rabiu, "Preliminary findings show that the two local governments of Guyuk and Lamurde are reputed to have good quality limestone deposits and BUA Cement is ready to begin the investment in the state.
"BUA will use new technologies to supply power to the proposed cement plant and communities of Guyuk and Lamurde in addition to providing three thousand direct and five thousand indirect jobs.
"Guyuk Cement Plant will be a major investment in the North-East by BUA, while we solicit the support of Gov. Umaru Fintiri to set up the factory in Guyuk."
READ MORE: 10 fantastic things Aliko Dangote has done in the last 10 years
He added that while the company has invested billions of dollars in various sectors across Nigeria, it has taken a decision to source its raw materials locally and therefore urged the Adamawa state government to support BUA to actualize the GUYUK Cement project.
The Adamawa State Governor, Ahmadu Fintiri, in his response assured the Chairman and management team of BUA, that the state government would provide all the necessary support and make available whatever was needed to make the projects a reality.
BUA Cement's newest plant in Sokoto is expected to be operational in 2021 and expects that its total production capacity will get to 14 million metric tonnes of cement per annum upon the completion of Guyuk Cement Plant.
BUA Cement has been having a running battle with Dangote Cement over the ownership of 3 mining sites in Obu and Okpella in Edo State. The mining sites have been subject of legal tussle between the 2 biggest cement companies in the country.
LPG: Nigerians paid more to refill 12.5kg gas cylinders in December
Nigerians paid more money to refill their 12.5Kg gas cylinder in December than they did in November 2020.
The average price for refilling 12.5kg cylinder of liquefied petroleum gas (LPG) increased by 1.75% in December compared to the month of November, according to the NBS report for December 2020.
The average cost of refilling the 12.5kg gas cylinder moved from N4,082.97 in November to N4,154.28 in December 2020.
According to the NBS report, the average price for refilling a 5kg cylinder of cooking gas increased by 0.12% month-on-month to N1,949.75 in December 2020 from N1,947.47 in November 2020.
Key highlights
Bauchi (N2,489.12), Borno (N2,396.69) and Adamawa (N2,392.88) recorded the highest average price for the refilling of a 5kg cylinder for Liquefied Petroleum Gas in the month of December 2020.
Enugu (N1,563.75), Imo (N1,678.89) and Oyo (N1,691.67) recorded the lowest average price for the refilling of a 5kg cylinder for Liquefied Petroleum Gas.
Delta (N4,838.46), Cross River/Sokoto (N4,800.00) and Akwa Ibom (N4,614.49) recorded the highest average price for the refilling of a 12.5kg cylinder for Liquefied Petroleum Gas.
While, Kaduna (N3,191.67), Zamfara (N3,462.50) and Niger (N3,500.00) recorded the lowest average price for the refilling of a 12.5kg cylinder for Liquefied Petroleum Gas.
LPG is fast becoming an alternative to firewood and kerosene as a means of cooking for most homes especially in urban areas in Nigeria. LPG is cleaner and more efficient than kerosene in cooking.
LPG should be made much more available and affordable to reduce the cost of living for most Nigerians.
Africa's electricity generation will double by 2030, fossil fuel to be dominant – Research
Fossil fuel is expected to dominate Africa's energy mix by the end of the decade.
A new research from the University of Oxford has predicted that the total electricity generation across the African Continent will double by 2030.
The study also expects that fossil fuel will still be dominant in Africa's energy mix by the end of the decade, accounting for two-thirds of all generated electricity across Africa, posing a potential risk to global climate change commitments.
READ: AfDB approves a grant of $7m for renewable mini-grid industry in Africa
An estimated 18% of the generation is set to come from hydro-energy projects, which have their own challenges, such as being vulnerable to an increasing number of droughts caused by climate change.
The study, which looked into Africa's energy generation landscape, uses a state-of-the-art machine-learning technique to analyse the pipeline of more than 2,500 planned power plants and their chances of successful commission.
READ: World Bank set to invest over $5 billion in drylands across 11 African countries
The study shows the share of non-hydro renewables in African electricity generation is likely to remain below 10% in 2030, although it varies by region.
READ: AfDB supports Africa's flagship climate initiative with $6.5bn 
What there are saying
Galina Alova, Study Lead Author and Researcher at the Oxford Smith School of Enterprise and the Environment said that:
"Africa's electricity demand is set to increase significantly as the continent strives to industrialise and improve the wellbeing of its people, which offers an opportunity to power this economic development through renewables."
"There is a prominent narrative in the energy planning community that the continent will be able to take advantage of its vast renewable energy resources and rapidly decreasing clean technology prices to leapfrog to renewables by 2030 – but our analysis shows that overall it is not currently positioned to do so."
READ: Foreign investors jostling to exploit Nigeria's $82 billion healthcare gap
Philipp Trotter, Study Author and Researcher at the Smith School said:
"The development community and African decision-makers need to act quickly if the continent wants to avoid being locked into a carbon-intense energy future. Immediate re-directions of development finance from fossil fuels to renewables are an important lever to increase experience with solar and wind energy projects across the continent in the short term, creating critical learning curve effects."
READ: DisCos ask FG to reduce cost of gas in power generation
What you should know
The study suggests that a decisive move towards renewable energy in Africa would require a significant shock to the current system. This includes large-scale cancellation of fossil fuel plants currently being planned.
In addition, the study identifies ways in which planned renewable energy projects can be designed to improve their success chances – for example, smaller size, fitting ownership structure, and availability of development finance.

Fossil fuels include coal, petroleum, natural gas, oil shales, bitumen, tar sands, and heavy oils. All contain carbon and were formed as a result of geologic processes acting on the remains of organic matter produced by photosynthesis, a process that began in the Archean Eon (4.0 billion to 2.5 billion years ago).

These non-renewable fuels supply about 80 percent of the world's energy. They provide electricity, heat, and transportation, while also feeding the processes that make a huge range of products, from steel to plastics.
FG insists on no petrol, electricity subsidies in 2021
The FG has insisted that its policy on the removal of subsidies on fuel and electricity in the 2021 budget remains.
The Federal Government has insisted that it will go ahead with its policy on the removal of subsidy on Premium Motor Spirit (Petrol) and electricity, with no provision made in the 2021 budget for their subsidy.
This disclosure was made by the Minister of Finance, Budget and National Planning, Zainab Ahmed, during a virtual public presentation of the Breakdown and Highlights of 2021 Appropriation Act on Tuesday in Abuja.
READ: FG posts 27% revenue shortfall in 2020 as budget deficit hit N6.1 trillion
What the Minister for Finance is saying
While answering a question on whether there would be a return to petrol subsidy following the reduction in petrol price about a month ago, the Minister said the answer is a flat no.
Ahmed said,
"We are not bringing back fuel subsidy. We didn't make provision for fuel subsidy in the budget. The impact of what was done was reducing some of the cost components that were within the template. And also related to it, on matters of electricity subsidies, no provisions have been made for subsidy for fuel and no provisions have been made for subsidy for electricity."
READ: Reps raise alarm over N200 billion unclaimed dividends in 2020
Also, while talking about the new Finance Act 2020, which took effect from 1 January 2021, Ahmed said the act adopts counter-cyclical fiscal policies in response to the Covid-19 pandemic by providing fiscal relief to taxpayers.
The Minister stated that the government would hold the unclaimed dividends of investors in the stock market in trust and would make the fund available when needed by an investor.
READ: N200 billion Unclaimed Dividend: Securities dealers reject FG's plan to manage fund
She said:
"On the issue of unclaimed dividends and government's accounts and projections, there would be as much as N850bn to be realized in the special trust fund of unclaimed dividends. Government is keeping the money in trust for the beneficiaries. At any time, a registrar or a bank confirms that this is the true and bonafide beneficiary of this fund, then the government will release from that trust fund to the investor who has it."
READ: Nigerian Aviation: Exchange rate, 7.5% VAT suspension and other factors to determine survival – Experts
What you should know
It can be recalled that the Federal Government, in early 2020, announced the full deregulation of the downstream sector of the oil industry which culminated in the removal of petrol subsidy.
The government said that following a sharp drop in revenue, it was becoming increasingly unsustainable for it to continue to subsidize the product with funds that can be used for the development of critical infrastructures in the country.
Similarly, it also pointed out that the removal of subsidy on electricity tariff and ensuring the implementation of the right pricing for power will help attract the needed investment in that sector.