Nigeria's Bonga crude oil export terminal shut down
Nigeria's crude oil output is going to drop further, following the shutdown of the Bonga crude oil export terminal, which is operated by Shell Nigeria Exploration..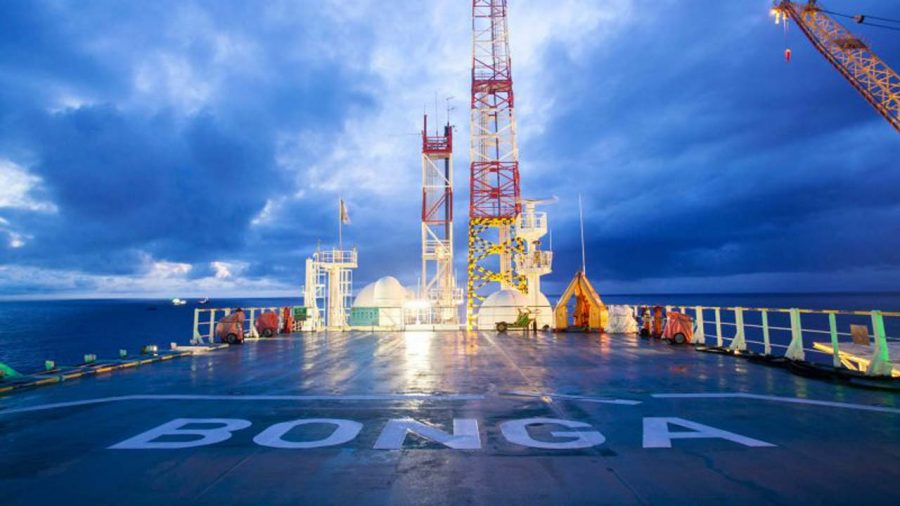 In what appears like a temporary setback, especially in this era of global oil market crisis, Nigeria's crude oil output is going to drop further.
This is after the shutdown of the Bonga crude oil export terminal, which is operated by Shell Nigeria Exploration and Production Company (SNEPCO).
According to Reuters, the Bonga crude oil export terminal will be shut for routine maintenance for 2 weeks and is expected to be done in a record time.
In a statement from Shell, the oil firm said that the maintenance of Bonga floating production storage and offloading unit (FPSO) started in May 21.
READ ALSO: Nigeria's oil crisis compounded as India's fuel demand crashes by 60% 
The oil production firm said, ''The scope includes statutory recertification and critical asset integrity activities and the exercise would run until July during which there will be a few days of total shutdown''.
The Bonga crude oil export terminal was scheduled to load four cargoes in June or 127,000 barrels per day, an increase from the 123,000 barrel per day that was done in May.
The repairs of the crude oil terminal appear to be behind schedule as Nairametrics had reported that Shell had schedule to carry out the maintenance on the facility earlier with the expectation that it will be ready for use in March.
This exercise is expected to help ensure sustained production and reduced unscheduled production deferments. The turnaround maintenance should involve inspections, recertification, testing and repair of equipment as well as engineering upgrades with Nigerian companies and subsea professional playing key roles.
READ MORE: Total's $3.8 billion Egina FPSO project may suffer setback
A major focus is the Bonga floating, production, storage, offloading (FPSO) vessel, which is at the heart of Bonga operations. It has a production capacity of 225,000 barrels of oil and 150 million standard cubic feet of gas per day.
Bonga is Nigeria's first deep water development in depths of more than 1,000 metres and is located 120km offshore Nigeria. SNEPCO expanded the project with further drilling of wells in Bonga phases 2 and 3 and through a subsea tie-back that unlocked the nearby Bonga North West field in August 2014. Bonga Phase 3 achieved first oil October 2015.
The Bonga is operated by SNEPCO in partnership with Total, Nigerian Agip Exploration Limited, Esso Exploration and Production Nigeria (Deep Water) Limited under a production sharing contract with NNPC.
Over 20% of N-Power beneficiaries are now business owners – FG
The Minister emphasized the President's vision of lifting 100 million Nigerians out of poverty.
The Minister of Humanitarian Affairs, Disaster Management and Social Development, Sadiya Umar Farouq, has said that about 109,823 beneficiaries of the N-Power programme now have their own businesses.
This represents about 22% of the 500,000 Nigerians that have benefited from this programme since its inception.
This was disclosed in a statement by the Minister's Special Assistant on Strategic Communications, Mrs Halima Oyelade on Saturday, July 4, 2020. She said that the beneficiaries of Batch A and B of N-Power have established businesses in their communities.
READ MORE: Why Federal Government disengaged 2,525 N-Power beneficiaries
The Minister in the statement said, "Statistics like this gives me joy and once again, I want to say congratulations; I look forward to hearing amazing testimonies and meeting beneficiaries of this programme who will be doing great things in the future".
She emphasized President Muhammadu Buhari's vision of lifting 100 million Nigerians out of poverty in the next 10 years by creating opportunities that would improve the productivity of Nigerian youths for entrepreneurship or employment.
Going further the minister said, "Thus, the need to find ways to engage them is of utmost importance. However, the commencement of the enrolment of Batch C was predicated on the need to give more Nigerian youths the opportunity to benefit. This is because, keeping only 500,000 beneficiaries for four years defeats the purpose of Mr President's vision, hence the need to scale up and was in no way meant to be punitive."
While acknowledging the beneficiaries' contributions, Farouq said, ''You are our model N-Power beneficiaries. Please avail yourselves of all opportunities provided by government like interest-free loans and leverage on those opportunities while using N-Power as a stepping stone".
The minister said the ministry is working at resolving some of the challenges facing the programme which include delays in the payment of stipends, beneficiaries not showing up at their places of primary assignments and people accessing the programme while gainfully employed elsewhere.
The minister also assured beneficiaries that outstanding payments would be made and transition plans were ongoing and would be duly communicated to them on their platform.
Download the Nairametrics News App
Some of the beneficiaries of the programme gave good testimonies about the impact of the programme in their lives and all expressed their gratitude to the Federal Government for the opportunity.
Nairametrics has reported the opening of application portal for batch C of the programme with effect from 11.45 pm on June 26, 2020. There have been over 3 million applicants that have shown interest in batch C of the programme in about a week.
Nigeria's debt rises to $79.5 billion, as debt to revenue ratio worsens
According to data obtained from DMO, $27.66 billion (N9.9 trillion) is the total external debt.
Nigeria, Africa's largest economy's total public debt rose to $79.5 billion (N28.63 trillion) as of the first quarter of 2020, which is March 31, 2020. This represents a 15% increase from the figure that was recorded for the corresponding period in 2019, which was about $69.09 billion (N24.94 trillion).
This was disclosed in a latest publication by the Debt Management Office (DMO) on Friday June 3, 2020.
Nigeria has seen its debt stock rise sharply in recent years as the country tries to fund infrastructural and developmental projects and boost its fragile economy, which has been in and out of recession. The country's economy has been projected to fall into recession again, due to the adverse impact of COVID-19 that has seen oil prices crash globally.
According to data obtained from DMO, $27.66 billion (N9.9 trillion) is the total external debt. This represents 34.89% of the total public debt stock. Whereas, $51.64 billion (N18.64 trillion) is the total domestic debt, which represents 65.11% of the total public debt.
READ MORE: Nigeria borrows N754 billion in 3-month, total debt now N25.7 trillion  
The Federal Government accounts for 50.77% of the total domestic debt, which is $40.26 billion (N14.53 trillion), whereas the State Governments and Federal Capital Territory account for 14.34% of the total domestic borrowing which is $11.37 billion (N4.11 trillion).
Nigeria has been under a lot of fiscal crisis following the crash of oil prices triggered by the coronavirus pandemic. The oil sector accounts for about 90% of the country's foreign exchange earnings and about 60% of its total revenue.
The country, which had lined up a series of debt issue this year, had to halt the external commercial borrowing due to oil price collapse. The Minister for Finance, Zainab Ahmed, had last week disclosed that the country would no longer go ahead with its Eurobond debt issue.
READ ALSO: Lagos debt hits N39.6 billion, to borrow N97 billion more
The Nigerian government, for now, is focusing on the domestic markets and concessionary loans to help fund the 2020 budget deficit which is made worse by drop in revenue. In the recently approved 2020 revised budget, the federal government is expected to borrow N850 billion from the domestic market.
This rising debt has put a lot of pressure on the government's resources as it spent $1.69 billion (N609,13 billion) to service its domestic debt in the first quarter of 2020 alone.
Nairametrics had reported that Nigeria's global rating is at risk due to the sharp rise in the country's sovereign debt and a growing finance gap. According to a report from the global rating agency, Fitch Ratings, this could trigger a rating downgrade as policymakers struggle to stimulate growth and deal with the impact of low oil prices and sharp drop in revenue.
Download the Nairametrics News App
According to Fitch, the country's debt to revenue ration is set to deteriorate further to 538% by the end of 2020, from the 348% that it was a year earlier.
Nigeria and US Authorities battle former Enron Nigerian Subsidiary over $80 million Yacht
Both Nigerian and American governments have opposed Enron Nigeria's appeal. 
19 years after the bankruptcy of Enron Corporation, one of the biggest corporate bankruptcies in American history, a former subsidiary of the company is battling Nigerian and American Authorities over the sale of a yacht valued at over $80 million acquired by Nigerian businessman Kolawole Aluko. 
The yacht was seized by the US Government in 2018 after prosecutors say it was bought with the proceeds of bribes paid to Nigeria's former Minister of Petroleum, Diezani Alison–Madueke. 
The yacht was later auctioned for $37 million in 2019. The Nigerian government also dropped claims to the proceeds of the sale recently and a Texas Court ordered all proceeds should be retained by the US Government. 
However, a former unit of the Bankrupt Enron, Enron Nigeria Power Holdings claims it's entitled to the proceeds and demands $22 million in a bid to get an arbitration awarded to them against the Nigerian government for suspending a contract signed with Enron in 1999 to build and operate a Power plant. 
(READ MORE: Nigeria leads Africa combined in Q2 2020 on BTC P2P)
Enron Nigeria claims the Nigerian government dropped claims to the proceeds of the yacht's auction in an attempt to fraudulently transfer assets to stop creditors from accessing them. Saying Nigeria dropping its claims was "a recognition of the factual and legal basis" in a DOJ court filing. 
Both Nigerian and American governments have opposed Enron Nigeria's appeal. 
Enron Nigeria Power Holdings Ltd is owned by ex-Enron staff involved in the negotiations for the Power Plant contract in Nigeria and was bought out of bankruptcy for $750,000 in 2004 by a Cayman Islands registered company. 
READ ALSO: N2trillion Mambila project: FG starts disbursement of compensation funds
An arbitration ruling in 2012 awarded Enron Nigeria Power Holdings $11.2 million including interest in damages against the Nigerian government. 
The DOJ says Mr. Aluko bought the yacht for $82 million in 2013 and funded a lavish lifestyle for Alison Madueke in exchange for NNPC contracts valued at over $1.5 billion. 
Aluko and his business partner, Olajide Omokore are also accused of laundering illicit revenues into and through the United States