NCDC and NNPC-IPPG reinforce #TakeResponsibility theme with multi-lingual campaign
Coronavirus, which affects all age groups, but mostly the elderly and those with underlying medical conditions such as high blood pressure, diabetes, asthma, etc., is primarily spread between and among people during close contact, often via small droplets produced by coughing, sneezing or talking.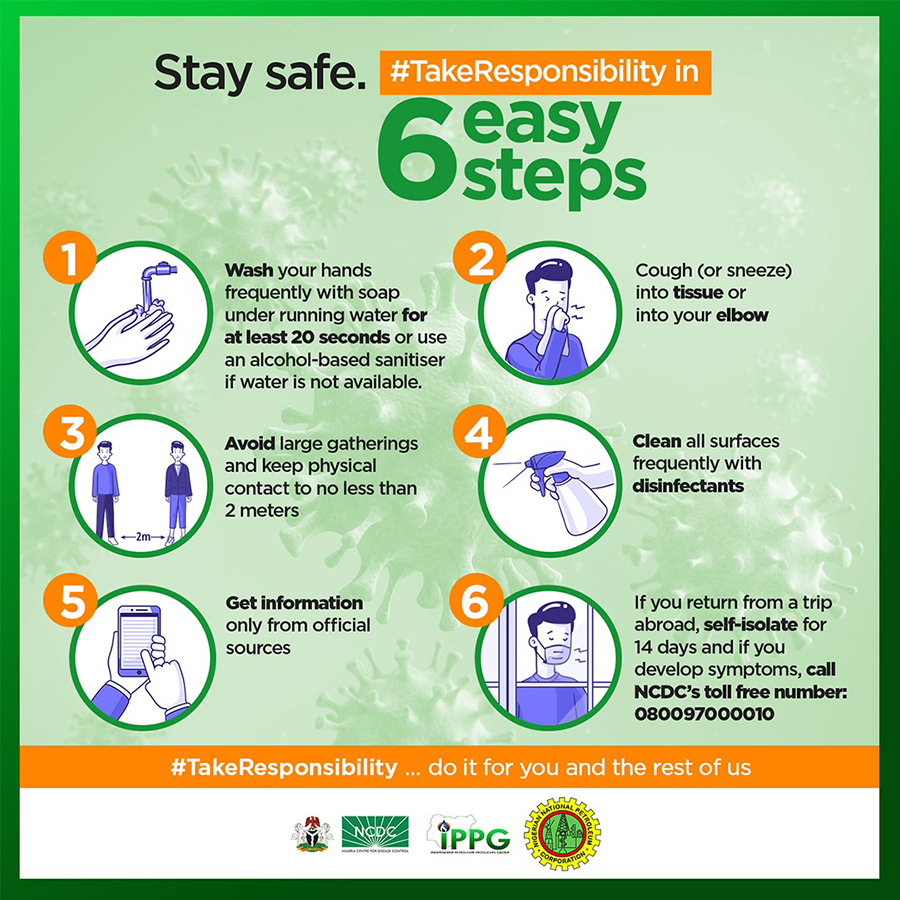 The National Centre for Disease Control (NCDC) is pulling out all the stops and leaving no stones unturned in her campaign to galvanize Nigerians in the battle to stop the spread, and ultimately win the war against the Covid-19 pandemic.
The coronavirus disease 2019 (Covid-19) outbreak, which was first identified in Wuhan, China, in December 2019, has since become a global pandemic, spreading to almost every country in the world, including Nigeria.
With the campaign funded by the NNPC-IPPG team, an association of Indigenous Oil and Gas Producing Companies, and buoyed by its mandate to tackle the challenge of public health epidemics through prevention, detection and control, NCDC has taken the #TakeResponsibility awareness campaign against the Covid-19 virus a notch higher with the newly launched multi-language mass media campaign.
The new #TakeResponsibility campaign, disseminated pan-Nigeria in Hausa, Igbo, Yoruba, Pidgin and English languages across Print, Radio and Social Media platforms, is premised on the key NCDC guidelines and safety precautions to stop the spread of the novel coronavirus.
The safety precautions include washing of hands frequently with soap under running water for 20 seconds; or using alcohol-based sanitizer where water is not readily available; coughing or sneezing into tissue and disposing same into a dustbin immediately or coughing or sneezing into the elbow.
Other guidelines involve the practice of social distancing, such as avoiding large crowds; keeping physical contact to no less than 2 meters and wearing a face mask whenever one is in a public space; cleaning all surfaces frequently with disinfectants and avoiding fake news about the virus by getting information only from official sources (like the NCDC and WHO).
Also critical is the advice for people to stay in their states and if a traveler returns from a trip abroad, such an individual should self-isolate for 14 days and if he/she develops symptoms like frequent cough, sneezing, fever or shortage of breath, the individual should call his or her State Emergency Number or NCDC's toll-free number: 080097000010, for immediate assistance.
Coronavirus, which affects all age groups, but mostly the elderly and those with underlying medical conditions such as high blood pressure, diabetes, asthma, etc., is primarily spread between and among people during close contact, often via small droplets produced by coughing, sneezing or talking.
According to NCDC-NNPC-IPPG partnership, the summary of all the Covid-19 guidelines and safety precautions is for Nigerians of every tribe and tongue, and non-Nigerians in the country to #TakeResponsibility by playing their part in the all-important race to halt and end the pandemic for the good of all.
---
EDITOR'S NOTE: This is a sponsored content. 
Leadway Assurance Holds Virtual AGM; Pays N38.5bn Claims in 2019
…Grows Total Assets by 26 to N394bn
May 29, 2020, Lagos Nigeria: Leadway Assurance Company Limited today held its 48th Annual General Meeting (AGM) via a virtual platform in strict compliance with social distancing recommendations by the World Health Organisation, the Federal and the State Governments, as part of efforts to curb the spread of COVID-19.
At the Virtual AGM, the company presented its 2019 Financial Year results to its shareholders and, among critical announcements made at the Annual General Meeting, was an increase in Claims paid to its policyholders, from N33.9billion in 2018 to N38.5billion in 2019. The company also posted stronger balance sheet size which enlarged by 26% from N312billion recorded in 2018 to N394billion in 2019 in support of a Gross Written Premium (GWP) of N90.6billion in 2019, itself with an increase of 4% from N87.5billion in 2018. The company attributed the growth in its GWP to a boost in its composite business, specifically via the Specialty Life portfolio.
Speaking during the company's AGM, the MD/CEO, Mr. Tunde Hassan-Odukale, reiterated Leadway's continued commitment to its policyholders through prompt Claims payment, as the bedrock of the company's business. With this, the company has now paid over N136billion in Claims in the last six years.
"We continue to demonstrate our commitment to our loyal customers through our customer services delivery channels, underpinned by a motivated team, outstanding brokers and agents, innovations and technology.
"I am proud that we have transmitted the principle of devoted customer-focus into a five-decade legacy that would continue to be the compass with which we steer the next half-century of operational excellence. With our balance sheet strength and technological innovations, we are confident of maintaining market leadership, whilst deepening insurance penetration to our youthful African population," Mr. Tunde Hassan-Odukale said.
In his remark, the Chairman, Board of Directors, General Martin Luther Agwai (CFR) acknowledged the outstanding strategic leadership qualities, vision, and the prudence the erstwhile Managing Director, Mr. Oye Hassan-Odukale retired from the company after 38 years of dedicated stewardship.
He welcomed Mr. Tunde Hassan-Odukale "to chart the next path and phase of growth for Leadway to become a global competitor of the next generation's reference."
He maintained that the company is in pole position to meet the new regulatory requirements for recapitalization of the industry. "The prudence of the company's Management over the years has prepared us for the regulations of today where we are in a good position to comply with the minimum share capital requirement without the exigency for any call on shareholders. I am also happy to inform you that the regulator has approved the company's recapitalization plan and extended full compliance timeline till 31st December", the Chairman added.
Leadway Assurance is one of Nigeria's foremost insurance service companies with a reputation for service efficiency and customer reliability. The organization is committed to bridging the financial protection gap and increasing the rate of insurance penetration in Nigeria.
---
EDITOR'S NOTE: This is a sponsored content.
RED | For Africa is redefining work culture on the continent
"At RED | For Africa, we have always embraced an increasingly progressive work culture in response to the extant global research on the subject matter." – RED
As more and more global attention shifts towards investing in the physical and mental welfare of people, an increasing number of companies are moving towards a human-centered approach to policy-making and accepted work culture.
At RED | For Africa, we have always embraced an increasingly progressive work culture in response to the extant global research on the subject matter. We have over the years, practiced a remote work culture, granting team members weekly work-from-home days, periodic work-from-home weeks, and more. This is why we seamlessly adopted a complete work-from-home policy long before the government-mandated lock-down in March, making us one of the first companies in West Africa to do so.
Nonetheless, it has become necessary to cushion the likely effects of working from home during the COVID-19 pandemic. Also, considering the ease with which work can spill into personal time, and how a constant presence in one space can considerably deplete creativity, we decided to completely shut-down work on 21 March, 2020, allowing team members to recharge and come back fired up, and ready to better serve our clients.
READ ALSO: Africa day 2020: Buhari urges economic groups, CSOs and private sectors to drive peace for economic development
Just recently, Google and Facebook announced that they have decided to extend their work-from-home till the end of the year. Twitter also announced that its employees could work-from-home "indefinitely". This shows an increased leveraging of technology in order to make the way work is done better and more efficient for both the employer and employee.
A research in International Journal of Science shows that employee productivity, mental well-being and overall work-performance begin to suffer when there is no adequate break from work. It concluded that breaks albeit ignored for fear of losing productivity actually increase productivity, lessen fatigue, stress and boredom, and reduce job-related strain and accidents. Overworked employees often deal with chronic stress that can result in job burnout which will not only affect employee health and well-being but the company's bottom line.
READ MORE: Services sector: A potential "escalator" for employment growth
Amongst other innovative steps we are taking at RED, we've also opened a food bank for team members who require support in these times and created 'The Huddle', a weekly mental and emotional release and engagement channel for the team as we navigate the pandemic. This is the new normal and we are more than ready to adapt and make the most of it.
Above all, we have made a commitment as a company, to continually align our operations with emerging research backed by data. So whether it's work-from-home, shutdown, or any other practice that will improve team performance and well-being, we're always willing to adapt.
---
EDITOR'S NOTE: This is a sponsored content.
Develop Homegrown Solutions, Human Capacity and Invest in Agriculture to Rebuild Africa; Experts say at UBA Africa Day Conversations
•Prioritise SMEs Development
•Advocate Partnerships between Private Sector and Government
African thought leaders and great minds have noted that the development of homegrown solutions and adequate investment in human capacity building and agricultural expansion are key steps that will help to rebuild Africa and put the continent on a stronger footing post Covid-19.
Analysing the theme 'Domestic Policies, Regional Development and a Global Agenda: SDGs and African Development at Crossroads; the speakers collectively gave this submission during the second panel session of the 2020 edition of United Bank for Africa (UBA) African Day Conversations.
The virtual session, which was moderated by Veteran Journalist and Media Consultant, Eugenia Abu, was made up of thought leaders from across Africa, including the Regional CEO, UBA West Africa, Abiola Bawuah (Ghana); Senior Program Coordinator, Regional Network of Agricultural Policy Research Institutes, Dr Nalishebo Meebelo (Zambia); Leadership Coach and Chairman, Go Ahead Africa Ltd, Roland Kwemain (Cameroon); Founder and Executive Director, Social Change Factory, Sobel Aziz Ngom (Senegal); Special Assistant to the President Muhammadu Buhari on Digital and New Media, Tolu Ogunlesi (Nigeria); and Social Entrepreneur and Founder, LEAP Africa, Ndidi Nwuneli (Nigeria).
Abiola Bauwah who emphasised how Africa should rely less on foreign donors, said, "There are five areas we should work on more for us to reach the SDG goals; the private sector; rapid industrialization; institutions and the rule of law; develop our human capital; remove the barriers across Africa. We should institute Africapitalism which is an economic philosophy that says that the human and capital resources of Africa are the only ways in which we can develop Africa."
Nalishebo Meebelo noted that there's a lot that young people can do along the value chain of manufacturing, transporting, technology and marketing, adding that, "Government cannot do it alone, they need to work with other stakeholders. Cut and paste solutions do not work for us here in Africa, we need to have our own homegrown solutions to fight this pandemic."
Eugenia Abu, who focused on the huge role that women and youth must play in rebuilding the continent, said that Africa had to work together to provide solutions to its numerous challenges. "Women, entrepreneurial champions, young people and collaborations between African countries are very key to developing Africa," she stated.
Ndidi Nwuneli who was saddened that the agricultural sector remained hugely untapped, emphasised the need for a change of mindset where people usually equated agriculture to poverty. "This is a $1 trillion industry and we are neglecting it; therefore my charge to you is that we invest in the agricultural sector, prioritize it, leverage it, transform our educational system to prepare our young people for this sector, change the mindset and trade with each other," she explained.
Sobel Aziz Ngom pointed out the need for the youth to take charge in Africa. "It is time to not just serve young people, but to trust them to lead. The challenge that we have at the domestic and continental level is making the change in our structure and in the political system that give the place to young people to be 100% engaged," Ngom stated.
In his own submission, Tolu Ogunlesi, said, "All over the countries young people are seizing opportunities, and we need to start thinking about how to make sure that this is not just for the age of COVID but for now and beyond COVID-19. Even if the pandemic was to disappear today, I hope that the lessons we're learning, we're not going to forget them and go back to where we used to be."
For Roland Kwemain, more institutions need to tow the line of UBA in events such as UBA Africa Conversations. "If 100 multinationals in Africa were doing that UBA is doing, we would go far because CSR is an amazing leverage not just for the brand but also for supporting people & women in terms of activities. The truth is that we need partnership between the government, corporates and the civil society," he said.
The United Bank for Africa is a leading pan-African financial institution offering banking services to more than twenty million customers globally. With footprint in 20 African countries and presence globally in the United Kingdom, the USA and France, UBA is connecting people and businesses across Africa through retail, commercial and corporate banking, innovative cross border payments and remittances, trade finance and ancillary banking services.