COVID-19: Over 5,000 tonnes of cocoa beans are stuck in Nigeria
The cocoa mid-crop output is expected to be weak as measures to curb the spread of the coronavirus hindered farmers and exporters, creating a backlog of unshipped beans.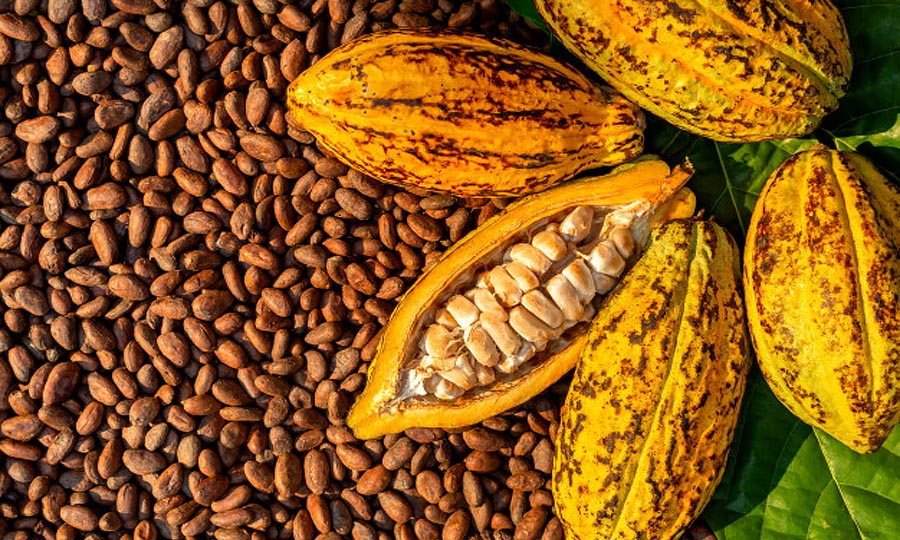 The Cocoa Association of Nigeria has said that between 5,000 and 6,000 tonnes of cocoa beans are stuck at the Lagos port and warehouses across the country, as the lockdown has disrupted transport and port activities.
President of the group, Mufutau Abolarinwa, told Reuters that some of April's orders were still being exported after the lockdowns disrupted transport and port activities.
"Around 5,000 to 6,000 tonnes of beans were stuck at Lagos port and warehouses in the country. The cocoa mid-crop output is expected to be weak as measures to curb the spread of the coronavirus hindered farmers and exporters, creating a backlog of unshipped beans," he said.
READ MORE: Latest: Top 10 agricultural exports from Nigeria
This confirmed a Nairametrics' report published last month, which stated that Nigeria would lose over $100 million from Cocoa exports due to falling demand in Europe, the epicentre of the COVID-19 pandemic.
According to the report, the demand for Nigerian cocoa is at risk of recording a further decline. Europe is the largest market for the country's cocoa exports. For instance, over 81% of Nigerian cocoa was exported to Europe in 2018, with 65% going to the Netherlands and Germany alone.
This was disclosed by the Nigerian Export Promotion Council in its annual report titled, "Impact assessment of and Policy Responses to the Coronavirus Pandemic on Agricultural Exports: Early evidence from Nigeria."
READ ALSO: Nigeria is missing out on the latest European scramble for Cocoa
It stated, "Over the last decade, cocoa has been the top-performing non-oil export product in Nigeria. Commodity markets have taken a major hit, and this does not apply solely to crude oil.
"The price of Nigerian cocoa beans stood at $2880.63/tonne on 03 February 2020 (source: ITC market price information). It has now fallen to $2440.94/tonne as of 30 March 2020 (source: ITC market price information). This is a fall of $439.69 per tonne."
According to Abolarinwa, though the government has eased month-long lockdowns in commercial hub Lagos state, neighbouring cocoa producing state Ogun, and the capital Abuja, interstate movement has been banned, creating a headache for cocoa delivery.
"Ships are being quarantined at the port, creating extra storage costs. Trading houses are anxious to receive their shipments and delays could affect demand for further beans from farmers, especially as the mid-crop harvest is about to start. We are hoping for an improvement," Abolarinwa told Reuters.
READ MORE: Single digit interest loans for cocoa farmers; how feasible is this?
Also, he explained that the nation's mid-crop – harvested between May and September – comes in at between 50,000 and 60,000 tonnes when weather conditions are good and chemicals readily available to spray diseased trees.
Farmers expect the late rains to affect bean weight for the mid-crop, which could be around 270-280 grammes, compared with an average weight of around 300 grammes.
"We are supposed to be spraying now to avoid black pod disease once the rains start. But because of coronavirus, labour is scarce, and we don't know whether we would get chemicals or not," a cocoa farmer, Oko Aja, who owns a 42-hectare cocoa farm in Nigeria's second-biggest producing region of Cross Rivers state said.
WHO says people with NCDs more vulnerable to severe COVID-19, lists how to prevent it
WHO reveals people with pre-existing Non-Communicable Diseases are more vulnerable to the coronavirus disease.
The World Health Organization (WHO) has revealed that people with pre-existing Non-Communicable Diseases (NCDs) appear to be more vulnerable to becoming severely ill with the coronavirus disease.
This was disclosed in a statement by the UN health agency on its twitter handle on Thursday, September 24, 2020.
Explore the Nairametrics Research Website for Economic and Financial Data
The WHO, in its statement, listed some of those Non-Communicable Diseases to include:
Cardiovascular diseases like hypertension, persons who have had and are at risk for a heart attack or stroke
Chronic respiratory disease such as chronic obstructive pulmonary disease (COPD), which is a chronic inflammatory living disease that causes obstructed airflow from the lungs
Diabetes
Cancer
READ: Uber temporarily shuts operation in Nigeria, as FG locks revenue-driven routes
The WHO Director-General, Tedros Adhanom Ghebreyesus, disclosed that the coronavirus outbreak has shown why action on NCDs is important. He acknowledged that people with non-communicable diseases are especially at risk, which is made worse by disruptions to essential services.
He said, "The risk has been compounded by disruptions to essential services including diagnosis and treatment of cancer and diabetes and other non-communicable diseases."
READ: Arik Air's operation shut by Aviation Unions
He pointed out that the health services gaps are not just in treatment and care, as he said all nations still have much more to do to prevent NCDs. He said that too many people are dying from preventable diseases that are mostly preventable.
The WHO boss revealed that to prevent and control these non-communicable diseases, one has to stop tobacco use, reduce the use of alcohol, cut salt intake, consume less sugar, increase physical activity, eliminate industrial trans-fats, and treat high blood pressure.
READ: FG gives reason oil marketers are not yet importing petrol, stops monthly price fixing
He said that all these interventions are part of WHO's best buys in a set of 16 most attractive ways to save lives and save money.
#DYK: People with pre-existing Non-communicable diseases appear to be more vulnerable to becoming severally ill with the #COVD19 disease.#WashYourHands #WearFaceMask#PhysicalDistancing pic.twitter.com/fRvxQAlFSU

— WHO Nigeria (@WHONigeria) September 24, 2020
Prevention and control of noncommunicable diseases – #UNGA side event with @DrTedros. #BeatNCDs https://t.co/74ZQv4mhAy

— World Health Organization (WHO) (@WHO) September 24, 2020
COVID-19 Update in Nigeria
On the 24th of September 2020, 125 new confirmed cases were recorded in Nigeria
The spread of novel Corona Virus Disease (COVID-19) in Nigeria continues to record increases as the latest statistics provided by the Nigeria Centre for Disease Control reveal Nigeria now has 57,849 confirmed cases.
On the 24th of September 2020, 125 new confirmed cases were recorded in Nigeria, having carried out a total daily test of 10,526 samples across the country.
To date, 57,849 cases have been confirmed, 49,098 cases have been discharged and 1,102 deaths have been recorded in 36 states and the Federal Capital Territory. A total of 494,577  tests have been carried out as of September 24th, 2020 compared to 484,051 tests a day earlier.
COVID-19 Case Updates- 24th September 2020,
Total Number of Cases – 57,849
Total Number Discharged – 49,098
Total Deaths – 1,102
Total Tests Carried out – 494,577
According to the NCDC, the 125 new cases were reported from 13 states- Lagos (37), Plateau (18), FCT (17), Ogun (15), Rivers (10), Benue (7), Kaduna (7), Anambra (5), Oyo (3), Cross River (2), Ondo (2), Edo (1), Imo (1).
Meanwhile, the latest numbers bring Lagos state total confirmed cases to 19,123, followed by Abuja (5,615), Plateau (3,322), Oyo (3,239), Edo (2,617), Kaduna (2,384), Rivers (2,287), Delta (1,800), Ogun (1,789), Kano (1,734), Ondo (1,608), Enugu (1,285), Ebonyi (1,038), Kwara (1,028), Abia (881), Gombe (857). Katsina (848), Osun (818),  Borno (741), and Bauchi (692).
Imo State has recorded 566 cases, Benue (480), Nasarawa (449), Bayelsa (397),  Jigawa (322), Ekiti (317), Akwa Ibom (288), Niger (259), Adamawa (237), Anambra (234), Sokoto (161), Taraba (95), Kebbi (93), Cross River (87), Zamfara (78), Yobe (75), while Kogi state has recorded 5 cases only.
READ ALSO: COVID-19: Western diplomats warn of disease explosion, poor handling by government
Lock Down and Curfew
In a move to combat the spread of the pandemic disease, President Muhammadu Buhari directed the cessation of all movements in Lagos and the FCT for an initial period of 14 days, which took effect from 11 pm on Monday, 30th March 2020.
The movement restriction, which was extended by another two-weeks period, has been partially put on hold with some businesses commencing operations from May 4. On April 27th, 2020, Nigeria's President, Muhammadu Buhari declared an overnight curfew from 8 pm to 6 am across the country, as part of new measures to contain the spread of the COVID-19. This comes along with the phased and gradual easing of lockdown measures in FCT, Lagos, and Ogun States, which took effect from Saturday, 2nd May 2020, at 9 am.
On Monday, 29th June 2020 the federal government extended the second phase of the eased lockdown by 4 weeks and approved interstate movement outside curfew hours with effect from July 1, 2020. Also, on Monday 27th July 2020, the federal government extended the second phase of eased lockdown by an additional one week.
On Thursday, 6th August 2020 the federal government through the secretary to the Government of the Federation (SGF) and Chairman of the Presidential Task Force (PTF) on COVID-19 announced the extension of the second phase of eased lockdown by another four (4) weeks.
READ ALSO: Bill Gates says Trump's WHO funding suspension is dangerous
Smartphone to be used for daily tracking of first set to receive COVID-19 vaccine
Essential workers would get daily text messages on their smartphones enquiring about the side effects.
The first set of Americans who get the doses of the first Covid-19 vaccines will be closely monitored by the US Centers for Disease Control and Prevention (CDC) through daily text messages and emails from their smartphones.
This disclosure was made by a federal advisory group on immunization practices during a meeting.
A CDC immunization expert, Tom Shimabukuro, at a meeting of the CDC's Advisory Committee on Immunization Practices, said that essential workers, who were expected to be the first recipients, would get daily text messages on their smartphones enquiring about the side effects in the first week after they get the shot, and then they would be contacted weekly for 6 weeks.
READ: Polio Debt: Gates Foundation agrees to repay Nigeria's $76m debt.
Shimabukuro disclosed that those essential workers could be as much as about 20 million people.
Janell Routh, a CDC medical officer revealed that the advisers also discovered that the CDC and the US Defense Department have set up technical assistance teams to help state and local jurisdictions develop and implement distribution plans, which are due for review and approval by October 16.
While addressing the panel, Routh said, "We are asking states to think broadly. In their plans, I think they should have contingencies for whether there's an ultra-cold product only or whether there's more than one vaccine available."
READ: Official: Japaul confirms it is pulling out of Milost deal
This meeting is coming up at the time when some prominent voices like Bill Gates have expressed their distrust for CDC under its current leadership over their rush for vaccine development which has political undertones.
This is as polls conducted in the past 2 months revealed that majority of Americans expressed worry over the rush in vaccine development and a third wouldn't get inoculated.
Shimabukuro said the quick detection of safety signals was of paramount importance, while also noting that the data gathered could provide reassurance if no safety concerns were detected.
READ: NCC sanctions Airtel, 9mobile for misconduct
While responding to a question over public safety concerns, Shimabukuro said there would be a chance to opt out of the smartphone program. He, however, pointed out that those who had opted out could also decide to opt back in at a later time.
The head of the panel's Covid-19 vaccines working group, Beth Bell, said that the advisory group would counsel Robert Redfield, the CDC Director, on how best to get a Covid-19 vaccine to Americans. A vote on specifics though, won't occur until after the U.S. Food and Drug Administration takes action on a vaccine.
READ: How the proposed minimum wage will affect those earning above N30,000
The committee is made up of 15 voting members, who are mostly medical experts and academics, as well as government and medical industry representatives.
Every jurisdiction is "heavily involved right now in planning" and have been for some time, Routh said. It's unclear whether states will know which vaccine could be first available. Each has different storage requirements with some needing extremely cold storage.
READ: China's Covid-19 vaccine may be ready for general public in November 2020
Kathleen Dooling, a CDC epidemiologist who presented to the immunization panel last month, said 10 to 20 million vaccine doses would be available in November if a vaccine is approved before then.