NCDC and NNPC-IPPG reinforce #TakeResponsibility theme with multi-lingual campaign
NCDC is pulling out all the stops and leaving no stones unturned in her campaign to galvanize Nigerians in the battle to stop the spread of COVID-19.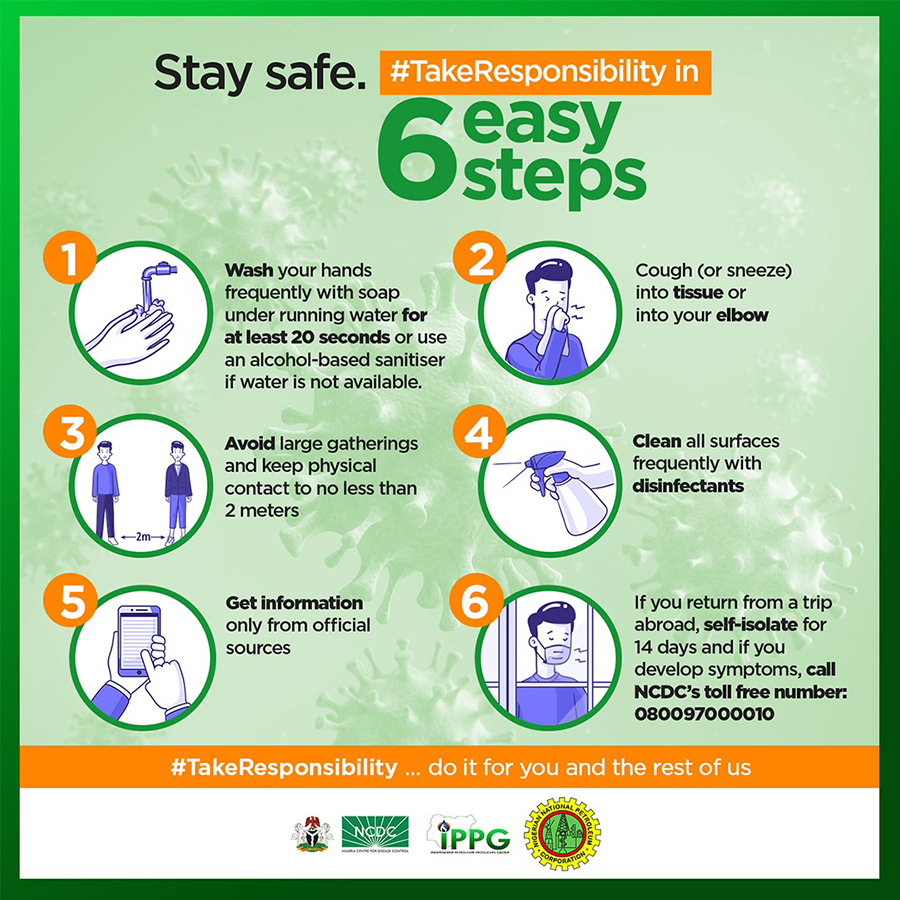 The National Centre for Disease Control (NCDC) is pulling out all the stops and leaving no stones unturned in her campaign to galvanize Nigerians in the battle to stop the spread, and ultimately win the war against the Covid-19 pandemic.
The coronavirus disease 2019 (Covid-19) outbreak, which was first identified in Wuhan, China, in December 2019, has since become a global pandemic, spreading to almost every country in the world, including Nigeria.
With the campaign funded by the NNPC-IPPG team, an association of Indigenous Oil and Gas Producing Companies, and buoyed by its mandate to tackle the challenge of public health epidemics through prevention, detection, and control, NCDC has taken the #TakeResponsibility awareness campaign against the Covid-19 virus a notch higher with the newly launched multi-language mass media campaign.
The new #TakeResponsibility campaign, disseminated pan-Nigeria in Hausa, Igbo, Yoruba, Pidgin and English languages across Print, Radio and Social Media platforms, is premised on the key NCDC guidelines and safety precautions to stop the spread of the novel coronavirus.
(READ MORE:COVID -19: Nigerian companies have records of innovation to turn pandemic challenge to gold)
The safety precautions include washing of hands frequently with soap under running water for 20 seconds; or using alcohol-based sanitizer where water is not readily available; coughing or sneezing into tissue and disposing same into a dustbin immediately or coughing or sneezing into the elbow.
Other guidelines involve the practice of social distancing, such as avoiding large crowds; keeping physical contact to no less than 2 meters and wearing a face mask whenever one is in a public space; cleaning all surfaces frequently with disinfectants and avoiding fake news about the virus by getting information only from official sources (like the NCDC and WHO).
Also critical is the advice for people to stay in their states and if a traveler returns from a trip abroad, such an individual should self-isolate for 14 days and if he/she develops symptoms like frequent cough, sneezing, fever or shortage of breath, the individual should call his or her State Emergency Number or NCDC's toll-free number: 080097000010, for immediate assistance.
PODCAST: The Lock down versus the Economy
Coronavirus, which affects all age groups, but mostly the elderly and those with underlying medical conditions such as high blood pressure, diabetes, asthma, etc., is primarily spread between and among people during close contact, often via small droplets produced by coughing, sneezing or talking.
According to NCDC-NNPC-IPPG partnership, the summary of all the Covid-19 guidelines and safety precautions is for Nigerians of every tribe and tongue, and non-Nigerians in the country to #TakeResponsibility by playing their part in the all-important race to halt and end the pandemic for the good of all.
COVID-19 Update in Nigeria
On the 25th of October 2020, 62 new confirmed cases and 1 death was recorded in Nigeria
The spread of novel Corona Virus Disease (COVID-19) in Nigeria continues to record significant increases as the latest statistics provided by the Nigeria Centre for Disease Control reveal Nigeria now has 61,992 confirmed cases.
On the 25th of October 2020, 62 new confirmed cases and 1 death was recorded in Nigeria, having carried out a total daily test of 3,824 samples across the country.
To date, 61,992 cases have been confirmed, 57,465 cases have been discharged and 1,130 deaths have been recorded in 36 states and the Federal Capital Territory. A total of 607,435 tests have been carried out as of October 25th, 2020 compared to 603,611 tests a day earlier.
COVID-19 Case Updates- 25th October 2020,
Total Number of Cases – 61,992
Total Number Discharged – 57,465
Total Deaths – 1,1130
Total Tests Carried out – 607,435
According to the NCDC, the 62 new cases were reported from 11 states- Taraba (18), Ogun (15), FCT (6), Kaduna (6), Katsina (4), Ondo (4), Ekiti (3), Rivers (3), Kano (1), Osun (1), Sokoto (1)
Meanwhile, the latest numbers bring Lagos state total confirmed cases to 20,807, followed by Abuja (5,967), Plateau (3,594), Oyo (3,423), Rivers (2,773), Edo (2,648), Kaduna (2,617), Ogun (2,010), Delta (1,812), Kano (1,742), Ondo (1,666), Enugu (1,314),  Kwara (1,067), Ebonyi (1,049), Katsina (952), Osun (923), Abia (898), Gombe (883).  Borno (745), and Bauchi (710).
Imo State has recorded 614 cases, Benue (486), Nasarawa (478), Bayelsa (403),  Ekiti (332), Jigawa (325), Akwa Ibom (295), Anambra (277), Niger (274), Adamawa (257), Sokoto (165), Taraba (140), Kebbi (93), Cross River (87), Yobe (82), Zamfara (79), while Kogi state has recorded 5 cases only.
READ ALSO: COVID-19: Western diplomats warn of disease explosion, poor handling by government
Lock Down and Curfew
In a move to combat the spread of the pandemic disease, President Muhammadu Buhari directed the cessation of all movements in Lagos and the FCT for an initial period of 14 days, which took effect from 11 pm on Monday, 30th March 2020.
The movement restriction, which was extended by another two-weeks period, has been partially put on hold with some businesses commencing operations from May 4. On April 27th, 2020, Nigeria's President, Muhammadu Buhari declared an overnight curfew from 8 pm to 6 am across the country, as part of new measures to contain the spread of the COVID-19. This comes along with the phased and gradual easing of lockdown measures in FCT, Lagos, and Ogun States, which took effect from Saturday, 2nd May 2020, at 9 am.
On Monday, 29th June 2020 the federal government extended the second phase of the eased lockdown by 4 weeks and approved interstate movement outside curfew hours with effect from July 1, 2020. Also, on Monday 27th July 2020, the federal government extended the second phase of eased lockdown by an additional one week.
On Thursday, 6th August 2020 the federal government through the secretary to the Government of the Federation (SGF) and Chairman of the Presidential Task Force (PTF) on COVID-19 announced the extension of the second phase of eased lockdown by another four (4) weeks.
READ ALSO: Bill Gates says Trump's WHO funding suspension is dangerous
COVID-19: WHO warns against Gilead's remdesivir drug approved by US FDA
WHO has expressed concern over the health implication of Gilead Science Inc's recently approved remdesivir vaccine.
The World Health Organization (WHO) has warned health officials reviewing Gilead Science Inc's GILD.O remdesivir against COVID-19 to consider all evidence, including a trial where the medicine failed, before giving its approval to the anti-viral drug.
While making the disclosure during a news conference, Chief Scientist at WHO, Soumya Swaminathan, said that the US regulators, the Food and Drug Administration (FDA), appeared not to have considered the evidence when approving the drug this week.
Backstory
Nairametrics earlier reported that the US Food and Drug Administration on Thursday, granted full approval to Gilead's antiviral drug for treating patients hospitalized with COVID-19, making it the first and only drug approved for the disease in the United States.
The approval came days after a WHO study had discovered the remdesivir anti-viral drug had little or no effect on COVID-19 patients' length of stay in the hospital or chances of survival. WHO said it failed to prevent deaths among patients.
Swaminathan said that the FDA did not appear to have taken the global health body's study into account in its approval.
When asked about the FDA move during the news conference, Swaminathan said, "We believe our results are very robust. We hope that people who are doing treatment guidelines in other countries, as well as regulators around the world, will take note of our study results, in addition to the other evidence."
"Because you need to look at the global evidence for a drug before you make decisions," she added.
For the remdesivir arm of the WHO's Solidarity trial, 2,743 patients were given the treatment, compared to 2,708 in the control group.
Gilead's own study of 1,062 participants, produced data indicating that the treatment cut COVID-19 recovery time by 5 days and helped reduce the risk of death in some patients who were getting oxygen.
The WHO said that the company, which has raised the possibility of bias in the unblinded WHO study because patients and their doctors were aware of which treatments were being used, got initial data showing that remdesivir failed the Solidarity trial in late September. However, the U.S. company said that it had told the FDA about initial Solidarity results.
The FDA did not immediately comment on Swaminathan's statement that the U.S. agency did not take Solidarity data into account in its approval.
The WHO also disclosed on Friday that its formal guidelines on the use of remdesivir for COVID-19 should be ready for release in 3 to 4 weeks after a separate group within the United Nations health agency would have reviewed data from the study.
Covid-19: US FDA grants full approval to remdesivir as first vaccine to treat coronavirus
Remdesivir has become the first drug to obtain formal clearance for treating the coronavirus disease.
The US Food and Drug Administration (FDA) on Thursday granted full approval to Gilead Sciences Inc. for its antiviral drug, remdesivir, making it the first drug to obtain formal clearance for treating the coronavirus disease after conditional authorization was given in May.
The regulators had granted an emergency use authorization for remdesivir earlier this year, and since then, the drug has become a widely used therapy for hospitalized Covid-19 patients. It was also reportedly given to President Donald Trump this month, when he was diagnosed with the coronavirus disease.
READ: UK to roll out COVID-19 vaccine in less than 3 months and mass vaccination by Easter
This was disclosed in a statement by Gilead Sciences on Thursday.
In its statement, Gilead said, "Veklury is now the first and only approved Covid-19 treatment in the United States.'' While the drug was in short supply initially, Gilead said that the medicine is now widely available in hospitals across the country as manufacturing capacity has rapidly expanded.
READ: COVID-19: US to have enough vaccines for vulnerable Americans by end of 2020
This is coming some days after the World Health Organization (WHO) study had discovered that the remdesivir anti-viral drug had little or no effect on Covid-19 patients' length of stay in the hospital or chances of survival. The WHO said it failed to prevent deaths among patients.
However, Gilead has criticized the WHO study. In a letter posted on the company's website, Chief Medical Officer Merdad Parsey said the findings didn't negate other results.
READ: Remdesivir has received FDA's emergency approval to treat COVID-19, according to Trump
The approval of remdesivir, sold under the brand name Veklury, will allow Gilead to market the drug and talk about its benefits to doctors, nurses, and patients. That could help solidify its position as a go-to medicine for Covid-19 patients, even as other drugs for the disease begin to reach the market.
Other treatments have received authorization for emergency use, although that approval can be revoked once the public health emergency caused by the coronavirus pandemic is over. Other medications like the steroid dexamethasone are also being used in the fight against Covid-19.
READ: COVID-19: World Bank approves $114 million response funds for Nigeria
Shares of Gilead gained 4.1% in trading after the close of regular market hours on Thursday. According to 13 analysts surveyed by Bloomberg, it is estimated that remdesivir will have sales of $2.17 billion this year.
The company said in June that it would charge U.S. hospitals roughly $3,120 for most patients who need remdesivir.
The approval is based on a U.S. government-sponsored trial involving over 1,000 hospitalized coronavirus patients that found that those who received the drug recovered about five days faster than those who got a placebo.
READ: Pfizer targets use of its Covid-19 vaccine by late November this year
The overall side-effect rate was similar to the placebo in the government study. The most common side effects are nausea and elevated liver enzymes, according to the product's label.
What this means: This will be a very huge boost to the global search for a vaccine for the coronavirus pandemic which has negatively impacted on the global economy with over 1 million deaths. This also appears to be a boost for Donald Trump, who had sought the development of a Covid-19 vaccine before the US Presidential election.