Dangote Cement woos investors with N100 billion issue
Dangote Cement Plc, Africa's leading cement manufacturer, is seeking to raise up to N100 billion in fresh funds from the bond market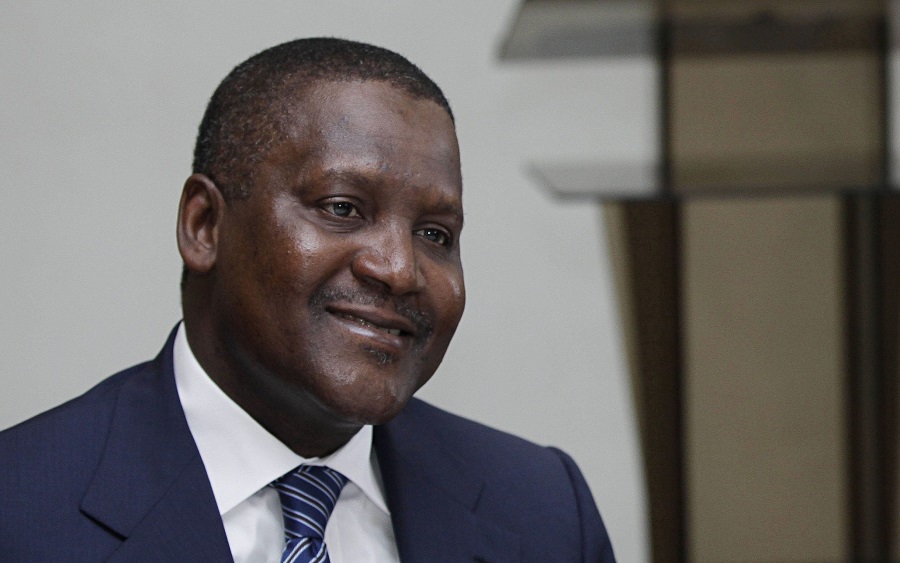 Dangote Cement Plc, Africa's leading cement manufacturer, is seeking to raise up to N100 billion in fresh funds from the bond market, under its NGN300 billion Debt Issuance Programme.
According to the Investor presentation document prepared by the company and themed: Building Prosperity in Africa, the funds from the debut offering in the bond markets are to be utilised to refinance existing short-term debt previously applied towards cement expansion projects, working capital and general corporate purposes.
The bond (medium-term debt paper), Dangote Cement is issuing for the first time signifies confidence in business growth and in the Nigerian economy long term growth.
Dangote Cement Plc is a good offer for discerning institutional investors and high net worth individuals as it is Nigeria's largest company by market capitalisation on the Nigerian Stock Exchange, the largest cement manufacturer in Sub-Saharan Africa with an installed capacity of 45.6Mta across its' operations in 10 African countries and operates a fully integrated "quarry-to-customer" business in 7 of its operations with activities covering manufacturing, sales, and distribution of cement.
(READ MORE: Dangote, Otedola, Elumelu, Ovia, others donate N19.48 billion to COVID-19 relief fund)
The company which is Premium board listed on the Nigerian Stock Exchange(NSE), has a strong corporate governance framework supported by five Independent Directors while its shareholding base is diversified.
Dangote Cement posted an excellent financial performance in 2019 with
EBITDA margins of 44.3 per cent. It was rated 'Strong financial profile including low leverage and significant operational scale.' (GCR AA+(Ng) (Jan 20) Moody's Aa2.ng (Mar 20)
The company has a strong track record in the debt capital markets, having registered an NGN150 billion Commercial Paper programme in 2018, and issued an aggregate amount of NGN300 billion in Commercial Paper since programme establishment.
It also has a track record in Nigeria's Debt Capital Markets as it raised an aggregate Issuance of N100bn under the Commercial Paper Programme in 2018, in 2019, raised an aggregate Issuance of N200bn under the Commercial Paper Programme.  These Commercial Papers were systematically oversubscribed.
(READ MORE: Dangote Cement Plc: Frail macro conditions to pressure earnings in 2020)
Certain factors across Africa signal positive long term trends for Dangote Cement. There is an increasing demand for cement as urbanization continues across the continent, demanding more infrastructure, housing and commercial building. As democracy becomes entrenched in African states, it brings increasing political stability enabling rapid economic growth, growth in infrastructure such as roads, housing, schools etc built from cement.
With steady population growth, younger and more mobile population drive the need for the building while the emerging middle-class, fuels increasing consumerization
and access to credit.
Nigeria needs urgent economic diversification – AfDB
The AfDB said that the diversification of the Nigerian economy had become important for it to respond favourably to the emerging challenges of the 21st century.
The African Development Bank has stated that Nigeria, Africa's largest economy, needs urgent economic diversification to move the country from a single income source (oil and minerals) towards multiple income sources.
This was disclosed by Prof. Oyelaran-Oyeyinka Oyebanji, Senior Special Adviser on Industrialisation at African Development Bank (AfDB), at the 22nd Founder's Day Lecture of the Igbinedion University, the first private university in Edo state, on Monday.
What the AfDB said about diversification
"In pursuit of long-term recovery and sustainable development, Nigeria needs urgent economic diversification. Nothing is more poignantly demonstrative of the danger of over-reliance on a single or narrow range of commodities than the recent crash in oil price we saw in 2020 due to the COVID-19.
Economic diversification entails a shift away from a single income source (oil and minerals) toward multiple income sources from an increasing spectrum of sectors, products and markets," he said.
In case you missed it
The International Monetary Fund (IMF) stated earlier this year that economic diversification was important to Nigeria and critical for her economic recovery.
They said the limited gains from inward-oriented policies in terms of creating jobs and improving living standards suggested that Nigeria needed to have a change of strategy. It was pointed out that in order to accommodate a growing number of young people entering the labour market, Nigeria would need to create at least 5 million new jobs each year over the next decade.
Ghana-Nigerian traders dispute: FG to send delegation to Ghana
The delegation will be led by the Minister of Trade, Niyi Adebayo, and comprised of other private stakeholders.
The Nigerian Government will send a delegation led by the Minister of Trade, Niyi Adebayo, to Ghana to end the crisis between Nigerian traders in Ghana and local authorities—an issue that started last year before the Ghanaian Presidential elections.
The delegation was ordered by the Presidency as disclosed in a statement by the trade ministry on Monday evening.
The statement revealed that the delegation would be comprised of private stakeholders also who would be sent to dialogue with Ghanaian trade authorities to find a solution to the crisis.
The meeting between both parties will be held between May 31 and June 1, 2021.
What you should know
Recall Nairametrics reported last year that Ghana's Foreign Minister, Shirley Ayorkor Botchwey, said that Nigeria's border closure in 2019 hurt Ghanaians and nearly bankrupted many Ghanaian export businesses after their goods were stuck at the Seme Border for months, reacting to the shutdown of Nigerian-owned shops by Ghanaian authorities last year.
Nairametrics | Company Earnings
Access our Live Feed portal for the latest company earnings as they drop.