Dangote Cement woos investors with N100 billion issue
Dangote Cement Plc, Africa's leading cement manufacturer, is seeking to raise up to N100 billion in fresh funds from the bond market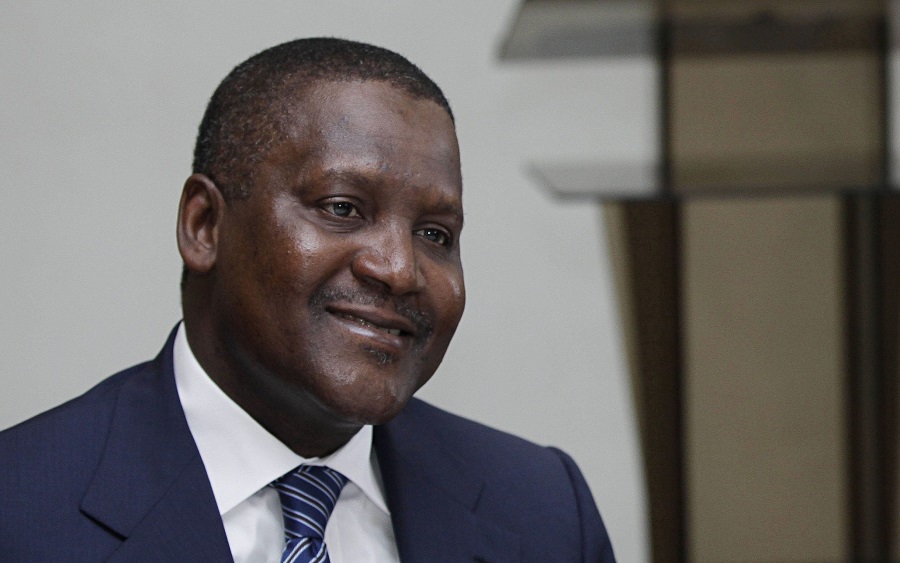 Dangote Cement Plc, Africa's leading cement manufacturer, is seeking to raise up to N100 billion in fresh funds from the bond market, under its NGN300 billion Debt Issuance Programme.
According to the Investor presentation document prepared by the company and themed: Building Prosperity in Africa, the funds from the debut offering in the bond markets are to be utilised to refinance existing short-term debt previously applied towards cement expansion projects, working capital and general corporate purposes.
The bond (medium-term debt paper), Dangote Cement is issuing for the first time signifies confidence in business growth and in the Nigerian economy long term growth.
Dangote Cement Plc is a good offer for discerning institutional investors and high net worth individuals as it is Nigeria's largest company by market capitalisation on the Nigerian Stock Exchange, the largest cement manufacturer in Sub-Saharan Africa with an installed capacity of 45.6Mta across its' operations in 10 African countries and operates a fully integrated "quarry-to-customer" business in 7 of its operations with activities covering manufacturing, sales, and distribution of cement.
(READ MORE: Dangote, Otedola, Elumelu, Ovia, others donate N19.48 billion to COVID-19 relief fund)
The company which is Premium board listed on the Nigerian Stock Exchange(NSE), has a strong corporate governance framework supported by five Independent Directors while its shareholding base is diversified.
Dangote Cement posted an excellent financial performance in 2019 with
EBITDA margins of 44.3 per cent. It was rated 'Strong financial profile including low leverage and significant operational scale.' (GCR AA+(Ng) (Jan 20) Moody's Aa2.ng (Mar 20)
The company has a strong track record in the debt capital markets, having registered an NGN150 billion Commercial Paper programme in 2018, and issued an aggregate amount of NGN300 billion in Commercial Paper since programme establishment.
It also has a track record in Nigeria's Debt Capital Markets as it raised an aggregate Issuance of N100bn under the Commercial Paper Programme in 2018, in 2019, raised an aggregate Issuance of N200bn under the Commercial Paper Programme.  These Commercial Papers were systematically oversubscribed.
(READ MORE: Dangote Cement Plc: Frail macro conditions to pressure earnings in 2020)
Certain factors across Africa signal positive long term trends for Dangote Cement. There is an increasing demand for cement as urbanization continues across the continent, demanding more infrastructure, housing and commercial building. As democracy becomes entrenched in African states, it brings increasing political stability enabling rapid economic growth, growth in infrastructure such as roads, housing, schools etc built from cement.
With steady population growth, younger and more mobile population drive the need for the building while the emerging middle-class, fuels increasing consumerization
and access to credit.
IMF appoints Ceda Ogada as new director and secretary of the fund 
Before joining the IMF, Ogada worked at the United Nations Conference on Trade and Development.
The International Monetary fund (IMF) has announced the appointment of Mr. Ceda Ogada as the Secretary of the Fund and Director of the Secretary's Department with effect from September 1, 2020, following the retirement of the former Secretary, Mr Jianhai Lin. 
This was disclosed in a press statement by IMF on Wednesday, July 15, 2020. 
While making the announcement, Ms. Kristalina Georgieva, Managing Director of the International Monetary Fund (IMF), said, "Ceda has outstanding institutional knowledge, strategic and intellectual heft, and people leadership. His unparalleled ability to bring people together, combined with his profound appreciation of the Fund's institutional history and legal principles, as well as a strong service orientation, will help the Fund to even more effectively serve our member countries in a very challenging economic environment." 
Mr. Ogada joined the IMF's Legal Department in 1999 and rose through the ranks to become Deputy General Counsel in 2014. During this time, he has worked on virtually all aspects of the Fund's work, including advising on the governance of the Fund, on country operations, helping to develop Fund policies and implementation guidance, and providing technical assistance to member countries.  
According to the statement, ''Some of the key projects that he has worked on include the Fund's enhanced policy to address governance and corruption issues, ensuring the adequacy of the Fund's lending resources, reforms in lending policy such as the establishment of the Flexible Credit Line (FCL) and the Catastrophe Containment and Relief Trust (CCRT), reviews on surveillance policy and capacity development strategy and transparency, archives and communications policies.'' 
The new Secretary of the fund was heavily involved in the work on euro area crisis countries during the global financial crisis. Recently, he has led the Legal Department in promoting good governance and transparency in several countries, together with the use of emergency financing for the COVID-19 crisis. 
Before he joined IMF, Mr. Ogada worked at the United Nations Conference on Trade and Development as a legal expert and also before that he was in private legal practice in the United States. He holds a Juris Doctor from Harvard Law School and a B.A. in history from Dartmouth College. Mr. Ogada is a citizen of Kenya. 
Just in: Suspended EFCC boss, Ibrahim Magu, finally released from detention
Magu's lawyer confirmed his release from the custody of the DSS.
The suspended acting Chairman of the Economic and Financial Crime Commission (EFCC) has been released after about 10 days in detention.
According to a monitored report, this was confirmed by his lawyer, Tosin Ojaomo, who said that the EFCC boss is no longer under custody.
Just earlier today, the Inspector-General of Police, Mohammed Adamu, asked Magu, to direct his bail application to the presidential probe panel.
This was in response to a request by Mr Oluwatosin Ojaomo, Magu's legal representative, who asked the IGP to grant bail to his client on self-recognisance after the suspended EFCC chief had spent four days in custody.
But in a letter dated July 14, 2020, and addressed to Mr Ojaomo, the IGP said the police force is not investigating and detaining Magu, so, it cannot grant the bail request.
It also advised the lawyer to redirect his request to the chairman of the presidential probe panel for appropriate action.
OPEC+ to reduce production cuts in August to 7.7 million barrels a day
OPEC+ is preparing to increase production in a period demand picks
The Organization of the Petroleum Exporting Countries (OPEC) and its allies have agreed to increase crude oil supply starting from next month, as demand continues to rise to pre-pandemic levels.
OPEC+ agreed to reduce the daily production cut from 9.6 million barrels a day to 7.7 million barrels a day from August. The reduction in cuts was backed by both Saudi Arabia and Russia, including other participating oil ministers in the virtual conference.
This comes nearly 3 months of production cuts after oil fell to peak lows in April, last month OPEC production reached its lowest level in nearly 30 years since the gulf war. The decision to taper the previous reduction was expected earlier today as the body also talked on extended production cuts for countries like Nigeria, Iraq, and others for not meeting their production cuts for the months of May to June.
However, the risk remains on the strength of a demand recovery as the virus seems to be rebounding in the United States. Saudi Oil Minister, Prince Abdulaziz bin Salman revealed that the extra supply due to the already planned ease of production cuts will be consumed as demand rises. He added that economies globally are beginning to reopen, however, "this is a cautious and gradual process. The recovery signs are unmistakable."
READ MORE: OPEC launches Annual Statistical Bulletin (ASB)
Nigeria's position: OPEC expects the increase in supply to be offset by countries like Nigeria that did not meet full compliance on production cuts. Nigeria will join Iraq and Angola by engaging in a further 842,000 barrels a day of cuts through September. It is still unclear if Nigeria and the other defaulting members would be able to meet production cuts compliance as Nigeria has historically failed to meet production cuts numbers before.
Prince Abdulaziz, who has made it his mission to end the quota cheating that has dogged OPEC+ since its inception in 2016, said these compensation cuts are a crucial principle and the group must resist the temptation to relax.
OPEC+ is preparing to increase production in a period demand picks as Prince Abdulaziz has ensured that no country heats on its production cuts, adding that its essential the group cuts and increases production with one voice. The organization cut production to almost just 10% of global supply which enabled prices to rebound to over $40 after April's lows.
Russia says the tapering goes in hand with the current rising demands and expects output hikes to be consumed in markets of OPEC members as it local demands recovers. Saudi Arabia expects flat exports next month as demand rises locally.