COVID19 Response: Leadway Assurance commits N135 million in PPE equipment, test kits, foodstuff
Leadway Assurance has announced its donation of PPE materials, COVID-19 test kits and foodstuff as part of its efforts to support optimal testing and treatment of COVID-19 cases.
Leadway Assurance Company Limited has announced its donation of Personal Protection Equipment (PPE) materials, COVID-19 test kits and foodstuff to the tune of N135 million as part of its efforts to support optimal testing and treatment of COVID-19 cases as well as access to nutrition in the country during the quarantine period.
The underwriting firm also partnered other insurance companies to provide life insurance cover to the tune of N5 billion for all frontline healthcare workers battling to save the lives of those infected by the virus.
The company had, before this, made a sizeable donation as part of funds being raised by the Nigeria Insurers Association (NIA) in its NIA COVID-19 Support Fund. The donations align with the company's value of service and customer focus. The donations would aid the Government in combating the spread of the pandemic in the country.
READ MORE: Nigerians react as DStv donates N1.2 billion, demand free subscription amidst Coronavirus lockdown
Commenting on the company's gesture, the Managing Director, Mr Tunde Hassan-Odukale, said, "We understand the magnitude of the risk taken by health workers who have elected to support the government to take care of Nigerians in the wake of a pandemic that is ravaging worldwide.
"We salute their tenacity, resilience and professionalism as they battle COVID-19, putting their lives on the line to ensure that Nigerians are adequately cared for during this period. We understand the weight of their duties and hope that this support reassures them and indeed all Nigerians, that we are in this together."
Prior to the donations, Leadway Assurance had been in the forefront of sharing critical information on the pandemic, partnering with "Doctors on Air" on radio to bring the Honorable Commissioner of Health, Prof. Akin Abayomi, in a special edition to discuss the Corona Virus Pandemic.
READ ALSO: COVID-19 could save naira from depreciating further
Leadway was also one of the first companies to initiate its #WorkFromHome policy before the State pronouncement, ensuring seamless remote service via its several alternative channels while disseminating COVID-19 prevention tips in major languages within its areas of operations in addition to English, French and Pidgin, highlighting the NCDC's COVID-19 helplines on radio and all its social media channels.
The company urged Nigerians to adhere strictly to the precautionary measures prescribed by the World Health Organization, the Federal Government, the Nigerian Centre for Disease Control (NCDC) and the Lagos State Government to successfully curb the spread of the outbreak in the country. The firm will continue to work with the government and health agencies to support ongoing efforts to contain the pandemic.
CHI Limited celebrates its maiden Hollandia Dairy Day
The Hollandia Dairy Day Conference is a public interest initiative created to highlight the importance of dairy in everyday nutrition and healthy living in Nigeria.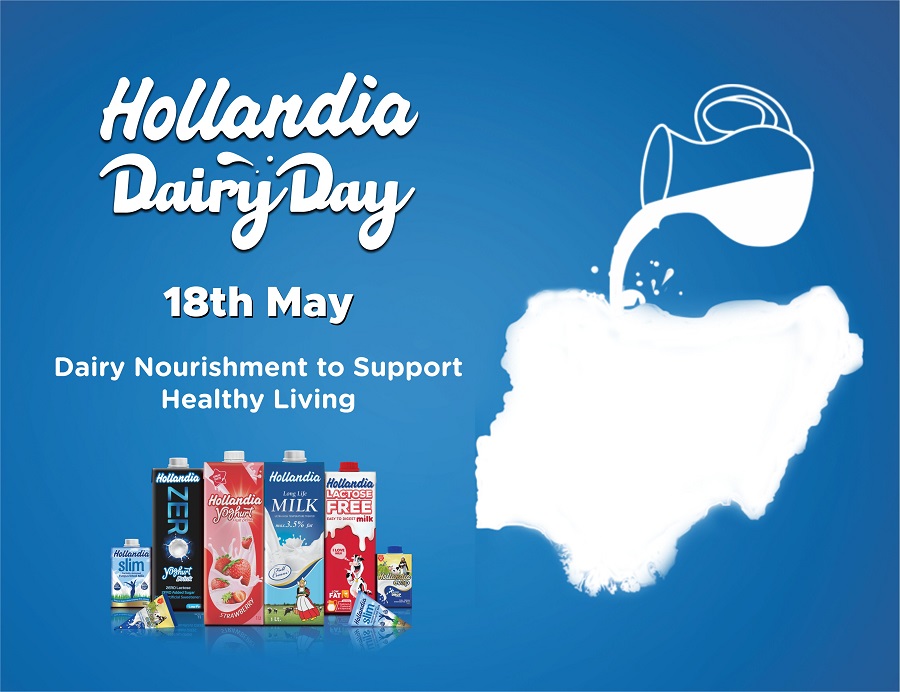 Nigeria's leading dairy brand, Hollandia, is set to hold the maiden edition of its Hollandia Dairy Day. The event which will be celebrated on the 18th of May 2021 will provide a veritable platform to drive national discourse on the unrivaled health and nutrition benefits of dairy consumption to people of all ages.
Set to be hosted as a conference, the theme of this year's event is "Dairy Nourishment to Support Healthy Living", and it focuses on the vital role dairy consumption plays in our everyday nourishment, its benefit to our overall health, and why dairy products should be included in our diets every day.
This conference, which is designed as a hybrid of physical and virtual event, will feature presentations, interviews and panel discussions from health experts and nutritionists as they provide insights and share perspectives to guide informed decisions about dairy consumption as part of a daily balanced diet. The event is opened to the public through the brand's multiple social media platforms.
According to a report by the Food and Agriculture Organization of the United Nations, 2019, Nigeria has low dairy consumption levels per head – 15 to 20 liters' per capita consumption. This is partly attributable to low purchasing power of the average Nigerian household, who rank milk and dairy products as non-essential luxuries and prioritize other staple foods such as rice, beans, and yam.
By provoking the conversations and stimulating public action/intervention, Hollandia aims to drive consciousness for dairy consumption and its importance to achieving optimum health, and to get many more Nigerians drinking, using, and consuming dairy products.
The past year has presented unprecedented shocks and disruptions, including a global COVID-19 pandemic. As communities throughout the world look for ways to minimize the risk of COVID-19, maintaining and boosting good health is top of mind for many. Dairy foods such as milk and yogurt contain essential nutrients, including Vitamins A and D, Zinc and Protein, which support immune function.
The Hollandia Dairy Day Conference is a public interest initiative created to highlight the importance of dairy in everyday nutrition and healthy living in Nigeria.
Key learnings from the Fintech Rising webinar with SEC
The main benefit of being regulated has to do with investor confidence, security, and scale.
Last week, Nairametrics hosted a webinar tagged "Fintech Rising: Creating synergy between fintech players and regulators" to discuss the regulatory environment within which the wealth-tech ecosystem operates and how it is transforming the sector.
The recent announcement by the SEC about its first license for Fintechs – Digital Sub-broker license – has led to several questions being asked about what this type of registration would mean for players within the space. Tosin Osibodu of Chaka, a digital trading platform for local and foreign stocks, who was present on the panel, provided insights into what being regulated by SEC means, and the benefits to the sector.
Being regulated does not limit your business:
He highlighted that from the start, Chaka has been extremely focused on being regulator friendly, explaining that being regulated does not mean that one's business would be limited. Regulators are committed to ensuring development and innovation within the ecosystem but will first make sure that businesses are aligned with their goals and are beneficial to the public.
SEC's intention for creating this new license:
The regulators' intention is to make sure that everyone participating is registered and structured in line with set guidelines, and it is incumbent for players to engage SEC to do that. The right approach to take is to engage regulators, show the benefits of your business to the economy as being an enabler of digital investing, making sure it is easier for people to tap into the markets, and so on; then get requisite registration.
The importance of regulation:
Tosin further highlighted that the main benefit of being regulated has to do with investor confidence, security, and scale. When a wealth-tech company just starts out, it is exciting both for the operators and the customers, but as it grows, it is necessary to scale, and that would require business and regulatory compliance according to set guidelines that obtain within the sector. Customers would want to know that in the long-term their money is safe, which the SEC is trying to ensure.  The disadvantage of not having regulation in this sector is the uncertainty for the investing public, which the SEC is guarding against.
With this new license, which Chaka is in line to receive, the SEC is ensuring that only compliant platforms would be allowed to operate so that investors will be more confident knowing that their assets are safe and stable. It would further encourage more people to invest, and encourage more players to enter the market, therefore spurring innovation.
Nairametrics | Company Earnings
Access our Live Feed portal for the latest company earnings as they drop.