FG commences payment of cash transfer to the vulnerable, as lockdown takes effect
FG is set to commence immediate payment of conditional cash transfer to the poorest and most vulnerable households in the country.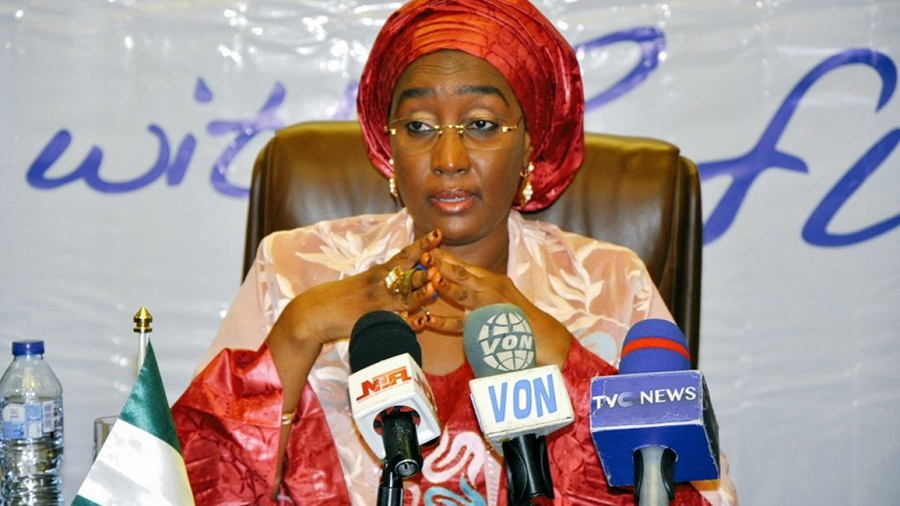 The Federal Government is set to commence immediate payment of conditional cash transfer to the poorest and most vulnerable households in the country.
Due to the impact of the lockdown on the finances of many income earners, the category of vulnerable groups has also been expanded to accommodate more persons.
The Minister for Humanitarian Affairs, Disaster Management and Social Development, Sadiya Umar Farouk stated this while fielding questions from journalists after the Joint Presidential Task Force briefing in Abuja on Monday afternoon.
"The president has directed that we start immediate payment of this cash transfer to the poorest and vulnerable households in our country.  
"Because of this COVID-19, the vulnerable groups have to be expanded because we are aware that there are people who live on daily wage and so we are also going to look at those groups of people to see how we can take food to them in these affected areas," she said.
She noted that other palliatives being put in place include the sustenance of the school-feeding programme to help families feed the children even while they stay at home and the distribution of relief materials.
"We are aware of residents of satellite communities around Lagos and Abuja whose livelihood will surely be affected by the lockdown. We shall deploy relief materials to ease their pains in the coming weeks."
READ MORE: Refinery project: Dangote expects $30 billion group revenue 
She said that trucks belonging to the National Emergency Management Agency (NEMA) had been deployed to Lagos, Ogun and Abuja to commence distribution immediately.
On the grant of a three-month moratorium, she stated that the relevant institutions had received directives to commence immediately and that several other palliative measures would also come up in due time.
On the lockdown: Speaking earlier, the Secretary to the Government of the Federation, Boss Mustapha emphasized that the lockdown was total and no breaches would be tolerated. Only essential service providers would be allowed to operate during the period.
"We are not sure how long this will last, as the countries that first started battling with COVID19 are still battling with it. It is a national challenge and we have to do everything within our power. 
"Nothing will happen to us if we lock down for two weeks and allow us do the tracing of the contacts of the confirmed cases," he said.
READ ALSO: COVID-19 cases rise by 20, hit 131
Cases so far: Speaking on the confirmed cases, the Minister of Health, Osagie Ehanire, had noted that it takes about four weeks for a patient to be discharged, and this can only be done if the patient had repeatedly tested negative, and was feeling better.
He also gave a breakdown of the current confirmed cases.
"About 80% of the people who contracted the coronavirus disease either showed no symptom or very mild symptoms. Of the remaining 20%, about 15% can be quite severe while 5 % is critical," he said.
He added that the NCDC is only testing those who had either returned from a foreign trip recently or had had close contact with any returnee since the virus is imported, not indigenous.
"If you never had a contact like that, and you have not been abroad, it is very unlikely that you are a coronavirus victim," he said.
He discouraged people, who wanted to undergo the test just to put their mind at ease, as he insisted that they were not likely to have it if they had no contact.
FG suspends evacuation of Nigerians in Diaspora
Federal government has suspended evacuation of Nigerians in diaspora until a new structure is put in place.
The federal government has suspended the evacuation of Nigerians in diaspora until a new structure is put in place to handle the evacuees.
This was disclosed by Foreign affairs minister Geoffrey Onyeama during the Presidential Task Force media briefing on Wednesday afternoon.
"We have been asked to cease all evacuation for now, until the whole structure is put in place" he stated, adding that he is hopeful that the new structure will be in place by next week.
According to the minister, the current arrangement has been quite restrictive as the ministry is often constrained by the resources available in determining the frequency of evacuation flights, and the number of people to be evacuated.
He said that the government is aware of the challenges being faced by Nigerians in diaspora, especially those in China.
(READ MORE:  Nigerian economy going into recession, might contract by -8.9% – Finance Minister)
Pre-flight testing now a condition for evacuation 
Part of the new arrangement is the pre-flight testing. Going forward, pre-flight is a condition for Nigerians in diaspora to get on the evacuation flights back to Nigeria.
"Anybody that is going to be evacuated will first of all, have to undergo a test from the country that they are leaving from, at least five days before travel and not later than nine days before travel. That will be a precondition for evacuation to Nigeria.  
"If they are positive of course, they will not be able to get on the flight. If they are negative, they get on the flight," he stated.
Evacuees will not be quarantined in hotels anymore
According to the minister, the evacuees will no longer be quarantined in hotels for 14 days at designated hotels, but will be allowed to go self-isolate at home after their samples have been collected at the airports.
(READ MORE:  Nigeria's economy can't survive without diaspora inputs, says PwC Chief Economist)
The ministry will also retain the passports of all evacuees whose samples have been collected before they are allowed to go self-isolate at home.
"Results from those samples will be available within a day or two. Those who are positive will be taken into isolation centres and those who are negative will complete the 14 day period of isolation after which they can come to collect their passport and go their way," he explained.
The Minister noted that with this new arrangement, the government could increase the number of people being evacuated and the frequency of flights.
He appreciated Aliko Dangote and other private sector participants who rallied around to make these sample collection units available at the airports.
He also revealed that among the people evacuated, 50 trafficked Nigerian girls were rescued from Lebanon.
Governor El Rufai extends Kaduna State's lockdown by 2 weeks starting June 1st
The Governor noted that most of the cases recorded in the state have either been from persons with a history of interstate travel. Therefore, citizens must take responsibility for their safety by adhering to guidelines.
Governor of Kaduna State, Mallam Nasir El Rufai has extended the lockdown in the state by two weeks, effective from June 1, 2020. This was announced by the Deputy Governor, Dr. Hadiza Balarabe, who spoke on behalf of the governor during a state broadcast on Tuesday evening after the Eid celebration.
There will be a relaxation of movement on Wednesday and Thursday, May 27 and 28, and neighborhood markets will open from 10 am-4 pm on both days to allow residents to purchase their needs before the lockdown takes effect on Monday June 1.
During the two week period, there will be adjustments during this period to allow the easing of restrictions in certain sectors and enable residents to resume their jobs.
KADUNA UPDATE: Malam Nasir @elrufai has extended the Quarantine Orders by two weeks, with adjustments to permit the easing of restrictions in certain sectors, Deputy Governor @DrHadiza Balarabe has announced in a state broadcast… pic.twitter.com/v6y7N8FRvV

— Governor Kaduna (@GovKaduna) May 26, 2020
3 lockdown-free days
Balarabe stated that there will be a three-day window every week to allow residents to shop their essential needs on Tuesdays, Wednesdays, and Thursdays. Business owners that meet the stipulated requirements will also be allowed to operate on these days. Artisans such as vulcanisers, welders, and mechanics will also be allowed to operate on the same days.
"The revised regulations are intended to preserve the state's ability to protect citizens, empower citizens to lead the fight against Covid-19 and make necessary adjustments to permit the safe resumption of the pursuit of livelihoods in more sectors" she stated.
The adjusted orders expand the ability of citizens to resume the pursuit of livelihoods, in permitted sectors subject to compliance with health and safety protocols. Private sector firms that meet these requirements will also operate on Tuesdays, Wednesdays and Thursdays…

— Governor Kaduna (@GovKaduna) May 26, 2020
These businesses and organisations must remain shut
Under the revised regulations, schools and places of worship will remain shut until directed otherwise. Markets will also be closed except on the lockdown free days, while the government engages with relevant stakeholder on the circumstances for a safe reopening.
Restaurants and eateries will not entertain sit-in customers but are allowed to offer takeaway services. In the same vein, sporting centers, event centers, and relaxation centers are to remain closed. Hotels are to also remain shut as well, as they have not been specifically licensed as essential service providers during this period.
(READ MORE:Update: Court orders Sanusi's release from confinement, meets with El-Rufai in Awe)
The public sector will also use the two-week extension to prepare for limited resumption. Heads of Ministries, Department and Agencies will ensure that government offices are reconfigured for physical distancing and that handwashing facilities are available.
All of the regulations are to be reviewed after two weeks.
Schools, places of worship & markets will remain closed under the adjusted orders. KDSG officials will be engaging with religious leaders, transport unions, traditional institutions, market unions, school proprietors and other stakeholders on the circumstances for safe reopening

— Governor Kaduna (@GovKaduna) May 26, 2020
The governor commended the state's residents for complying with earlier directives of the lockdown, despite the inconveniences. He assured them that their sacrifices have not been in vain.
"These sacrifices have not been in vain. Without them, infection rates will be much higher. Many citizens have embraced the exercise of personal responsibility, including wearing facemasks when outdoors, washing hands with soap and water regularly, observing physical distancing and avoiding large crowds. These new habits will help keep our communities safe" he said.
He noted that most of the cases recorded in the state have either been from persons with a history of interstate travel or have been in contact with people who traveled inter-state. Therefore, citizens must take responsibility for their safety by adhering to guidelines.
Covid-19 Update in Nigeria
On the 26th of May 2020, 276 new confirmed cases and 16 deaths were recorded in Nigeria bringing the total confirmed cases recorded in the country to 8,344.
The spread of novel Corona Virus Disease (COVID-19) in Nigeria continues to rise as the latest statistics provided by the Nigeria Centre for Disease Control reveal Nigeria now has 8,344 confirmed cases.
On the 26th of May 2020, 276 new confirmed cases and 16 deaths were recorded in Nigeria.
To date, 8344 cases have been confirmed, 2385 cases have been discharged and 249 deaths have been recorded in 34 states and the Federal Capital Territory having carried out 46,803 tests.
Covid-19 Case Updates- May 26th 2020
Total Number of Cases – 8,344
Total Number Discharged – 2,385
Total Deaths – 249
Total Tests Carried out – 46,803
The 276 new cases were reported from 15 states- Lagos (161), Rivers (36), Edo (27), Kaduna (19), Nasarawa (10), Oyo (6), Kano (4), Delta (3), Ebonyi (3), Gombe (2), Ogun (1), Ondo (1), Borno (1), Abia (1), Bauchi (1).
READ ALSO: COVID-19: Western diplomats warn of disease explosion, poor handling by government
The latest numbers bring Lagos state total confirmed cases to 3756, followed by Kano (923), Abuja at 519, Katsina (335), Borno (256), Oyo (250), Jigawa and Ogun (241), Bauchi (233), Edo (218), Kaduna (208),  Rivers (157), Gombe (150), Sokoto (116), Plateau (95).
Kwara State has recorded 79 cases, Zamfara (76), Nasarawa (56), Delta (49), Yobe (47), Osun (44), Ebonyi (36), Imo (33), Kebbi (32), Niger (28), Adamawa (27), Akwa Ibom and Ondo (24), Ekiti (20), Taraba and Enugu (18), Bayelsa (12), Anambra (10), Abia (8), while Benue state has recorded 5 cases.
Lock Down and Curfew
In a move to combat the spread of the pandemic disease, President Muhammadu Buhari directed the cessation of all movements in Lagos and the FCT for an initial period of 14 days, which took effect from 11 pm on Monday, 30th March 2020.
The movement restriction, which was extended by another two-weeks period, has been partially put on hold with some businesses commencing operations from May 4. On April 27th, 2020, President Muhammadu Buhari declared an overnight curfew from 8 pm to 6 am across the country, as part of new measures to contain the spread of the COVID-19. This comes along with the phased and gradual easing of lockdown measures in FCT, Lagos, and Ogun States, which took effect from Saturday, 2nd May 2020, at 9 am.
READ ALSO: Bill Gates says Trump's WHO funding suspension is dangerous
| Date | Confirmed case | New cases | Total deaths | New deaths | Total recovery | Active cases | Critical cases |
| --- | --- | --- | --- | --- | --- | --- | --- |
| May 26, 2020 | 8344 | 276 | 249 | 16 | 2385 | 5710 | 7 |
| May 25, 2020 | 8068 | 229 | 233 | 7 | 2311 | 5524 | 7 |
| May 24, 2020 | 7839 | 313 | 226 | 5 | 2263 | 5360 | 7 |
| May 23, 2020 | 7526 | 265 | 221 | 0 | 2174 | 5131 | 7 |
| May 22, 2020 | 7261 | 245 | 221 | 10 | 2007 | 5033 | 7 |
| May 21, 2020 | 7016 | 339 | 211 | 11 | 1907 | 4898 | 7 |
| May 20, 2020 | 6677 | 284 | 200 | 8 | 1840 | 4637 | 7 |
| May 19, 2020 | 6401 | 226 | 192 | 1 | 1734 | 4475 | 7 |
| May 18, 2020 | 6175 | 216 | 191 | 9 | 1644 | 4340 | 7 |
| May 17, 2020 | 5959 | 388 | 182 | 6 | 1594 | 4183 | 7 |
| May 16, 2020 | 5621 | 176 | 176 | 5 | 1472 | 3973 | 7 |
| May 15, 2020 | 5445 | 288 | 171 | 3 | 1320 | 3954 | 4 |
| May 14, 2020 | 5162 | 193 | 168 | 3 | 1180 | 3815 | 4 |
| May 13, 2020 | 4971 | 184 | 164 | 6 | 1070 | 3737 | 4 |
| May 12, 2020 | 4787 | 146 | 158 | 6 | 959 | 3670 | 4 |
| May 11, 2020 | 4641 | 242 | 152 | 10 | 902 | 3589 | 4 |
| May 10, 2020 | 4399 | 248 | 142 | 17 | 778 | 3479 | 4 |
| May 9, 2020 | 4151 | 239 | 127 | 11 | 745 | 3278 | 4 |
| May 8, 2020 | 3912 | 386 | 118 | 10 | 679 | 3115 | 4 |
| May 7, 2020 | 3526 | 381 | 108 | 4 | 601 | 2818 | 4 |
| May 6, 2020 | 3145 | 195 | 104 | 5 | 534 | 2507 | 1 |
| May 5, 2020 | 2950 | 148 | 99 | 5 | 481 | 2370 | 4 |
| May 4, 2020 | 2802 | 245 | 94 | 6 | 417 | 2291 | 2 |
| May 3, 2020 | 2558 | 170 | 88 | 2 | 400 | 2070 | 2 |
| May 2, 2020 | 2388 | 220 | 86 | 17 | 351 | 1952 | 2 |
| May 1, 2020 | 2170 | 238 | 69 | 10 | 351 | 1751 | 2 |
| April 30, 2020 | 1932 | 204 | 59 | 7 | 317 | 1556 | 2 |
| April 29, 2020 | 1728 | 196 | 52 | 7 | 307 | 1369 | 2 |
| April 28, 2020 | 1532 | 195 | 45 | 4 | 255 | 1232 | 2 |
| April 27, 2020 | 1337 | 64 | 41 | 0 | 255 | 994 | 2 |
| April 26, 2020 | 1273 | 91 | 41 | 5 | 239 | 994 | 2 |
| April 25, 2020 | 1182 | 87 | 36 | 3 | 222 | 925 | 2 |
| April 24, 2020 | 1095 | 114 | 33 | 1 | 208 | 855 | 2 |
| April 23, 2020 | 981 | 108 | 32 | 3 | 197 | 753 | 2 |
| April 22, 2020 | 873 | 91 | 29 | 3 | 197 | 648 | 2 |
| April 21, 2020 | 782 | 117 | 26 | 3 | 197 | 560 | 2 |
| April 20, 2020 | 665 | 38 | 23 | 1 | 188 | 466 | 2 |
| April 19, 2020 | 627 | 86 | 22 | 2 | 170 | 436 | 2 |
| April 18, 2020 | 541 | 48 | 20 | 2 | 166 | 356 | 2 |
| April 17, 2020 | 493 | 51 | 18 | 4 | 159 | 317 | 2 |
| April 16, 2020 | 442 | 35 | 13 | 1 | 152 | 277 | 2 |
| April 15, 2020 | 407 | 34 | 12 | 1 | 128 | 267 | 2 |
| April 14, 2020 | 373 | 30 | 11 | 1 | 99 | 263 | 2 |
| April 13, 2020 | 343 | 20 | 10 | 0 | 91 | 242 | 2 |
| April 12, 2020 | 323 | 5 | 10 | 0 | 85 | 228 | 2 |
| April 11, 2020 | 318 | 13 | 10 | 3 | 70 | 238 | 2 |
| April 10, 2020 | 305 | 17 | 7 | 0 | 58 | 240 | 2 |
| April 9, 2020 | 288 | 14 | 7 | 1 | 51 | 230 | 2 |
| April 8, 2020 | 274 | 22 | 6 | 0 | 44 | 226 | 2 |
| April 7, 2020 | 254 | 16 | 6 | 1 | 44 | 204 | 2 |
| April 6, 2020 | 238 | 6 | 5 | 0 | 35 | 198 | 2 |
| April 5, 2020 | 232 | 18 | 5 | 1 | 33 | 194 | 2 |
| April 4, 2020 | 214 | 5 | 4 | 0 | 25 | 185 | 0 |
| April 3, 2020 | 209 | 25 | 4 | 2 | 25 | 180 | 0 |
| April 2, 2020 | 184 | 10 | 2 | 0 | 20 | 162 | 0 |
| April 1, 2020 | 174 | 35 | 2 | 0 | 9 | 163 | 0 |
| March 31, 2020 | 139 | 8 | 2 | 0 | 9 | 128 | 0 |
| March 30, 2020 | 131 | 20 | 2 | 1 | 8 | 121 | 0 |
| March 29, 2020 | 111 | 22 | 1 | 0 | 3 | 107 | 0 |
| March 28, 2020 | 89 | 19 | 1 | 0 | 3 | 85 | 0 |
| March 27, 2020 | 70 | 5 | 1 | 0 | 3 | 66 | 0 |
| March 26, 2020 | 65 | 14 | 1 | 0 | 2 | 62 | 0 |
| March 25, 2020 | 51 | 7 | 1 | 0 | 2 | 48 | 0 |
| March 24, 2020 | 44 | 4 | 1 | 0 | 2 | 41 | 0 |
| March 23, 2020 | 40 | 10 | 1 | 1 | 2 | 37 | 0 |
| March 22, 2020 | 30 | 8 | 0 | 0 | 2 | 28 | 0 |
| March 21, 2020 | 22 | 10 | 0 | 0 | 1 | 21 | 0 |
| March 20, 2020 | 12 | 4 | 0 | 0 | 1 | 11 | 0 |
| March 19, 2020 | 8 | 0 | 0 | 0 | 1 | 7 | 0 |
| March 18, 2020 | 8 | 5 | 0 | 0 | 1 | 7 | 0 |
| March 17, 2020 | 3 | 1 | 0 | 0 | 0 | 3 | 0 |
| March 16, 2020 | 2 | 0 | 0 | 0 | 0 | 2 | 0 |
| March 15, 2020 | 2 | 0 | 0 | 0 | 0 | 2 | 0 |
| March 14, 2020 | 2 | 0 | 0 | 0 | 0 | 2 | 0 |
| March 13, 2020 | 2 | 0 | 0 | 0 | 0 | 2 | 0 |
| March 12, 2020 | 2 | 0 | 0 | 0 | 0 | 2 | 0 |
| March 11, 2020 | 2 | 0 | 0 | 0 | 0 | 2 | 0 |
| March 10, 2020 | 2 | 0 | 0 | 0 | 0 | 2 | 0 |
| March 9, 2020 | 2 | 1 | 0 | 0 | 0 | 2 | 0 |
| March 8, 2020 | 1 | 0 | 0 | 0 | 0 | 1 | 0 |
| March 7, 2020 | 1 | 0 | 0 | 0 | 0 | 1 | 0 |
| March 6, 2020 | 1 | 0 | 0 | 0 | 0 | 1 | 0 |
| March 5, 2020 | 1 | 0 | 0 | 0 | 0 | 1 | 0 |
| March 4, 2020 | 1 | 0 | 0 | 0 | 0 | 1 | 0 |
| March 3, 2020 | 1 | 0 | 0 | 0 | 0 | 1 | 0 |
| March 2, 2020 | 1 | 0 | 0 | 0 | 0 | 1 | 0 |
| March 1, 2020 | 1 | 0 | 0 | 0 | 0 | 1 | 0 |
| February 29, 2020 | 1 | 0 | 0 | 0 | 0 | 1 | 0 |
| February 28, 2020 | 1 | 1 | 0 | 0 | 0 | 1 | 0 |