What is on  Godwin Emefiele's mind?
With an unassuming personality, Godwin Emefiele controls the monetary policies of Nigeria and on his judgment, depends the economic destiny for Nigeria.
With an unassuming personality, Mr Godwin Emefiele controls the monetary policies of Nigeria and the economic destiny for Nigeria depends on his judgment. So when COVID-19 came to the shores of Nigeria, the calm watchman designed mechanisms in safeguarding Africa's largest economy.
At the just-concluded Monetary Policy Committee (MPC) meeting, Godwin Emefiele said the recent decisions of the Central Bank of Nigeria (CBN), were targeted at strengthening the financial system in order to alleviate the initial impact of the global crisis caused by the COVID-19 pandemic.
On tightening, Godwin Emefiele, the CBN governor stated that the MPC was of the view that it would help rein in the rising inflation in the economy as well as support reserve accretion.
In addition, he explained that the committee observed that tightening would result in a reduction in money supply and limit the capacity of lenders to create credit, thus resulting in increased cost of credit, with adverse impact on output growth.
"Tightening would also result in a reduction in aggregate demand as a fall in disposable income results in output compression; whereas policy emphasis at this time should be on stimulating aggregate supply and demand, both already weakened by COVID-19," he added.
[READ MORE: CBN pays $4.45 billion external debt to World Bank, others in 2-month)
On whether to loosen, Emefiele buttressed further that the CBN felt the decision would stimulate the economy in the short term, and boost aggregate supply and demand.
Consequently, in the wake of the global crisis as a result of disruptions associated with the outbreak of the Coronavirus and the oil price battle between Saudi Arabia and Russia, the CBN announced a stimulus to protect the Nigerian financial system and the economy.
The stimulus package, which would involve an injection of about N3.5 trillion to support the Nigerian economy, include the extension moratorium on loans by an additional year beginning from March 2020, to ease the pressure on loan repayments by companies.
The apex bank also reduced interest rates from 9% to 5% on its existing intervention programs over the next one year; created a N50 billion targeted fund to support households and Small and Medium Enterprises (SMEs) affected by COVID-19, and introduced credit support for the healthcare sector.
READ ALSO: CBN, Bankers committee back N3.5 trillion stimulus package for Nigeria
However, Silas Ozoya, President/CEO at SUBA Capital in a phone chat with Nairametics said:
"Considering the current COVID-19 situation and present lockdown, how would this fund get to the targeted end consumers and how would they execute with it in a lockdown? Those are the first set of question in my head begging to be answered. Injecting such fund into the economy is a good move by the CBN and yes, it would to some extent ease the effect of the looming recession. 
"Since this is still developing, let's see how the Central Bank intends to put this fund out and how the funds would be managed to effectively cushion the effect of this pandemic triggered recession we are gradually sliding into. 
"Finally, announcing and injecting more funds into the economy isn't enough on its own, the proper disbursement, management and recovery (where necessary) of such funds are more paramount to the continuous growth of the economy." 
[READ ALSO: CBN issues guidelines to access N50 billion COVID-19 credit facility)
Also, the CBN introduced regulatory tolerant measures to consider temporary and time-limited restructuring of loan terms and tenors to households and businesses affected by COVID-19 and strengthened the loan-to-deposit ratio policy.
To cushion the adverse effects of the pandemic on the economy, the CBN also announced the provision of N1 trillion from its intervention fund to support local manufacturing to boost import substitution, and another N100 billion to support the health services sector.
The fund was to provide loans to the pharmaceutical companies, hospitals and other health practitioners to build new hospitals and health facilities or expand existing ones to first-class health centres.
This is in addition to the N1.5 trillion private sectors-driven Infraco Project Fund, designed to target the construction of critical infrastructure across the country.
Again, pharmaceutical companies would be assisted through loan interventions to reestablish drug manufacturing firms in Nigeria and curtail the spread of the coronavirus.
COVID-19: WHO warns there may never be an immediate solution to the virus
WHO urged governments and citizens to focus on known basic steps to contain the pandemic.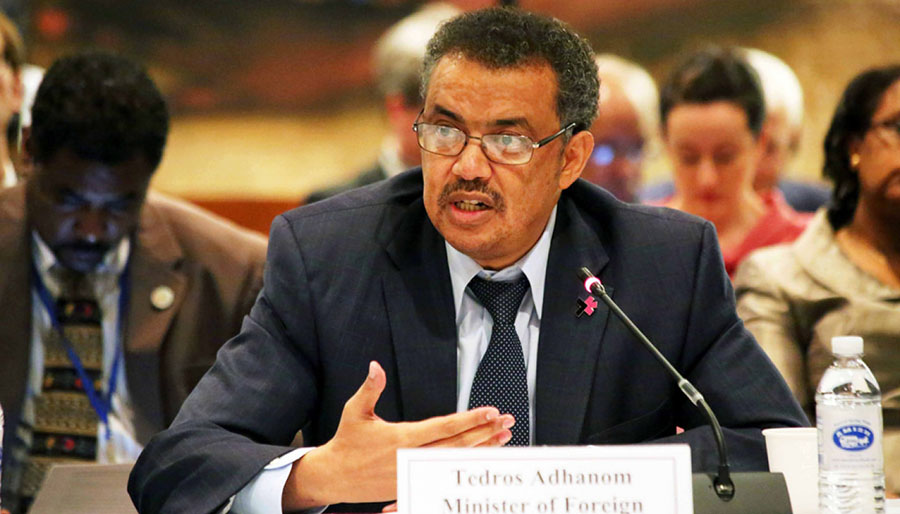 The World Health Organization (WHO) has warned that there might not be an immediate solution or cure to the COVID-19 pandemic despite the positive outcomes at the different levels of trials of vaccines for the virus.
The WHO said that despite strong hopes for a vaccine, there might never be a silver bullet for COVID-19, and the road to normality would be long.
According to the latest data, the coronavirus pandemic has infected over 18.1 million people with more than 690,000 fatalities globally since late January, when the virus was first reported. This is just as some countries that thought they worst was over for them started experiencing a second wave of outbreak.
The Director-General of the WHO, Tedros Adhanom Ghebreyesus, and Mike Ryan, WHO head of emergencies, urged governments and citizens to focus on known basic steps to contain the pandemic such as testing, contact tracing, maintaining physical distance and putting on a mask.
Tedros in a virtual news briefing in Geneva, said, ''The message to people and governments is clear, Do it all. He said face masks should become a symbol of solidarity around the world. A number of vaccines are now in phase three clinical trials and we all hope to have a number of effective vaccines that can help prevent people from infection. However, there's no silver bullet at the moment, and there might never be.'' 
Chinese Investigation
The WHO officials revealed that an advanced investigation team that was sent to China where the virus started, are not yet back. The UN health agency sent an epidemiologist and an animal health specialist to China on July 10 to lay the groundwork for a probe aimed at identifying how the virus entered the human species.
Tedros said WHO and Chinese experts had agreed on the terms of reference and a programme of work for a WHO-led international team of scientists and researchers from around the world. They are to study the origins of the virus in the city of Wuhan.
The WHO boss encouraged mothers to continue breastfeeding even if they had COVID-19, as the benefits outweigh the risks associated with infection.
Tedros also said the international hunt for a vaccine has been historic against the backdrop of the coronavirus disease being the biggest global health emergency since the early 20th century.
Tedros said, ''There are many vaccines under trial, a couple in the final stage of clinical trials – and there is hope. It does not mean that we will have the vaccine, but at least the speed with which we reached the level we reached now is unprecedented."
"There are concerns that we may not have a vaccine that may work or its protection could be for just a few months, not more. But until we finish the clinical trials, we will not know."
Lagos state lists conditions that must be met by churches, mosques before reopening
The government specified that the conditions must be met for worship centres to open.
The Lagos State Government has introduced some measures and conditions that must be met/fulfiled by all religious centres and places of worships that are planning to reopen, following further relaxation of lockdown.
These measures were contained in a press statement that was issued by the Lagos State Governor, Babajide Sanwo-Olu, and seen by Nairametrics.
READ: Malabu Scandal: Netherland, Switzerland to send $200 million to Nigeria
Nairametrics had reported that the Lagos State Governor on Saturday, August 1, during his 17th briefing on the state's COVID-19 response, announced the reopening of worship centres with effect from August 7th. Now, the Lagos State Government has specified that the following conditions must be met for worship centres that are planning to open;
Only regular services/gatherings are permitted to hold. Night vigils and other non-regular programmes remain prohibited until further notice.
Attendees above 65 years are strongly discouraged from attending worship services.
Consider holding services and gatherings in large, well-ventilated areas or outdoors, as circumstances and faith tradition allow.
No face mask, no entry policy, must be maintained throughout the duration of the services.
Regular cleaning and disinfection of facilities must be carried out to maintain clean and hygienic environments before and after every service.
Appropriate screening equipment for COVID-19 symptoms such as a contactless temperature check must be available for entrants into the facility.
It is mandatory to provide hand-washing facilities and sanitizers at the entry and exit point of the premises.
National emergency response phone lines must be displayed prominently on the premises.
Handshakes, hugs and high fives are not permitted at services or gatherings and this should be emphasized by displaying appropriate signs prominently.
The use of stationary collection boxes and electronic methods for collection of the offering must be encouraged.
The flow of human traffic in and out of these places of worship must be conducted in an organized and orderly manner.
READ MORE: Lagos sets up N1 billion seed capital for hospitality sector, rolls out optical fibre across the state
The Governor urged Lagosians to fully comply with the measures outlined in the new regulations, stressing that Lagos State Safety Commission has a statutory responsibility to monitor the activities and operations of all organizations and worship centres that have been permitted to re-open.
*COVID-19* : Measures taken by the Lagos State Government to further relax the lockdown.@jidesanwoolu @drobafemihamzat @gbenga_omo @gboyegaakosile @Mr_JAGss#LASG #ForAGreaterLagos #LagosAgainstCovid19 pic.twitter.com/0t8ti49wYz

— The Lagos State Govt (@followlasg) August 2, 2020
COVID-19 Update in Nigeria
On the 3rd of August 2020, 288 new confirmed cases and 8 deaths were recorded in Nigeria.
The spread of novel Corona Virus Disease (COVID-19) in Nigeria continues to record significant increase as the latest statistics provided by the Nigeria Centre for Disease Control reveal Nigeria now has 44,129 confirmed cases.
On the 3rd of August 2020, 288 new confirmed cases and 8 deaths were recorded in Nigeria, having carried out a total daily test of 1,441 samples across the country.
To date, 44,129 cases have been confirmed, 20,663 cases have been discharged and 896 deaths have been recorded in 36 states and the Federal Capital Territory. A total of 287,532 tests have been carried out as of August 3rd, 2020 compared to 286,091 tests a day earlier.
COVID-19 Case Updates- 3rd August 2020,
Total Number of Cases – 44,129
Total Number Discharged – 20,663
Total Deaths – 896
Total Tests Carried out – 287,532
According to the NCDC, the 288 new cases were reported from 15 states- Lagos (88), Kwara (33), Osun (27), FCT (25), Enugu (25), Abia (20), Kaduna (17), Plateau (13), Rivers (13), Delta (10), Gombe (8), Ogun (4), Oyo (3), Katsina (1), Bauchi (1).
Meanwhile, the latest numbers bring Lagos state total confirmed cases to 15,355, followed by Abuja (3,997), Oyo (2,771), Edo (2,311), Rivers (1,842), Kano (1,597), Delta (1,520), Kaduna (1,498), Ogun (1,407), Plateau (1,240), Ondo (1,204), Enugu (846), Ebonyi (808), Kwara (786), Katsina (746), Gombe (620), Borno (613), Abia (602), Osun (580), and Bauchi (561).
Imo State has recorded 469 cases, Benue (356), Nasarawa and Bayelsa (339), Jigawa (322), Niger (223), Akwa Ibom (221), Adamawa (164), Sokoto (154), Ekiti (152), Anambra (135),  Kebbi (90), Zamfara (77), Yobe (67), Cross River (58), Taraba (54),  while Kogi state has recorded 5 cases only.
READ ALSO: COVID-19: Western diplomats warn of disease explosion, poor handling by government
Lock Down and Curfew
In a move to combat the spread of the pandemic disease, President Muhammadu Buhari directed the cessation of all movements in Lagos and the FCT for an initial period of 14 days, which took effect from 11 pm on Monday, 30th March 2020.
The movement restriction, which was extended by another two-weeks period, has been partially put on hold with some businesses commencing operations from May 4. On April 27th, 2020, Nigeria's President, Muhammadu Buhari declared an overnight curfew from 8 pm to 6 am across the country, as part of new measures to contain the spread of the COVID-19. This comes along with the phased and gradual easing of lockdown measures in FCT, Lagos, and Ogun States, which took effect from Saturday, 2nd May 2020, at 9 am.
On Monday, 29th June 2020 the federal government extended the second phase of the eased lockdown by 4 weeks and approved interstate movement outside curfew hours with effect from July 1, 2020. Also, on Monday 27th July 2020, the federal government extended the second phase of eased lockdown by an additional one week.
READ ALSO: Bill Gates says Trump's WHO funding suspension is dangerous
| Date | Confirmed case | New cases | Total deaths | New deaths | Total recovery | Active cases | Critical cases |
| --- | --- | --- | --- | --- | --- | --- | --- |
| August 3, 2020 | 44129 | 288 | 896 | 8 | 20663 | 22570 | 7 |
| August 2, 2020 | 43841 | 304 | 888 | 5 | 20308 | 22645 | 7 |
| August 1, 2020 | 43537 | 386 | 883 | 4 | 20287 | 22567 | 7 |
| July 31, 2020 | 43151 | 462 | 879 | 1 | 19565 | 22707 | 7 |
| July 30, 2020 | 42689 | 481 | 878 | 5 | 19270 | 22541 | 7 |
| July 29, 2020 | 42208 | 404 | 873 | 5 | 19004 | 22331 | 7 |
| July 28, 2020 | 41804 | 624 | 868 | 8 | 18764 | 22172 | 7 |
| July 27, 2020 | 41180 | 648 | 860 | 2 | 18203 | 22117 | 7 |
| July 26, 2020 | 40532 | 555 | 858 | 2 | 17374 | 22300 | 7 |
| July 25, 2020 | 39977 | 438 | 856 | 11 | 16948 | 22173 | 7 |
| July 24, 2020 | 39539 | 591 | 845 | 12 | 16559 | 22135 | 7 |
| July 23, 2020 | 38948 | 604 | 833 | 20 | 16061 | 22054 | 7 |
| July 22, 2020 | 38344 | 543 | 813 | 8 | 15815 | 21716 | 7 |
| July 21, 2020 | 37801 | 576 | 805 | 4 | 15677 | 21319 | 7 |
| July 20, 2020 | 37225 | 562 | 801 | 12 | 15333 | 21091 | 7 |
| July 19, 2020 | 36663 | 556 | 789 | 11 | 15105 | 20769 | 7 |
| July 18, 2020 | 36107 | 653 | 778 | 6 | 14938 | 20391 | 7 |
| July 17, 2020 | 35454 | 600 | 772 | 3 | 14633 | 20049 | 7 |
| July 16, 2020 | 34854 | 595 | 769 | 9 | 14292 | 19793 | 7 |
| July 15, 2020 | 34259 | 643 | 760 | 6 | 13999 | 19500 | 7 |
| July 14, 2020 | 33616 | 463 | 754 | 10 | 13792 | 19070 | 7 |
| July 13, 2020 | 33153 | 595 | 744 | 4 | 13671 | 18738 | 7 |
| July 12, 2020 | 32558 | 571 | 740 | 16 | 13447 | 18371 | 7 |
| July 11, 2020 | 31987 | 664 | 724 | 15 | 13103 | 18160 | 7 |
| July 10, 2020 | 31323 | 575 | 709 | 20 | 12795 | 17819 | 7 |
| July 9, 2020 | 30748 | 499 | 689 | 5 | 12546 | 17513 | 7 |
| July 8, 2020 | 30249 | 460 | 684 | 15 | 12373 | 17192 | 7 |
| July 7, 2020 | 29789 | 503 | 669 | 15 | 12108 | 17012 | 7 |
| July 6, 2020 | 29286 | 575 | 654 | 9 | 11828 | 16804 | 7 |
| July 5, 2020 | 28711 | 544 | 645 | 11 | 11665 | 16401 | 7 |
| July 4, 2020 | 28167 | 603 | 634 | 6 | 11462 | 16071 | 7 |
| July 3, 2020 | 27564 | 454 | 628 | 12 | 11069 | 15867 | 7 |
| July 2, 2020 | 27110 | 626 | 616 | 13 | 10801 | 15693 | 7 |
| July 1, 2020 | 26484 | 790 | 603 | 13 | 10152 | 15729 | 7 |
| June 30, 2020 | 25694 | 561 | 590 | 17 | 9746 | 15358 | 7 |
| June 29, 2020 | 25133 | 566 | 573 | 8 | 9402 | 15158 | 7 |
| June 28, 2020 | 24867 | 490 | 565 | 7 | 9007 | 14995 | 7 |
| June 27, 2020 | 24077 | 779 | 558 | 4 | 8625 | 14894 | 7 |
| June 26, 2020 | 23298 | 684 | 554 | 5 | 8253 | 14491 | 7 |
| June 25, 2020 | 22614 | 594 | 549 | 7 | 7822 | 14243 | 7 |
| June 24, 2020 | 22020 | 649 | 542 | 9 | 7613 | 13865 | 7 |
| June 23, 2020 | 21371 | 452 | 533 | 8 | 7338 | 13500 | 7 |
| June 22, 2020 | 20919 | 675 | 525 | 7 | 7109 | 13285 | 7 |
| June 21, 2020 | 20242 | 436 | 518 | 12 | 6879 | 12847 | 7 |
| June 20, 2020 | 19808 | 661 | 506 | 19 | 6718 | 12584 | 7 |
| June 19, 2020 | 19147 | 667 | 487 | 12 | 6581 | 12079 | 7 |
| June 18, 2020 | 18480 | 745 | 475 | 6 | 6307 | 11698 | 7 |
| June 17, 2020 | 17735 | 587 | 469 | 14 | 5967 | 11299 | 7 |
| June 16, 2020 | 17148 | 490 | 455 | 31 | 5623 | 11070 | 7 |
| June 15, 2020 | 16658 | 573 | 424 | 4 | 5349 | 10885 | 7 |
| June 14, 2020 | 16085 | 403 | 420 | 13 | 5220 | 10445 | 7 |
| June 13, 2020 | 15682 | 501 | 407 | 8 | 5101 | 10174 | 7 |
| June 12, 2020 | 15181 | 627 | 399 | 12 | 4891 | 9891 | 7 |
| June 11, 2020 | 14554 | 681 | 387 | 5 | 4494 | 9673 | 7 |
| June 10, 2020 | 13873 | 409 | 382 | 17 | 4351 | 9140 | 7 |
| June 9, 2020 | 13464 | 663 | 365 | 4 | 4206 | 8893 | 7 |
| June 8, 2020 | 12801 | 315 | 361 | 7 | 4040 | 8400 | 7 |
| June 7, 2020 | 12486 | 260 | 354 | 12 | 3959 | 8173 | 7 |
| June 6, 2020 | 12233 | 389 | 342 | 9 | 3826 | 8065 | 7 |
| June 5, 2020 | 11844 | 328 | 333 | 10 | 3696 | 7815 | 7 |
| June 4, 2020 | 11516 | 350 | 323 | 8 | 3535 | 7646 | 7 |
| June 3, 2020 | 11166 | 348 | 315 | 1 | 3329 | 7522 | 7 |
| June 2, 2020 | 10819 | 241 | 314 | 15 | 3239 | 7266 | 7 |
| June 1, 2020 | 10578 | 416 | 299 | 12 | 3122 | 7157 | 9 |
| May 31, 2020 | 10162 | 307 | 287 | 14 | 3007 | 6868 | 7 |
| May 30, 2020 | 9855 | 553 | 273 | 12 | 2856 | 6726 | 7 |
| May 29, 2020 | 9302 | 387 | 261 | 2 | 2697 | 6344 | 7 |
| May 28, 2020 | 8915 | 182 | 259 | 5 | 2592 | 6064 | 7 |
| May 27, 2020 | 8733 | 389 | 254 | 5 | 2501 | 5978 | 7 |
| May 26, 2020 | 8344 | 276 | 249 | 16 | 2385 | 5710 | 7 |
| May 25, 2020 | 8068 | 229 | 233 | 7 | 2311 | 5524 | 7 |
| May 24, 2020 | 7839 | 313 | 226 | 5 | 2263 | 5360 | 7 |
| May 23, 2020 | 7526 | 265 | 221 | 0 | 2174 | 5131 | 7 |
| May 22, 2020 | 7261 | 245 | 221 | 10 | 2007 | 5033 | 7 |
| May 21, 2020 | 7016 | 339 | 211 | 11 | 1907 | 4898 | 7 |
| May 20, 2020 | 6677 | 284 | 200 | 8 | 1840 | 4637 | 7 |
| May 19, 2020 | 6401 | 226 | 192 | 1 | 1734 | 4475 | 7 |
| May 18, 2020 | 6175 | 216 | 191 | 9 | 1644 | 4340 | 7 |
| May 17, 2020 | 5959 | 388 | 182 | 6 | 1594 | 4183 | 7 |
| May 16, 2020 | 5621 | 176 | 176 | 5 | 1472 | 3973 | 7 |
| May 15, 2020 | 5445 | 288 | 171 | 3 | 1320 | 3954 | 4 |
| May 14, 2020 | 5162 | 193 | 168 | 3 | 1180 | 3815 | 4 |
| May 13, 2020 | 4971 | 184 | 164 | 6 | 1070 | 3737 | 4 |
| May 12, 2020 | 4787 | 146 | 158 | 6 | 959 | 3670 | 4 |
| May 11, 2020 | 4641 | 242 | 152 | 10 | 902 | 3589 | 4 |
| May 10, 2020 | 4399 | 248 | 142 | 17 | 778 | 3479 | 4 |
| May 9, 2020 | 4151 | 239 | 127 | 11 | 745 | 3278 | 4 |
| May 8, 2020 | 3912 | 386 | 118 | 10 | 679 | 3115 | 4 |
| May 7, 2020 | 3526 | 381 | 108 | 4 | 601 | 2818 | 4 |
| May 6, 2020 | 3145 | 195 | 104 | 5 | 534 | 2507 | 1 |
| May 5, 2020 | 2950 | 148 | 99 | 5 | 481 | 2370 | 4 |
| May 4, 2020 | 2802 | 245 | 94 | 6 | 417 | 2291 | 2 |
| May 3, 2020 | 2558 | 170 | 88 | 2 | 400 | 2070 | 2 |
| May 2, 2020 | 2388 | 220 | 86 | 17 | 351 | 1952 | 2 |
| May 1, 2020 | 2170 | 238 | 69 | 10 | 351 | 1751 | 2 |
| April 30, 2020 | 1932 | 204 | 59 | 7 | 317 | 1556 | 2 |
| April 29, 2020 | 1728 | 196 | 52 | 7 | 307 | 1369 | 2 |
| April 28, 2020 | 1532 | 195 | 45 | 4 | 255 | 1232 | 2 |
| April 27, 2020 | 1337 | 64 | 41 | 0 | 255 | 994 | 2 |
| April 26, 2020 | 1273 | 91 | 41 | 5 | 239 | 994 | 2 |
| April 25, 2020 | 1182 | 87 | 36 | 3 | 222 | 925 | 2 |
| April 24, 2020 | 1095 | 114 | 33 | 1 | 208 | 855 | 2 |
| April 23, 2020 | 981 | 108 | 32 | 3 | 197 | 753 | 2 |
| April 22, 2020 | 873 | 91 | 29 | 3 | 197 | 648 | 2 |
| April 21, 2020 | 782 | 117 | 26 | 3 | 197 | 560 | 2 |
| April 20, 2020 | 665 | 38 | 23 | 1 | 188 | 466 | 2 |
| April 19, 2020 | 627 | 86 | 22 | 2 | 170 | 436 | 2 |
| April 18, 2020 | 541 | 48 | 20 | 2 | 166 | 356 | 2 |
| April 17, 2020 | 493 | 51 | 18 | 4 | 159 | 317 | 2 |
| April 16, 2020 | 442 | 35 | 13 | 1 | 152 | 277 | 2 |
| April 15, 2020 | 407 | 34 | 12 | 1 | 128 | 267 | 2 |
| April 14, 2020 | 373 | 30 | 11 | 1 | 99 | 263 | 2 |
| April 13, 2020 | 343 | 20 | 10 | 0 | 91 | 242 | 2 |
| April 12, 2020 | 323 | 5 | 10 | 0 | 85 | 228 | 2 |
| April 11, 2020 | 318 | 13 | 10 | 3 | 70 | 238 | 2 |
| April 10, 2020 | 305 | 17 | 7 | 0 | 58 | 240 | 2 |
| April 9, 2020 | 288 | 14 | 7 | 1 | 51 | 230 | 2 |
| April 8, 2020 | 274 | 22 | 6 | 0 | 44 | 226 | 2 |
| April 7, 2020 | 254 | 16 | 6 | 1 | 44 | 204 | 2 |
| April 6, 2020 | 238 | 6 | 5 | 0 | 35 | 198 | 2 |
| April 5, 2020 | 232 | 18 | 5 | 1 | 33 | 194 | 2 |
| April 4, 2020 | 214 | 5 | 4 | 0 | 25 | 185 | 0 |
| April 3, 2020 | 209 | 25 | 4 | 2 | 25 | 180 | 0 |
| April 2, 2020 | 184 | 10 | 2 | 0 | 20 | 162 | 0 |
| April 1, 2020 | 174 | 35 | 2 | 0 | 9 | 163 | 0 |
| March 31, 2020 | 139 | 8 | 2 | 0 | 9 | 128 | 0 |
| March 30, 2020 | 131 | 20 | 2 | 1 | 8 | 121 | 0 |
| March 29, 2020 | 111 | 22 | 1 | 0 | 3 | 107 | 0 |
| March 28, 2020 | 89 | 19 | 1 | 0 | 3 | 85 | 0 |
| March 27, 2020 | 70 | 5 | 1 | 0 | 3 | 66 | 0 |
| March 26, 2020 | 65 | 14 | 1 | 0 | 2 | 62 | 0 |
| March 25, 2020 | 51 | 7 | 1 | 0 | 2 | 48 | 0 |
| March 24, 2020 | 44 | 4 | 1 | 0 | 2 | 41 | 0 |
| March 23, 2020 | 40 | 10 | 1 | 1 | 2 | 37 | 0 |
| March 22, 2020 | 30 | 8 | 0 | 0 | 2 | 28 | 0 |
| March 21, 2020 | 22 | 10 | 0 | 0 | 1 | 21 | 0 |
| March 20, 2020 | 12 | 4 | 0 | 0 | 1 | 11 | 0 |
| March 19, 2020 | 8 | 0 | 0 | 0 | 1 | 7 | 0 |
| March 18, 2020 | 8 | 5 | 0 | 0 | 1 | 7 | 0 |
| March 17, 2020 | 3 | 1 | 0 | 0 | 0 | 3 | 0 |
| March 16, 2020 | 2 | 0 | 0 | 0 | 0 | 2 | 0 |
| March 15, 2020 | 2 | 0 | 0 | 0 | 0 | 2 | 0 |
| March 14, 2020 | 2 | 0 | 0 | 0 | 0 | 2 | 0 |
| March 13, 2020 | 2 | 0 | 0 | 0 | 0 | 2 | 0 |
| March 12, 2020 | 2 | 0 | 0 | 0 | 0 | 2 | 0 |
| March 11, 2020 | 2 | 0 | 0 | 0 | 0 | 2 | 0 |
| March 10, 2020 | 2 | 0 | 0 | 0 | 0 | 2 | 0 |
| March 9, 2020 | 2 | 1 | 0 | 0 | 0 | 2 | 0 |
| March 8, 2020 | 1 | 0 | 0 | 0 | 0 | 1 | 0 |
| March 7, 2020 | 1 | 0 | 0 | 0 | 0 | 1 | 0 |
| March 6, 2020 | 1 | 0 | 0 | 0 | 0 | 1 | 0 |
| March 5, 2020 | 1 | 0 | 0 | 0 | 0 | 1 | 0 |
| March 4, 2020 | 1 | 0 | 0 | 0 | 0 | 1 | 0 |
| March 3, 2020 | 1 | 0 | 0 | 0 | 0 | 1 | 0 |
| March 2, 2020 | 1 | 0 | 0 | 0 | 0 | 1 | 0 |
| March 1, 2020 | 1 | 0 | 0 | 0 | 0 | 1 | 0 |
| February 29, 2020 | 1 | 0 | 0 | 0 | 0 | 1 | 0 |
| February 28, 2020 | 1 | 1 | 0 | 0 | 0 | 1 | 0 |