Access Bank issues first dual listed bond on NSE and LuxSE
The successful listing of Access Bank's N15 billion Green Bond on the LuxSE represents a major milestone in the development of sustainable financing in Nigeria.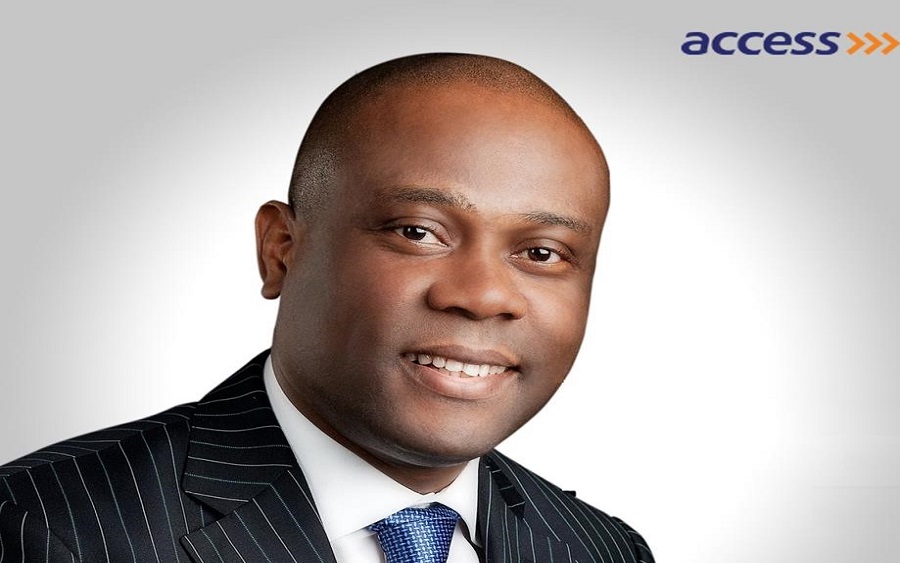 The successful listing of Access Bank's N15 billion Green Bond on the Luxembourg Stock Exchange (LuxSE) represents a major milestone in the development of sustainable financing in Nigeria.
The successful cross-listing of this 15.50% fixed rate green bond with five-year maturity has enjoyed many firsts including the first-ever climate bonds standard certified corporate green bond to be issued in Africa; the first to be listed on The Nigerian Stock Exchange (NSE) in 2019; and now, the first successful cross-listing of a bond born out of the partnership between NSE and LuxSE.
According to the World Economic Forum's Global Risks Report, the top 5 risks in the world today closely related to climate change issues. There is, therefore, an increased urgency to reverse recent environmental trends such as ravaging bushfires, extremes of temperatures, floods, cyclones and season disruptions that have made the effects of climate change even more real.
These developments have thrust the concept of sustainable financing into the limelight, allowing products like Green Bonds to gain increasing significance.
READ MORE: FG's Series II Green Bond was oversubscribed by 200%
It is, therefore, no surprise that the green bond market has witnessed tremendous growth globally with a total of $181billion raised from global investors in 2019 representing a 14-fold increase from the $13billion raised in 2013.
On the demand side, there has been heightened consideration of Environment, Social and Governance (ESG) factors in the demand for profitable investment products.
Looking at the Nigerian market, notable milestones have been achieved through the collaboration of public and private stakeholders. In 2016, NSE boldly reached out to the Ministry of Environment with a proposal for the issuance of a Green Bond which was embraced and championed by former Minister of Environment and now Deputy Secretary-General of the United Nations, Mrs Amina Mohammed. This move led to a series of partnerships and innovations that have delivered gradual uptake in this market segment.
Among these were:
The first-ever Green Bonds conference which held at the Stock Exchange House, Lagos and was headlined by the Vice President of the Federal Republic of Nigeria, Professor Yemi Osinbajo;
The issuance of the first 5-year N10.69Bn sovereign and certified green bond from the Nigerian Government under its Ministry of Environment and the Debt Management Office (DMO);
The subsequent issuance of a 7-year, N15Bn sovereign Green Bond which was well received by investors with an over-subscription of 220%;
The listing of Access Bank Plc's N15BN Green Bond and North-South Power Company Limited's N8.5bN Corporate Infrastructure Green Bond; and
The signing of a Memorandum of Understanding between the NSE and the LuxSE to promote cross-listing of bonds and foster the growth of sustainable finance in Nigeria
READ MORE: Access Bank to establish more African subsidiaries, Herbert Wigwe eyes Francophone region
The Green Bonds market presents great opportunities to reap value if it continues to enjoy the unwavering commitment of key capital market stakeholders.
Access Bank has pledged its support to the global climate change mitigation and adaptation agenda which seeks to promote responsible green lending globally.
Group Managing Director, Access Bank Plc, Herbert Wigwe, affirmed that, "The cross-listing of the bond will make a material contribution to address climate change and provide institutional investors with access to a deep pool of green capital domestically and internationally."
The NSE on its part has expressed its resolute commitment to the development of a sustainable capital market in Nigeria. The Chief Executive Officer, NSE, Mr. Oscar N. Onyema, OON has been reported to have said, "We will continue to maintain a dedicated sustainable market segment which provides issuers, asset managers and investors, access to green, social, sustainable, or ESG-focused securities.
READ ALSO: Access Bank flags-off DiamondXtra Season 12
"Asides Green Bonds, this segment will also promote the development of green labelled Fixed Income Products, Indices and Exchange Traded Products (ETFs) that help direct funding of green projects and environmentally aligned issuers as well as the green transition that ensures market resilience to the economic impacts of climate change."
Are SMEs the solution to Nigeria's wailing economy?
MTN Nigeria commenced The Revv Program to mitigate the effects of the pandemic on SMEs across Nigeria.
The outbreak of the COVID-19 pandemic this year has been a major disaster to several sectors including the financial sector. The ensuing lockdown affected the global economy tremendously. SMEs in Nigeria were among the worst hit.
According to a survey published by the Fate Foundation and BudgIT on the 'Impact of COVID-19 on Nigerian SMEs', 94.3% of the total 1,943 respondents said the pandemic has negatively affected their business.
Back in 2017, the Small and Medium Enterprises (SME) sector comprising approximately 40 million SMEs contributed an estimated 48% to Nigeria's Gross Domestic Product (GDP), and employed 84% of the country's entire workforce, according to a National Bureau of Statistics (NBS) report released in 2018.
GDP is an important indicator of a country's economic power. According to the NBS, Nigeria's 2017 GDP was worth about N113.7 billion. Of that amount, the SME sector contributed 48%; that's two percent short of half the total amount. This value provided by SMEs, which ensures the smooth running of the country, is why they are referred to as the bedrock of the economy.
But this was before the pandemic and the accompanying lockdown that resulted in an unprecedented economic tailspin affecting business operations, consumer spending, loss of jobs, and livelihoods. According to the Fate Foundation and BudgIT survey, off the businesses still managing to stay afloat, 72.1% cannot find the cash flow to continue running their business, and 59.2% are struggling to increase their revenue base.
When asked in what area they want to be supported, 72.1% answered with cash flow; 67.7% said they'll need support to make sales; 89.4% want the federal government to provide them with funding; 33.8% need access to markets; 74% want the private sector to support with funding; and 62.9% want business support.
Recently, MTN Nigeria commenced an initiative tagged The Revv Program to mitigate the effects of the pandemic on small businesses across Nigeria. Working with relevant stakeholders, subject-matter experts, and the company's executives, the program aims to support over 10,000 small businesses.
At the virtual launch, Chief Executive Officer, MTN Nigeria, Ferdi Moolman, called on large corporates to join MTN and "strongly position themselves to support SMEs as a foundation to the growth of a stronger economy going into 2021 and beyond", saying "The Revv Programme is our way of standing with SMEs in their journey to rise through these challenging times."
Adopting a four-pronged approach that includes masterclass sessions, support with productivity tools, access to market and advisory initiatives, the programme seeks to help SMEs relearn, readjust, and retool their businesses. The masterclasses which have been held weekly since August 18 focuses on core areas of business management as part of a broader strategy to uplift the SMEs.
This will be followed by the selection of The Y'ello 200 (two hundred top-performing SMEs from the sessions) that will enjoy exclusive access to a broad range of technology and productivity tools and services absolutely free, for a period of six months. They will also receive productivity support to enhance their business performance, in addition to access to MTN's media assets for product marketing, which will open up new market opportunities for their business' growth and expansion.
The majority of the small businesses affected by the pandemic are facing funding problems.  The first masterclass, themed "Accessing the Right Funding for Your Business", addressed this need. MTN Nigeria's Chief Financial Officer (CFO), Modupe Kadri, together with other subject-matter experts threw light on ways SMEs can access funding from investors, and the role a properly managed cash flow system plays. "Anybody that wants to advance some securities to you will want to know the strength of your cash flow management; how you generate the income streams and how you're going to keep the lead on that. The same thing also applies to your costs", Kadri said.
In a subsequent masterclass themed, "Setting Up Your Business for Success: The Technology Advantage", the Chief Enterprise Business Officer of MTN Nigeria, Lynda Saint-Nwafor shared that the concern for SMEs is at the core of The Revv programme. "We have the interest of SMEs at heart and whilst we do not provide all the services that are applicable, we are willing to partner with organisations that provide access to technology tools that are relevant to SMEs on a platform that makes it easy for them to access at the right price", according to Lynda.
The Revv Programme will not be the first time MTN is supporting small businesses in the country. In 2018 the company launched the viral "Man In The Box" campaign with commendable outcomes for SMEs in the country. The idea was to support small businesses with technology solutions and create awareness for them by showcasing their businesses in the "Box" to the entire world.
For 24 hours and for free, selected businesses were showcased within the "Box" on LED screens, and across MTN's social media platforms. Man In The Box was a huge success; it awakened Nigerians to the enormous untapped possibilities that litter the SME space. SMEs that were featured in the "Box" told amazing testimonies of how they witnessed growth and increased patronage of their businesses.
As we transit to a post-COVID environment, small businesses that had their business affected by the pandemic and are looking for new sources of income will have to pay attention to the programme. The good thing is, it does not matter how bad the pandemic may have affected their success, business will soon shape up for SMEs, especially the 10,000 small businesses to benefit from The Revv Programme. And with that, they will continue to provide the much-needed backbone for Nigeria's economy.
How to open free Bitcoin wallet in Nigeria
Cardtonic is one of the platforms that provides a free bitcoin wallet address in Nigeria.
When it comes to cryptocurrencies such as Bitcoin, a bitcoin wallet address is very essential. A Bitcoin wallet address is made up of a string of 26-35 alphanumeric characters, that allows you to send and receive bitcoin.
Any bitcoin address can be used to transfer cryptocurrency to any other address on the network, provided the sender's wallet software supports that address type. All addresses represent a destination on the Bitcoin network.
READ: BTC bounty: 69,000 Bitcoins worth $700 million waiting for you
How To Open Free Bitcoin Wallet In Nigeria
Creating a bitcoin wallet in Nigeria is very easy. Wallets come on different platforms with different features in Nigeria. However, it's advisable you always go for the best. This guide will help you to find the best Bitcoin wallet in Nigeria for you.
How Do I Get A Free Bitcoin Wallet Address In Nigeria?
There are various ways to get a free wallet address in Nigeria. Prominent among them is by signing up to a platform that offers a free bitcoin wallet address.
Cardtonic is one of the platforms that provides a free bitcoin wallet address in Nigeria. It is an online broker trading platform that facilitates the buying and selling of bitcoin, as well as gift cards. The bitcoin/gift card trading platform is designed to aid the buying and selling of bitcoin.
READ: Ethereum whale transfers 200,000 ETH, as price drops to $387
Get Free Bitcoin Wallet Address on Cardtonic
Cardtonic now offers Bitcoin Wallet Address for all users. The idea is that for each Bitcoin transaction, users will generate a unique, single-use address to provide to senders.
Why Cardtonic Offers The Best Bitcoin Wallet Address In Nigeria
Cardtonic has a nationwide reach, serving traders across Nigeria. Safe to say that it is also one of the largest gift card and Cryptocurrency exchange platforms in Nigeria.
Cardtonic deals in bitcoin and gift cards exchange, and at the same time provides a bitcoin wallet address that is of blockchain standard.
It is also one of the foremost bitcoin trading sites in Nigeria as it has greatly simplified the process for customers. The competitive advantage ranges from offering one of the fastest transaction times to having an extensive customer support system that is always on hand to provide assistance, not leaving behind the amazing bitcoin exchange rates. Thus, Cardtonic is raising the bar on bitcoin trading.
READ: Why Africans are fast using Bitcoin for payment transfers
Therefore, with all the ease around bitcoin trading on Cardtonic, whether you are trading little or large, you'd like to get value and ease for them. And apart from the fact that there are a limited number of platforms that have such features in Nigeria, not every service can be trusted in terms of security, efficiency, and exchange rate. All these can be guaranteed with Cardtonic.
How To Create Bitcoin Wallet Address On Cardtonic
To create an address on Cardtonic, follow the steps below:
As a user, proceed to the bitcoin trade page and generate your bitcoin address
The address becomes permanently yours. You can receive bitcoin into your address at any time.
Any amount of bitcoins sent to your address will be automatically added to your naira balance at the corresponding rates.
Bitcoin trades on Cardtonic are completely automated and require no human or manual intervention.
Get Started
Download Cardotnic Mobile App: https://play.google.com/store/apps/details?id=com.cardtonic.app
Website: Cardtonic.com
Mail: Support[@at]cardtonic.com
Phone/Whatsapp: 07060502770
Instagram: @Cardtonic
Earn up to 5,000 NGN just by signing up on Binance.com
Binance is offering bonuses for signing up for an account and trading Bitcoin there.
Discover a good earning opportunity for all Nigerians. Sign up today, for an account on Binance.com, the world's largest digital asset exchange, and you're one step closer to a bonus of 5,000 NGN!
As technology advances fast, more earning opportunities have opened up for people worldwide. There are a lot of those online, and the internet has made it possible for every Nigerian to pursue more alternative income opportunities, such as trading Bitcoin and other cryptocurrencies.
Now, don't be intimidated by those terms. Bitcoin is basically a kind of digital money that is accepted worldwide, and you can trade this and other cryptocurrencies (i.e. other forms of digital money) on Binance, the world's biggest platform for trading these digital assets.
Binance has opened up a great opportunity for all Nigerians. Right now, Binance is offering up to 5,000 NGN (Nigerian Naira) in bonuses, for people who will sign up for an account and trade Bitcoin there.
How can you earn this bonus amount? Follow these three easy steps:
Step 1: Sign up for Binance through this link.
Step 2: Once you verify your account, deposit your NGN on Binance.
Step 3: Trade your NGN for Bitcoin or four other cryptocurrencies, that you can buy with NGN.
With Binance, you can trade your local currency to Bitcoin (BTC), as well as two of the top 10 Bitcoin alternatives:
Ethereum (ETH) and BNB. You can also exchange your NGN with Tether (USDT) and Binance USD (BUSD), two of the top stablecoins in the market. Stablecoins, simply means crypto tokens whose worth is pegged to a currency, like the US dollar in the case of USDT and BUSD.
This special offer by Binance gives first-time traders, a whopping 50% bonus to their trades, which you will receive in the form of NGN. The bigger your trade, the higher your bonus becomes.
In other words, you can get this bonus 5,000 NGN, by trading as little as 10,000 NGN in your first trade.
Learn more about it in this post by our friends at Binance.
About Binance
Binance is the world's leading blockchain and cryptocurrency infrastructure provider, with a financial product suite that includes the largest digital asset exchange by volume.
Trusted by millions worldwide, the Binance platform is dedicated to increasing the freedom of money for users. It features an unmatched portfolio of crypto products and offerings; including trading and finance; education; data and research; social good; investment and incubation; decentralization; infrastructure solutions, and more.
For more information, visit https://www.binance.com.