MTN Nigeria: Sturdy operating performance buoys growth in Pre-tax Profit
MTN Nigeria's FY 2019 AUDITED numbers showed double-digit growth in Revenue, up 13% y/y to N1.16 trillion,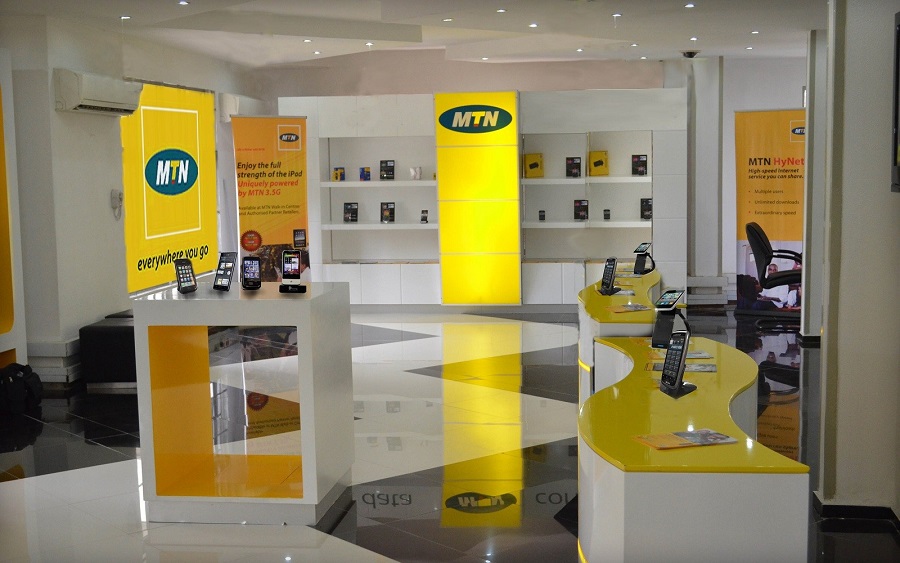 MTN Nigeria's FY 2019 AUDITED numbers showed double-digit growth in Revenue, up 13% y/y to N1.16 trillion, slightly above our FY 2019 estimate of N1.14 trillion. The growth in Revenue was on the back of growth in voice (up 8% y/y) and data revenue (up 42%y/y).
Management noted that the growth in voice Revenue was supported by an increase in subscriber base (up 10.5% y/y to 64.3 million) and voice traffic (up 7.6% y/y).
Data Revenue growth, on the other hand, was buoyed by growth in data subscribers (up 34.9% y/y to 25.2 million), greater data traffic (up 85.8% y/y) and improved 4G coverage following the activation of 800MHz spectrum in Q2 2019.
The telco giant also added 5.3 million smartphones to its network, which increased smartphone penetration to 41.8%. According to management, the firm ended the year with 132 cities in the country covered by 4G and 4G coverage at 43.8%.  We believe the improved share of Data Revenue (19% in FY 2019 vs.15% in FY 2018) reflects the efforts of management in improving customer experience and optimising data Revenue.
MTN Nigeria reported EBIDTA growth of 46% y/y and EBITDA margin of 53.8% under IFRS 16, which is the new reporting standard the group has adopted. However, on an IAS 17 basis (the old reporting standard), EBITDA margin grew 3.0ppts y/y to 44.8% (FY 2018; 41.8%), driven by the growth in Revenue and sub-inflationary growth in Operating Expenses (+4.4% y/y based on IAS 17).
[READ MORE: Dangote Cement retains BUY status despite weak revenue)
We regard the sub inflationary growth in OPEX positively, reflecting efficiency in cost management. EBITDA (based on IAS 17) grew 20.9% y/y to N524.4bn in FY 2019 from N433.9bn in FY 2018.
Net Finance Cost, however, grew by 1.35x to N48.6 billion owing to rise in Finance Cost (+73% y/y to N125.3 billion) amidst a marginal decline in Finance Income (down 4% y/y to N20.1 billion). The surge in Finance Cost was largely due to a first-time Interest Expense of N68.1bn incurred on Leases in FY 2019.
We note that this was due to the adoption of IFRS 16 which requires the classification of Interest Expense on leases as part of Finance Cost. Meanwhile, the mild decline in Finance Income was due to lower Interest Income on bank deposits and investment securities, reflecting the impact of the lower yield environment.
Notwithstanding, Pre-tax Profit grew 31% y/y to N290.1 billion in FY 2019 (CSL estimate; N288.2 billion). A lower effective tax of 30% in FY 2019 compared to 34% in FY 2018 supported the higher growth in Profit after tax (up 39% to N202.1 billion in FY 2019). Consequently, EPS grew 39% y/y to N9.94 in FY 2019 from N7.13 in FY 2018.
READ ALSO: MTN Nigeria: The Phoenix of Africa
The company's management declared a final dividend of N4.97, bringing total dividend declared in 2019 to N7.92. Based on the closing price of N110/s on Friday, the final dividend translates to a dividend yield of 4.5%.
We have a target price of N184.2 on MTN with a BUY recommendation.
_______________________________________________________________________
CSL STOCKBROKERS LIMITED CSL Stockbrokers,
Member of the Nigerian Stock Exchange,
First City Plaza, 44 Marina,
PO Box 9117,
Lagos State,
NIGERIA.
Emerging concerns on crude oil price dents economic recovery
The economy continues to face severe dollar shortages due to lower oil receipts which continues to pressure the nation's FX reserves.
Yesterday, Brent crude oil price settled at US$41.44/bbl, down 10.7% from 6-month high of US$45.86/bbl. We note rising emerging concerns on the outlook for oil price in the global market. Cases of coronavirus are now rising faster in many European countries that had earlier taken gradual steps to open up their economies. For example, in the United Kingdom, Prime minister Boris Johnson stated the possibility of another lockdown to curtail the recent resurgence in new cases of infections. Furthermore, Libya (who has not been producing crude) announced the lifting of the force majeure on some oilfields & ports where fighters no longer have their presence. This implies Libya would resume production soon which may lead to a glut in the crude oil market particularly as the country is exempted from all OPEC cuts. The fear of increased supply comes amidst fragile demand for jet fuel.
The renewed concerns around crude prices is an unwelcome development for Nigeria considering the fact that hope of an economic rebound is largely hinged on sustained rebound in crude prices. Last week, the Minister of Finance highlighted that the country has suffered a 65% slump in revenue largely due to weak oil revenue. Furthermore, the
economy continues to face severe dollar shortages due to lower oil receipts which continues to pressure the nation's FX reserves. In addition, external trade condition continues to worsen with a trade deficit of N2.2tn in H1 2020. With oil prices still down by c.30% from 2019 levels amidst the nation's pledge to OPEC cuts, we do not expect any significant improvement in external conditions. However, we believe news of a decline in crude prices may provide succour for the Nigerian consumer given that lower crude price is expected to translate into lower petrol prices following the deregulation of the downstream sector.
That said, we reiterate our position that the diversification of the economy from oil remains the key strategy in reducing the vulnerability of the Nigerian economy to volatilities in oil market. The non-oil economy (which accounts for c.90% f GDP) remains crucial and its potentials can be best exploited by the private sector.
---
CSL Stockbrokers Limited, Lagos (CSLS) is a wholly owned subsidiary of FCMB Group Plc and is regulated by the Securities and Exchange Commission, Nigeria. CSLS is a member of the Nigerian Stock Exchange.
Are we heading towards a food crisis?
The government may need to review the protectionist measures in place in order to avert a food crisis.
Based on the selected food price watch data for August 2020 released by the National Bureau of Statistics (NBS), major consumer staples showed substantial increases between August 2019 (when the land border closure took effect) and August 2020. The steep price increases across the food items is consistent with the increase in food inflation from 13.17% in August 2019 to 16.0% in August 2020. Of more concern is the fact that rice, the most
widely consumed food staple among consumers showed substantial increase in the two variants; local sold loose (up 37.5% y/y) and imported high quality sold loose (up 40.7% y/y).
Explore the Nairametrics Research Website for Economic and Financial Data
READ: Nigeria among countries to be worst hit by food crisis globally
In our view, the predominant factor behind the surge in the prices of major food items is the closure of the land borders, which has been exacerbated by administrative controls employed by the monetary and fiscal authorities in rationing foreign exchange. We recall that in July, the CBN included Maize on the list of items ineligible for FX from official sources. Recently, President Muhammadu Buhari ordered the Central Bank of Nigeria (CBN) not to allocate foreign exchange to importers of food and fertilizer. We also understand that heavy rainfalls in the northwestern part of the country have also affected farmlands, as the head of Kebbi state branch of the Rice Farmers Association of Nigeria revealed that about 90% of the 2 million tons of rice to be harvested were destroyed.
READ: Has the President erred in stopping CBN from funding food imports?
The persistent increase in the prices of food items despite the protectionist measures implemented by the government suggests that local production still lags consumption significantly. Considering the weak harvest season due to the impact of the global pandemic amidst higher distribution costs linked to higher PMS prices following the deregulation of the downstream sector, we believe price of food items will continue to trend upwards.
Additionally, we expect the pass-through impact of the devaluation in the local currency to put further pressure on imported food inflation. Overall, we think the government needs to review the protectionist measures in place in order to avert a food crisis.
---
CSL Stockbrokers Limited, Lagos (CSLS) is a wholly owned subsidiary of FCMB Group Plc and is regulated by the Securities and Exchange Commission, Nigeria. CSLS is a member of the Nigerian Stock Exchange.
Has the President erred in stopping CBN from funding food imports?
What implication does the President's directive to the CBN hold for the economy?
The President of Nigeria, President Muhammadu Buhari, last week said, "I am restating it that nobody importing food or fertilizer should be given foreign exchange from the Central Bank. We will not pay a kobo of our foreign reserves to import food or fertilizer. We will instead empower local farmers and producers."
Why is the president stopping the CBN from funding food imports? The answer is simple. The CBN Exchange rates are cheaper than autonomous sources. The CBN lists the exchange rate for the Dollar at $1 to N379, however the Naira is being sold on the parallel market at N440. Hence, importers prefer to access CBN funds to import, because it reduces the cost of those imports. In effect, at N379, the CBN is subsidizing those imports via a 'strong Naira'
The President's directive is thus in line with his new overall push to eliminate all subsidies especially subsidies funded by the scare US dollar. In this aspect, the President is simply seeking to protect the foreign reserves which are paying for other imports. So, he is right.
READ: CBN to set up $39.4 billion infrastructure development company with AFC, NSIA
Is this a wise strategy?
Nairametrics earlier reported on the NBS recently released report on Nigeria's total spending, which indicated that about N22.7 trillion was spent on food in 2019. This is 56.7% of the total spending (N40.2 trillion) for that period.
Where does the food Nigerians eat come from? Clearly Nigeria has a large agricultural base, but a significant proportion of Nigeria's food is imported, and the cost of those imports have risen, as the value of the Naira has depreciated in relation to the US dollar.
(READ MORE: Agrorite leading the fight against food insecurity using Agtech)
According to data from the NBS, Nigeria's spending on food and drink importation increased from $2.9bn in 2015 to $4.1bn in 2017, but dipped in 2018.
Have these imports plus local production met local demand on a consistent basis? The answer is no. Take rice for instance, the BBC reports that, "Between 2015, when the foreign exchange restrictions for rice came into effect, and early 2017, the price of a 50kg bag of rice went from $24 to $82 and fell in mid-2017 to $34, but in June 2019, the price stood at $49."
The law of supply in economics, states that when the price of a commodity increases, its supply also increases. Hence, there is a direct relationship between price and supply of a commodity. In other words, if the price of rice goes up, more suppliers will enter the market to supply rice.
READ: Naira devaluation would affect our profit margins – Flour Mills
However, In Nigeria, as the price of food is rising, the NBS in the latest Inflation report, says the composite food index rose by 15.48% in July 2020 compared to 15.18% in June 2020. This rise in the food index was caused by increases in prices of Bread and cereals, Potatoes, Yam and other tubers, Meat, Fruits, Oils and fats, and Fish. (essentially everything). The NBS says, the average price of 1kg of rice (imported high quality sold loose) increased year-on-year by 37.72%.
So why has the supply of rice not risen to correspond with rise in prices? Well, because the supply of rice and other foodstuff have indeed risen, but the problem remains logistics processing & storage.
In Nigeria, you only eat corn during corn season, same with mangoes, and tomatoes. Prices fall during harvest, then rise after harvest. The problem is not just with the harvest, but getting that harvest to market, storing the excess, and processing its supplies all year round. Therefore, imports are needed to plug supply holes.
READ: CBN removes "third parties" from buying forex routed through Form M
Nigerians in 2019 alone spent N1.9trillion or 4.7% of their budget on rice alone. When the President banned food importers from getting the CBN dollar at N379; he simply pushed them to import rice at N440; a N61 difference that will be added to the cost of imports, and will fuel imported inflation.
Where the president got it wrong is trying to fix a local logistics problem with a foreign exchange fix.
READ: Official: Nigeria spends N1.2 billion only on imports of Arms and Ammunition
The solution is to go back to the various food supply value chains, de-risk and de-cost them. If food is cheap and plentiful, there will be no need for imports and inflation will fall.