MTN Nigeria: Sturdy operating performance buoys growth in Pre-tax Profit
MTN Nigeria's FY 2019 AUDITED numbers showed double-digit growth in Revenue, up 13% y/y to N1.16 trillion,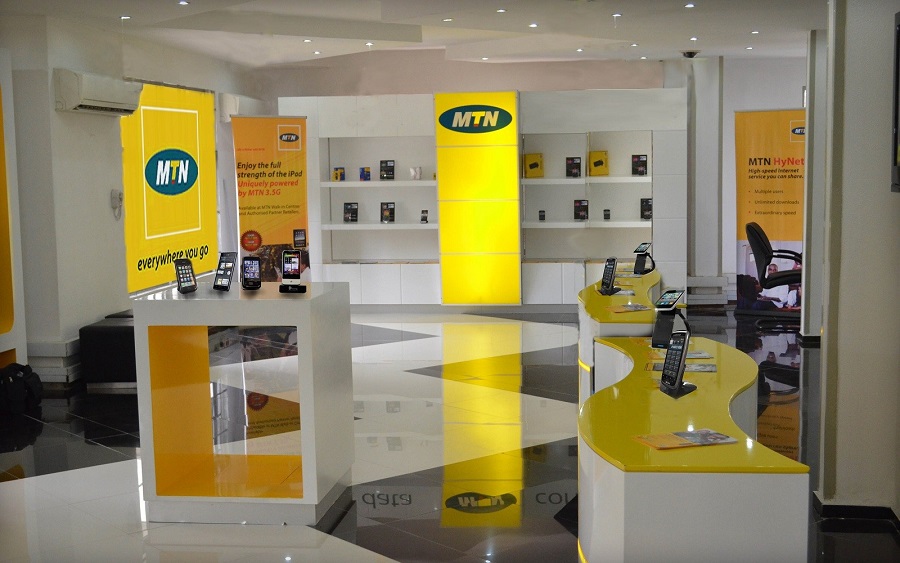 MTN Nigeria's FY 2019 AUDITED numbers showed double-digit growth in Revenue, up 13% y/y to N1.16 trillion, slightly above our FY 2019 estimate of N1.14 trillion. The growth in Revenue was on the back of growth in voice (up 8% y/y) and data revenue (up 42%y/y).
Management noted that the growth in voice Revenue was supported by an increase in subscriber base (up 10.5% y/y to 64.3 million) and voice traffic (up 7.6% y/y).
Data Revenue growth, on the other hand, was buoyed by growth in data subscribers (up 34.9% y/y to 25.2 million), greater data traffic (up 85.8% y/y) and improved 4G coverage following the activation of 800MHz spectrum in Q2 2019.
The telco giant also added 5.3 million smartphones to its network, which increased smartphone penetration to 41.8%. According to management, the firm ended the year with 132 cities in the country covered by 4G and 4G coverage at 43.8%.  We believe the improved share of Data Revenue (19% in FY 2019 vs.15% in FY 2018) reflects the efforts of management in improving customer experience and optimising data Revenue.
MTN Nigeria reported EBIDTA growth of 46% y/y and EBITDA margin of 53.8% under IFRS 16, which is the new reporting standard the group has adopted. However, on an IAS 17 basis (the old reporting standard), EBITDA margin grew 3.0ppts y/y to 44.8% (FY 2018; 41.8%), driven by the growth in Revenue and sub-inflationary growth in Operating Expenses (+4.4% y/y based on IAS 17).
[READ MORE: Dangote Cement retains BUY status despite weak revenue)
We regard the sub inflationary growth in OPEX positively, reflecting efficiency in cost management. EBITDA (based on IAS 17) grew 20.9% y/y to N524.4bn in FY 2019 from N433.9bn in FY 2018.
Net Finance Cost, however, grew by 1.35x to N48.6 billion owing to rise in Finance Cost (+73% y/y to N125.3 billion) amidst a marginal decline in Finance Income (down 4% y/y to N20.1 billion). The surge in Finance Cost was largely due to a first-time Interest Expense of N68.1bn incurred on Leases in FY 2019.
We note that this was due to the adoption of IFRS 16 which requires the classification of Interest Expense on leases as part of Finance Cost. Meanwhile, the mild decline in Finance Income was due to lower Interest Income on bank deposits and investment securities, reflecting the impact of the lower yield environment.
Notwithstanding, Pre-tax Profit grew 31% y/y to N290.1 billion in FY 2019 (CSL estimate; N288.2 billion). A lower effective tax of 30% in FY 2019 compared to 34% in FY 2018 supported the higher growth in Profit after tax (up 39% to N202.1 billion in FY 2019). Consequently, EPS grew 39% y/y to N9.94 in FY 2019 from N7.13 in FY 2018.
READ ALSO: MTN Nigeria: The Phoenix of Africa
The company's management declared a final dividend of N4.97, bringing total dividend declared in 2019 to N7.92. Based on the closing price of N110/s on Friday, the final dividend translates to a dividend yield of 4.5%.
We have a target price of N184.2 on MTN with a BUY recommendation.
_______________________________________________________________________
CSL STOCKBROKERS LIMITED CSL Stockbrokers,
Member of the Nigerian Stock Exchange,
First City Plaza, 44 Marina,
PO Box 9117,
Lagos State,
NIGERIA.
Understanding T.I.N.A. in the Nigerian financial system
As investors face an environment where uncertainty persists, the alternative left will be to park their excess funds in a safe place until Covid-19 passes.
This week, I want to talk about T.I.N.A….(no not the girl)
T.I.N.A. is an acronym for There Is No Alternative. It is used to describe a situation where the markets have excess liquidity and have no outlet to invest, so they invest in low yielding government securities because there is simply no alternative out there.
The financial markets today are awash with liquidity.
In the US for example, the CARES Act 1 cost an estimated $2.3t (11% of US GDP) including $510b to prevent bankruptcies and $349b in Small Business Administration Loan.
All this cash simply increases the liquidity of the financial system. The US Federal Reserve further lowered rates to a band of 0-0.25% in March 2020, the effect? Rates offered by banks on deposits have crashed.
Thus investors face an environment where the economy is shut because of Covid-19, and uncertainty persists. The only alternative left to the market is to park their excess funds in a safe place until Covid-19 passes, that safe place being US Treasuries and Bonds.
Thus the Fed and US Treasury can offer the low yielding paper to the market because the market is chasing safety, the investors buy because there is no other safe alternative out there, safety first.
It's the same in Nigeria, the economy has contracted due to the COVID-19 mandated shut down and also exchange rate and land border closures.
These issues have strained the economy and have been amplified by falling economic output. As a result, investors are very risk-averse and are not willing to expose their capital to risk, thus they are seeking the safety of the sovereign paper.
(READ MORE: The economy may end up weaker if inflation rate is not controlled – CBN report)
The Central Bank of Nigeria (CBN) faced with a glut of liquidity has done what any prudent banker will do, it has dropped the fees it pays to lenders when it borrows money from them.
Thus the Nigeria Treasury bill rate which is the cost of the CBN borrowing at the short end of the market, (less than 365 days) has fallen.
Take the latest auction of Treasury Bills dates 11/11/2020, the rate now being offered by the CBN for 91day and 364-day paper is 0.0350% and .300% respectfully.
The low rates to my mind is not a surprise, but consider that the CBN offered to borrow N19b from the market, but received subscriptions from the markets to place N99b, this at 0.0350%.
Why are investors flooding the Sovereign Debt market with money? Because there is no alternative viz a viz risk and reward.
The Nigerian Stock Exchange All Share Index for instance has fallen from a recent high of 42, 624 in January 2018 to 32, 990 as of the Week ending Friday 20th, 2020.
In essence, the Nigerian investors prefer to book negative real return by holding risk free government paper than take any investment risk by exposing their capital to commercial lending.
(READ MORE: Uber, JP Morgan Chase, Moderna gain, COVID-19 vaccine triggers U.S Stocks Up)
Again this is a normal consequence when there is uncertainty in the markets but the lack for a better word "greed" in the markets has offered the CBN a rare chance to drop rates even in an inflationary environment.
The consequences of T.I.N.A. in the Nigerian financial system is clear.
Low rates will discourage savings, already the Pension Fund Administrators have a decision to make if they will continue to hold a full 8% of their portfolio in a negative-yielding but safe investments. T.I.N.A. also supports the Central Bank of Nigeria's strategy to force banks to lend to the real sectors.
By dropping the risk-free rates in the economy, the CBN is making a point that there is no more free lunch, rather yield will have to be generated from creating risk assets and earning a return.
This sounds good on paper but the investing environment in Nigeria is yet unchanged positively, new taxes are being proposed, land borders are still shut, wages are still low and falling due to inflation.
In general, the Nigerian consumer is in a weak state with very low buying power, as evidenced by the sachetization of the consumer space. It will take a brave investor to commit funds, but then again, fortune, they say, favors the brave.
Traders' Voice… A recession, for how long?
With the oil sector likely to remain depressed in Q4 2020, expectations of recovery will rest mainly on the future performance of the non-oil sector.
Recession! I think we all saw this coming. The Nigerian economy declined for the second consecutive quarter by 3.6% YoY in the third quarter of 2020, following a 6.1% drop in the preceding quarter. It marks the 2nd recession in the country in four years amid a significant decline in the oil sector, coupled with the rippling effects of the restrictions implemented across the country in early Q2 in response to the COVID-19 pandemic.
During the Sunday sermon, my pastor made a spirit-filled statement. He said, "it is hard to create sustainable wealth with a shaky foundation." This statement did not only resonate with me spiritually, but it also did economically. In the case of Nigeria, ever since we shifted all attention to crude oil, it has been one economic struggle or the other. If I start talking about the macro-economic and sociocultural headwinds that watered down the effect of the fiscal and monetary stimulus packages, I would be forced to 'off my mic'. At the end of the sermon, we were all asked to say this short prayer "Oh Lord, heal my foundation." I also made the same prayer for Nigeria. However, deep down, I know we will need just more than prayers to address the fundamental issues hindering growth in the economy. The question remains, how long will it take to diversify the economy?
Over the years, huge amounts of investment have gone into the Agricultural sector in a bid to diversify the economy from crude oil. However, the agricultural sector remains underdeveloped and unable to sustain the economy (maybe we need to decide on what sector can really take us to the promised land). Although Nigeria is not the only country that has been gravely affected by the Covid-19 pandemic, I think it is safe to say that the Nigerian economy was already showing signs of weakness following a steady decline in crude oil prices and external reserves.
Just thinking out loud, for a country that is so rich in natural recourses, has a youthful population, favorable weather and fertile land, why do we struggle to generate multiple revenue streams? I guess it is true what they say, "one man's trash is another man's treasure."
The oil sector recorded a real growth rate of -13.89 percent YoY, driven by the depressed price of crude oil this year. We also witnessed a significant drop in oil production, which declined by 18.13% YoY to 1.67 Mbps, representing its lowest level since the third quarter of 2016, due to compliance with OPEC+ cut agreements.
ICT remains the outperformer in the non-oil sector
The non-oil sector recorded a real growth rate of -2.51 percent YoY in Q3 2020, which is down by 4.36 percent relative to the rate recorded in Q3 2019, but represents an improvement of 3.54 percent when compared to the 6.05 percent contraction recorded in the preceding quarter. The gradual economic reopening pursued during the third quarter aided the improvement. The underlying subsectors that supported the non-oil sector include Information and Communication (14.56%), Agriculture (1.39%), Construction (2.84%), Financial and Insurance (3.21%), and Public Administration (3.58%).
For how long?
With the oil sector likely to remain depressed in Q4 2020, expectations of recovery will rest mainly on the future performance of the non-oil sector. We expect that the N2.3 trillion stimulus package contained in the economic sustainability plan will play a major role in supporting the recovery of the non-oil sector.
Nevertheless, the economic impact of the #EndSARS protest remains a concern as well.
All eyes are on the MPC meeting…
The MPC will be holding its last meeting for the year and with the recent macro-economic data (GDP and inflation), market participants will be anticipating the outcome of the meeting more than ever. The MPC will have to decide between further supporting economic recovery or taming inflation. The Central Bank of Nigeria unexpectedly slashed its monetary policy rate by 100 bps to 11.5% during its September 2020 meeting, bringing anchor to the lowest since 2016.
Inflation vs Interest rate (2015-2020)
*White line… inflation
*Blue line…. MPR benchmark rate
Where is the money?…….
The decision of the MPC will be a major determinant of market direction for the rest of the year. We face three
possible scenarios.
1. Bull case (rate cut): A further rate cut at the MPC will most likely renew interest on the long end of the
curve in the bond market as the short to mid end have received most of the traction in weeks. We will
also witness renewed interest in the equities market after last week's pullback created possible entry
points.
2. Base case (maintain status quo): The relatively quiet trend will persist in the bond and equities market.
Participants will be looking forward to the PMA on Wednesday where stop rates could print negative.
3. Bear case (rate hike): Although least likely, this would lead to a sharp knee jerk negative reaction
across all financial assets especially in the fixed income market.
Here are 7 ways to plan for the unexpected in your small business
Learn what to do to prepare yourself for the unexpected as you build your business.
It is not easy to maintain a business, whether big or small. A lot of things have to be in place before things can work smoothly with a business. Many entrepreneurs get the shock of their lives when they start a business and they end up facing things that they never even expected in the first place. This piece is going to expose you to the things you should do to prepare yourself for unexpected scenarios.
Prepare for the Rainy Day
Do not be deceived even if your business is booming, things can change very quickly. The economy can enter a recession or sales can dry up without any warning. For this reason, you should have some funds saved away for days like these. The funds can be used during emergencies or when things are very tight for you.
READ: Nigeria not broke, budget to be passed before end of the year – Budget Office
Do Background Checks Properly
Doing a business means you will need to buy some items or at least incur certain costs, such as the price of renting your working space. You should not go ahead with this without doing a detailed investigation. If you're looking for an office in LA, for instance, you have to make sure that you are renting out a coworking space for your employees, and get the most out of the payment that you're making. Business owners who do not investigate and run background checks end up getting shocked by the turn of events. Do not let this happen to you so conduct your investigations very well regarding the costs.
Be Attentive to Customers
If you want your business to thrive then you have to pay very close attention to your customers. You have to interact with your clients and be attentive to all their needs. Customers often change their preferences and if you do not pay attention, you may be shocked with unexpected outcomes. You also have to be on top of your game so that you know the latest trends in the market and this way, nothing is going to get you by surprise.
(READ MORE: Many millionaires plan to buy Crypto before 2022)
Moderation is Key
Quite a few business owners get surprised by the difficulty in maintaining a balance between the running of the business and also keeping their home. You have to draw a very practical plan that will help you to strike a balance between your family and your business. This way, you are not going to melt down into a mode of shock when you start running your business. Fortunately, there are lots of resources on the Internet that you can make use of to help you with this. There are even professional advisers that guide entrepreneurs with this. If you can afford their services then you should not hesitate to go for these services because you are going to gain massively from them at the end of the day. It is a very smart move for your business.
READ: AMAC raises alarm over proliferation of fake revenue officers
Get Finances in Order
Well, what makes any startup tick and succeed is a constant flow of cash. If the cash flow dries up, then you can as well just kiss the business by. You need to fully comprehend your business cycle and come to the realization that there will be some time when customers will pay well and there are some other times when payments will plunge. This can be as a result of unpleasant economic times or even personal financial issues that your customers are facing.
Whatever the case, you have to figure out well ahead of time how you are going to maintain constant liquidity. This is going to put you in a very safe and comfortable position so that even when the business cycle dips, your business is going to be safe, fine, and running. You can decide to go for corporate loans, depending on your savings, or use any other credit facility available for you.
(READ MORE: Protecting your money from fraudsters)
Sort Taxes Swiftly
Yes, even small businesses have to pay taxes too. Your size is not immune to taxes. If you do not do your calculations very well, you will be very shocked when the tax documents arrive. Discuss this with the law attorney so that you can get all the necessary information.
READ: Huawei competes with Apple, announces release date for new smartwatch
Pay Attention to the Rules and Regulations
Governments keep making business laws all the time and these laws apply to all kinds of businesses, whether big or small. By paying attention to the business legislation, nothing is going to get you unawares. Here is where a good business attorney can also be of help.
---
About author
Rachel Eleza, Growth Marketing Director at UpSuite and a part-time writer.