Here's why Visitors leave Your store/Website Without Buying anything (PART 2)
It is established that if you want to ensure that a good portion of people visiting your website does not leave the purchasing process midway, you need to provide a decent shopping experience to the users, amongst other things.
It is established that if you want to ensure that a good portion of people visiting your website does not leave the purchasing process midway, you need to provide a decent shopping experience to the users, amongst other things. You spent thousands on building your website, but what good is any of this if you don't make sales. Traffic alone won't cut it. We all know that, don't we?
Even as businesses strive daily to create a lasting impression on their visitors, many of these efforts go in vain. If you are sailing in the same boat, know this: conversions do not come easy. Leads are not easy to find, especially when the world is overcrowded with e-Commerce options. Let's find out what's causing people to leave your e-Commerce website without buying.
Your Content Structure Is Bad
It's not always about finding the right words to say. It's also about structuring your content in the right places. Do not distribute content across too many pages, if it can all come under the same page. If your visitors are leaving without converting, maybe they are not reading the important stuff just where they should. Statistics reveal that 50% of sales are lost when potential consumers do not find what they are looking for. When a piece of content can be placed on the first page, do not shift it to the inner pages.
[READ ALSO: Why You Need An Online Will(Opens in a new browser tab)]
Costly or Slow Shipping
When most of your competitors are providing free shipping, if you charge high prices for shipping, there is a chance that you will lose the customer when he or she becomes aware of the extra cost. Also, a user indulging in an impulse buy may choose not to buy a product if you are unable to deliver it fast.
Long, Confusing and Annoying Checkout Process
Almost 30% of shoppers reported abandoning their carts because the checkout process was too complicated, so it's a good idea to walk through your website on a regular basis to test its usability. Sit down with a friend or a potential customer and watch them try to complete a transaction on your website.
Try to reduce the number of pages a customer has to navigate to complete a purchase.
To speed up the process, only require customers to provide essential information to process the order, and make all other fields optional.
Make sure that return policies, your contact information, and other important details are easy to find.
The checkout process has to be simple and easy. If the users need to fill lots of information and if the forms are lengthy, many users may get turned off. Also, checkout spread over pages without clear progress indicators can be a major annoyance to shoppers. Similarly, if any charges are sneaked in during the final stage of the checkout, the user may feel cheated and abandon the cart right there.
[READ ALSO: Nigeria recoups N594.09 billion from whistleblowing policy(Opens in a new browser tab)]
Lengthy Payment Security Processes
One of the biggest pains in online shopping is jumping through the hoops of payment processing. Not only does the user need to enter the CC/DC or other payment-related information, but he or she may also need to enter a One-Time-Password to validate the transaction. If the process breaks (page crashed or incorrect information) and the customer needs to go through the entire cycle again, there is a chance that you will be left facing an abandoned cart.
No Sign of Customer Support
Although most online shoppers don't need the help of some employees from the e-commerce store, there are times when chat or call support can be the difference between a sale and no sale. Ecommerce sites that do not offer customer support stand to lose the custom of dithering, borderline buyers.
Lack of Proper Navigation
An e-commerce store that doesn't have intuitive navigation makes it impossible for the user to find what they are looking for. A 'search' button can help the user out in this situation, but if these features are not functioning smoothly, or if they do not exist, it becomes difficult for the users to locate their desired items. In this case, they will bid your store adieu.
Lack of Security
While more people around the world are opening their minds to paying and buying online, the fear of getting cheated out of their hard-earned money lurks at the back of online shoppers' minds. If the website 'looks' shady, or if the users don't find your e-commerce store trustworthy, there is a good chance that they will leave without buying anything.
Ensure SSL certificates and safety logos are visible.
Show a list of the different payment methods you accept to give your checkout a professional look.
Include customer testimonials and reviews throughout your website.
Remember, your checkout should always run on HTTPS when you're taking sensitive information like payment details. If people don't see that little padlock, then they'll probably run a mile.
No Competitive Pricing, No Market Research
Competitive pricing is one of the most important factors determining if a customer buys from you. Owing to the availability of the internet, it's now very easy for customers to compare prices and choose from numerous alternative retailers for a particular product.
One study suggests that 36% of online shoppers will leave a site in favour of another if they find the same product at a lower price. It's important to know your competitors and do adequate research into the market to determine the demand for the products and the lowest price at which you can afford to charge for them.
Not So Social
Having social media accounts can also be a vital factor in enhancing an eCommerce website's credibility, especially taking this era of social media into consideration. When an eCommerce website has no social media presence or if there is a lack of social media activities, customers don't feel the enhanced level of trust and connectivity.
Lagos to shut Ojota's axis of main carriage way of Ikorodu road for 3 months
The Commissioner advised all motorists to utilize alternative routes suggested during the stipulated time.
The Lagos State Government has announced the shutdown of the entire length of the main carriageway of Ikorodu Road from Ojota interchange to Ojota Second Pedestrian Bridge from Monday, September 21, 2020, for a duration of 3 months.
This is development is part of the next phase ongoing rehabilitation work on Ikorodu Road which is set to commence from the Ojota Interchange to Ojota Second Pedestrian Bridge and the Service lane inbound Lagos.
While making the disclosure, the Lagos State Commissioner for Transportation, Dr Frederick Oladeinde, advised all motorists to utilize alternative routes suggested during the stipulated time for the repairs following the closure of the entire length of the main carriageway for reconstruction work.
Oladeinde in his statement said, "Vehicles coming from Maryland will be diverted at Odoyalaro into the Service lane and the BRT Corridor to link back the main carriageway at Ketu bus stop and Demurin junction respectively.''
The commissioner gave an assurance that the Lagos State Traffic Management Authority (LASTMA) and other law enforcement agencies will be available to direct traffic for free vehicular movement during the entire period of construction work.
While soliciting for the cooperation and support of residents and motorists that ply the axis, the Commissioner stated that the project is aimed at finding a lasting solution to the ever-busy road as well as to achieve the present administration's traffic management and transportation policy objectives.
The Lagos State Government is set to commence the next phase of repairs from Ojota Interchange to Ojota Second Pedestrian Bridge and the Service lane inbound Lagos, from Monday 21st of September, 2020 for a duration of three months.@jidesanwoolu @dr_oladeinde#ForAGreaterLagos pic.twitter.com/8mzYGauqpi

— The Lagos State Govt (@followlasg) September 18, 2020
Petrol supply drops by over 23% due to decline in consumption
Consumption of petroleum products to decline to 27.2 billion litres in 2020.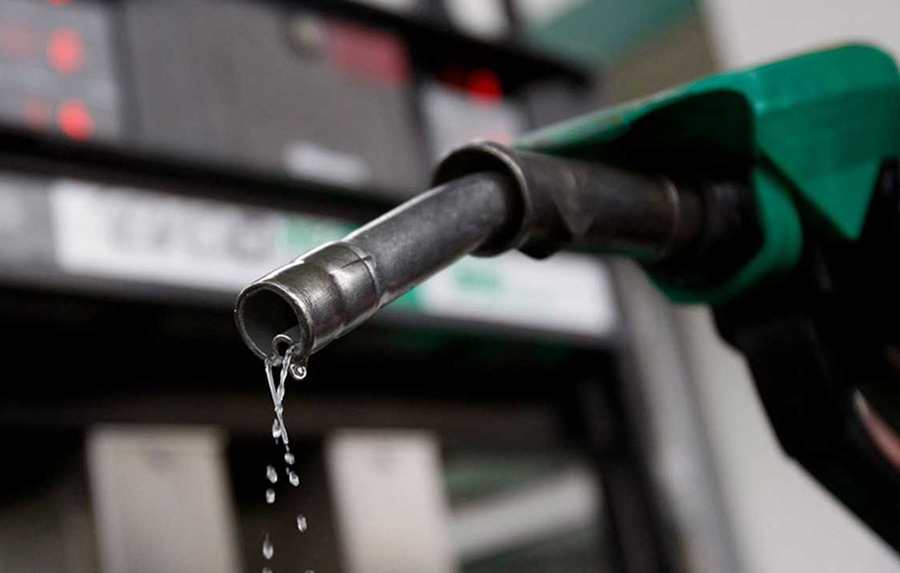 The total volume of petrol supplied in Nigeria declined by 23.88% in July, when it fell from 1.34 billion litres in June 2020 to 1.02 billion litres.
This was disclosed by the Nigerian National Petroleum Corporation (NNPC), in its monthly performance data for July.
According to the report, the 1.02 billion litres translated to 32.95 million litres per day, down from 44.62 million litres per day in June, when 1.34 billion litres were supplied.
The performance data also stated that 0.95 billion litres (30.67 million litres/day) were supplied in May, and 0.94 billion litres (31.37 million litres/day) in April.
In March and February, the volume of petrol supplied stood at 1.73 billion (59.72 million litres/day), up from 1.20 billion litres in January (38.68 million litres/day)
It stated, "The corporation has continued to diligently monitor the daily stock of Premium Motor Spirit, to achieve smooth distribution of petroleum products and zero fuel queue across the nation."
Agusto projects further decline
Experts in Agusto & Co, in a report, have noted that the impact of the COVID-19 pandemic on economic activities in the country resulted in a decline in the consumption of petroleum products.
The report said, "Agusto & Co. expects the consumption of petroleum products, particularly PMS and Aviation Turbine Kerosene, to decline to 27.2 billion litres in 2020, given the severely restricted travel and transportation activities during the second and third quarters of the year.
"This is expected to translate to a decline in revenue to N4.3tn in 2020."
Back story:
NNPC has, until recently, been the sole importer of petrol into the country for more than two years, after private oil marketers stopped importing the commodity, due to crude price fluctuations, among other issues.
The refineries, located in Port Harcourt, Kaduna and Warri, have a combined installed capacity of 445,000 barrels per day, but have continued to operate far below the installed capacity.
Lagos allows cinemas, gyms, others to reopen
In a new development, Lagos government has approved the reopening of gyms, cinemas, others.
The Lagos State Government has announced the reopening of cinemas, gyms, and other recreational centres in the state.
According to a monitored media report, the disclosure was made by the Lagos State Government, Babajide Sanwo-Olu, during a press briefing at the Statehouse, Marina on Saturday, September 19, 2020.
The governor said, they are however expected to operate at just 33% of their capacity, which is a third of their capacity, and must comply with all safety measures.
He, however, said that other sectors of the economy such as bars, night clubs, spas, public parks, event centres, and such others are to remain closed until October when the state government will make pronouncement concerning their reopening.
The Governor said, "Henceforth, cinemas and gyms are permitted to reopen as soon as possible, with a maximum of 33% occupancy, which means that there must be a minimum of two empty seats between occupied seats; and in the case of gyms, there must be constant disinfection of machines and equipment throughout the course of the day.''
Sanwo-Olu said that it has become inevitable for Nigerians to apply caution as some other parts of the world have witnessed a resurgence of the coronavirus disease with a possibility of further lockdowns.
He warned, "Let me make it clear that if we do not continue to maintain our guard, and sustain the adherence to all required protocols and guidelines, we will find ourselves in a situation where fresh lockdowns are inevitable. The only way to avoid this is to continue to act responsibly: maintain the required levels of hygiene, through regular handwashing and use of sanitizers, wear masks in all public places, avoid non-essential public gatherings, and maintain the prescribed levels of physical distancing at all times"