Corporate Nigeria attracts $8.57 billion funding in 2019
Nigerian companies attracted a whopping sum of $8.57 billion in funding between January and September 2019. In 2019, Nigerian corporate space recorded several forms of capital raise which include series funding, rights issues and so on.
Nigerian companies attracted a whopping sum of $8.57 billion in funding between January and September 2019 (9-month). This is contained in the compilation of official press releases and media reports gathered by Nairametrics for the period under review.  
In 2019 (9-month), Nigerian corporate space recorded several forms of capital raise which include series funding, rights issues, public offers, corporate bonds, equity and so on.  
The Breakdown: 
Capital raised by sectors
A

 

cursory rev

iew of the data gathered 

showed

 

that companies in the oil and gas sector 

attracted the biggest funds

,

 with $3.43 billion in just 9

 months

. 

The m

ajor oil and gas companies that 

were recipients of the

 funds

 

we

re Oando

, Forte 

O

il

 and Seplat. 

Also

, the c

apital

 

raised was

 in the form of equity. 

 
The ICT sector ranks second with $1.66 funding received within the period. 

Funds raised in the ICT sector 

wer

e in  form

 

of

 

s

eries

 

f

unding

, 

rights 

issues

, 

loans

 and 

e

quity

. Major companies in the ICT sector that 

we

re recipients of the

 funds include Andela, Airtel and MTN Group. 

 

The m

anufacturing sector ranks third

,

 with a sum

 of

 $1.241 billion funds raised. Major companies 

that were 

recipients 

include Lafarge, Dangote and Nigerian Breweries. 

 
The energy sector attracted $370.45 million within the period under review. Major investors in the sector include Daystar Power, Arnergy, Virtus and Green Energy International Ltd. Funds raised in the sector were majorly series funding and equity.  
The b

anking 

sector attracted 

$325.99 million

 within the period under review. Major 

b

anks that raised capital include Sterling Bank, Eco Bank

, 

and 

Jaiz

 Bank Plc

. 

 

Fintech

 companies rank 

seventh

 

among

 the biggest capital raised within the period. The sector raised

 $202.10 million

. Major companies that participated in the fundraises

 include 

Sendbox

, One Finance, 

Kudi

, 

Branch, Foundation Capital & Visa

 and 

Infracredit

. 

 

Others are logistic and transport ($104.70), E-commerce platforms ($56 million), Entertainment ($50 million), 

H

ealthcare ($16.55 million), Agriculture (5.40 million), Hospitality ($3.91 million) and 

Agrictech

 ($2 million)

.

 
 [Read: Zenith Bank, Dangote Cement, MTN top list of CSR donations in Corporate Nigeria]
Investors' 
s
entiments 
towards
 the economy 
remain low
Despite the often challenging funding space, fundraise continues to remain a major tool for remaining competitive, innovative and relevant in corporate Nigeria. Usually, firms make decisions to raise capital through early-stage investors (Venture capital), profit reinvesting, borrowing through banks or bonds, and trading stock.  
However, the slowdown in the economy

 in 2019

 

continues

 to 

dampen investors' confidence

, as 

this

 

affects

 Gross Domestic Product (GDP) growth. 

 

In the first quarter of

 

2019, Nigeria's GDP grew at 2.10%,

 then

 it slowed to 1.94% in the second quarter

,

 and

 inched up

 2.28% in Q3 2019.

 

As a result, c

apital importation data

,

 as earlier published

,

 showed that the

 

Nigeria

n economy received $5.36 billion worth of foreign investments

 in the third quarter 

of 2019, compared to $5.82 bi

llion in the second quarter

. This is the lowest amount of capital importation received in the year.

 

Further analysis of the capital importation shows that ten major sectors of the sixteen sectors

,

 recorded 

declines

 in capital importation. The sectors 

are

Shares, Agriculture, Banking, Brewing, Construction, Consultancy, Financing, Fishing, Hotels,

 and

 Production.

 
Total Nigeria caught in the oil demand and lockdown saga
In Q1 2020, the company had recorded a revenue drop of 9.3% to N70.2 billion compared to Q1 2019.
The year 2020 was supposed to be a good one for the global oil and gas industry. Save for the unprecedented fangs of the Covid-19 pandemic, the IEA had forecasted in February that the global oil demand would grow by 825,000 barrels a day in 2020. On the contrary, lockdown measures restraining travel and other economic activities to contain the pandemic in many parts of the world had global oil demand down around 90,000 barrels a day from 2019. While the upstream sector had a direct hit owing to this reduced demand, the impact of the pandemic on the downstream oil industry caused the price of crude oil to fall significantly in a short period of time. GlobalData had forecasted that the energy sector would face downward earnings revisions of 208% in 2020.
READ MORE: Analysis: Total Nigeria needs a financial overhaul
With the pandemic leading to a slowdown in a wide range of business and personal travel, even gasoline demand had reduced and this has led to inventory challenges in both the distribution network as well as the refineries. In Nigeria, following the challenges of the pandemic, the federal government deregulated the downstream sector of the oil industry through the removal of fuel subsidy. While it presents a level playing field for the downstream oil private sector, it didn't take long before companies like Total Nigeria plc. started caving into the overall reduction in inventory from the reduced demand for oil products in Q2 2020. Consequently, the company witnessed a 45% reduction in inventories from N33.6 billion as at 31st December 2019 to N18.5 at the end of Q2 2020.
READ ALSO: Nigeria's Foreign Trade hits N9.18 trillion in Q3, as non-oil export rose by 374.5%
How the exogenous shocks affected an already ailing Total Nigeria
The success or failure of any organization depends on both the macroeconomic environment as well as the operations of the company itself. For Total Nigeria, the timing for the crisis had been off as it too had operational challenges to deal with. In Q1 2020, the company had recorded a revenue drop of 9.3% to N70.2 billion compared to Q1 2019. While the headwinds of the pandemic might have played a small role in the decline at least in the latter part of the quarter, the loss after tax of N163 million it had recorded was 65.6% better than the loss after tax of the  comparative quarter – a testament of the series of operational challenges it had from huge loans to raging expenses. While the company had set off on a strategic trajectory deploying a series of initiatives around cost efficiency, process optimization, as well as a significant reduction of working capital requirement and finance costs, Q2 had its own troubles waiting.
Restrictions in the oil market had led to weaknesses across product lines. Total revenue fell by as much as 50% from N73 billion in Q2 2019 to N36.5 billion in Q2 2020. Revenues from petroleum products had contracted by 55.7% while lubricant sales also fell by 26.7% in the quarter. Across the company's core business sectors comprising Networks, General Trade, and Aviation, revenue from aviation experienced the most decline, falling by 83.0%. Its performance can be predominantly attributed to the fall in demand owing to strict lockdown measures even in major Nigerian cities.
READ MORE: Five oil majors reduce value of their assets by $50 billion in Q2
Outlook
The outcome of the company's internal and external challenges is a loss after tax of N373.9 million from N604 million in Q2 2019 – an alarming drop of 161.9%. However, its strategic intent is also visible. Net cash balance was a negative N19.6 billion at the end of the quarter, compared to negative N41.8 billion a year ago. Finance costs also declined by 76.1% to N830.3 million as the company sought to reduce its leverage position. In the same vein, borrowings came at N31.0 billion in Q2 2020 as opposed to the N39.9 billion in Q2 2019. Yet, the success of the company in the immediate future is somewhat bleak.
Download the Nairametrics News App
This is because of the conditions of the oil market and overall economic landscape which is set to take a few years before returning to the norm as well as the financial and operational position of the company. That said, its earnings per share (EPS) of N4.37 and its price-to-earnings ratio of 18.12, reveal that the company has a good potential to make a rebound. However, it could take a few years. Hence, investors must be willing to wait for the long term. With its share price of N79.10 at the far bottom of its 52-week range of N78 and N129.50, it's a great time to purchase its shares if you are willing to wait the long term.
Implications of CBN's latest devaluation and FX unification
This move portends significant implications for Nigeria's public and private sector.
The CBN devalued the naira by 5% at the end of last week, adjusting the official exchange rate to N380/$1  in a major move aimed at unifying the multiple exchange rate windows.
Whilst no official confirmation was issued by the apex bank, its website displayed the buying rate of N379/$1 and selling rate of N380/$1. Nigeria is clearly in a new exchange rate territory.
This move portends significant implications for Nigeria's public and private sectors. Since March when the CBN last depreciated from N307/$1 to N360/$1, there have been calls for further depreciation to at least close the gap between the official CBN rate and the more market-friendly NAFEX exchange rate. The NAFEX rate has traded between N385-390 in recent weeks.
READ MORE: Manufacturing sector in Nigeria and the reality of a "new normal"
Government Finances
For the federal government, devaluing the naira solves two major issues:
Firstly, it increases the amount available to share from the Federal Allocation (FAAC) between the FG and States.
Oil proceeds, which is a major source of revenue sharing for the government is deposited at the CBN and then converted to naira using the official exchange rate of N360/$1. The CBN's latest devaluation suggests more money for the government as the conversion rate is now N379/$1.
Government taxes that are priced in forex but converted to naira also stand to gain a major earnings boost.
Custom duties, petroleum profit taxes, and other charges will now be converted at an exchange rate of N379/$1 or whatever new rate the CBN chooses, assuming it will work within the NAFEX band.
A second issue the solves is the condition precedent towards obtaining a $3 billion world bank loan. The government applied for a world bank loan as part of its N2.3 trillion stimulus expected to be injected into the economy.
It is understood that a unification of the exchange rate is critical to the disbursement of the loan.
Whilst these are positives, the government will record cost escalations for some if not all of its capital projects and expenditure. From vehicle purchases to furniture and fittings we should expect a spike except the contracts are fixed-priced.
READ ALSO: Explained: CBN's powers to seize bank account of criminals
Private Sector
The impact of the latest devaluation will also be significant for the private sector.
While the private sector has recorded its own devaluation via the NAFEX and more recently the SMIS window, the impact of the CBN's latest move will still be felt.
Most private pubic partnership projects, contracts are priced using the CBN official exchange rate. The price will now change to N379/$1 at the least.
The latest move could also lead to a reopening of forex sale to BDC's which the CBN suspended in March as the Covid-19 pandemic ensued.
Sectors such as Power, Downstream Oil and Gas where the government has control over pricing will be significantly affected by the new price.
An example if fuel prices. With the exchange rate devalued again, fuel prices might increase if the impact of the exchange rate is reflected in the pricing template.
READ MORE: Expert simplifies FIRS' newly-introduced stamp duty
NAFEX versus Official Rate
It is not clear how the latest round of devaluation affects the NAFEX rate and other separate rates currently in use by the CBN. Whilst the disparity has been closed somewhat, we still do not know if these windows will be retained or if we will just have two major exchange rate windows, the BDC and the NAFEX.
Most critics of the CBN's forex policy prefer a uniform exchange rate that is floating or under a managed float system. The difference is that the CBN intervenes occasionally to ensure the exchange rate trades within its preferred band. It does this even if it means burning through its thin reserves.
We expect a string of circulars in the coming days which will perhaps douse some of the confusion providing needed clarity to the exchange rate situation.
Why Shoprite is "exiting" Nigeria
Shoprite's intention to divest from its Nigerian operations appears to be anchored on these factors.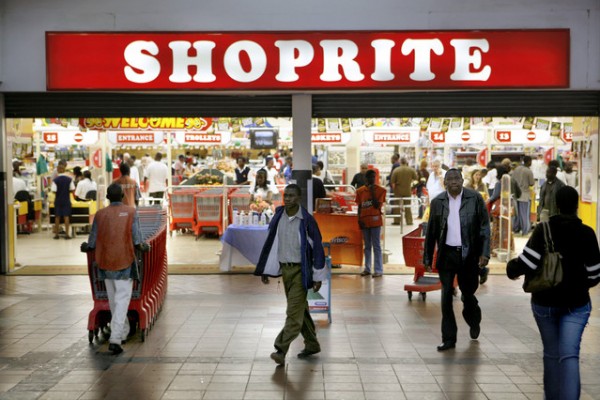 Africa's largest retail chain, Shoprite, announced on Monday that it is considering divesting from its Nigerian retail entity, Retail Supermarkets Nigeria, the owners of Shoprite Supermarket Nigeria.
Shoprite Nigeria operates about 26 outlets across the country and employs about 2000 employees who are 99% Nigerians. A divestment means it will sell its holdings to another investor who will continue to run the business.
According to the company, it has taken a decision to leave "following approaches from various potential investors" looking to invest in the Nigerian entity.  The group also said the decision is in line with its "re-evaluation of the Group's operating model in Nigeria" one of the 15 countries where it currently operates.
Shoprite also confirmed it has initiated a formal process to sell its entire stake in the Nigerian entity or a majority stake.
READ ALSO: Nigeria's retail outlets risk CBN sanction, debit N50 PoS fee from customers 
Why the exit?
Shoprite's explanation of its intention to divest from its Nigerian operations appears to be anchored on its investment expectation and operating environment. However, there could be more to it.
Firstly, Nigeria is a highly competitive space, where retail is the survival of the fittest. Following Shoprite's foray into Nigeria in 2002, the retail chain disrupted Nigeria's retail space giving ordinary Nigerians a taste of what it feels to shop with family and friends. But the fairy tale was not going to last forever. Previous retail outlets like Park n Shop rebranded and injected significant funds in their operations and business expansion. Park n Shop rebranded to Spar and has 14 outlets across the country. It only makes sense for them to divest having held on to the Nigerian operations for almost two decades.
Shoprite also competes with homegrown retail outlets especially in Nigeria's commercial city, Lagos State. Retail outlets like Ebeano, Citydia, and Adiba are now household names that are expanding rapidly across the state. There are also several neighbourhood supermarkets in the nooks and cranny of Nigeria's commercial capital piling pressure on Shoprite's market share. Shoprite does not disclose revenues from its Nigerian operations.
Shopping is also going online as evidenced by the growth in online shopping since COVID-19 hit Nigeria. Jumia, one of Nigeria's largest online retail outlets, revealed lower earnings in the first quarter of 2020. However, the company is optimistic of higher revenue growth in Q2, on the back of the COVID-19 lockdowns. Jumia had earlier noted that "we are seeing unprecedented demand to join the Jumia platform, especially for named brands. We believe those dynamics will help accelerate the shift toward online."
READ MORE: The deal that helped Lafarge stock gain 18% in less than a week
Local competitors like Spar and Ebeano already offer online shopping experiences and deliver goods to your doorstep. Shoprite's business model relies heavily on physical store visits.
As internet services become faster and cheaper, more Nigerians will rely on e-commerce to meet their shopping needs. Jumia has often struggled in this space and remains unprofitable. However, gravitation towards online shopping is inevitable and only those who have the capital and know-how will come out winners.
Jumia's competitor in this space, Konga, was also recently acquired by Zinnox. Konga was then merged with another Nigerian retail giant Yudula. Interestingly, Konga's model includes a combination of online and brick and mortar. The company has since been acquiring warehouses across the country as delivery points for its retail expansion drive.
Nigeria's harsh operating environment is also another major challenge Shoprite faces. The Muhammadu Buhari-led administration, through the CBN, has focused on supporting locally made goods by banning forex availability for the importation of local substitutes. This has negatively impacted the number of products Shoprite can sell and how many new shelves it can create per floor space. It also creates supply chain challenges, especially with locally produced goods.
Note that supermarkets sell on very thin margins. Therefore, the more products they can sell the higher the operating profits. Taxes are also higher and Nigeria's susceptibility to exchange rate devaluation is also a major challenge. The company makes money in Naira and must convert to dollars before converting back to Rands.
READ MORE: Exploring branchless, other digital forms of banking in a crisis
In 2017, when Nigeria last faced a currency crisis, Shoprite explained that it has about Rand 2.3 billion in cash locked up in Angola and Nigeria due to currency restrictions (inability to repatriate their money on time). Information reaching Nairametrics from traders suggest most foreign-owned investments in Nigeria are also facing "restrictions" due to limited liquidity in the NAFEX window.
Shoprite's less talked challenge is its Legal Issues. In 2011, Nigerian company A.I.C Limited (the Claimant), which is owned by Chief Henry Akande, issued a summons against Shoprite South Africa and its Nigerian subsidiary for an alleged breach of a joint venture agreement (the JV Agreement) allegedly concluded in 1998. The company took Shoprite to court claiming it breached on an agreement to set up the Nigerian arm of the business.
The Federal High Court then ruled in favour of AIC and awarded damages of $10 million against Shoprite in 2017. Shoprite appealed the judgment in the appeal court and lost again earlier in 2020. It is unclear if Shoprite has any plans to take the matter up to the Supreme Court. Could this be another reason why the owners are deciding to divest?
Whatever the reason is, officially, it perhaps makes sense for the company to exit its Nigerian operations in the light of the points mentioned above. Its Nigerian entity is worth 1.1 billion Rands (N24 billion) per its financial statements and could be worth more when the sale is eventually consummated.