CBN Governor addresses stability of naira
The Governor of CBN, Godwin Emefiele, has disclosed that the apex bank has been able to sustain the stability of the naira.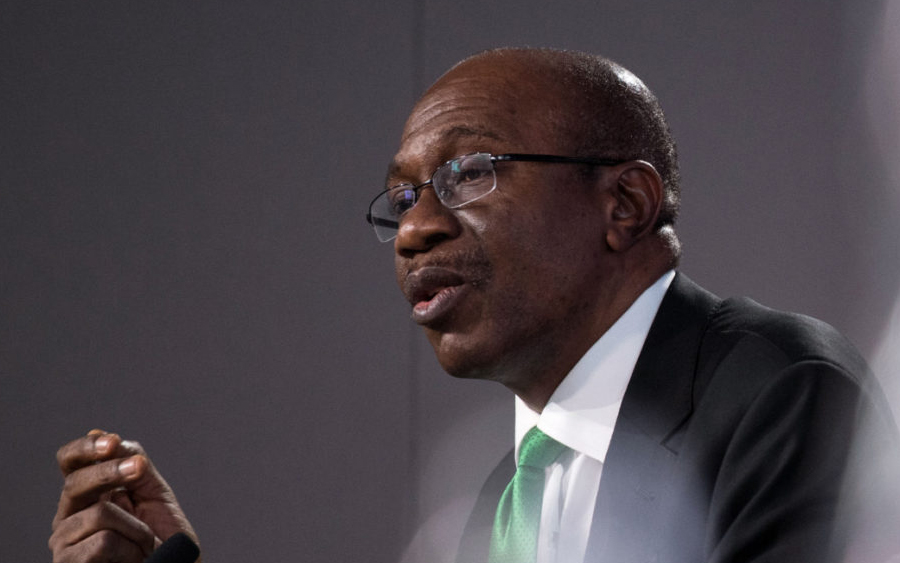 The Governor of Central Bank of Nigeria (CBN), Godwin Emefiele, has disclosed that the apex bank has been able to sustain the stability of naira due to the $60 billion inflow from the Investors' and Exporters' Foreign Exchange (I&E Forex) Window. 
Among the several policies of the CBN, Emefiele said the Exporters' Foreign Exchange Window was a key contributor. He disclosed this during the 54th Annual Bankers' Dinner in Lagos where he spoke on "Delivering a strong Sustainable Growth for the Nigerian Economy."
While highlighting the significance of the Exporters' Foreign Exchange Window, Emefiele stated that since the window was created in April 2017, it has attracted over $60 billion worth of transactions. He added that CBN was willing to maintain its stable exchange policy stance in the near to medium term given the relatively high level of reserves, The Nation reported. 
What you need to know: The Investors' and Exporters' Foreign Exchange Window was established by the Apex Bank to deepen foreign exchange market and accommodate all forex obligations. According to the CBN, when the window was created, the purpose was to boost liquidity in the forex market and ensure timely execution and settlements for eligible transactions. 
"With a moderated inflation rate, positive Gross Domestic Product (GDP) growth and improvements in our external reserve position, the naira-dollar exchange rate at the I&E Forex window has remained stable for the past 29 months at N360 – $1 and we have witnessed significant convergence in the exchange rate across the various market windows. Local currency has also remained at N306 to dollar at the official market," Emefiele said at the event. 
[READ MORE: 2020: CBN eyes $4 billion non-oil revenue]
Speaking on the drop in headline inflation, which declined from 18.7% to 11.08% in August 2019, Emefiele said, "We recently noticed an uptick in headline inflation, which stood at 11.61 per cent in October 2019, partly driven by cost-push factors such as the recent border protection measures of the Federal Government. 
"We believe this effect will be temporary, as efforts are currently being made to induce greater production of staple food items. However, core inflation as at October 2019 is now under nine per cent. This decline in inflation has been due to our maintenance of a tighter monetary policy rate at 13.5%, and improved inflow of foreign exchange. 
"Besides, the forex reserves remained above $40 billion as at October, relative to its low point of $23 billion in October 2016. We have been able to build our reserves in the midst of lower oil prices, as strong reserves aid the confidence of domestic and external investors. Today, our current stock of external reserves is able to finance 9 months of current import commitments." 
Job listings spike up by 183% in April –Jobberman
Jobberman released figures showing a 183% increase in job listings on its platform in April 2020, thanks to its #UnityInAdversity campaign.
Notable job placement website, Jobberman, has released figures showing that there was a 183% increase in job listings on its platform in the month of April 2020.
This increase, according to Jobberman, is a result of the #UnityInAdversity campaign which allowed companies to post job listings and access Jobberman's database of over 2.2 million professionals across Nigeria for free, rather than paying the usual fees. This was the company's way of showing support to businesses and individuals, amid the economic challenges which resulted from the COVID-19 pandemic.
According to the release from Jobberman, this campaign came at a cost to the company since it was trading off its revenue by offering for free, the same services which formed its major source of income.
"At the beginning of March, Jobberman Nigeria saw a 70 percent decrease in job listings due to the reduced economic activity caused by the enforced lockdown and many companies shutting down recruitment budgets to cut costs. Jobseeker sign-ups also decreased by 17 percent. Jobberman took the bold step to put employers' and job seekers' needs first" the statement read.
(READ MORE: Merger, Tax incentive boosts BUA Cement FY 2019 result)
The campaign, which is billed to run till June 30, has paid off greatly as data for April's job listings alone was more than that of the entire Q1 2020 period. See a breakdown of the job listings below:
Almost a fifth of the positions (18.79%) were listed in the tech sector
Banking, finance, and insurance accounted for 9.27%
Education and training had 6.78 percent
IT & Software positions accounted for 11.69%
Sales had 13.32%.
Note that with the increase in job listings, job seeker sign-ups also increased by 39% in April alone.
Speaking about the campaign, the CEO of Jobberman Nigeria, Hilda Kragha said, "The COVID-19 pandemic has made the process of connecting talent to opportunities more complicated and we are fully aware of the strain businesses and individuals in Nigeria are facing. We plan to be here for the next 10 years so making this small sacrifice to help our users navigate these difficult times is something that we think is definitely worth doing".
Kragha also noted that the campaign has encouraged healthy competition as candidates strive to show themselves qualified for the position.
"We have found that soft skills such as emotional intelligence, business etiquette, time management, which are often overlooked and underestimated in Nigeria, can make a big difference. We know the power of soft skills and we are committed to empowering individuals with the training and soft skills they need to succeed in the workplace" she explained further.
(READ MORE: Partnerships Beyond The Partners… Another Lesson From Interswitch)
Sequel to this, the company also launched a free soft skills training programme to help job seekers (between age 18 and 30 years) acquire the needed soft skills and better their chances of gaining employment.
Gold prices rise, as President Trump decides on China today
Gold prices jumped on Friday as China and America's drift deepened over further moves by China to impose security laws on Hong Kong
Gold prices jumped on Friday as China and America's drift deepened over further moves by China to impose security laws on Hong Kong, lifting the allure of safe havens amid market uncertainties.
U.S. President Donald Trump's top economic adviser cautioned the Chinese lately that Hong Kong, which has enjoyed special privileges, may now be treated like China when it comes to financial matters and trade.
Trump, who had earlier vowed a tough action on China, will hold a news conference today to announce what measures his administration will take.
Spot gold gained about 0.1% at $1,719.63 per ounce, and U.S. gold futures rose 0.4% to $1,734.60.
The friendship between the Americans and Chinese had weakened, since the outbreak of the Covid-19 pandemic.
President Trump and President Jinping of China have accused each other as a result of issues surrounding the COVID-19 pandemic.
(READ MORE:  Gold records 3-week high, as investors rush to safe haven)
Why do Investors buy Gold? Global Investors most often buy the safe-haven asset in times of uncertainty and use it to hedge against cash (inflationary macros).
"The possible U.S. response could range from a tearing up of the Phase 1 trade deal and fresh tariffs on China, to milder travel or financial sanctions on Chinese officials," said Shane Oliver, chief economist at Australian wealth manager AMP to Reuters News.
"It is seen as a major threat to the rally we've had and the recovery," "If it's at the relatively mild end, then I don't think it would derail the recovery bull market, but if it's at the more extreme end with tariffs and harsh treatment of Hong Kong, then I think it gets more problematic," Oliver added.
AfDB board denies asking Adesina to step down, as Obasanjo says the bank risks being hijacked
"The Bureau of the board of governors informs the public that it has not taken any decision. Everyone must allow the Bureau to do its work and allow due process to reign."
The Bureau of the Board of Governors of the African Development Bank (AfDB) has denied media reports making the rounds that AfDB's president, Akinwumi Adesina, has been asked to step down pending the completion of the probe and determination of allegations against him.
The bank's top governing board members said that they have not asked Adesina to step down from his position as president, even as the board continues to review the fallout of complaints by some whistleblower. The statement from the Chairman of the bank's board of governors, Niale Kaba, said:
"The Bureau of the board of governors informs the public that it has not taken any decision. Everyone must allow the Bureau to do its work and allow due process to reign. All governors will be carried along in resolving the issue.''
READ ALSO: IMF advises banks to suspend dividend payment
Kaba also stressed that there was no governance crisis at AfDB as was being speculated in certain quarters. He confirmed that the Bureau of the Board of Governors of AfDB met on Tuesday, May 26, after the request by the U.S Secretary calling for an independent probe. The essence of the meeting was to take a closer look at the allegations by the whistleblowers against Akinwumi Adesina, said allegations which had already been investigated by the ethics committee of the bank.
Kaba further disclosed that even though no decision has been taken yet, the bureau assures that it is treating the case with the utmost seriousness that it deserves.
(READ MORE:  AfDB bows to pressure from U.S, orders an independent probe of Akinwumi Adesina)
Adesina, who maintains his innocence of those allegations, had stated that a fair, transparent, and just process will vindicate him.
In a related development, former Nigerian President Olusegun Obasanjo had thrown his weight behind Adesina and kicked against the demand by the United States of America for a fresh, independent probe of the AfDB President who had earlier been cleared by the ethics committee of the bank.
In his letter to 12 former African Presidents, Obasanjo said that Africa must stand up and not allow its institutions to be unduly controlled by non-African countries.
Obasanjo said that the bank has witnessed tremendous growth under Adesina's leadership and has doubled its capital base since he took over.