Operating performance still strong: Buy rating reiterated   
MTN Nigeria sustained growth in earnings in Q3 as the telco firm reported double-digit growth in Revenue.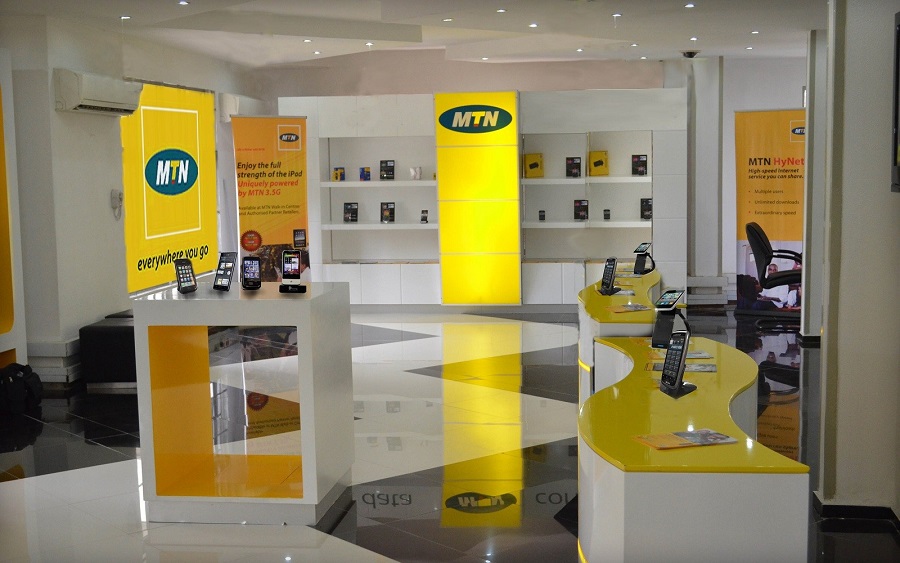 MTN Nigeria sustained growth in earnings in Q3 as the telco firm reported double-digit growth in Revenue (up 12% y/y to N856.5 billion) on the back of growth in voice (+10.1% y/y) and data revenue (+35% y/y). Buoyed by the topline growth and the sub inflationary growth in Operating Expenses (up 6% y/y), Pre-tax Profit grew strongly, up 24% y/y to N212.0 billion in 9M 2019. EPS also grew 29% y/y to N7.29 in 9M 2019 from N5.63 in 9M 2018.
Considering MTN's strong footing in the Nigerian telecoms market (market share of 37% as of September 2019) coupled with its aggressive efforts at retaining existing customers whilst also attracting new ones through improved technology, we believe the company is well-positioned to benefit from further growth in mobile and data penetration in Nigeria's fast-growing telecommunications industry.
We have made minor revisions to our model. The overall impact is a marginal increase in our price target to N184.2/s from N182.6/s previously, hence we retain our BUY recommendation. Our revised target price implies an upside potential of 51% from the last closing price of N122.0/s. MTN is currently trading at a FY2019e P/E and EV/EBITDA of 12.3x and 4.2x respectively, a discount to EM peers average of 17.5x and 6.73x respectively. We arrived at our target price using Discounted Cash Flow (DCF) and Relative Valuation (RV), with a 60:40 weighting respectively.
[READ MORE: Economy: Still on the border closure]
Growth in Top line still impressive 
The double-digit growth in Revenue (up 12% y/y) was driven by growth in voice (+10.1% y/y to N629.1bn) and data revenue (+35% y/y to N162.3 billion).  Management noted that the growth in Voice Revenue was supported by an increase in subscriber base (up 0.1million q/q to 61.6mn), relatively stable tariffs and its targeted segment offerings.
Data Revenue growth, on the other hand, was supported by improved data subscribers (up 7.6% q/q to 22.3 million), downward adjustment in the prices of data bundles which boosted data volumes, greater data traffic (68.9% q/q in Q3 vs 67% q/q in Q2) and improved 4G coverage following the activation of 800MHz spectrum in Q2 2019. MTN Nigeria added 1.6 million smartphones to its network, which increased smartphone penetration for the firm to 41.7%.  We believe the improved share of Data Revenue (18% in Q3 2019 vs.15% in Q3 2018) reflects the efforts of management in optimising data Revenue.
Faster growth in data revenue to offset slowing momentum in voice Revenue  
The share of Voice Revenue, however, declined to 73% in 9M 2019 from 75% in 9M 2018. We believe this development reflects the evolving trends in the telecommunication sector- the growing use of social media platforms for communication. We believe the rising use of social networking sites particularly WhatsApp for communication will continue to reduce voice traffic with its attendant impact on voice Revenue. Consequently, we expect the growth in voice Revenue to moderate, driven further by lower voice prices as operators in the industry attempt to lure subscribers to make use of conventional airtime for calls.
Overall, we have revised slightly downwards our estimate for the growth in Voice Revenue to 7.5% (previously; 7.7%) in 2019e, which is still lower than growth of 18.7% y/y reported in 2018. We also estimate the contribution of Voice Revenue to overall Revenue will moderate to 73.4% (previously; 74.1%) in 2019e from 75.4% in 2018.
However, we believe the slowing momentum in Voice Revenue will be offset by faster growth in Non-Voice Revenue especially mobile data and Mobile Financial Services (MFS). Rising smartphone penetration along with increasing mobile broadband penetration, improving network quality and attractive data offerings, should spur a rapid growth in data usage and in turn improve Data Revenue. Following the roll-out of 4G+ across Lagos, Abuja and Port Harcourt, management disclosed that 4G coverage is at over 35% in 64 cities in Nigeria.  We believe the 4G+ which runs on 4G LTE technology will support accretion in data subscribers and accelerate growth in Data Revenue over the medium to long term.
[READ ALSO: VAT bill passes second reading]
We highlight that the Minister of Communications and Digital Economy, Isa Pantami, recently directed the Management of the Nigerian Communications Commission (NCC) to re-evaluate the unauthorised deduction of data by network providers and review the high data prices charged by operators. Although the mobile network operators (MNOs) are yet to respond, we do not expect a significant reduction in data prices given that they have already reviewed downwards their prices for data bundles. Our survey shows that consumers paid lower prices in Q3-19 compared to Q1-19 for the same data bundle. MTN, for instance, slashed the price of 2GB monthly data plan from N2, 000 to N1,200 currently. Hence, we do not foresee significant decline in data prices in Q4 2019.
We have revised upwards our estimate for growth in data Revenue to 31% from 27% previously in 2019e and expect that the contribution of data Revenue to overall Revenue will improve to 18.9% from 15.9% in 2018. All in, we project FY 2019 Revenue of N1.15trn, translating to a growth of 10.4% when compared with FY 2018.
First time adoption of IFRS 16 drives moderation in Network Operating Costs 
Direct Network Operating Costs declined 22% y/y to N117.9bn owing to the marked decline in BTS (base transceiver station) leasing cost. Management however noted that the marked decline in Network Operating Costs was on the back of first-time adoption of IFRS 16- which required the reclassification of the Interest expenses associated with BTS leasing cost as part of Finance Cost. Supported by the moderation in Direct Network Operating Costs, Profit after direct costs grew (+26% y/y to N678.5bn).
MTN Nigeria reported a 39% y/y growth in EBITDA and EBITDA margin of 53.7% under IFRS 16, which is the new reporting standard the group has adopted. However, on an IAS 17 basis (the old reporting standard), the EBITDA margin grew 1.5ppts y/y to 44.7% (9M 2018; 43.2%), driven by the growth in Revenue and sub-inflationary growth in Operating Expenses (+9.3% y/y based on IAS 17). We like the sub inflationary growth in OPEX, reflecting efficiency in cost management. EBITDA (based on IAS 17) grew 16% y/y to N382.5 billion in 9M 2019 from N330.2bn in 9M 2018. We have left our FY 2019e EBITDA margin unchanged at 54%.
Initial adoption of IFRS 16 masks impact of improved debt mix on Finance Cost   
Net Finance Cost grew 73% y/y to N48.6bn owing to an increase in Finance Cost (+73% y/y to N91.9 billion) amidst a marginal decline in Finance Income (down 4% y/y to N17.7 billion). The surge in Finance Cost was due to a first time Interest Expense of N51.2 billion incurred on Leases in 9M 2019- Again, we note that this was due to the adoption of IFRS 16 which required the classification of Interest Expense on leases (previously classified as part of Direct Network Operating Cost) as part of Finance Cost. Excluding this item, Finance Cost would have moderated by 23% y/y to N40.7bn which would have reflected the improvement in its debt mix. Long term debt now accounts for 80% (compared to 18% in FY 2018) of total debt. Meanwhile, the mild decline in Finance Income was due to lower Interest Income on bank deposits (down 12% y/y despite the increase in cash from N53bn in FY 2018 to N102 billion as of 9M 2019) – we think this is likely due to the moderation in fixed deposit rates given lower yields in 2019 when compared to 2018.
We have revised our estimates for Finance Cost upwards in line with the marked increase observed in 9M 2019. Hence, we project Finance Cost of N121.9bn in 2019e. Our estimate for Finance Income in 2019 has been reviewed upwards to N23.4bn from N20.5bn previously, considering the increase in the firm's cash balance in Q3.
Top line growth, cost efficiencies to buoy Profitability   
Pre-tax Profit grew strongly, up 24% y/y to N212.0bn in 9M 2019 from N171.0bn in 9M 2018. A lower effective tax rate of 30% in 9M 2019 compared with 33% in 9M 2018 supported the higher growth in Profit after tax (up 29% to N148.3bn in 9M 2019). EPS also grew 29% y/y to N7.29 in 9M 2019 from N5.63 in 9M 2018.
Based on the revisions to our Revenue, Cost and Net Finance Cost, we have reviewed upwards our FY 2019e Pre-tax profit to N288.3bn (previously; N283bn), representing a growth of 30% when compared to N221bn in FY 2018. Our PAT forecast of N201.8bn translates to an EPS of N9.9 in 2019e. The firm declared an interim dividend of N2.95/s (a pay-out ratio of 60.7% based on H1 2019 EPS of N4.92).
Considering management guidance of historical pay-out of c.80%, we project a final dividend of N4.95, bringing FY 2019 DPS to N7.9.
[READ FURTHER: Disposal of Lafarge is value accretive; Upgrading to a BUY]
Valuation
We have revised our price target slightly upwards to N184.2/s from N182.6/s previously, hence we maintain our BUY recommendation. Our target price his implies 51% potential upside from the last closing price of N122.0/s on 8 November. We arrived at our target price using a Discounted Cash Flow (DCF) and Relative Valuation methods, assigning a weighting of 60:40.  Key inputs into our model include a riskfree rate of 13.7%, market risk premium of 6.5% and an adjusted beta of 0.9.
To download the report, click here.
______________________________________________________________________
CSL STOCKBROKERS LIMITED CSL Stockbrokers,
Member of the Nigerian Stock Exchange,
First City Plaza, 44 Marina,
PO Box 9117,
Lagos State,
NIGERIA.
FG increases hate speech fine from N500,000 to N5 million, moves against monopoly and antitrust
The new regulation is part of the amended Nigerian Broadcasting Code.
The Federal Government on Tuesday, August 4, 2020, announced the increase of fine for hate speech from N500 to N5 million.
The announcement was made by the Minister for Information and Culture, Alhaji Lai Mohammed, at the unveiling ceremony of the revised National Broadcasting Code by the National Broadcasting Commission (NBC) in Lagos on Tuesday.
This new regulation is part of the amended Nigerian Broadcasting Code which contains Antitrust provision aimed at boosting local content and encouraging the growth of the local industry, among other provisions.
This disclosure is contained in a press statement that was issued by the Special Assistant to the President (Media), Office of the Minister for Information and Culture, Segun Adeyemi.
The Minister said that the Antitrust provision will boost local content and local industry due to laws prohibiting exclusive use of rights by broadcasters who intend to create monopolies and hold the entire market to themselves. The provision will also open access to premium content.
Alhaji Lai Mohammed said, ''I must explain that this provision is not new to Nigeria Broadcasting. Exclusivity was disallowed at a certain time in the history of our broadcasting. I recall Multichoice sub-licensing EPL matches to other local operators in Nigeria. I recall HITV engaging several local operators on sub-licensing the EPL when they got the rights."
In a bid the protect broadcast stations and promote sustainability for the station owners and content producers, the revised code contains law prohibiting backlog of advertising debts. It also contains law on the registration of Web Broadcasting, which will grant the country the opportunity to regulate negative foreign broadcasts that can be harmful to the country.
Going further the minister also said, ''The provisions on the responsibility of broadcast stations to devote airtime to national emergencies…obviously mandates terrestrial and Pay TV channels to make their services available to Nigerians at time of national emergencies – like the ongoing Covid-19 pandemic – for their education and enlightenment."
He revealed that the review of the broadcasting was done in the national interest as it was necessitated by the Presidential directive in the wake of the 2019 general elections, which sought for an inquiry into the regulatory role of NBC.
The Minister also disclosed that President Buhari had ordered the probe of the conduct of the various broadcast stations before, during and after the polls.
Mohammed also pointed out, ''But, as it currently stands, the 6th edition and the amendments, which we are unveiling today, remain the regulations for broadcasting in Nigeria. Our intention remains the good of the country. We need to catalyze the growth of the local industry. We need to create jobs for our teeming creative youths. The opportunities must be created and we believe that effective regulatory interventions are a sure way of attaining this. That's why we will not waver."
It can be recalled that in a bid to stem the tide of rising cases of hate speech and fake news, the Federal Government moved to introduce the fake news and hate speech bill, which they said creates apprehension, a lot of mistrust and divides the country along ethnic and religious lines.
Stakeholders and the general public were very critical of the bill because of some harsh clauses in the bill which includes the death penalty.
NDDC reveals more lists of contracts awarded to federal legislators
The Commission said it released the list to expose committee chairmen in the National Assembly.
The Niger Delta Development Commission (NDDC) said there is another list of emergency contracts that were awarded to National Assembly members in 2017 and 2019. This list was not submitted to National Assembly following the recent probe of the NDDC.
This disclosure was made in a press statement by the NDDC earlier today which was signed by the commission's Director for Corporate Affairs, Charles Odili. According to the statement, the initial list that was submitted by the Minister for Niger Delta Affairs, Senator Godswill Akpabio, was actually compiled by the former management of the commission in 2018, not the minister himself.
READ ALSO: Explained: CBN's powers to seize bank account of criminals
The statement by the NDDC went further to note that the Interim Management Committee of the Commission stands by the list which came from the files already in the possession of the forensic auditors.
"The Interim Management Committee (IMC) of the Commission stands by the list, which came from files already in the possession of the forensic auditors. It is not an Akpabio list but the NDDC's list. The list is part of the volume of 8,000 documents already handed over to the forensic auditors," the statement said in parts.
READ MORE: 2021 Budget: FG projects spending plan of N11.86 trillion and deficit of N5.16 trillion
In the meantime, the NDDC has urged prominent indigenes of the Niger Delta, whose names appeared on that list, not to panic, because the NDDC is aware that their names were used to secure contracts. The ongoing forensic audit would help to unearth those behind those contracts, the NDDC said in the statement.
Furthermore, the commission disclosed that it released the list to expose committee chairmen in the National Assembly who used fronts to collect contracts from the NDDC, some of which were never executed. Interestingly, the list did not include the unique case of 250 contracts that were signed for and collected in one day by one person, ostensibly for members of the National Assembly.
While assuring that the forensic audit exercise is on course, the NDDC noted that the commission had positioned 185 media support specialists to identify the sites of every project captured in its books for verification by the forensic auditors.
READ MORE: NDDC Probe: Akpabio accuses NASS members of getting most of the commission's contracts
The NDDC then enjoined members of the public not to be distracted or swayed by a lot of misinformation and falsehood that are being orchestrated by mischief makers, even as more of such will be expected by those opposed to the IMC.
It can be recalled that Akpabio, while appearing before the members of the house of representatives ad-hoc committee probing the N40 billion corruption allegation against the IMC of NDDC, said that most of the contracts that are being awarded at the commission were given to members of the national assembly.
READ ALSO: Akpabio denies accusing Reps of receiving 60% of NDDC contracts
Not that likely, the Speaker of the House of Representatives, Femi Gbajabiamila, asked the minister to provide within 48 hours, the names of the legislators that benefitted from such contracts with full details or face legal action.
Senator Akpabio, in response to the ultimatum, sent an official letter to the Speaker, providing the names of the national assembly members that benefitted from such contracts.
Plentywaka raises $300,000, seeks partners as it launches operations in Abuja
The company is in search of partners to join the Plentywaka Vehicle Partnership scheme
Fast-growing transport/delivery startup, Plentywaka, has raised $300,000 pre-seed investment to facilitate its expansion plans.
According to a statement by the company which was sent to Nairametrics, the funding was led by EMFATO, Microtraction, and Niche Capital. It will help to facilitate that company's planned expansion into the Federal Capital Territory Abuja and other Nigerian states.
More details: The funding will also be used to transform the transport system in Nigeria. Plentywaka will improve its mapping technology, especially now that it is kicking off activities in other states and the FCT.
While commenting on the investment and launch, Co-Founder and Managing Director, Johnny Enagwolor, said that Plentywaka is out to transform transportation in Nigeria by taking it one state at a time.
"Securing investment and expanding into Abuja within our first year, in the midst of a pandemic speaks volumes of the demand for the service we provide. We are excited to have investment partners on board that see and believe in our vision.
"An efficient transport system is fundamental to the prosperity of any city and we believe safe, convenient and comfortable travel should not just be for the few; but for everyone," he said.
(READ MORE:Biggest oil trader, Vitol, in record compensation, pays over $6 million each to top employees)
Also commenting on the investment, Dayo Koleowo, a Partner at Microtraction, said:
"Plentywaka's rapid growth since they launched Q3 last year has been tremendous so far. We are glad to be partnering with a very strong team that is passionate about providing convenience, safety, and comfort to everyday commuters. The distressful and uneasy experience by the majority of these commuters, especially in large cities is evident. We are backing the Plentywaka team to change that experience for commuters progressively by creating a transport system that is efficient."
Plentywaka needs partners: In the meantime, Plentywaka said it is currently in search of partners who are willing to bring their vehicles on board by joining the Plentywaka Vehicle Partnership scheme.
The partnership involves Plentywaka working with individuals, corporates, and state governments to expand its technology and fleet in order to provide better transportation services.  Just like other cab-hailing services, registering a vehicle on the platform would provide the partners with an opportunity to earn extra income.
In view of the pandemic, the company has assured that all vehicles in its scheme would be properly fumigated and equipped in line with government regulations and to keep commuters and drivers safe with the Wakapurse which allows electronic payment.
The Backstory:  The e-bus hailing company, which was launched in September 2019, was funded by Crowdyvest. Since then, the company has built a platform of over 40,000 customers and recorded its first 100,000 rides in six months.
They also recently announced the availability of same-day delivery service to small businesses, as well as the logistics by Plentywaka and its Staff Bus Solutions.
The company first launched its services in Lagos and the success recorded so far has encouraged its decision to venture into other states. With the gaps seen in the country's public transport system, the company is optimistic that it can provide a more reliable and efficient bus service.