Operating performance still strong: Buy rating reiterated   
MTN Nigeria sustained growth in earnings in Q3 as the telco firm reported double-digit growth in Revenue.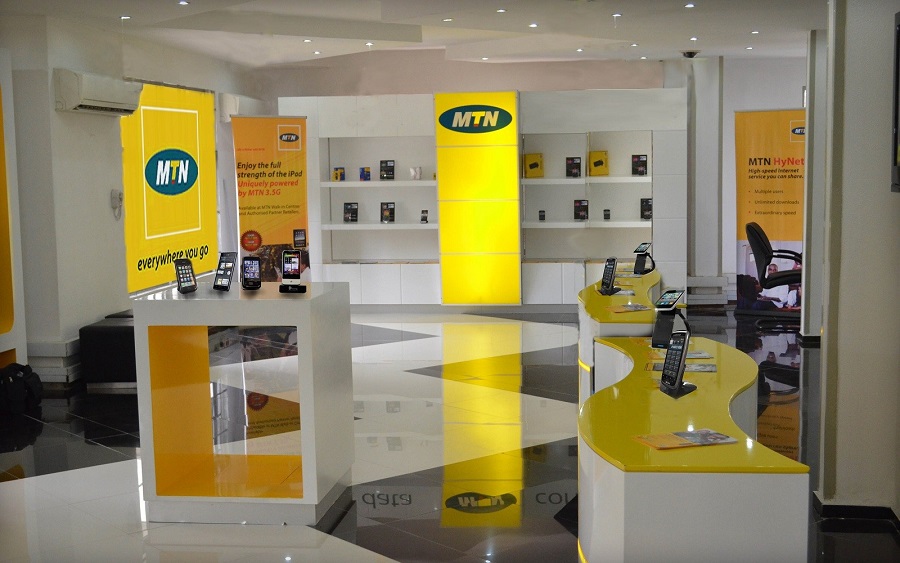 MTN Nigeria sustained growth in earnings in Q3 as the telco firm reported double-digit growth in Revenue (up 12% y/y to N856.5 billion) on the back of growth in voice (+10.1% y/y) and data revenue (+35% y/y). Buoyed by the topline growth and the sub inflationary growth in Operating Expenses (up 6% y/y), Pre-tax Profit grew strongly, up 24% y/y to N212.0 billion in 9M 2019. EPS also grew 29% y/y to N7.29 in 9M 2019 from N5.63 in 9M 2018.
Considering MTN's strong footing in the Nigerian telecoms market (market share of 37% as of September 2019) coupled with its aggressive efforts at retaining existing customers whilst also attracting new ones through improved technology, we believe the company is well-positioned to benefit from further growth in mobile and data penetration in Nigeria's fast-growing telecommunications industry.
We have made minor revisions to our model. The overall impact is a marginal increase in our price target to N184.2/s from N182.6/s previously, hence we retain our BUY recommendation. Our revised target price implies an upside potential of 51% from the last closing price of N122.0/s. MTN is currently trading at a FY2019e P/E and EV/EBITDA of 12.3x and 4.2x respectively, a discount to EM peers average of 17.5x and 6.73x respectively. We arrived at our target price using Discounted Cash Flow (DCF) and Relative Valuation (RV), with a 60:40 weighting respectively.
[READ MORE: Economy: Still on the border closure]
Growth in Top line still impressive 
The double-digit growth in Revenue (up 12% y/y) was driven by growth in voice (+10.1% y/y to N629.1bn) and data revenue (+35% y/y to N162.3 billion).  Management noted that the growth in Voice Revenue was supported by an increase in subscriber base (up 0.1million q/q to 61.6mn), relatively stable tariffs and its targeted segment offerings.
Data Revenue growth, on the other hand, was supported by improved data subscribers (up 7.6% q/q to 22.3 million), downward adjustment in the prices of data bundles which boosted data volumes, greater data traffic (68.9% q/q in Q3 vs 67% q/q in Q2) and improved 4G coverage following the activation of 800MHz spectrum in Q2 2019. MTN Nigeria added 1.6 million smartphones to its network, which increased smartphone penetration for the firm to 41.7%.  We believe the improved share of Data Revenue (18% in Q3 2019 vs.15% in Q3 2018) reflects the efforts of management in optimising data Revenue.
Faster growth in data revenue to offset slowing momentum in voice Revenue  
The share of Voice Revenue, however, declined to 73% in 9M 2019 from 75% in 9M 2018. We believe this development reflects the evolving trends in the telecommunication sector- the growing use of social media platforms for communication. We believe the rising use of social networking sites particularly WhatsApp for communication will continue to reduce voice traffic with its attendant impact on voice Revenue. Consequently, we expect the growth in voice Revenue to moderate, driven further by lower voice prices as operators in the industry attempt to lure subscribers to make use of conventional airtime for calls.
Overall, we have revised slightly downwards our estimate for the growth in Voice Revenue to 7.5% (previously; 7.7%) in 2019e, which is still lower than growth of 18.7% y/y reported in 2018. We also estimate the contribution of Voice Revenue to overall Revenue will moderate to 73.4% (previously; 74.1%) in 2019e from 75.4% in 2018.
However, we believe the slowing momentum in Voice Revenue will be offset by faster growth in Non-Voice Revenue especially mobile data and Mobile Financial Services (MFS). Rising smartphone penetration along with increasing mobile broadband penetration, improving network quality and attractive data offerings, should spur a rapid growth in data usage and in turn improve Data Revenue. Following the roll-out of 4G+ across Lagos, Abuja and Port Harcourt, management disclosed that 4G coverage is at over 35% in 64 cities in Nigeria.  We believe the 4G+ which runs on 4G LTE technology will support accretion in data subscribers and accelerate growth in Data Revenue over the medium to long term.
[READ ALSO: VAT bill passes second reading]
We highlight that the Minister of Communications and Digital Economy, Isa Pantami, recently directed the Management of the Nigerian Communications Commission (NCC) to re-evaluate the unauthorised deduction of data by network providers and review the high data prices charged by operators. Although the mobile network operators (MNOs) are yet to respond, we do not expect a significant reduction in data prices given that they have already reviewed downwards their prices for data bundles. Our survey shows that consumers paid lower prices in Q3-19 compared to Q1-19 for the same data bundle. MTN, for instance, slashed the price of 2GB monthly data plan from N2, 000 to N1,200 currently. Hence, we do not foresee significant decline in data prices in Q4 2019.
We have revised upwards our estimate for growth in data Revenue to 31% from 27% previously in 2019e and expect that the contribution of data Revenue to overall Revenue will improve to 18.9% from 15.9% in 2018. All in, we project FY 2019 Revenue of N1.15trn, translating to a growth of 10.4% when compared with FY 2018.
First time adoption of IFRS 16 drives moderation in Network Operating Costs 
Direct Network Operating Costs declined 22% y/y to N117.9bn owing to the marked decline in BTS (base transceiver station) leasing cost. Management however noted that the marked decline in Network Operating Costs was on the back of first-time adoption of IFRS 16- which required the reclassification of the Interest expenses associated with BTS leasing cost as part of Finance Cost. Supported by the moderation in Direct Network Operating Costs, Profit after direct costs grew (+26% y/y to N678.5bn).
MTN Nigeria reported a 39% y/y growth in EBITDA and EBITDA margin of 53.7% under IFRS 16, which is the new reporting standard the group has adopted. However, on an IAS 17 basis (the old reporting standard), the EBITDA margin grew 1.5ppts y/y to 44.7% (9M 2018; 43.2%), driven by the growth in Revenue and sub-inflationary growth in Operating Expenses (+9.3% y/y based on IAS 17). We like the sub inflationary growth in OPEX, reflecting efficiency in cost management. EBITDA (based on IAS 17) grew 16% y/y to N382.5 billion in 9M 2019 from N330.2bn in 9M 2018. We have left our FY 2019e EBITDA margin unchanged at 54%.
Initial adoption of IFRS 16 masks impact of improved debt mix on Finance Cost   
Net Finance Cost grew 73% y/y to N48.6bn owing to an increase in Finance Cost (+73% y/y to N91.9 billion) amidst a marginal decline in Finance Income (down 4% y/y to N17.7 billion). The surge in Finance Cost was due to a first time Interest Expense of N51.2 billion incurred on Leases in 9M 2019- Again, we note that this was due to the adoption of IFRS 16 which required the classification of Interest Expense on leases (previously classified as part of Direct Network Operating Cost) as part of Finance Cost. Excluding this item, Finance Cost would have moderated by 23% y/y to N40.7bn which would have reflected the improvement in its debt mix. Long term debt now accounts for 80% (compared to 18% in FY 2018) of total debt. Meanwhile, the mild decline in Finance Income was due to lower Interest Income on bank deposits (down 12% y/y despite the increase in cash from N53bn in FY 2018 to N102 billion as of 9M 2019) – we think this is likely due to the moderation in fixed deposit rates given lower yields in 2019 when compared to 2018.
We have revised our estimates for Finance Cost upwards in line with the marked increase observed in 9M 2019. Hence, we project Finance Cost of N121.9bn in 2019e. Our estimate for Finance Income in 2019 has been reviewed upwards to N23.4bn from N20.5bn previously, considering the increase in the firm's cash balance in Q3.
Top line growth, cost efficiencies to buoy Profitability   
Pre-tax Profit grew strongly, up 24% y/y to N212.0bn in 9M 2019 from N171.0bn in 9M 2018. A lower effective tax rate of 30% in 9M 2019 compared with 33% in 9M 2018 supported the higher growth in Profit after tax (up 29% to N148.3bn in 9M 2019). EPS also grew 29% y/y to N7.29 in 9M 2019 from N5.63 in 9M 2018.
Based on the revisions to our Revenue, Cost and Net Finance Cost, we have reviewed upwards our FY 2019e Pre-tax profit to N288.3bn (previously; N283bn), representing a growth of 30% when compared to N221bn in FY 2018. Our PAT forecast of N201.8bn translates to an EPS of N9.9 in 2019e. The firm declared an interim dividend of N2.95/s (a pay-out ratio of 60.7% based on H1 2019 EPS of N4.92).
Considering management guidance of historical pay-out of c.80%, we project a final dividend of N4.95, bringing FY 2019 DPS to N7.9.
[READ FURTHER: Disposal of Lafarge is value accretive; Upgrading to a BUY]
Valuation
We have revised our price target slightly upwards to N184.2/s from N182.6/s previously, hence we maintain our BUY recommendation. Our target price his implies 51% potential upside from the last closing price of N122.0/s on 8 November. We arrived at our target price using a Discounted Cash Flow (DCF) and Relative Valuation methods, assigning a weighting of 60:40.  Key inputs into our model include a riskfree rate of 13.7%, market risk premium of 6.5% and an adjusted beta of 0.9.
To download the report, click here.
______________________________________________________________________
CSL STOCKBROKERS LIMITED CSL Stockbrokers,
Member of the Nigerian Stock Exchange,
First City Plaza, 44 Marina,
PO Box 9117,
Lagos State,
NIGERIA.
Elon Musk to offer $100 million prize for best carbon capture technology
Elon Musk has announced a donation of $100 million prize money for the best technology that can capture carbon dioxide.
Tesla Inc CEO Elon Musk on Thursday took to Twitter to promise a $100 million prize for the development of the "best" carbon capture technology.
Elon Musk wrote in a tweet, "Am donating $100M towards a prize for best carbon capture technology," details next week.
Carbon capture technology is designed to prevent the release of CO2 generated through conventional power generation and industrial production processes by injecting the CO2 into suitable underground storage reservoirs.
According to Reuters, "Capturing planet-warming emissions is becoming a critical part of many plans to keep climate change in check, but very little progress has been made on the technology to date, with efforts focused on cutting emissions rather than taking carbon out of the air."
Since the tweet was shared, it has garnered thousands of responses from people because of the jaw-dropping cash prize. A lot of people have started sharing their carbon capture ideas.
The International Energy Agency said late last year that a sharp rise in the deployment of carbon capture technology was needed if countries are to meet net-zero emissions targets.
Newly-sworn-in U.S. President, Joe Biden has pledged to accelerate the development of carbon capture technology as part of his sweeping plan to tackle climate change. On Thursday, he named Jennifer Wilcox, an expert in carbon removal technologies, as the principal deputy assistant secretary for fossil energy at the U.S. Department of Energy.
Besides Tesla, Elon also heads rocket company SpaceX and Neuralink, a startup that is developing ultra-high bandwidth brain-machine interfaces to connect the human brain to computers.
WHO warns Africa in danger of being left behind in Covid-19 vaccination
The WHO has warned that Africa is in danger of being left behind in Covid-19 vaccination.
The World Health Organisation (WHO) has warned that Africa is in danger of being left behind in Covid-19 vaccination as countries from other regions strike bilateral deals, thereby driving up prices.
This follows the development and approval of safe and effective vaccine less than a year after the emergence of the coronavirus pandemic, regarded as a stunning achievement.
This disclosure was made by the WHO's Regional Director for Africa, Dr Matshidiso Moeti while speaking during a virtual press conference which was facilitated by APO Group.
Dr Moeti was joined at the press briefing by the Managing Director, Country Programmes, Gavi, Thabani Maphosa and UNICEF Regional Director for Eastern and Southern Africa, Mohamed Fall.
What the WHO's Regional Director for Africa is saying
Dr Moeti stated that as of early this week, 40 million Covid-19 vaccine doses have been administered in 50 mostly high-income countries with Guinea being the only low-income country on the continent to have provided doses to only 25 people so far.
According to her, Seychelles is the only high-income country on the continent where a national Covid-19 vaccination campaign has started.
She said, "We first, not me first, is the only way to end the pandemic. Vaccine hoarding will only prolong the ordeal and delay Africa's recovery. It is deeply unjust that the most vulnerable Africans are forced to wait for vaccines while lower-risk groups in rich countries are made safe.
"Health workers and vulnerable people in Africa need urgent access to safe and effective COVID-19 vaccines.''
What the Managing Director, Country Programmes, GAVI, is saying
Mr Thabani Maphosa, the Managing Director, Country Programmes at GAVI, a partner in the alliance, was quoted as saying delivery would begin soon.
He said, "COVAX is on track to start delivering vaccine doses and begin ensuring global access to vaccines. This massive international undertaking has been made possible thanks to donations work towards dose-sharing deals and deals with manufacturers that have brought us to almost 2 billion doses secured. We look forward to rollout in the coming weeks."
What you should know
COVAX facility is an international alliance which is backed by the WHO, Gavi, the vaccine alliance and Coalition for Epidemic Preparedness Innovations (CEPI), to ensure equitable distribution of the Covid-19 vaccines among all countries regardless of income level.
The alliance has secured 2 billion doses of the Covid-19 vaccine for Africa from 5 producers, with options of over 1 billion more doses.
COVAX has committed to vaccinating no fewer than 20% of the population in Africa by the end of 2021.
Priority will be given to health workers and other vulnerable groups, such as older persons and those with pre-existing health conditions.
An initial 30 million vaccine doses are expected to begin arriving in countries by March.
The United Nations in its report said that a maximum of 600 million doses will be disbursed, based on 2 doses per person.
Google threatens to remove its search engine from Australia due to media code
Google has threatened to remove its search engine from Australia due to the media code introduced by the government.
Google said that it will disable its search engine in Australia if the government proceeds with a media code that would force it and Facebook Inc to pay local media companies for sharing their content.
The code requires Google and Facebook to enter mandatory arbitration with media companies if they cannot reach an agreement over the value of their content within three months.
It also requires the platforms to give the news businesses 14 days' notice of algorithm changes, and non-discrimination provisions have been put in place to stop the tech giants from taking retaliatory action such as removing content or punishing organisations that participate in the code.
READ: Satoshi Nakamoto's unspent BTCs worth $10.9 billion
Mel Silva, Google Australia and New Zealand VP told Australia's Senate Economics Legislation Committee today that Google would shut off the search in Australia if the government's proposed media bargaining code becomes law. According to her, "The code's arbitration model with bias criteria presents an unmanageable financial and operational risk for Google"
Australia announced the legislation last month after an investigation found Alphabet Inc-owned Google and social media giant Facebook held too much market power in the media industry, a situation it said posed a potential threat to a well-functioning democracy.
READ: Facebook Oversight Board to review decision to suspend Trump's account
Prime Minister of Australia, Scott Morrison said Australia would not respond to the threats as news media companies fired back at suggestions their content did not add value to the platforms. "Australia makes our rules for things you can do in Australia. That's done in our Parliament. It's done by our government, and that's how things work here in Australia," he said. "People who want to work with that, in Australia, you're very welcome. But we don't respond to threats."
READ: Betting on Bitcoin is better than investing in PayPal, Google, Facebook, Amazon
What you should know
Google's threats follow similar remarks made by Facebook Australia's managing director, Will Easton in September, who announced plans to remove news articles from the social media's main app if the media code is passed by Parliament.
To avoid the operation of the code, Google and Facebook have no option but to cease linking to news altogether. If Google can't reliably separate news results from other search results, then logically it may have to pull its entire search service from Australia.
Google's threat to limit its services in Australia came just hours after the internet giant reached a content-payment deal with some French news publishers.
This new media code will affect millions of Australians who use Google Search and Facebook every month.