See what FG said Nigerians should tell on the mountain, and how the people reacted 
The Nigerian presidency released a rather interesting video on Twitter, yesterday, encouraging Nigerians to rejoice over the little progress Nigeria is making.
The Nigerian presidency released a rather interesting video on Twitter, yesterday, encouraging Nigerians to rejoice over the little progress Nigeria is making despite the many challenges facing the country. The six minutes long montage, which has so far been viewed by nearly ten thousand people, mostly showed President Muhammadu Buhari attending various functions, even as the voice of a female narrator could be heard reciting what sounded like a poem on Nigeria.
VIDEO: Go Tell It On The Mountain. In spite of the many challenges facing us, there are good and positive and heartwarming stories to be told, of the progress we are making, in the face of many odds. #documentary #Nigeria pic.twitter.com/gP5lZ8cpsm

— Presidency Nigeria (@NGRPresident) October 27, 2019
[READ MORE: FG earned N52 billion from solid minerals in one year – NEITI]
So, what are we telling on the mountain?
According to the narrator, Nigeria has its own problems, just like many other countries around the world. However, these problems should not be the only things for which Nigeria is known for. Instead, there is a need to celebrate every little success while "looking at the silver lining in the sky".  She even highlighted some of the "massive investments" in infrastructure that have taken place recently, including the following:
Nigeria's locomotive rail projects.
The Lagos-Ibadan Expressway which never seems to be completed.
The narrator even reminded Nigerians that the economy is now diversified and that there are many rice farmers helping to make Nigeria sufficient in rice production. Now, let's be reminded that the prices of rice and other food items are soaring in the markets.
She also mentioned that we should rejoice over the "strides" made in the area of security. Tell that on the mountain!
In all fairness, President Buhari's administration has made efforts. To a large extent, "the economy is being re-tooled" as the narrator pointed out. The country's inflation has even dropped significantly to 11.8% from a high of nearly 20% just some years ago. Let's not forget that the President has been aggressive in his fight against corruption, even as some of the recovered money has been used to take care of the poor as the FG disclosed last week.
But some Nigerians are not ready to tell anything on the mountain 
Despite the passionate narrative in this clip, it doesn't appear as though Nigerians are impressed, at least going by their responses. Many of them think this is pure propaganda which is absolutely unnecessary. Njoku Isaac very well captured this sentiment with his comment.
Check Malaysia, Syngapore, UAE, Brazil, etc, instead of working hard, we are consoling ourselves. In the next 20 years, it will be the same story.

— Njoku Isaac (@njkworld) October 27, 2019
Meanwhile, Tosin Oluyemi seemed more interested in knowing how much it cost to produce the video. He gave no reason as to why he needed this information. So, we can only wonder why.
There is the need to know how much was paid to the producer of this video documentary.

— Tosin Oluyemi (@tosinoluyemi) October 27, 2019
Interestingly, someone pointed out that "the 70s type propaganda video" is depressing and as such, incapable of exciting anybody. The commenter even implied that the Presidency's media have a long way to go.
If this depressing 70s type propaganda video is what you are pointing Nigerians to as proof of your successes, then I'm afraid, you still have a long way to go.

Messaging is key. Get a competent media team to help articulate whatever it is that you're doing or planning to do.

— iEinstein (@iEinsteine) October 27, 2019
[READ ALSO: FG reiterates commitment to implement reform of broadcasting code]
A bright future?
Despite the many negative comments, some other Nigerians got the message and the purpose for which it was intended. As Olusanya Oluwasegun acknowledged, Nigeria is moving forward. It is expected that a time will come when Nigerians will look back at the challenges they faced today and see them no more.
Nigeria is positively moving indeed. We are getting closer to the promised land. Please, try to regulate or control the activities of the Nigeria Rice producers.God bless Nigeria.

— Ogunsanya Oluwasegun (@Ambassyone) October 28, 2019
Every country that is at the top Now faced more challenges. What we need as Nigerians is empathy. Presidency should do more in carrying citizens along with new developments of FG. We know the fowl is sweating but the feather is covering it. Nigeria will be GREATER.

— Moshood Abiola (@De_Moshood) October 27, 2019
CBN extends Covid-19 forbearance for intervention loans by another 12 months
CBN will continue to charge an interest rate of 5% for its intervention loans for another 1 year.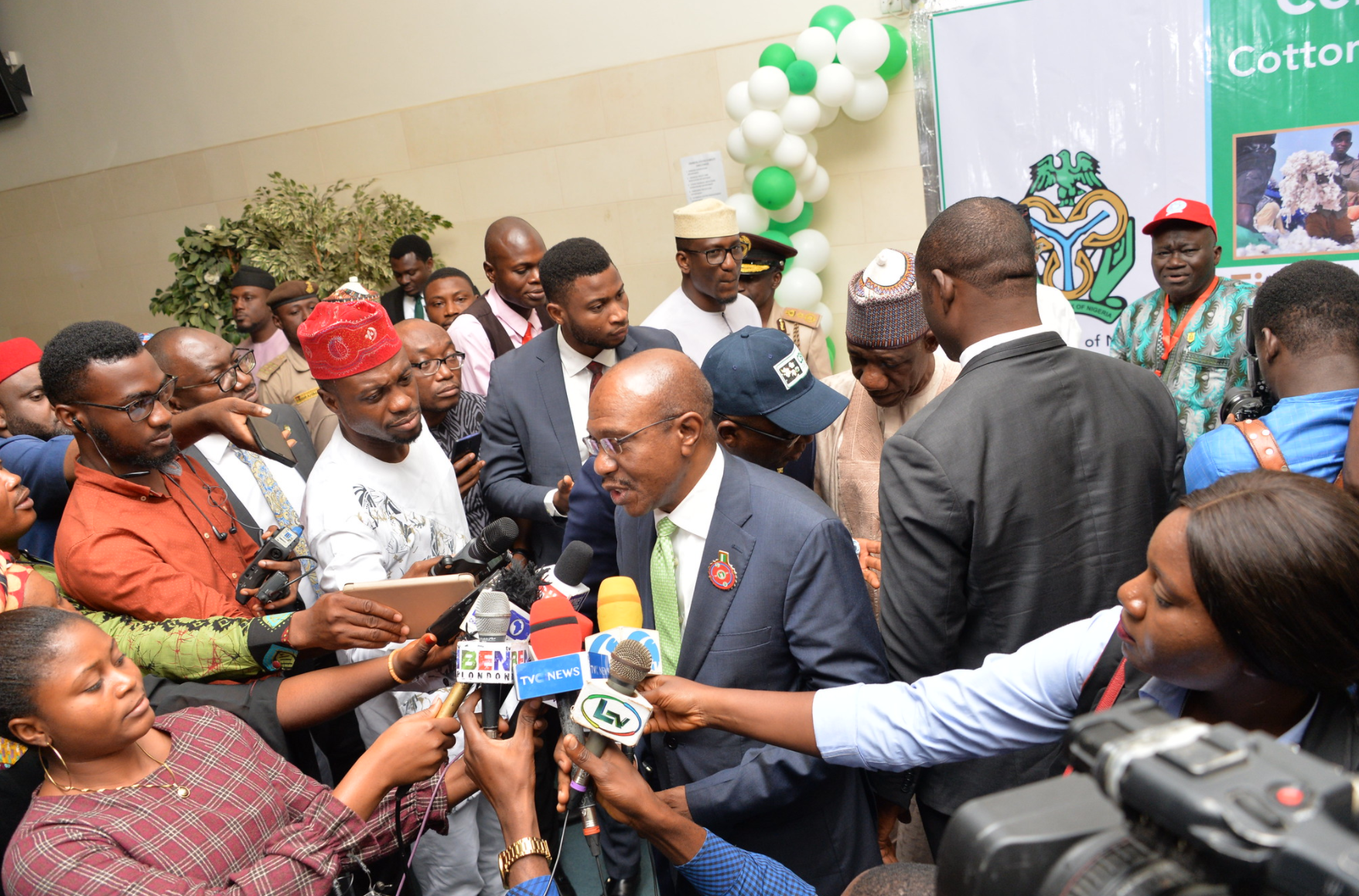 The Central Bank of Nigeria has announced an extension of its regulatory forbearance for the restructuring of its intervention facilities by another 12 months.
In a circular signed by Dr. Kevin Amugo, the Director of Financial Policy and Regulatory. the apex bank said it will continue to charge its borrowers an interest rate of 5% per annum as against the 9% originally offered. The CBN had on March 20th reduced the interest rates on its intervention loans from 9% to 5% as part of its response to the economic crunch brought on by Covid-19 induced lockdowns.
The CBN also offered to rollover moratorium granted on all principal payments on a case by case basis. All credit facilities had been granted a one-year moratorium starting from march 1, 2020 when the pandemic first gripped Nigeria.
READ: Analysing the Central Bank of Nigeria's Dollar Remittance Policy
See excerpt from Circular
"The Central Bank of Nigeria reduced the interest rates on the CBN intervention facilities from 9% to 5% per annum for one-year effective March 1, 2020, as part of measures to mitigate the negative impact of COVID-19 Pandemic on the Nigerian economy."
Credit facilities, availed through participating banks and OFIs, were also granted a one-year moratorium on all principal payments with effect from March 1, 2020.
Following the expiration of the above timelines, the CBN hereby approves as follows:
1) The extension by another twelve (12) months to February 28, 2022 of the discounted interest rate for the CBN intervention facilities;
2) The roll-over of the moratorium on the above facilities shall be considered on a case by case basis.
READ: Nigeria attracts more FDI than FPI for the first time in 4 years
What this means
Companies who secured intervention funds from the CBN or through any of its on-lending banks will continue to service the loans at an interest rate of 5% per annum instead of 9%.
They can also get another year of not needing to pay back the principal sum collection. However, they will need to apply.
Whilst this move helps the small businesses continue to manage their cash flow, it means the CBN will record a reduction in its income extended under such facility.
Regulatory forbearance is a widely adopted concept during an economic crunch and it is meant to help stimulate businesses. These pronouncements if implemented will only affect those who borrow from the CBN or BOI but those who do not will miss out.
Download the circular here.
READ: CBN discloses conditions for assessing N100 billion credit facility, addresses 'process problems'
Senate endorses ex-Service Chiefs as Non-career Ambassadors
The Senate has confirmed President Buhari's nomination of the immediate past service chiefs as non-career ambassadors.
The Nigerian Senate has endorsed the nomination of the past serving Military Service Chiefs as Non-career Ambassadors.
This was confirmed during Tuesday's plenary session and announced in a social media statement by the Nigerian Senate.
Their confirmation follows the consideration of the report of the Senate Committee on Foreign Affairs, Chaired by Senator Adamu Bulkachuwa.
According to reports, the Senate Minority Leader Enyinaya Abaribe, however, questioned the nomination and confirmation of the ex-service chiefs when the Senate had on 3 different occasions called for their sack.
Senator Abaribe also raised issues on the petitions against the former service chiefs and questioned why they were dismissed without explanations.
But Senate President Ahmad Lawan dismissed Senator Abaribe's concerns, ruling that the nomination of the former service chiefs cannot be nullified simply because the upper chamber had called for their sack, noting that this is totally a different assignment.
In his concluding statement, the Senate President, Senator Lawan added that these nominees that have just been confirmed have served this country to the best of their abilities. He appealed to the executive to make sure they use their experience as military men to the best.
"These nominees that we have just confirmed are nominees that have served this country to the best of their ability. Our appeal to the Executive is to make sure they use their experiences as military men to the best," Lawan said.
Lawan, on behalf of the senate, wished them a very successful career in their capacity as Non-Career Ambassadors.
What you should know 
Recall Nairametrics reported earlier this month that President Muhammadu Buhari nominated ex-Service Chiefs for Senate approval as non-career Ambassadors-Designate.
Their appointment came barely a week after their retirement as service chiefs and their replacement with new ones.
This led to a spate of criticisms from some Nigerians who felt that the nation's security situation got worse under their watch.
They were reported to have tendered their resignation from their positions amid heightened calls that they should be sacked due to the increasing rate of insecurity across the country.
Nairametrics | Company Earnings
Access our Live Feed portal for the latest company earnings as they drop.