Nigeria's total Foreign Trade hits N8.6 trillion in Q2 2019, up by 4.4%
Nigeria's total foreign trade (value of exports and imports) hit N8.60 trillion in the second quarter (Q2) of 2019, up from N8.24 trillion recorded in the previous quarter (Q1). According to the latest foreign trade report released by the National Bureau of Statistics (NBS), this means Nigeria's total trade rose by 4.4% within the quarter.
According to the NBS report, in Q2, 2019, the value of Nigeria's total foreign trade stood at N8.60 trillion comprising 46.6% imports (N4 trillion) and 53.4% exports (N4.59 trillion).
Number Breakdown: The report further shows that the value of Nigeria's total trade in Q2 2019 was higher by 4.4% when compared to Q1 2019, but 24.2% higher when compared with Q2, 2018.
The trade balance remained favourable, valued at N588.8 billion.
Total crude oil export was estimated at N2.65 trillion, while non-crude oil export was N661 billion and non-oils exports were put at N227.6 billion.
Combined with the Q1 2019 performance, Nigeria's trade balance declined by 63.14% relative to the same period in 2018.
The value of total trade at half-year 2019 was 15.43% higher than for the same period in 2018.
Exports' Performance: The value of total exports in Q2 2019 increased by 1.34% against the level recorded in Q1, 2019 and 2.06% when compared with its value in Q2, 2018.
Exports by sectors show that crude oil export accounted for almost 90% of Nigeria's total export in Q2 2019. Crude oil export in Q2 was estimated at N3.9 trillion, from N3.3 trillion recorded in Q1 2019.
The value of Agricultural exports in Q2 was 14.66% lower than in Q1 2019. In Q1 2019, Agricultural goods exports were estimated at N73 billion, as against N86 billion in Q2.
The value of Raw material exports was 14.52% lower than the value in Q1 2019 and 1.71% lower than in Q2 2018.
The value of Solid mineral exports declined by 15.53% compared to Q1 2019 and 62.27% against the corresponding quarter in 2018.
Also, the exports of Energy goods dropped by 12.31% in value compared to Q1 2019 and 15.15% when compared with Q2 2018.
Lastly, the value of manufactured exports decreased by 77.05% when compared with the value recorded in Q1 2019. In Q1 2019, Nigeria exported N462 billion worth of goods, while the value dropped significantly to N462.2 billion in Q2.
Imports surged: The NBS noted that the performance of Nigeria's trade for Q2 was largely as a result of stronger growth in the value of imports far outpacing growth in the value of exports which rose only marginally.
In Q2 2019, Nigeria's imports constituted 74.52% of manufactured goods. A total of N2.47 manufactured goods was imported into the country. Specifically, the value of imported manufactured goods decreased by 10.86% in Q2 2019 against the value recorded in Q1 2019.
The value of imported Agricultural products was 5.79% higher in Q2 2019. Basically, the country imported N249.9 billion worth of agricultural goods.
Also, the raw material was one of the major goods imported into the country in Q2 estimated N346.4 billion. In total, Nigeria's raw material imports grew 4.97% over the value recorded in Q1 2019.
Similarly, the value of Solid minerals imports was 63.46% higher than in Q1, 2019 and 68.34% higher than the value recorded in Q2 2018.
Lastly, the value of energy goods imports was 74.65% lower than in Q1, 2019.
Key Takeaways: From the report, though Nigeria's trade balance (export-import) is still positive, it dropped significantly by N242.8 billion. This was largely triggered by rise in imports.
According to NBS, the value of total exports has remained relatively stable since 2018, but the value of imports has maintained its steady rise, hence the decline in trade balance since mid-2018.
This means import has grown faster than export, and this is not good for the economy as trade deficit may be in sight.
Also, agricultural commodities export declined, while manufactured goods imported into the country dropped.
The Bureau noted that the slower growth in exports could be attributed to a combination of slower growth in the value of crude oil exports occurring at the same time as a decline in the value of non-crude oil exports.
While total trade has hit a new height, Nigeria's export revenue still significantly depends on crude oil, whose price is subject to fundamentals in the international market.
FRC orders the Big Four to separate auditing from consulting services
The Big Four firms now reportedly generate the largest portions of their revenues from consultancy services.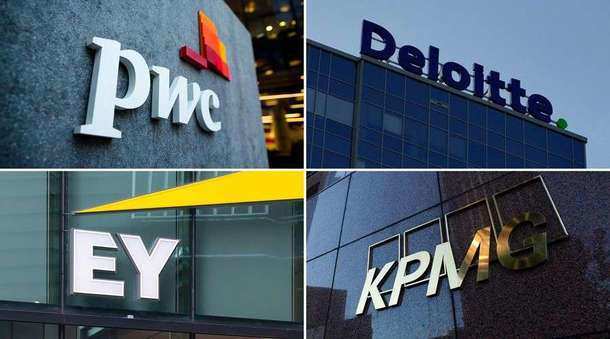 The world's four biggest audit firms —KPMG, PwC, Ernest & Young, and Deloitte — have been directed by the Financial Reporting Council (FRC) to plan towards separating their audit business from their consulting business.
The deadline for compliance with this directive is June 2024.
A statement that was published on the FRC website said this directive is 'world-leading'. The statement also explained why it became imperative to separate the firms' operations towards ensuring that they deliver the uttermost quality audit services for the good of public interest.
By the time the operational separation officially takes effect starting from June 2024, FRC said it would be expecting the following outcomes:
That audit practice governance would prioritise audit quality and protect auditors from influences from the rest of the firm that may try to divert their focus away from audit quality.
That the total amount of profits distributed to the partners in the audit practice does not persistently exceed the contribution to profits of the audit practice.
The culture of the audit practice prioritises high-quality audit by encouraging ethical behaviour, openness, teamwork, challenge and professional scepticism/judgement.
Auditors act in the public interest and work for the benefit of shareholders of audited entities and wider society.
While commenting on this development, FRC's Chief Executive Officer, Sir Jon Thompson, said the FRC is committed to reforms on how corporate finances are reported. Further aspects of the reform package will be introduced over time, he said.
"Operational separation of audit practices is one element of the FRC's strategy to improve the quality and effectiveness of corporate reporting and audit in the United Kingdom following the Kingman, CMA and Brydon reviews. Today the FRC has delivered a major step in the reform of the audit sector by setting principles for operational separation of audit practices from the rest of the firm. The FRC remains fully committed to the broad suite of reform measures on corporate reporting and audit reform and will introduce further aspects of the reform package over time," Thompson stated.
Do note that the FRC reached this decision after engaging in extensive discussions with the Big Four. It was also agreed that the audit firms will submit an implementation plan to the FRC latest by October 23rd, 2020.
Recall that it was just last week when Nairametrics reported how the Big Four earned the sum of N7.53 billion as audit fees from Nigeria's most capitalized firms in 2019. Interestingly, these firms now reportedly generate the largest portions of their revenues from consultancy services. As a matter of fact, only about 20% of their revenues now come from auditing fees.
Uber expands food delivery business in a $2.65 billion acquisition 
This deal would help Uber expand its market share against privately held DoorDash Inc.
The multinational ride-hailing service company, Uber has agreed on a deal aimed at expanding its food delivery business with the acquisition of food delivery app, Postmates Inc, in a $2.65 billion all-stock take over which is expected to be announced as soon as Monday, July 6, 2020. 
According to Bloomberg, the deal which has been approved by the board of directors of Uber, will have the head of Uber's food delivery business, Pierre-Dimitri Gore-Coty, to continue to run the combined delivery business. Under the agreement, Postmates Chief Executive Officer, Bastian Lehmann and his team will continue to manage Postmates as a separate service. 
This deal would help Uber expand its market share against privately held DoorDash Inc, the current market leader in US food delivery business. While Postmates lags behind DoorDash in the race for market share, it has still been able to maintain a strong position in Los Angeles and the American Southwest, both of which could be available to Uber eats. 
READ ALSO: Uber Introduces Uber Cash In Nigeria
Uber and Postmates who have been in discussion for about 4 years, intensified the acquisition talk about a week ago, after an approach by Uber. This move is coming on the heels of the failed bid by Uber to acquire publicly quoted GrubHub Inc, which was bought over by Europe's Just Eat Takeaway.com NV for $7.3 billion. 
Postmates' valuation was last put at $2.4 billion when it raised $225 million in a private fundraising around last September. According to analytics firm, Second Measure, they account for 8% of the US meal delivery market in May.  
READ ALSO: In less than 72 hours USDC Treasury transfers over 50,000,000 USDC to wallets
Postmates, which was founded in 2011 was one of the first to let customers in the U.S. order meal delivery using a mobile app. However, competition has intensified in recent years and Postmates has fallen to a distant fourth. The company said in February 2019 that it had filed paperwork confidentially for an initial public offering but never went public.  
Cornerstone Insurance's board will meet July 22nd to consider 2 important issues
Directors typically meet to consider/approve financial statements before they are released.
Cornerstone Insurance Plc's board of directors will meet on July 22nd to deliberate on two important company issues.
A public notice that was signed by the Company Secretary and issued to the Nigerian Stock Exchange (NSE), noted that the two main talking points at this meeting are the company's unaudited Q2 2020 financial statements, and the proposed issuance of bonus shares to the company's existing shareholders.
As you may well know, board members of many companies listed on the NSE are all scheduled to meet later this month, ahead of the release of these companies half-year 2020 earnings reports. Directors typically meet to consider/approve financial statements before they are released.
Meanwhile, between the time a company's board of directors meet over their financial statements and the actual release of said financial statements, there is what is called "a closed period". During this closed period, all persons with insider knowledge of the company's affairs are prohibited from trading in the company's stock.
READ ALSO: Cornerstone Insurance Plc appoints new Executive Director
In the case of Cornerstone Insurance Plc, a closed period on its stock will start from tomorrow (July 7th, 2020) and will remain effective until 24 hours after the release of the company's Q2 2020 financial statements. Note that no date was given for the release of the Q2 financial report.
"Accordingly, in line with the provisions of Rule 17.17: Closed Period, Rulebook of The Exchange, 2015 (Issuers' Rule) and which has been incorporated into Sections 5 and 6 of the Company's Securities Trading Policy, all Directors, Persons discharging managerial responsibility, Adviser(s) of the Company, or their connected persons shall not trade in the Company's shares from Tuesday, July 7th, 2020 until 24 hours after the release of the Company's Unaudited Financial Statements for the Second Quarter ended June 30, 2020 to the NSE and the general public," part of the statement by the company said.
Recall that Nairametrics reported some months ago that Cornerstone Insurance Plc was in merger talks with some insurance companies ahead of the recapitalization deadline set by the National Insurance Commission (NAICOM). The company's Group Managing Director, Ganiyu Musa, disclosed that consolidation is a more viable option towards meeting NAICOM's recapitalisation requirement.
READ MORE: Dark Clouds loom for investors as stocks fall 8% in first half of 2020
It is uncertain, at this point, if the company is still considering a merger as a viable option. This is because in March 2020, Nairametrics reported that Cornerstone Insurance Plc is one of the insurance firms that have resorted to selling off their real estate properties in order to raise money. The reported had quoted the MD discussing how his company "took the big decision to sell the property which we did at a very handsome price. And just in one fell swoop, it resolved many issues. We now have a significant amount of liquidity, we do not have the headache of recapitalisation and we have done what the regulator wants, which is to convert any property to cash."  
Meanwhile, NAICOM has since postponed the recapitalisation deadline to September 2021 due to the economic challenges posed by the COVID-19 pandemic.
Note that the company reported a gross premium income of N4.6 billion in Q1 2020, compared to N4.8 billion in Q1 2019. However, profit for the period stood at N475.1 million, as against a loss after tax of N98.4 million during the comparable period in 2019.
The company's stock opened today's trading on the Nigerian Stock Exchange with a share price of N0.50. Year to date, the stock has gained roughly about 20%.