The Chairman of Kaduna South Local Government Area, Jarimi Kabeer, has left many residents of Kaduna State and Nigerians at large stunned after he disclosed how his N241.6 million June allocation would be disbursed. This move, which has raised questions regarding the affairs of the Local Government, is not a usual practice for Nigerian LG Chairmen.
Honourable Kabeer said his LG received the sum of N241,649,327 for the execution of local projects, and he gave details of the disbursement for each project. Although Kabeer is an advocate of transparent government, his decision to make his budget public is unprecedented among his LG colleagues in Kaduna State and across Nigeria.
KADUNA SOUTH LOCAL GOVERNMENT ALLOCATION JUNE, 2019.

Kaduna South LG received the sum of N241,649,327.38 (Two hundred and forty one million, six hundred and forty nine thousand, three hundred and twenty seven naira, thirty eight kobo). pic.twitter.com/lxMSzFLD3d

— KADUNA SOUTH LG (@HonJarimi) July 22, 2019
In a statement published on his Twitter handle by Abdurrahman Yahya, the LG's Council Secretary, the N241.6 million allocation was credited to Kaduna South LG account on Thursday, July 18, 2019.
[READ ALSO: Buhari sends in Ministerial list, increases the size of the cabinet to 43]
News continues after this ad
---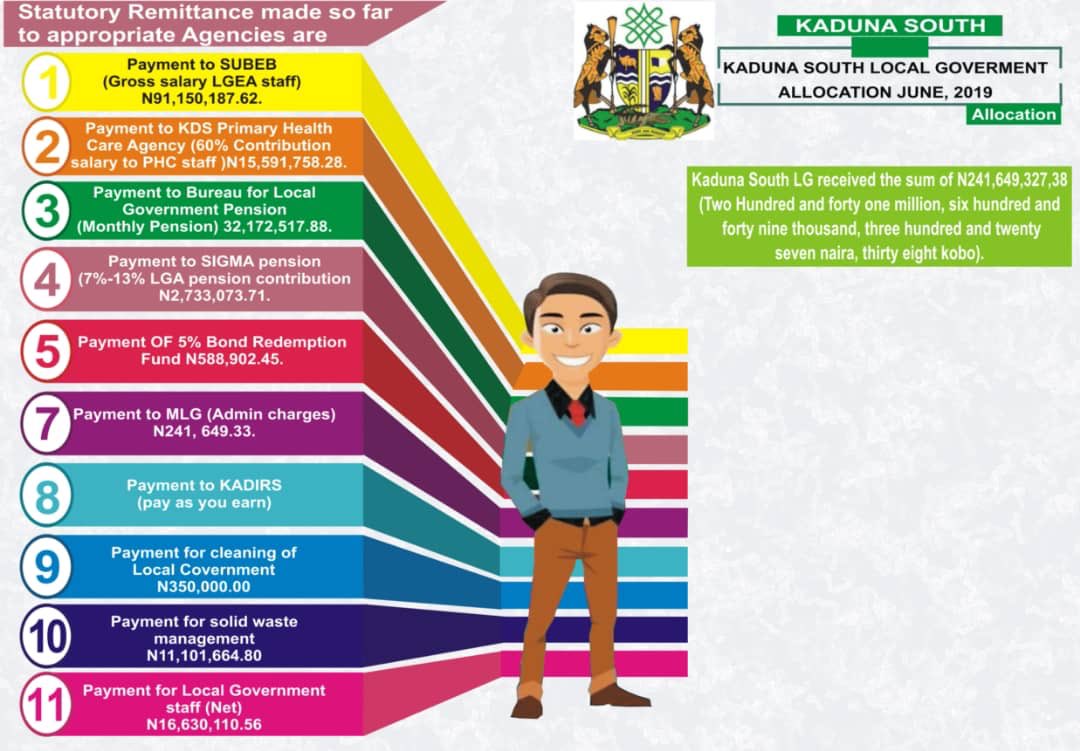 Breakdown of capital and projects: Kabeer allocated the fund to 11 LG projects.
E-payment to SUBEB (Gross salary LGEA staff) N91,150,187.62.
E-payment to KDS Primary Health Care Agency (60% contribution salary to PHC Staff) N15,591,758.28.
E-payment to Bureau for Local Government Pension (monthly pension) N32,172,517.88.
E-payment to SIGMA pension (7%-13% LGA pension contribution) N2,733,073.71.
E-payment of 5% Bond Redemption Fund N588,902.45.
E-payment to Local Government Service Board N1,085,902.38.
E.payment to MLG (Admin charges) N241,649.33.
8. E-payment to KADIRS (pay as you earn).
E-payment for cleaning of Local Government N350,000.00.
E-payment for solid waste management N11,101,664.80.
E-payment for Local Government staff (Net) N16,630,110.56.
The problem: Nairametrics discovered that the amount accounted for is less than the total of N241.6 million. Out of the total allocation, only N171.6 million was budgeted for.
Also, among the listed projects, there is no record of the amount budgeted for Project No 8 – 'E-payment to KADIRS'.
The allocation also seems to be for servicing recurrent expenditure. The list neither has new projects nor capital projects.
More so, that the Local Government Chairmen just received their June allocation in the third week of July is worrisome.
[READ ALSO: BREAKING: CBN finally confirms licensing three new banks in Nigeria]
News continues after this ad
---
The missing pieces are expected to be represented in the next detail as the statement said more details would be published soon.
Nigerians' reactions: Kabeer's decision didn't go without notice, as many Nigerians praised his transparency. Some felt he adopted the leadership style of Mallam Nasir El-Rufa'i, Kaduna State Governor.
See more reactions below.
This is the first time in my history to see a Local Government Chairman coming out openly to state the allocation given to the council

— Engr.Imrana Garba (@imrana_garba) July 23, 2019
You can hate @elrufai als you can, but his style of leadership and approach to governance is worth understudying in our academic institutions.

I hope my LG chairman would take the same step to declare what is given to the council and expenditures monthly.

— Kazeem Adeshina (@degemstone69) July 23, 2019
Thank you @GovKaduna @elrufai for setting the standard of governance in Kaduna.

— Charles Uzoma (@uzomac) July 22, 2019
I don't wanna hold brief for him but he said other details will follow shortly. Perhaps it may capture what you are looking for. My only concern here is that "all these grammars consumed chunks of the money" so what of we the masses? As in capital expenditure?

— Lawan Murtala Mohd (@LawanMohd) July 23, 2019
Very commendable, Mr Chairman. Some observations:
1. Seem all allocations goes to service recurrent expenditure
2. Are there no capital projects funded by the LG?
3. Are there no internally generated revenue?
4. Finally, create a website and have this report in a tabular form

— Chima Chikezie (@chimmy_2) July 23, 2019
My head is swelling.
See accountability.
Wow.
I am impressed.@followlasg @jidesanwoolu @drobafemihamzat
Kindly ask the LG in Lagos to do same@dabiodunMFR allow the LG to do same.

We beg all the #35StateGovernors to allow their LG function.
Thanks in advance

— Ibrahim Ahmed (@Ibrahimseun20) July 23, 2019
We charge youth to be like @HonJarimi when given opportunity to serve Government of the day.
In my whole citizenry in Kaduna state NO Governor or Political office holder have done such good accountability like him.
I commend your effort.
ALUTA CONTINUA

— Musa Yusuf Ubandoma (@MusaYUbandoma) July 23, 2019
Is it safe to say this is 1st of its kind? @TrackaNG pls note this fantastic effort and it needs to well reported. ? ?

— Sammy Okoh (@sosokoh) July 23, 2019
Great rendition@sosokoh @TrackaNG pls monitor implementation of any project which finds were disbursed for e.g clearing of trash, primary health care etc

— Ladi Bala-keffi (@KeffiLadi) July 23, 2019
Guys this deserves a lot of retweets. I don't know if other LGs even have SM presence but this one here is highly commendable. Hopefully, others will take a cue.

— Pied Piper (@javrijavri) July 23, 2019