Flying Doctors' Founder, Ola Brown, discusses Challenges facing Nigeria's Healthcare Industry
Nigerian entrepreneur and founder of Flying Doctors Nigeria, Dr. Ola Brown (@NaijaFlyingDr), had a Tweet Chat with Nairametrics on Wednesday during which time she discussed the challenges facing the healthcare industry.
Nigerian entrepreneur and founder of Flying Doctors Nigeria, Dr. Ola Brown, had a Tweet Chat with Nairametrics on Wednesday during which time she discussed the challenges facing the healthcare industry.
During the question and answer session, Dr. Brown also emphasised the fact that many Nigerians lack access to affordable healthcare in Nigeria. As such, only the very wealthy few can afford certain healthcare options such as air ambulance.
She also noted that until there is a structural reform in the healthcare system, the poor will continue to lose out on how many healthcare options they cannot afford.
See below the detailed conversation we had with her.
Hello everyone! Welcome to this Nairametrics Tweet Chat with Dr. Ola Brown @NaijaFlyingDr

Dr. Ola is a Medical Doctor and CEO of Flying Drs Nigeria.

This episode promises to be very educative; Nigerian Health Sector

As usual, kindly Retweet this first tweet for others to see. https://t.co/Q3CMzZ2Jgj

— Nairametrics (@Nairametrics) July 17, 2019
Dr. Ola: Hi everyone.
Nairametrics: Welcome to this episode! Before we begin, we like to let our guests give a brief introduction of themselves. In one tweet, who is Dr. Ola?
Dr. Ola: I am a doctor/business person/investor who is very passionate about impact and development in Africa.
Nairametrics: Last month, a viral video showed a Helicopter picking up someone from the Lagos-Benin expressway. The Helicopter company said it was a stroke victim. Everyone assumes the patient is rich. Can the air ambulance service ever be available to anyone outside the top 1% of society?
Dr. Ola: Advanced, sophisticated but essential health care services like air ambulance services, transplants, peadiatric heart surgery, ECMO and bypass surgery will remain difficult for the poor to access in Nigeria until there are structural changes to our healthcare system.
Nairametrics: With Nigeria facing revenue shortfalls and the need to fund a universal healthcare plan that caters for every citizen at its highest levels of urgency, what do you think needs to be done to secure the funding needed? Higher taxes for wealthier Nigerians?
Dr. Ola: One of the 5 pillars of healthcare that I highlight in my book is sustainable healthcare financing. There is an entire chapter dedicated to this. Firstly, I recommend restructuring the system to place more emphasis on primary care making the entire system more cost effective
Spending on health care in markets with a larger percentage of primary care physicians (PCPs) is lower at any point in time than is true in other markets – Chernew et al.
I also recommend centralizing tertiary care to improve quality and reduce cost per procedure.
This is how India has created the cheapest cheapest hospital in the world. It's over 90% cheaper than the US and still delivers similar outcomes for patients.
Nairametrics: Brain drain of Nigerian Doctors has been a long term trend for years. Are you alarmed by it and do you think it can be reversed?
Dr. Ola: Not sure it can be completely reversed. But there are things we can do to help stem it. Did you know that Indian surgeons actually do more procedures than American surgeons in the same space of time?
We can create systems that allow our doctors to access larger volumes of similar patients in an efficient way. This replicates the 'industrial' approach seen in India. If they are doing more procedures, we can pay more. We can do more with less.
Tasking shifting; training other professionals to do jobs typically done by doctors, is also important. This brings down the cost of healthcare delivery whilst also helping the healthcare system to function with fewer doctors.
Embracing innovations like telemedicine and virtual consultation can also help bring down the cost of care. We need to look at ways that we can do more with far less in terms of financial resources.
Nairametrics: Nigerians continue to debate whether or not Doctors should be allowed to go on strike because of their importance to society. Which side of the debate are you on?
Dr. Ola: I think we need to restructure the healthcare system so that doctors don't have any reason to go on strike. There was a time in Nigeria when the banking industry was dysfunctional. There were over 100 banks. But we fixed it.
There was a time when we were spending a lot of our forex on cement imports. But we fixed it. There was a time when the telecommunications network was so an efficient, but we fixed it….well kinda
We need this type of energy, focus & dedication to reform in healthcare. When last did you see bankers at GTB go on strike?
Nairametrics: Telemedicine is defined as the remote diagnosis and treatment of patients by means of telecommunications technology. What are your thoughts on its potential in Nigeria?
Dr. Ola: Poverty magnifies the need for healthcare whilst simultaneously decreasing the capacity to finance it. Africa's healthcare problems are mainly economic. Therefore solutions like telemedicine are important as they drive down cost.
90% of people's health needs across their lifetime can be provided by primary healthcare from maternity care and disease prevention through vaccination, to management of chronic conditions and palliative care. -Lancet
Telemedicine has exciting potential applications particularly in the area of primary care where complex interventions are usually not required. 
[READ: Despite FG's N900 billion investment, Nigeria's power sector remains in failing state]
Nairametrics: Are you for or against Nigeria ratifying the African Continental Free Trade Agreement? What impact do you think the #AfCFTA will have on Nigeria's healthcare sector?
Dr. Ola: I am a big fan of #AfCFTA. I think intra-African trade has an important role in driving economic growth across the continent. However, it will not solve our healthcare problems. We still need policy reform.
However, it does make the idea of regional referral centres/centres of excellence across Africa, easier to contemplate. I think these kind of industrial mega-hospitals, will be able to deliver healthcare at scale at a regional level.
Nairametrics: This has been an amazing session with @NaijaFlyingDr We hope you've enjoyed this Nairametrics Tweet Chat. Final question for the evening! Do you think Doctors in Nigeria should worry about Robots (Artificial intelligence) taking over their jobs in the future?
Dr. Ola: I think we should be advocating for the type of reforms that will make healthcare affordable, accessible and acceptable to the millions of Nigerians who die every day from treatable conditions
To get an idea of the type of reforms that can improve the healthcare system in Nigeria download my book 'Fixing Healthcare in Nigeria'
Every dollar invested in healthcare returns $2-$10 dollars back in terms of economic growth Health care is an investment, not a cost. Thanks, Nairametrics for the opportunity and thanks to all the citizens that continue the #fixnigerianhealthcare conversation.
Geely Auto to invest 54 million dollars in the development of healthy cars
Geely's leading track record will be taken to a new level with the development of an all-round "healthier car."
As Exclusive Partner of Geely Automotive in Nigeria, Mikano brings us great news of Geely Automotive innovative steps towards development of "healthy, intelligent vehicles" by earmarking 54 million Dollars of funding to it; as a furthering of the fight against Coronavirus.
The move not only adds a new dimension to Geely's understanding of "passenger safety," it also represents a new development direction for automobiles.
READ: Automotive Bill: Why FG may return it to National Assembly
The development of a "healthier car" differs from specialized medical vehicles in that Geely's products are made for ordinary consumers. Cars with comprehensive virus protection not only require the capability to isolate harmful substances in the air, it also needs to quickly and effectively purify cabin air for occupants.
Geely Auto's global R&D and design networks based in Europe, USA and China will jointly move to develop and research new environmentally sustainable materials with anti-bacterial and anti-viral properties which can be used within air-conditioner systems and on frequently touched surfaces such as buttons and handles.
Geely Auto will make full use of its global R&D system and resources as well as cooperate with professional medical and scientific research institutions to set up special project teams to work on the new research.
READ: Cars45 CEO explains how to increase demand for Made in Nigeria cars
An Conghui, President of Geely Holding Group and President and CEO of Geely Auto Group said "Epidemic prevention is a job that requires the long-term effort of wider society. As the most common mode of transportation, consumers spend a considerable amount time in their cars, akin to a "second home" Only by making healthier products can we meet consumer demand for better quality of life. Based on the automotive industry's development direction built around electrified, connectivity, intelligence, and shared mobility, auto companies should commit to developing products that help protect the health of drivers and passengers. This will become one of Geely Auto key long-term development objectives."
Earlier on January 28, Geely Holding Group joined hands with the Li Shufu Foundation to set up a special 30 million dollars fund in support of the new coronavirus prevention and control, with a focus on the mass purchasing of much needed medical supplies for China in the short term.
Geely's leading track record will be taken to a new level with the development of an all-round "healthier car." Geely's move sets a new precedent in the development of safety technologies that goes beyond developing leading crash test results and moves into new dimensions of passenger safety.
Visit www.geely.ng to find out more about Geely Nigeria
Exchange rate falls again at NAFEX window as #EndSARS protests escalates
The Naira depreciated against the dollar at the Investors and Exporters (I&E) window closing at N386/$1.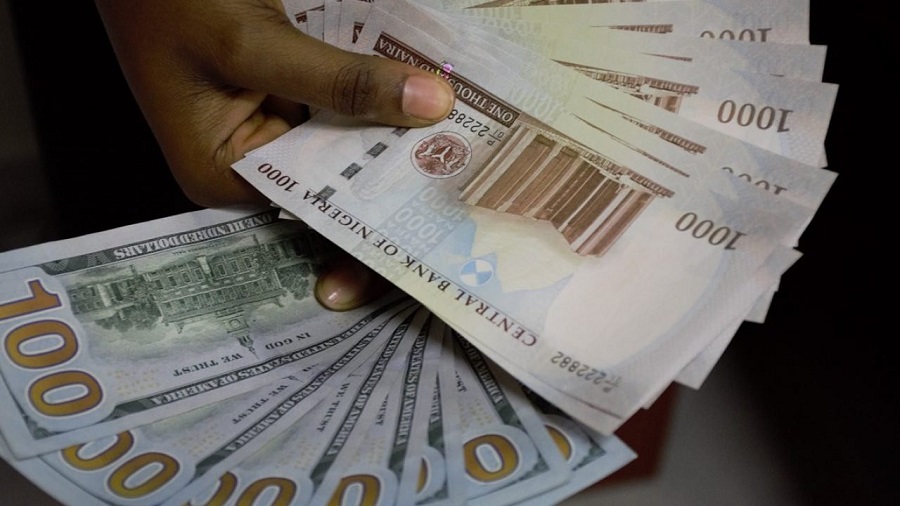 Nigeria's exchange rate at the NAFEX window depreciated against the dollar to close at N386/$1 during intraday trading on Monday, October 19.
Also, the naira remained stable against the dollar, closing at N462/$1 at the parallel market on Monday, October 19, 2020, as the protest against the special anti-robbery unit (SARS) and police brutality by the Nigerian youth escalates with its impact on business activities across the country
READ: Naira falls again at black market as #EndSARS protest limits movement.
Parallel market: According to information from Abokifx, a prominent FX tracking website, at the black market where forex is traded unofficially, the Naira remained stable against the dollar to close at N462/$1 on Monday. This was the same rate that it exchanged for on Friday, October 16.
Current developments
The local currency had strengthened by about 7.8% within the one week in September at the black market, as the CBN introduced some measures targeted at exporters and importers, in order to try to boost the supply of dollars in the foreign exchange market, and reduce the high demand for forex by traders. The measure
The CBN has sold over $500 million to BDCs since they resumed forex sales on Monday, September 7, 2020. This was expected to inject more liquidity to the retail end of the foreign exchange market and discourage hoarding and speculation.
However, the exchange rate against the dollar has remained volatile after the initial gains made, following the CBN's resumption of sales of dollars to the BDCs.
The President of the Association of Bureau De Change Operators, Aminu Gwadebe, said he expects the impact of the extra liquidity in the market to be gradual.
Despite the drop in speculative buying of foreign exchange, the huge demand backlog by manufacturers and foreign investors still puts pressure and creates a volatile situation in the foreign exchange market.
READ ALSO: Naira falls big across all forex market despite another $50 million allocation to BDCs
NAFEX: The Naira depreciated against the dollar at the Investors and Exporters (I&E) window on Monday, closing at N386/$1.
This represents a 17 kobo drop when compared with the N385.83/$1 that it exchanged for on Friday, October 16.
The opening indicative rate was N386 to a dollar on Monday. This represents a 38 kobo gain when compared to the N386.38 that was recorded on Friday.
The N392.30 to a dollar is the highest rate during intraday trading before closing at N386. It also sold for as low as N380/$1 during intraday trading.
READ: Why Airtel Nigeria credited subscribers with free airtime
Forex turnover: Forex turnover at the Investor and Exporters (I&E) window declined by 3.6% on Monday, October 16, 2020.
According to the data tracked by Nairametrics from FMDQ, forex turnover dropped from $125.40 million on Friday, October 16, 2020, to $120.93 million on Monday, October 19, 2020.
The CBN is still struggling to clear the backlog of foreign exchange demand, especially by foreign investors wishing to repatriate back their funds.
The drop in forex supply after the huge increase 2 trading days ago reinforces the volatility of the foreign exchange market. The supply of dollars has been on a decline for months due to low oil prices and the absence of foreign capital inflow into the country.
As part of the measure to check forex abuse and check illegal transactions, the CBN last month directed the freezing of accounts of about 38 companies.
The average daily forex sale for last week was about $169.93 million, which represents a huge increase from the $34.5 million that was recorded the previous week.
Total forex trading at the NAFEX window in the month of August was about $857 million, compared to $937 million in July.
The exchange rate is still being affected by low oil prices, dollar scarcity, a backlog of forex demand and a shaky economy that has been hit by the coronavirus pandemic.
According to Reuters, currency traders said that the naira is expected to be stable this week as banks limit foreign exchange transactions by both firms and individual buyers on the unofficial black market to curb speculation.Explore Data on the Nairametrics Research Website

Download the Nairametrics News App
#EndSARS: FG expects increase in Covid-19 cases in the next 2 weeks
FG has warned that the ongoing #EndSARS protest may spark up a second wave of coronavirus.
The Federal Government has warned that Nigerians should expect an increase in the number of Covid-19 cases across the country in the next 2 weeks.
This is due to the total disregard of the preventive measures against the virus during the ongoing nationwide #EndSARS protest which has been witnessing huge gatherings.
READ: Covid-19: CDC revises guidance, says virus can spread through airborne transmission
This disclosure was made by the Chairman of the Presidential Task Force (PTF) on Covid-19, who is also the Secretary to the Government of the Federation (SGF), Boss Mustapha, at the national briefing of the task force in Abuja on Monday, October 20, 2020.
He said despite the appreciable success recorded so far in the fight against COVID-19, the ongoing protest may spark up a second wave of the virus.
READ: COVID-19: Spike in new cases suggests a looming second wave of the pandemic
Mustapha said, "I can say it authoritatively that with the ongoing protest across the country, in the next two weeks the cases of COVID-19 would have increased. Each and everyone that attended the protest and did not put up any form of protection is likely going to spread the virus. When people contract the virus during the protest gathering, they will go back home and spread it.
READ: 1 billion students in developing nations may be out of school due to second wave of COVID-19 – World Bank
"This is one of the reasons why we must be extremely careful when we congregate because when you gather together in such an atmosphere where people don't wear face masks or maintain the social distance you are creating a potential opportunity for carriers to spread the virus.
"So far we have done pretty well as a country but this protest is like a setback and we must avoid a situation where we will have a resurgence. Countries that thought they have overcome are dealing with the second wave. We are extremely lucky as a nation and we should be careful of any situation that can warrant the second wave."
He said any mass gathering that does not adhere to the non-pharmaceutical interventions that have been put in place, like wearing of face masks, social distancing, and keeping personal hygiene, becomes a super spreader event.
READ: COVID -19: Nigerian companies have records of innovation to turn pandemic challenge to gold
What it means: With the expected spike in the number of Covid-19 cases due to these protests across the country, Nigeria runs the risk of having a second wave of the coronavirus outbreak which had before now been on a decline. This could lead to the resumption of lockdown measures by the government, in order to contain the spread of the pandemic.