CORPORATE ACTIONS: N1.15 and Cost pressures
Here is a rundown of corporate actions expected on the @nsecontact this week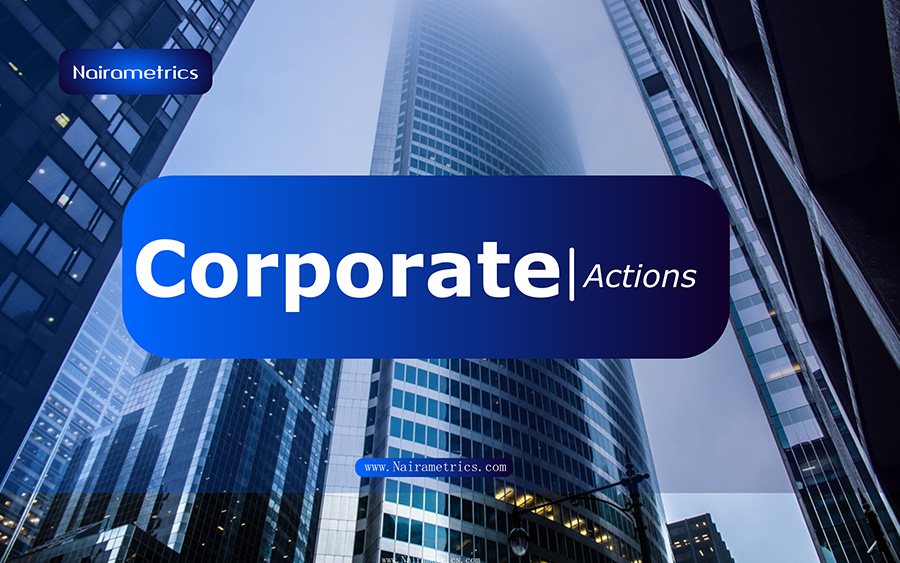 Corporate actions are decisions taken by companies' boards of directors or management teams, that could have impacts on the firms themselves or shareholders.  
Examples of corporate actions include the release of quarterly and full year results,  payment of dividends, closing of shareholders' registers, announcing qualification and Annual General Meeting (AGM) dates.  
Here is a review of corporate actions that took place last week, and those expected this week.  
N1.15
Forte Oil Plc released its first quarter 2019 results. The firm bucked the trend of poor Q1 2019 results by oil  and gas firms, as profit for the period increased from N2.9 billion in 2018 to N3.3 billion in 2019, on the back of profit from discontinued operations.  
The company also declared a special dividend of N1.15 from the proceeds of the sale of its subsidiaries.  
Forte also issued a separate notice stating it had concluded the divestment and sale of its shares in AP Oil and Gas Ghana Limited to Cobalt International Services Ghana Limited.
The divestment from Amperion and Forte Upstream is however subject to the fulfillment of conditions outlined in the share sale and purchase agreements, as well as contractual and regulatory approval.
Forte has signed a share sale and purchase agreement with Gbonka Oil and Gas Limited with respect to the divestment and sale of its shares in Forte Upstream Services Limited.
it has also entered into a share sale and purchase agreement wiht Calvados GlobalServices Limited with respect to the divestment and sale of its shares in Amperion Power Distribution Company Limited.
UAC rebounds
UAC Nigeria delivered a better performance in its Q1 2019 results, compared to its FY 2018 full year which saw a sharp decline in bottom line.  
Revenue went up by 12.5% to N18.3 billion. Profit after tax also increased by 66.3% to N995 million.  
UPDC continues to struggle
UAC's property arm UPDC however remains mired in losses. The firm recorded a N1 billon loss in Q1 2019, higher than the N899 million recorded in the comparative period of 2018.  
Fidson Healthcare
Fidson Healthcare returned to profitability in the first quarter of 2019, after recording a loss in FY 2018. Topline and bottom line however dropped, with profit falling sharply. Profit after tax fell by 40.2% to N144 million in Q1 2019, due to a spike in interest charges.  
Still good times at Caverton 
Caverton Offshore Support Group (COSG) continued its run of superlative results recorded in the 2018 financial year. For the first quarter ended March 2019, revenue and profit rose significantly.   
Revenue jumped by 84.4% to N8.3 billion. Profit after tax also rose sharply by 170% to N793 million. 
A flat Union
Union Bank had a slight drop in gross earnings in its Q1 2019 results, while profit after tax was flat year on year at N5.2 billion.  
Cost pressures  
Firms in the oil and gas space performed poorly in the first quarter due to a sharp rise in interest charges.  
Total Nigeria Plc recorded a N474 million loss in 2019 as against a N1.6 billion profit in 2018.  
Key factors behind its poor performance were administrative expenses which were up 27.2% to N5.6 billion in 2019. Interest charges also jumped 192% to N1.7 billion.  
Eterna Oil recorded a sharp drop in profit after tax by 33.1% from N510 million in 2018 to N341 million in 2019.  
MRS Oil Nigeria Plc recorded a N730 million loss after tax in Q1 2019 as against a N374 million profit recorded in the comparative period of 2018. Its finance costs rose by 19.5% to N118.7 million in 2019.
11 Plc also had the same pattern, with PAT dropping from N2.7 billion in 2018 to N2 billion in 2019. 
Do better
FBN Holdings held its Annual General Meeting this week. Shareholders of the company tasked the board and management to strive for a better performance in the current financial year.  
Appointments 
First Aluminum Plc announced the appointment of Callistus Udalor as Managing Director, following the resignation of his predecessor Elias Igbinakenzua. Udalor was a one–time Deputy Managing Director of the firm.  
Berger Paints has appointed Anjan Sircar as Managing Director/Chief Executive Officer and Tolulope Ogunkolade as Chief Operating Officer.  
NAHCO announced the appointment of Abimbola Adebakun as Independent Non Executive Director, Saheed Lasisi as Executive Director Business and Commercial, and Adeoye Emiloju as Chief Financial Officer (CFO) 
Delays 
Presco announced a further delay in the release of its FY 2018 and Q1 2019 results. The company attributed this to a delay in the conclusion of its biological assets valuation. The firm however expects the results to be released on or before the 31st of May.
AG Leventis also notified the Exchange and investing public its FY 2018 and Q1 2019 results were yet to be released as an audit was still ongoing. The company however assured it would release the results on or before the 30th of June, 2019.   
Corporate Actions for next week 
Sunu Assurances (formerly known as Equity Assurance) and Union Bank will hold their Annual General Meetings on the 7th of May, 2019.  
AXA Mansard and Wema Bank will be holding their AGMs on the 8th of May, 2019.  
Unilever and Champion Breweries will be holding theirs on the 9th of May, 2019. 
Strong gains from WAPCO, Unity Bank limits Bears grip on Nigerian Stocks
Strong gains from WAPCO couldn't stop Nigerian stocks from closing slightly red, as sell-offs intensified among medium capitalized stocks.
Nigerian stocks ended the last trading session on a near-stale mate. the All Share Index dropped by -0.08% to close at 39,331.61 index points as against the -0.40% plunge recorded on Thursday. Its Year-to-Date (YTD) returns currently stand at -2.33%.
However, the market trading turnover on Friday printed positive as volume ticked up by +19.18% as against the +101.84% uptick recorded yesterday.
MANSARD, ZENITHBANK, and FBNH were the most active to boost market turnover.
The market breadth closed negative as MORISON led 20 Gainers as against 27 Losers topped by TRIPPLEG at the end of today's session – an unimproved performance when compared with the previous outlook.
Top gainers
MORISON up 10.00% to close at N0.66
WAPCO up 9.90% to close at N22.2
NEM up 9.88% to close at N1.89
SKYAVN up 9.54% to close at N3.33
UNITYBNK up 8.96% to close at N0.73
Top losers
TRIPPLEG down 10.00% to close at N0.72
TRANSEXPR down 10.00% to close at N0.81
UHOMREIT down 9.96% to close at N36.6
CUTIX down 9.95% to close at N1.81
SCOA down 9.90% to close at N2.64
Outlook
Nigerian Stocks ended the mid-week trading session on a slightly bearish note, amid soaring oil prices prevailing at the U.S trading session. At the time of writing this report, Brent crude was trading below $68.70/barrel.
That being said, strong gains from WAPCO couldn't stop Nigerian stocks from closing slightly red, as sell-offs intensified among medium capitalized stocks.
Nairametrics envisages cautious buying, on the sentiments that recent price action shows further market correction as bargain hunters keep a tab on Nigerian macros.
XRP stands firm, investors wait on Ripple's legal outcome
XRP price traded at $0.457053 with a daily trading volume of about $6 Billion. XRP is up 1.94% for the day.
Investors are anxiously waiting for the legal outcome filed against Ripple, creators of XRP, as the digital asset, recorded decent gains amid recent price market correction prevailing at the crypto-verse
Investors are holding firm on reports that revealed Christian Larsen, the Chairman of Ripple, has joined company CEO Brad Garlinghouse in passing a motion to dismiss the charges filed by the U.S. Securities and Exchange Commission.
In a court letter filed recently, the Chairman of Ripple's attorneys provided facts detailing their reasons on why the legal case against the Ripple executive should be struck.
According to the letter, the SEC has not been able to prove its evidence that the Ripple top executive"knowingly or recklessly provided substantial assistance" towards the violation of Section 5 of the Securities Act of 1933.
What you should know: At press time, XRP price traded at $0.457053 with a daily trading volume of about $6 Billion. XRP is up 1.94% for the day.
The crypto asset is currently the 7th most valuable crypto with a market value of $20.7 billion.
That being said, its parent company, Ripple is currently piloting a private type of open-source, public XRP ledger that allows Central Banks to create and manage a digital currency—enabling global interoperability.
Recall some months back, Ripple revealed to the public that it was informed by the U.S Securities and Exchange Commission that they had plans to sue the founders in a Federal civil court. Ripple and its top lieutenants further disclosed that they planned to fight such allegations.
Ripple has however significantly upgraded on how it manages XRP, relinquishing control of the future development of XRP over to independent developers.
But it still holds about 6.4 billion XRP directly and has an additional 48 billion XRP held in an escrow from which it periodically sells to the public.
It has so far distributed 45 billion XRP since its debut. That is different from the ways in which bitcoin is created and distributed.
Nairametrics | Company Earnings