CORPORATE ACTIONS: N1.15 and Cost pressures
Here is a rundown of corporate actions expected on the @nsecontact this week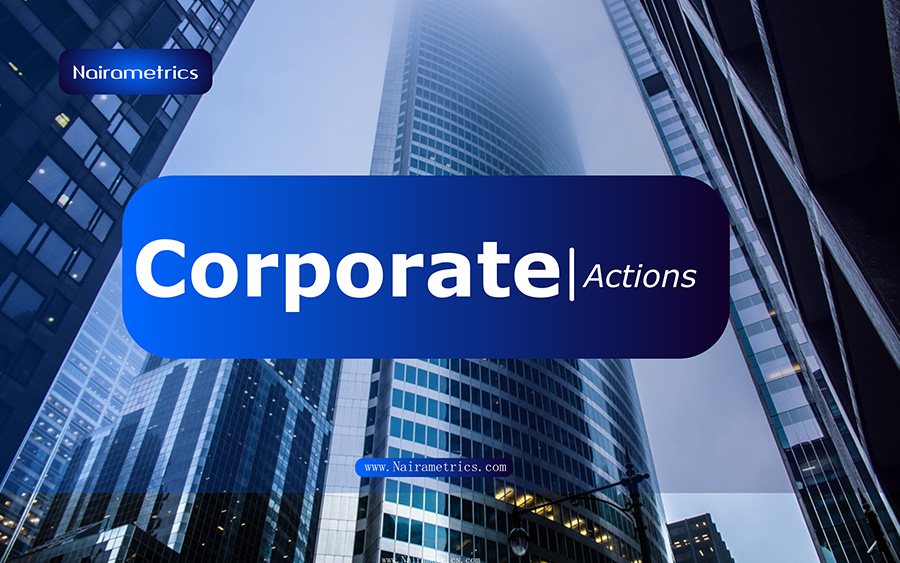 Corporate actions are decisions taken by companies' boards of directors or management teams, that could have impacts on the firms themselves or shareholders.  
Examples of corporate actions include the release of quarterly and full year results,  payment of dividends, closing of shareholders' registers, announcing qualification and Annual General Meeting (AGM) dates.  
Here is a review of corporate actions that took place last week, and those expected this week.  
N1.15
Forte Oil Plc released its first quarter 2019 results. The firm bucked the trend of poor Q1 2019 results by oil  and gas firms, as profit for the period increased from N2.9 billion in 2018 to N3.3 billion in 2019, on the back of profit from discontinued operations.  
The company also declared a special dividend of N1.15 from the proceeds of the sale of its subsidiaries.  
Forte also issued a separate notice stating it had concluded the divestment and sale of its shares in AP Oil and Gas Ghana Limited to Cobalt International Services Ghana Limited.
The divestment from Amperion and Forte Upstream is however subject to the fulfillment of conditions outlined in the share sale and purchase agreements, as well as contractual and regulatory approval.
Forte has signed a share sale and purchase agreement with Gbonka Oil and Gas Limited with respect to the divestment and sale of its shares in Forte Upstream Services Limited.
it has also entered into a share sale and purchase agreement wiht Calvados GlobalServices Limited with respect to the divestment and sale of its shares in Amperion Power Distribution Company Limited.
UAC rebounds
UAC Nigeria delivered a better performance in its Q1 2019 results, compared to its FY 2018 full year which saw a sharp decline in bottom line.  
Revenue went up by 12.5% to N18.3 billion. Profit after tax also increased by 66.3% to N995 million.  
UPDC continues to struggle
UAC's property arm UPDC however remains mired in losses. The firm recorded a N1 billon loss in Q1 2019, higher than the N899 million recorded in the comparative period of 2018.  
Fidson Healthcare
Fidson Healthcare returned to profitability in the first quarter of 2019, after recording a loss in FY 2018. Topline and bottom line however dropped, with profit falling sharply. Profit after tax fell by 40.2% to N144 million in Q1 2019, due to a spike in interest charges.  
Still good times at Caverton 
Caverton Offshore Support Group (COSG) continued its run of superlative results recorded in the 2018 financial year. For the first quarter ended March 2019, revenue and profit rose significantly.   
Revenue jumped by 84.4% to N8.3 billion. Profit after tax also rose sharply by 170% to N793 million. 
A flat Union
Union Bank had a slight drop in gross earnings in its Q1 2019 results, while profit after tax was flat year on year at N5.2 billion.  
Cost pressures  
Firms in the oil and gas space performed poorly in the first quarter due to a sharp rise in interest charges.  
Total Nigeria Plc recorded a N474 million loss in 2019 as against a N1.6 billion profit in 2018.  
Key factors behind its poor performance were administrative expenses which were up 27.2% to N5.6 billion in 2019. Interest charges also jumped 192% to N1.7 billion.  
Eterna Oil recorded a sharp drop in profit after tax by 33.1% from N510 million in 2018 to N341 million in 2019.  
MRS Oil Nigeria Plc recorded a N730 million loss after tax in Q1 2019 as against a N374 million profit recorded in the comparative period of 2018. Its finance costs rose by 19.5% to N118.7 million in 2019.
11 Plc also had the same pattern, with PAT dropping from N2.7 billion in 2018 to N2 billion in 2019. 
Do better
FBN Holdings held its Annual General Meeting this week. Shareholders of the company tasked the board and management to strive for a better performance in the current financial year.  
Appointments 
First Aluminum Plc announced the appointment of Callistus Udalor as Managing Director, following the resignation of his predecessor Elias Igbinakenzua. Udalor was a one–time Deputy Managing Director of the firm.  
Berger Paints has appointed Anjan Sircar as Managing Director/Chief Executive Officer and Tolulope Ogunkolade as Chief Operating Officer.  
NAHCO announced the appointment of Abimbola Adebakun as Independent Non Executive Director, Saheed Lasisi as Executive Director Business and Commercial, and Adeoye Emiloju as Chief Financial Officer (CFO) 
Delays 
Presco announced a further delay in the release of its FY 2018 and Q1 2019 results. The company attributed this to a delay in the conclusion of its biological assets valuation. The firm however expects the results to be released on or before the 31st of May.
AG Leventis also notified the Exchange and investing public its FY 2018 and Q1 2019 results were yet to be released as an audit was still ongoing. The company however assured it would release the results on or before the 30th of June, 2019.   
Corporate Actions for next week 
Sunu Assurances (formerly known as Equity Assurance) and Union Bank will hold their Annual General Meetings on the 7th of May, 2019.  
AXA Mansard and Wema Bank will be holding their AGMs on the 8th of May, 2019.  
Unilever and Champion Breweries will be holding theirs on the 9th of May, 2019. 
U.S stocks close lower, led by Apple, Boeing
Apple Inc, the most valuable listed company, plunged in value by 3.17% to close at $106.84.
U.S. stocks closed negative at the last trading session for the week, as heavy losses were recorded in the stock prices of Apple and Boeing, the world's largest airplane maker.
At the close in NYSE, the Dow Jones Industrial Average declined by 0.88%, while the S&P 500 index declined by 1.12%, and the NASDAQ Composite index lost 1.07%.
The worst performers at the just concluded trading session include Boeing Co which dropped by 3.81% to close at $161.14. Apple Inc, the most valuable listed company, plunged in value by 3.17% to close at $106.84.
READ: U.S dollar set to register its fourth consecutive monthly decline, longest losing streak since 2017
The number of U.S listed stocks that dropped outnumbered gainers at the New York Stock Exchange by 2023 to 1059, and 81 ended neutral. On the Nasdaq Stock Exchange, 1444 fell and 1433 advanced, while 59 ended neutral.
In an explanatory note to Nairametrics, Stephen Innes, Chief Global Market Strategist at AxiCorp, gave critical insights on the geopolitical indicators affecting U.S stocks.
"The US election risk, which is more about post-election uncertainty than the actual outcomes, is getting partially priced. There is virtually no expectation for stimulus, just as Trump is now pushing the Republicans to agree to a broader fiscal package (I am sure he is overseeing stocks)."
READ: Apple's market value cross $ 2 trillion
He also gave a detailed analysis of the present volatility noticed in the Tech stocks dominated Index, by saying:
"The Nasdaq, which plummeted 12% off its Sept. 2 record in just six days, has recouped some 3% of its loss, Nasdaq volatility has dropped and investors – retail and hedge funds – bought the dip.
"Still, they remain scarred, and while relative bargains are to be had, flows are not sponsoring those fire sales as last week's warning shot on concentration is something investors are not taking lightly.
READ: GTBank, Zenith Bank, MTN record gains, investors up by N50 billion
"The tech sector jolt continues to underscore a subtle change to investor behavior and one that could rear its ugly head again."
FBN Holdings, GTBank, Access Bank most traded stocks W/W
The Nigerian bourse ended the week cumulatively on a less impressive note.
The Nigerian bourse closed the trading session cumulatively bearish W/W, with the All Share Index dropping by 0.08% W/W, while market capitalization presently stands at N13.365 trillion.
A total turnover of 1.139 billion shares worth N12.692 billion in 17,109 deals was traded this week by investors on the floor of the Exchange, in contrast to a total of 1.226 billion shares valued at N10.842 billion that exchanged hands last week in 19,529 deals.
The Financial Services industry (measured by volume) led the activity chart with 870.300 million shares valued at N7.863 billion traded in 9,427 deals; thus contributing 76.43% and 61.95% to the total equity turnover volume and value respectively.
The Industrial Goods industry followed with 62.689 million shares worth N1.162 billion in 1,557 deals. In the third place was the ICT industry, with a turnover of 50.859 million shares worth N2.552 billion in 619 deals.
Trading in the top three equities, namely FBN Holdings Plc, Guaranty Trust Bank Plc, and Access Bank Plc. (measured by volume) accounted for 353.048 million shares worth N4.018 billion in 3,095 deals, contributing 31.00% and 31.66% to the total equity turnover volume and value respectively.
32 equities appreciated at price during the week, higher than 23 equities in the previous week.
31 equities depreciated in price, lower than 38 equities in the previous week, while 100 equities remained unchanged, lower than 102 equities recorded in the previous week.
READ: FUGAZ; Nigerian banks considered too big to fail
Top 10 gainers W/W
WAPIC INSURANCE PLC up 12.12% to close at N0.37
LEARN AFRICA PLC up 9.62% to close at N1.14
UNITY BANK PLC up 9.62% to close at N0.57
NEIMETH INTERNATIONAL PHARMACEUTICALS PLC up 9.55% to close at N1.95
IKEJA HOTEL PLC up 9.52% to close at N0.92
CAP PLC up 8.57% to close at N17.10
BERGER PAINTS PLC up 7.44% to close at N6.50
UNION BANK NIG.PLC up 7.00% to close at N5.35
CONSOLIDATED HALLMARK INSURANCE PLC up 6.90% to close at N0.31
PRESTIGE ASSURANCE PLC up 5.77% to close at N0.55
Explore the Nairametrics Research Website for Economic and Financial Data
Top 10 losers W/W
ASSOCIATED BUS COMPANY PLC down 16.67% to close at N0.30
NEM INSURANCE PLC down 9.78% to close at N2.03
TRIPPLE GEE AND COMPANY PLC down 9.09% to close at N0.40
UNIVERSITY PRESS PLC down 7.65% to close at N1.57
UNION DIAGNOSTIC & CLINICAL SERVICES PLC down 7.41 to close at N0.25
FCMB GROUP PLC down 6.36% to close at N2.06
CORNERSTONE INSURANCE PLC down 6.15% to close at N0.61
NIGERIAN AVIATION HANDLING COMPANY PLC down 6.10% to close at N2.00
NPF MICROFINANCE BANK PLC down 5.80% to close at N1.30
INTERNATIONAL BREWERIES PLC. down 5.71% to close at N3.30
READ: Tripple Gee: How a small company outlived its founder, 40 years and still counting
Outlook
The Nigerian bourse ended the week cumulatively on a less impressive note, amid Brent crude prices closing above $43/Barrel.
It should be noted that prevailing macros, like the exponential growth in the COVID-19 caseloads across the world, dampened the resolve of foreign investors in taking a significant part in Nigeria's stock market trading session, coupled with the prevalence of the dollar scarcity.
Buying pressure from notable financial brands, which include Union Bank, Unity Bank WAPIC, got neutralized by sell-offs recorded in FCMB, NEM, and International Breweries.
Nairmetrics envisages cautious buying, as market liquidity remains a growing concern among day traders.
Why Africans are fast using Bitcoin for payment transfers
In recent times, the use of Bitcoins for payment transfers has fast increased in the continent.
Africa has one of the fastest-growing crypto spaces in the world, with Africans sending about $8.0 billion worth of crypto, while receiving about $8.1 billion worth of crypto in 2019.
The increased usage by many young, educated Africans is a result of the economic instability and high bureaucratic processes by African banks for transfers. Bitcoin offers low-fee remittances and an alternative way to preserve and grow wealth.
READ: Why Nigeria's low tax collection rate can't be fixed just yet
Bitcoin is attracting many African millennials, as a report coming from the World Bank revealed that the global average cost of sending $200 remains as high as 6.8% in the first quarter of 2020, only slightly below the previous year. Sub-Saharan Africa continues to have the highest average cost at about 9 percent, yet intra-regional migrants in Sub-Saharan Africa comprises over two-thirds of all international migration from the region.
These high transactional costs have been countered with the usage of Bitcoin, where transaction cost can be as little as $5 to move over $10,000 worth of Bitcoins.
READ: Report shows Nigerians are spending less on cooking gas
In an explanatory note, Adebayo Juwon, FTX Country Manager, spoke exclusively to Nairametrics on why Bitcoin is fast gaining traction among Africans. He said:
"Bitcoin serves as a store of value, speculative asset, and means of payment, among other things. Bitcoin is personally owned by holders, which no government has authority over. Africans are getting the idea of Bitcoin, and using it more for transactions across borders with no third party involved, no long processing period, and low fees.
READ: CBN grants Greenwich Trust Limited operational license for merchant banking
"Using Bitcoin also gives direct exposure to USD, EUR, GBP etc. without stepping into the banking hall. This means bitcoin users in Africa can convert their crypto assets to a more stable currency. This makes local and international transfers seamless for bitcoin users from their mobile devices."
Africans are using Bitcoin to avoid expensive and heavily bureaucratic money transfer systems currently available. Many of them now rely on remittances for their daily activities, so any way of making the process more effective and cheaper would be of great benefit to them, and this is where Bitcoin comes in.
READ: Has the President erred in stopping CBN from funding food imports?
Ray Youssef, CEO and founder of crypto-exchange Paxful, emphasized the role that Bitcoin remittances play for African users on Paxful. He said:
"Some of our users in Africa are even building their own remittance businesses on top of Paxful. One man I spoke to who lives in South Africa but is originally from Nigeria saw how hard it was to send money back home, and started a business where he would take cash from other Nigerian expatriates, convert it into Bitcoin, send it to someone in Nigeria via Paxful, and have that person convert it into naira and deliver it to the person's family.''
READ: New crypto gains 1,633% in four days, catches Ethereum creator's eyes
Youssef cited some examples of how some Paxful users skipped bank transfers. He stated:
"In one instance, a user ran a business importing video games from China to sell in Nigeria. His bank wouldn't let him wire money to China, so historically he had to get U.S. dollars on the black market and somehow get it to China, usually via Hong Kong. But with cryptocurrency, he can sell bitcoin to receive CNY (Chinese Yen) in any major Chinese digital wallet and send it directly to his counterparty in China."
READ: Amaechi pleads with NASS to halt questioning of loan agreement with China
Moreso, Africans use Bitcoin as preservation for wealth and to hedge against inflation. For instance, Nigeria having an inflation rate of 12.58% shows that the value of the naira depreciates by that much every year, thereby eroding the purchasing power of many Nigerians.