How to train and retain talented staff as an SME
Executives at the @lsmp69 busines conference gave tips on how SMEs can train and retain talented staff.
The 69th class of the Lagos Business School Senior Management Programme (SMP) recently held a Business Conference titled Making Lemonades: Creating Opportunities in a Challenging Economy.   
As part of the conference, there was a panel session made up of Demola Odeyemi, an Executive Director at Guaranty Trust Bank, Imrane Barry MD Total Nigeria Plc, Yusuf Kazaure MD Galaxy Backbone Limited and Olivier Angot, Chief Financial Officer (CFO) IHS Towers.  
Members of the Class also seized the opportunity to ask the executives, tips on how to train and retain staff Especially as a small business.  
They each gave interesting responses.  
Yusuf Kazaure  
When you are a small organization, people have to do many things. As you grew bigger, people still must multi-task. They tend to create their own reality. As a leader, you have to create a culture. That culture is defined by your own values and how you approach life. If it's a good culture, it will be the same essence that will transmit itself through the lifetime of that organization. 
He continues
In most cases, the thing that retains high fliers is being involved in something new and novel If there is a project on board that gives them opportunities to acquire skills and knowledge, they won't have had, they won't make that move for money. This also translates into the company to do novel and new things.  
Demola Odeyemi  
Attrition is not that bad in any organization. It depends on who you are losing. If you are losing your top performers, that is when it becomes an issue. 
How do you keep people motivated? When you recruit very intelligent people, you must create opportunities for them to learn. Intelligent people have a very short learning curve. They learn and master skills and competencies within a very short period of time. You have to create that opportunity of job rotation. You don't keep a very intelligent person in a place for too long. They will become frustrated. 
He also gave tips for SMEs
For SMEs, the promoters play a lot of roles in that environment. If the promoter or proprietor does not bring to the table, the quality that he elicits, he will not get it. He or she must rise up to be a trainer. It is what you lay down in your organization, that people will follow. 

You must look for partnerships and collaborations. You can not do everything. When you see certain things that you want to learn from someone or another organization, go and meet with them. Send one or two of your staff to go and learn. They will learn and come back. 
Mistakes SMEs make  
The problem I see with a lot of SMEs is that the promoters are always looking for how to hold on to everything. When you do that, that key man risk occours. When you run a small company, make sure the knowledge is dispersed. Empower the younger people. Let them learn. Train them.  

Most SME people are too profit oriented. They want to make all the money themselves. When you set up a small company, give shares to those around you. The moment they have a buy in. You will see the way they will work for you.  The money they make, its success for everyone.  
 Imrane Barry  
The most difficult part of my career is when I receive a letter of resignation. People never resign for money reasons. Most of the time they resign because of a lack of consideration, or you don't know you are valued. Even if you see the way resignations are handled in companies, you can tell if that company is taking seriously the retention challenge. If you see a senior manager leaving a company, there is something wrong.  

As a leader, you have to give people the room to work with you and not for you. There are some bosses, knowing you will spend 8 to 12 hours a day with them, it's a motivation.  
In Total, we have launched an initiative, One Total: Better Together. It has become mandatory to do three things.  
Each and every staff is to become the ACTOR of his career. The position of career manager has been canceled, They are now career advisors. All the positions below the exco level will be advertised, and people will be FREE to compete internally. This applies locally and internationally. IT IS MANDATORY
He continues  
Someone from Nigeria, sitting somewhere in Calabar can apply for a position in Egypt. 
The second one is to turn managers to be coaches. You are held accountable for the progress of your people.  You will be judged and evaluated on that. This is starting immediately. 

The next one is turning your place into a great place to be. They went all the way to give budgets for the minimum you should spend on a yearly basis for get-togethers. These are things I had been doing personally. 
Olivier advocated for a long term view in hiring
Make sure when you hire, choose the right people that you need. Look at your company in five years time, and people
FG to seek international cooperation to curb illicit financial flows
FG hopes to strengthen international cooperation in curtailing the menace of illicit financial flows.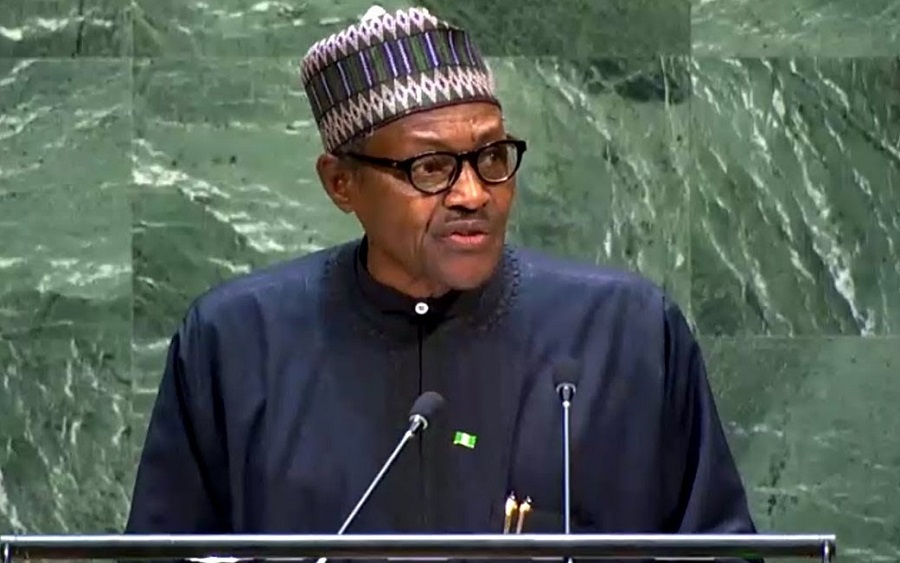 The Federal Government has said that there is a compelling need to strengthen international cooperation in the global effort to curtail the menace of illicit financial flows, as current international mechanisms are not strong enough.
This was disclosed by President Muhammadu Buhari in a speech delivered on his behalf by Vice President Yemi Osinbajo on Thursday at the Financial Accountability, Transparency and Integrity (FACTI) Panel Video Conference.
Osinbajo's spokesman, Laolu Akande, in a statement in Abuja, explained that the event was held at the sidelines of the ongoing United Nations General Assembly (UNGA).
The session also featured presentations by the immediate past President of the United Nations General Assembly, Prof. Tijjani Muhammad-Bande, and Amb. Mona Jul of the Economic and Social Council (ECOSOC).
He said, "The current international mechanisms for asset recovery are not good enough as can be seen in the amount lost to illicit financial flows and the length of time taken before the repatriation of just a small fraction is made.
"The FACTI Panel report can play an important role in bridging the expectations of source and destination countries as well as in harmonising the process of assets recovery and return. We agree with the Panel on the importance of having a balanced approach that reflects the situation in different regions and the priorities of different stakeholders. I believe that for the global aspiration to recover better from the impact of the pandemics and to yield any inclusive result, we must comprehensively address existing structures that make it impossible for countries to generate and retain a sizeable chunk of their resources. The success of the FACTI panel's final report will be measured by the clarity of its recommendations in support of global governance reforms."
According to the President, evidence suggested that the contemporary international tax system used a taxing rights regime that was not fit for purpose.
He added that the system makes combating tax abuses, especially by multinational corporations, difficult for most developing countries.
"It is my hope that the final report of the FACTI Panel would introduce proposals that would lead us towards a fairer international tax regime .I also hope that the report would contain proposals that would address the continuing advocacy for country-by-country reporting, open disclosure and automatic exchange of information on beneficial ownership, as well as eliminate financial secrecy jurisdictions and tax havens that facilitate base erosion and profit shifting. Profit shifting, harmful tax competition–the so-called "race to the bottom–and the taxation of the digital economy should also receive adequate attention and focus in the report of the Panel. FACTI Panel's report should assess how effectively we are meeting our commitments to combating the scourge and strengthening cooperation in dispute settlement and peer learning, particularly in assets recovery and return," he said.
Other leaders who spoke at the forum included the Prime Minister of Norway, Erna Solberg, the Prime Minister of Pakistan, Imran Niazi and Former President of Lithuania, and FACTI Panel Co-Chair, Dalia Grybauskaite.
Ibrahim Mayaki, former Prime Minister of Niger and FACTI Panel Co-Chair, also spoke at the event.
N4.16 billion unpaid lottery revenue recovered by EFCC
The EFCC has made a recovery of the sum of N4.16 billion for the government from lottery companies.
The Economic and Financial Crimes Commission (EFCC) has announced that it recovered over N4.16 billion for the government from lottery companies which they had refused to remit.
This was disclosed by the Acting Chairman. Mohammed Umar Abbah on Thursday evening, at the EFCC Headquarters during a meeting with Williams Alo of the Ministerial Task Force for recovery of unpaid revenues from lottery businesses.
The EFCC acting chairman said that the lottery companies were not forthcoming with remitting the revenue which had forced the anti-graft agency to intervene.
"We mapped out strategies which resulted in the recovery of over N1.16 billion from lottery companies, operating in Abuja with over N3 billion from their counterparts, operating in Lagos State," he said.
He added that the EFCC would continue with its cooperation with the Federal Government to ensure lottery companies owing the Federal Government are made to cough out revenues they owe the government, which has already been handed over to the lottery trust fund.
"Let me acknowledge the efforts of this Commission for the assistance it has rendered not only to the Federal Government of Nigeria but specifically to the lottery industry in Nigeria. It is in our record that the EFCC has assisted the lottery business in no small way, because a lot of recoveries have been made for us by the EFCC and the money recovered has always been handed over to the lottery trust fund," Mr. Alo said.
Presidency denies building rail line from Nigeria to Niger Republic
The Federal Government has denied plans to construct a rail line stretching from the country into the Niger Republic.
The Presidency has disclosed that the Federal Government is not constructing a rail line from Nigeria linking Kano-Dutse-Maradi into the Niger Republic, as it will only stop at the designated border point.
This follows the public outcry that greeted the Federal Government's announcement of the rail project.
The disclosure was made by the Senior Special Assistant to the President on Media and Publicity, Garba Shehu, through a thread of tweets on his official Twitter handle on Thursday, September 24, 2020.
Nigeria isn't building rail line into Niger but, only to the designated Border point.

— Garba Shehu (@GarShehu) September 24, 2020
He revealed that, based on the agreement reached between Nigeria and Niger in 2015 for the Kano-Katsina-Maradi corridor masterplan, the 2 countries agreed to build a rail line to the border town of Maradi.
In his statement, Garba Shehu said, "Nigeria isn't building rail line into Niger, but only to the designated Border point. An agreement between Nigeria and Niger in 2015, coordinated by the Nigeria-Niger Joint Commission for Cooperation has a plan for 'Kano-Katsina-Maradi Corridor Master Plan, (K2M)' as it is called.
"Going by this, the two nations would each build a rail track to meet at the border town of Maradi. Nigerian delegates to that meeting comprised officials from the Ministry of Foreign Affairs, National Boundaries Commission, Federal Ministry of Industry, Trade & Investment, Ministry of Agriculture and Rural Development, Water Resources as well as those of Kano & Katsina states."
Going further he said, "The objective of the rail is the harnessing of raw materials, mineral resources, and agricultural produce. When completed, it will serve domestic industries, and play the role of a viable transportation backbone to the West African subregion, starting with the neighboring Niger Republic, for their export and import logistic chain."
Nairametrics had earlier reported that the Minister for Transportation, Rotimi Amaechi, after the Federal Executive Council (FEC) meeting presided over by President Muhammadu Buhari, announced the approval of the total sum of about $1.9 billion, for the rail line contract and development of Kano-Katsina-Jibia that will terminate at Maradi rail line in the Niger Republic.
According to a media aide to the president, Ajuri Ngelale, the rail line is expected to connect the 3 states of Kano, Katsina, and Jigawa. It moves from Kano to Dambata, Kazaure, Daura, Mashi, Katsina, and terminating in Maradi, Niger Republic.