President Buhari reacts to INEC shifting 2019 elections
President Muhammadu Buhari, has appealed for calm following INEC's rescheduling of Presidential and National Assembly elections.
The elections which were billed to take place today, were moved to Saturday 23rd February, 2019 due to logistic issues.  Governorship, State House of Assembly and the FCT Area Council Elections will now hold on 9th March, 2019.
The President made this known in a series of tweets from his twitter handle.
I am deeply disappointed that despite the long notice given and our preparations both locally and internationally, the Independent National Electoral Commission (INEC) postponed the Presidential and National Assembly elections within hours of its commencement.

— Muhammadu Buhari (@MBuhari) February 16, 2019
https://platform.twitter.com/widgets.js
Many Nigerians have traveled to various locations to exercise their right to vote, and international observers are gathered.

— Muhammadu Buhari (@MBuhari) February 16, 2019
https://platform.twitter.com/widgets.js
INEC themselves have given assurances, day after day and almost hour after hour that they are in complete readiness for the elections. We and all our citizens believed them.

— Muhammadu Buhari (@MBuhari) February 16, 2019
https://platform.twitter.com/widgets.js
This administration has ensured that we do not interfere in any way with the work of INEC except to ensure that all funds were released to the commission.

— Muhammadu Buhari (@MBuhari) February 16, 2019
https://platform.twitter.com/widgets.js
While I reaffirm my strong commitment to the independence, neutrality of the electoral umpire & the sanctity of the electoral process & ballot, I urge all political stakeholders & Nigerians to continue to rally round INEC at this trying national moment in our democratic journey.

— Muhammadu Buhari (@MBuhari) February 16, 2019
https://platform.twitter.com/widgets.js
I, therefore, appeal to all Nigerians to refrain from all civil disorder and remain peaceful, patriotic and united to ensure that no force or conspiracy derail our democratic development.

— Muhammadu Buhari (@MBuhari) February 16, 2019
https://platform.twitter.com/widgets.js
I have decided to move back to Abuja to ensure that the 14.00 hrs meeting called by INEC with all stakeholders is successful.

— Muhammadu Buhari (@MBuhari) February 16, 2019
Presidency dismisses allegation of Osinbajo receiving N4 billion from recovered loots
The accusation was described to be an obvious campaign of lies and calumny.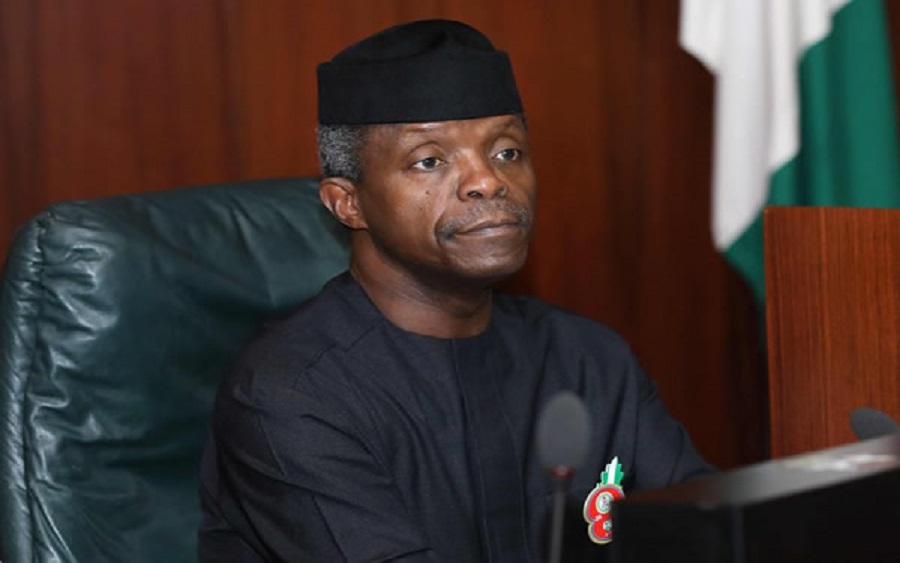 The office of the Vice President has reacted to a series of tweets accusing Professor Yemi Osinbajo of instructing the embattled acting Chairman of the EFCC, Ibrahim Magu, to release the sum of N4 billion out of N39 billion that was recovered from alleged looters. 
These allegations have been described as "false and baseless". 
READ ALSO: UPDATE: President Buhari appoints Prof. Gambari as new Chief of Staff
A statement that was signed by the Senior Special Assistant to the Vice President on Media and Publicity, Laolu Akande, said, "with all emphasis at our disposal, let it be firmly stated that these are totally false and baseless fabrications purposing to reflect goings-on at the probe panel investigating Mr Ibrahim Magu". 
Ibrahim Magu was relieved of his duties this week, after a probe was conducted on his activities as Acting Chairman of the nation's anti-graft agency. He has since been replaced with Mohammed Umar. 
READ MORE: Just In: DSS invites EFCC's Acting Chairman, Ibrahim Magu for questioning)
Meanwhile, the statement by the Presidency also complained about the recent rise in people being paid to "peddle blatant falsehoods" against the Vice President and says Mr Osinbajo "will not be distracted by these obvious campaigns of lies and calumny". 
The statement added that the online publications "being criminally defamatory in nature"  have been referred to law enforcement agencies for investigation. 
Explore economic research data from Nairametrics on Nairalytics
OFFICE OF THE VICE PRESIDENT

PRESS STATEMENT

VP @ProfOsinbajo WILL NOT BE DISTRACTED BY CAMPAIGNS OF LIES & CALUMNY pic.twitter.com/HjdGzEJVpI

— Presidency Nigeria (@NGRPresident) July 8, 2020
Minister of Petroleum explains reasons for subsidy removal
The Minister said it was unrealistic for the government to continue with the subsidy regime.
The Federal Government has explained the reason for the deregulation of the downstream sector of the oil industry. The government said that this was to ensure economic growth and development of the country.
This was disclosed by the Minister of State for Petroleum Resources, Timipre Sylva, in a press statement on Thursday, July 9, 2020, in Abuja.
Sylva said that it was unrealistic for the government to still continue with the subsidy regime, especially with the Premium Motor Spirit (PMS) otherwise known as petrol, as it had no economic value.
He asked Nigerians to ignore the misinformation and misguided comments that have been in the public space on the issue.
According to the Minster, ''It has become expedient for the Ministry of Petroleum to explain misconceptions around the issue of Petroleum Products Deregulation. After a thorough examination of the economics of subsidizing PMS for domestic consumption, the government concluded that it was unrealistic to continue with the burden of subsidizing PMS to the tune of trillions of Naira every year.''
"More so, when the subsidy was benefiting in large part the rich rather than the poor and ordinary Nigerians. Deregulation means that the Government will no longer continue to be the main supplier of Petroleum Products, but will encourage private sector to take over the role of supplying Petroleum Products."
READ MORE: DPR allays fears of possible looming fuel scarcity, says it has enough stock
He pointed out that in line with global best practices, the price of petroleum products will be determined by market forces. He, however, added that the government will continue to play its traditional role of regulation and ensure that it was not priced arbitrarily by private sector suppliers.
Sylva said that the regulatory function will be similar to that played by the Central Bank of Nigeria in the banking sector where they try to make sure that deposit money banks do not charge arbitrary interest rates on its customers.
The minister noted that the government has earlier revealed that an increase in crude oil prices would also reflect at the pump price of petroleum products.
Going further Sylva said, ''Indeed, one of the reasons we have been unable to attract the level of investments we desire into the refining sector has been the burden of fuel subsidy. We need to free up that investment space so that what happened in the Banking Sector, Aviation Sector and other Sectors can happen in the Midstream and Downstream Oil Sector.''
" We can no longer avoid the inevitable and expect the impossible to continue. There was no time government promised to reduce Pump Price and keep it permanently low. Let us, therefore, ignore the antics of unscrupulous middlemen who would want status quo ante to remain at the expense of the generality of Nigerians.," he added.
READ MORE: NNPC releases audited financial statements, refineries record losses of N154 billion
He disclosed that the deregulation policy will attract more investments into the oil sector, create more jobs and opportunities and free up trillions of naira to develop infrastructure instead of enriching a few Nigerians.
The minister noted that government who is mindful of the impact of higher PMS prices on Nigerians is working to roll out the auto gas scheme which will provide citizens with alternative sources of fuel at lower cost.
AFCFTA is a powerful tool for Africa's economic integration – ECA
The pandemic has given African an opportunity to review its poor healthcare infrastructure,
The Executive Secretary of the UN Economic Commission for Africa (ECA), Ms Vera Songwe, said the African Continental Free Trade Area (AFCFTA) is a powerful tool to accelerate regional and economic integration in Africa. 
The statement was made during a virtual panel by the African Union marking the Africa Integration for the Continental Free Trade Agreement. 
She urged that Continental Free Trade Agreement would be Africa's Marshall plan. Adding that nobody could have predicted the deep effects of the economic crisis on the continent.
"We need to talk about Africa and the AfCFTA. Our Marshall Plan is the AfCFTA. The AfCFTA is our plan, so let us take it and run with it.
 "The Marshall Plan for Europe was about 160 per cent of their GDP traded to bring back growth after the war," she said. 
She added that implementation of the AFCFTA, would help the continent have control of its economic future. She added that the UN Economic Commission for Africa forecasts African GDP would decline by 3.2% to -2.8% in 2020 due to the effects of the pandemic. 
(READ MORE: COVID-19: Take-off of Africa Free Trade Zone "AFCFTA" Postponed)
She stressed the need for a continental financial system integration to implement a mutual system of financial stability for sub-Saharan monetary cooperation, while also urging that Africa builds on progress made from implementing The Afreximbank Exchange Facility. 
 "We need to ensure that as we build the AfCFTA and trade integration, we begin to build stronger, much more robust monetary and fiscal systems that can ensure that as a continent we actually can work with each other in a more effective way," Songwe said. 
She also urged that the pandemic has given Africa an opportunity to review its poor healthcare infrastructure, citing countries like South Africa, Ethiopia and Morocco developing new healthcare systems. 
Songwe was joined on the panel by Mr Mukhisa Kituyi, Secretary-General of UNCTAD and Mr Benedict Okey Oramah, the President of the African Export-Import Bank (Afreximbank), Mr Wamkele Mene, first Secretary-General of the AfCFTA; Mr Chileshe Mpundu Kapwepwe, Secretary-General COMESA; and Paolo Gomes of AfroChampions. 
The panelist jointly agreed that the economic crisis due to COVID-19 was an opportunity for Africa to learn lessons on the needs for Industrial developments by producing its own pharmaceutical industry.