Peter Obi's antecedents suggest what he could do with the Economy
Peter Obi is not new to the Nigerian economic terrain.
The name, Peter Obi was unknown to most Nigerians, until March 2006, when the Court of Appeal announced him as the duly-elected Anambra State Governor. Since then, his approval rating by Nigerians has been high, even after leaving office as Governor in 2014.
Nairametrics takes a deep look at the man who has just been chosen as the running mate to the Peoples Democratic Party (PDP) presidential flag bearer, Atiku Abubakar. Just a reminder, if PDP succeeds in ousting the incumbent President Muhammadu Buhari, come February 16, 2019; Peter Obi is the man who will constitutionally be in charge of the Nigerian economy. Nigeria constitution empowers the Vice President to preside over the National Economic Council (NEC) as the Chairman.
Academic Career
The PDP presidential running mate bagged a B.A. in Philosophy from the University of Nigeria, Nnsuka in 1984, before attending a Chief Executive Programme at the Lagos Business School. He later took Mid Marketing and Changing the Game programmes at the prestigious Harvard Business School in Boston, USA.
The former Anambra Governor was also an Alumnus of the famous London School of Economics, where he took Financial Management/Business Policy courses. He was equally at the Columbia Business School in New York for a Marketing Management course among others. He also attended Oxford University, Cambridge University, Institute of Management Development, Switzerland among others.
Business/Banking Background
The Onitsha-born philosopher turned politician boasts of a very rich profile in the banking and corporate world. He has held several managerial positions in different firms and companies in the past. Notable among them are Next International Nigeria Limited, Guardian Express Bank Plc, Chams Nigeria Plc, Future View Securities, just to name a few. He rose to the pinnacle of his corporate career when he became the youngest Chairman of Fidelity Bank Plc.
Political Life
Peter Obi forayed into the Nigerian political arena when he contested for the Anambra State Gubernatorial election in 2003, but lost to Chris Ngigie. But he had to wait for three years, before reclaiming his mandate. He was impeached in November 2006 but also reclaimed his mandate through the Court of Appeal in February 2007.
The former banking chief was booted out of power with the 2007 general election, despite not completing his four-year gubernatorial mandate at the time of the election. However, for the third time, the 57-year old was returned to the Anambra Government House to finish his four-year tenure after winning the Supreme Court case challenging his removal.
He took over from Andy Uba, who had already been elected as the Anambra Governor in the 2017 general election. The UNN alumnus won a second tenure in office, as Anambra Governor in 2010 and ended his second term in 2014.
Economic Positions Occupied
He is not new to the Nigerian economic terrain, having served as the Honorary Special Adviser to President Goodluck Jonathan on Finance till May 2015. He was also a member of Jonathan's Presidential Economic Management Team until the regime was ousted by President Buhari in 2015. He was also the former Chairman of the Board of Securities and Exchange Commission (SEC) . He is still a member of the Nigerian Economic Summit Group (NESG) and the Nigerian Chartered Institute of Bankers.
Peter Obi has won several awards among which was the Sun Newspaper's Man of the Year (2007), Thisday Newspaper's Most Prudent Governor in Nigeria (2009), Champion Newspaper's Nigeria's Most Trustworthy Governor (2009), West Africa ICT Development Award for Governor of the Year (2010), Zik Leadership Prize (2011), Bill & Melinda Gates Foundation's Best Performing Governor on Immunization in South-East Nigeria (2012), Ezeife Leadership Foundation's Leadership and Good Governance Award (2012), Methodist Church of Nigeria's Golden Award on Prudence (2012), Business Hallmark Newspaper's Man of the Year (2012), Silverbird's Man of the Year (2013), The Voice Newspaper's Award for Outstanding Example in Leadership and Governance (2014), Champion Newspaper's Most Outstanding Igbo Man of the Decade (2014), Nigerian Library Association's Golden Merit Award (2014), and Catholic Diocese of Onitsha's Golden Jubilee Award (2015).
Economic Ideas
Peter Obi's tenure at the helms of affairs in Anambra brought tremendous growth to the state generally, with massive infrastructural development, accompanied by economic growth in different sectors of the state economy. His economic management of the state during his tenure as Governor brought out the attention of Nigerians on Anambra State.
On Wasteful spending, speaking at The Platform 2016, he spoke on how he managed to overcome the culture of waste through his personal prudence, saying he cut down the number of aides who accompanied him to Abuja only to wander around like they were afflicted with the curse of Cain. He said:
"It costs an average of N2 billion to run the office of the First Lady in every state in Nigeria. Multiply by 36. Nigeria can still function on its income if only we learn how to cut cost.

"We need to cut the cost of governance. No governor needs a house in Abuja; governors don't live in Abuja.

"Government house is not a restaurant, I told my cook to cook for only one person."
However, speaking on corruption, the ex-Governor recently said during an interview on Channels Television:
"I don't have any single property in this country outside Onitsha. If you see any property outside Onitsha and they say it belongs to Mr. Peter Obi, burn it!

"I cannot pay N250,000 for one night in a hotel. I wouldn't sleep that night. I will feel like I have been robbed."
In the area of increasing absolute poverty, he lamented that:
"Poverty is increasing, children out of school have moved from 10 million to about 12 million."
On rising debt, he accused the Federal Government of continuously borrowing rather than fixing the economy.
"You are borrowing money and the issues that it is supposed to affect are not coming down. In 2017 unemployment moved from 14.8 per cent a high rate which means more people have lost their jobs; the economy is shrinking."
Meanwhile, in the area of education, the Vice Presidential candidate said
"In a state in the North, the number of children that sat for the West African Examination Council (WAEC) is 128; a state that is about five million people. This is not acceptable."
As the unemployment rate soars, the PDP presidential running mate has this say:
 "Unemployment is worsening. Our unemployment ratio moved from 14.8% in 2017 to 18.8% this year. This means that more people have lost their jobs. We can't survive like this."
Can Obi salvage the struggling economy?
With his rich economic, political, business and academic background, Peter Obi is someone who perfectly understands the Nigerian economic terrain.
His performance in office as Governor was regarded by many as outstanding. His tenure at the helms of Anambra affairs brought tremendous growth to the state generally, with massive infrastructural development, accompanied by economic growth in different sectors of the state's economy. His economic management of the state during his tenure as Governor brought the attention of many Nigerians on Anambra State.
His rich antecedents in the business and corporate world may also be of great advantage to the Nigerian economy – if his party emerge victorious in 2019 – as he will be presiding over the National Economic Council.
However, the one particular fact to remember is that, the NEC, which consists of the 36 state Governors and the Governor of the Central Bank of Nigeria, is only there as a body to "advise the President". The de facto economic influence and power rest with the Economic Management Team of the President, which may not necessarily be led by the Vice President.
Nevertheless, the former Fidelity Bank Chairman might just be the man the Nigerian economy has been waiting for to put it on the path of growth and sustainable development.
Implications of CBN's latest devaluation and FX unification
This move portends significant implications for Nigeria's public and private sector.
The CBN devalued the naira by 5% at the end of last week, adjusting the official exchange rate to N380/$1  in a major move aimed at unifying the multiple exchange rate windows.
Whilst no official confirmation was issued by the apex bank, its website displayed the buying rate of N379/$1 and selling rate of N380/$1. Nigeria is clearly in a new exchange rate territory.
This move portends significant implications for Nigeria's public and private sectors. Since March when the CBN last depreciated from N307/$1 to N360/$1, there have been calls for further depreciation to at least close the gap between the official CBN rate and the more market-friendly NAFEX exchange rate. The NAFEX rate has traded between N385-390 in recent weeks.
READ MORE: Manufacturing sector in Nigeria and the reality of a "new normal"
Government Finances
For the federal government, devaluing the naira solves two major issues:
Firstly, it increases the amount available to share from the Federal Allocation (FAAC) between the FG and States.
Oil proceeds, which is a major source of revenue sharing for the government is deposited at the CBN and then converted to naira using the official exchange rate of N360/$1. The CBN's latest devaluation suggests more money for the government as the conversion rate is now N379/$1.
Government taxes that are priced in forex but converted to naira also stand to gain a major earnings boost.
Custom duties, petroleum profit taxes, and other charges will now be converted at an exchange rate of N379/$1 or whatever new rate the CBN chooses, assuming it will work within the NAFEX band.
A second issue the solves is the condition precedent towards obtaining a $3 billion world bank loan. The government applied for a world bank loan as part of its N2.3 trillion stimulus expected to be injected into the economy.
It is understood that a unification of the exchange rate is critical to the disbursement of the loan.
Whilst these are positives, the government will record cost escalations for some if not all of its capital projects and expenditure. From vehicle purchases to furniture and fittings we should expect a spike except the contracts are fixed-priced.
READ ALSO: Explained: CBN's powers to seize bank account of criminals
Private Sector
The impact of the latest devaluation will also be significant for the private sector.
While the private sector has recorded its own devaluation via the NAFEX and more recently the SMIS window, the impact of the CBN's latest move will still be felt.
Most private pubic partnership projects, contracts are priced using the CBN official exchange rate. The price will now change to N379/$1 at the least.
The latest move could also lead to a reopening of forex sale to BDC's which the CBN suspended in March as the Covid-19 pandemic ensued.
Sectors such as Power, Downstream Oil and Gas where the government has control over pricing will be significantly affected by the new price.
An example if fuel prices. With the exchange rate devalued again, fuel prices might increase if the impact of the exchange rate is reflected in the pricing template.
READ MORE: Expert simplifies FIRS' newly-introduced stamp duty
NAFEX versus Official Rate
It is not clear how the latest round of devaluation affects the NAFEX rate and other separate rates currently in use by the CBN. Whilst the disparity has been closed somewhat, we still do not know if these windows will be retained or if we will just have two major exchange rate windows, the BDC and the NAFEX.
Most critics of the CBN's forex policy prefer a uniform exchange rate that is floating or under a managed float system. The difference is that the CBN intervenes occasionally to ensure the exchange rate trades within its preferred band. It does this even if it means burning through its thin reserves.
We expect a string of circulars in the coming days which will perhaps douse some of the confusion providing needed clarity to the exchange rate situation.
Why Shoprite is "exiting" Nigeria
Shoprite's intention to divest from its Nigerian operations appears to be anchored on these factors.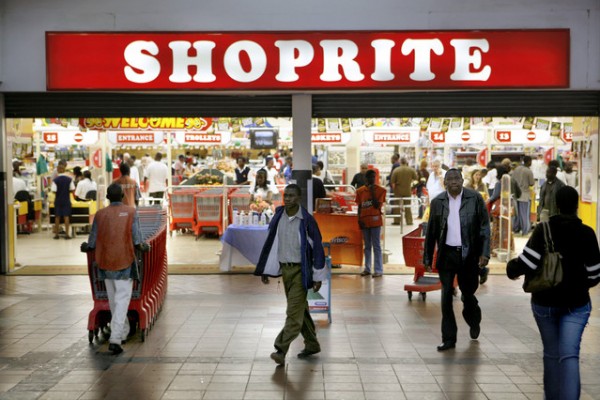 Africa's largest retail chain, Shoprite, announced on Monday that it is considering divesting from its Nigerian retail entity, Retail Supermarkets Nigeria, the owners of Shoprite Supermarket Nigeria.
Shoprite Nigeria operates about 26 outlets across the country and employs about 2000 employees who are 99% Nigerians. A divestment means it will sell its holdings to another investor who will continue to run the business.
According to the company, it has taken a decision to leave "following approaches from various potential investors" looking to invest in the Nigerian entity.  The group also said the decision is in line with its "re-evaluation of the Group's operating model in Nigeria" one of the 15 countries where it currently operates.
Shoprite also confirmed it has initiated a formal process to sell its entire stake in the Nigerian entity or a majority stake.
READ ALSO: Nigeria's retail outlets risk CBN sanction, debit N50 PoS fee from customers 
Why the exit?
Shoprite's explanation of its intention to divest from its Nigerian operations appears to be anchored on its investment expectation and operating environment. However, there could be more to it.
Firstly, Nigeria is a highly competitive space, where retail is the survival of the fittest. Following Shoprite's foray into Nigeria in 2002, the retail chain disrupted Nigeria's retail space giving ordinary Nigerians a taste of what it feels to shop with family and friends. But the fairy tale was not going to last forever. Previous retail outlets like Park n Shop rebranded and injected significant funds in their operations and business expansion. Park n Shop rebranded to Spar and has 14 outlets across the country. It only makes sense for them to divest having held on to the Nigerian operations for almost two decades.
Shoprite also competes with homegrown retail outlets especially in Nigeria's commercial city, Lagos State. Retail outlets like Ebeano, Citydia, and Adiba are now household names that are expanding rapidly across the state. There are also several neighbourhood supermarkets in the nooks and cranny of Nigeria's commercial capital piling pressure on Shoprite's market share. Shoprite does not disclose revenues from its Nigerian operations.
Shopping is also going online as evidenced by the growth in online shopping since COVID-19 hit Nigeria. Jumia, one of Nigeria's largest online retail outlets, revealed lower earnings in the first quarter of 2020. However, the company is optimistic of higher revenue growth in Q2, on the back of the COVID-19 lockdowns. Jumia had earlier noted that "we are seeing unprecedented demand to join the Jumia platform, especially for named brands. We believe those dynamics will help accelerate the shift toward online."
READ MORE: The deal that helped Lafarge stock gain 18% in less than a week
Local competitors like Spar and Ebeano already offer online shopping experiences and deliver goods to your doorstep. Shoprite's business model relies heavily on physical store visits.
As internet services become faster and cheaper, more Nigerians will rely on e-commerce to meet their shopping needs. Jumia has often struggled in this space and remains unprofitable. However, gravitation towards online shopping is inevitable and only those who have the capital and know-how will come out winners.
Jumia's competitor in this space, Konga, was also recently acquired by Zinnox. Konga was then merged with another Nigerian retail giant Yudula. Interestingly, Konga's model includes a combination of online and brick and mortar. The company has since been acquiring warehouses across the country as delivery points for its retail expansion drive.
Nigeria's harsh operating environment is also another major challenge Shoprite faces. The Muhammadu Buhari-led administration, through the CBN, has focused on supporting locally made goods by banning forex availability for the importation of local substitutes. This has negatively impacted the number of products Shoprite can sell and how many new shelves it can create per floor space. It also creates supply chain challenges, especially with locally produced goods.
Note that supermarkets sell on very thin margins. Therefore, the more products they can sell the higher the operating profits. Taxes are also higher and Nigeria's susceptibility to exchange rate devaluation is also a major challenge. The company makes money in Naira and must convert to dollars before converting back to Rands.
READ MORE: Exploring branchless, other digital forms of banking in a crisis
In 2017, when Nigeria last faced a currency crisis, Shoprite explained that it has about Rand 2.3 billion in cash locked up in Angola and Nigeria due to currency restrictions (inability to repatriate their money on time). Information reaching Nairametrics from traders suggest most foreign-owned investments in Nigeria are also facing "restrictions" due to limited liquidity in the NAFEX window.
Shoprite's less talked challenge is its Legal Issues. In 2011, Nigerian company A.I.C Limited (the Claimant), which is owned by Chief Henry Akande, issued a summons against Shoprite South Africa and its Nigerian subsidiary for an alleged breach of a joint venture agreement (the JV Agreement) allegedly concluded in 1998. The company took Shoprite to court claiming it breached on an agreement to set up the Nigerian arm of the business.
The Federal High Court then ruled in favour of AIC and awarded damages of $10 million against Shoprite in 2017. Shoprite appealed the judgment in the appeal court and lost again earlier in 2020. It is unclear if Shoprite has any plans to take the matter up to the Supreme Court. Could this be another reason why the owners are deciding to divest?
Whatever the reason is, officially, it perhaps makes sense for the company to exit its Nigerian operations in the light of the points mentioned above. Its Nigerian entity is worth 1.1 billion Rands (N24 billion) per its financial statements and could be worth more when the sale is eventually consummated.
Okomu Oil: Home is where the heart is
Okomu Oil has its tires on the track and is not slowing down.
Despite the teeming opportunities in the Nigerian agriculture industry, very few companies in the agro-space have been able to put in place the right processes and systems to create huge corporations out of farm produce. But there is one that is doing just okay. With a market capitalization of N71.5 billion, Okomu Oil Plc sits at the top of the industry.
While many companies, big and small, are losing their grip to the volatile global economic landscape of 2020 birthed largely by the COVID-19 pandemic, Okomu Oil has its tires on the track and is not slowing down. More so, it is not only proving COVID-19 wrong. Just a little over a year ago, Nairametrics had downgraded the company to a "Sell" owing to its faltering revenues. Today, with huge increases in revenue in 2 out of 2 completed quarters, Okomu Oil plc is laughing last.
READ ALSO: Okomu Oil half year profit drops by 57%
Winning by the Numbers
The company's Q1 financials had revealed a 65.2% growth in revenue as the company recorded a turnover of ₦6.9 billion in comparison to the ₦4.2 billion it made in Q1 2019. It had also recorded a profit after tax of over ₦2 billion in comparison to the ₦1 billion recorded in Q1 2019 resulting to a 101.4% jump in profits. In the second quarter of the year, its unaudited results reveal that the company has also increased its revenue. Turnover jumped by 50.6% from N4.3 billion in Q2 2019 to N6.5 billion in Q2 2020. This jump was not totally reflected in its profits after tax, however, owing to a significant increase in income tax from nothing in Q2 2019 to N462 million in Q2 2020. PAT was still able to increase by 30% to 1.9 billion in 2020. While there could be a myriad of reasons for the tax burden, the company's foreign operations are starting to rain on its parade.
Why it has to watch its foreign operations
Okomu Oil's wins can be directly attributable to its domestic activities, bolstered by devaluation impact and a larger market share as a result of border closures. A closer look at both its Q1 and Q2 financials reveal that a majority of its earnings have been from improved domestic operations. In Q1, the company witnessed a decline of ₦89.8 million in Q1 2020 from its 2019 figures, representing a drop of 12.5% in the comparative quarter. In Q2, its export revenue took an even greater plunge. Export sales experienced a 35.3% drop from N730.6 million in Q2 2019 to N473 million in Q2 2020. Domestic sales had increased by 67.9%.
READ MORE: GTBank declares closed period as directors meet July 22nd to consider H1 result
While this is reflective of the current economic activities, there are rising fears that it will keep relapsing. Failure to contain its activities will, sooner than later, have it in the same position as some of the equally large companies that had to eventually spin off ailing foreign activities. Reduced turnover is not the only diaspora-induced challenge being faced by the company. Its Q2 financials also reveal exchange losses of over N17 million for the quarter. Compared to the exchange losses incurred in Q2 2019 which stood at 1.2 million, it recorded a 1284% increase in foreign exchange losses.
In today's world, it is becoming increasingly tough for businesses to ward off the allure of foreign opportunities in trade as well as in the area of raising finance. While these, no doubt, have immense benefits to businesses, there's a long list of reasons why staying home and penetrating local markets has been underrated. Being able to source inputs locally, produce locally, and even finance locally is becoming even more of a luxury to Nigerian companies especially given the challenges around the relatively weak currency to stronger currencies.
Okomu Oil plc is creating a sustainable market in Nigeria and its efforts are paying off. Until order is restored, an increasing focus on its domestic market will do the company more good. That said, the company is a great stock to have in your investment portfolio to serve as a hedge against companies that have been negatively impacted by the pandemic. Its current share price is N74.95. While its price to book ratio is high at 2.2857 hinting that it could be overvalued, its EPS is stable at 7.33.