Meet the Oil and Gas billionaires of the Nigerian Stock Exchange
The oil and gas industry plays a critical role in Nigeria's economy. For the government, it is a key source of revenue. For individuals and businesses, petrol prices affect their daily spending and profit margins. 
The oil and gas industry plays a critical role in Nigeria's economy. For the government, it is a key source of revenue. For individuals and businesses, petrol prices affect their daily spending and profit margins. 
While the crude oil prices can be volatile, investors in this space have reaped billions in terms of dividends and capital appreciation.
This is Nairametrics' profile of billionaire investors in oil and gas firms listed on the Nigeria Stock Exchange.
Austin Avuru
Ojunekwu Augustine Avuru (also called Austin Avuru) holds a Geology degree from the University of Nigeria, Nsukka (1980), and a postgraduate diploma in Petroleum Engineering from the University of Ibadan, Nigeria (1992).
Avuru spent twelve years at NNPC beginning in 1980, where he held various positions including well site geologist, production seismologist, and reservoir engineer. In 1992, he joined Allied Energy Resources in Nigeria, where he worked for the next ten years as exploration manager and technical manager.
In 2002, Avuru established Platform Petroleum Limited and held the role of Managing Director until 2010, when his company merged with A.B.C Orjiako's Shebah Petroleum Development Company to become Seplat Petroleum Development Company Plc.
He has served as Managing Director, Chief Executive Officer, and Executive Director of Seplat Petroleum Development Company Plc since May 1, 2010.
Avuru holds 74,546,740 shares in the company. This amounts to N49.5 billion, as at our *cut-off date.
Femi Otedola
Femi Otedola is the controlling shareholder of Forte Oil, an oil marketing and power generation company. Originally a Nigerian subsidiary of British Petroleum (BP), Forte Oil has more than 500 petrol stations across the country.
The company owns oil storage depots and manufactures its own line of engine oils.
Femi Otedola holds 1,024,732,798 shares in the firm, in his personal capacity, and through several investment vehicles.
Going by the company's valuation as at April 6, 2018, this gives him a net worth of N40.9 billion.
Dr. Ambrosie Bryant Chukwueloka Orjiako
ABC Orjiako, as he is commonly known, obtained an M.B.B.Ch. degree in 1985 from the College of Medical Sciences, University of Calabar, Nigeria, then trained as a General Surgeon at the Lagos University Teaching Hospital. He later sub-specialized in trauma surgery and became a fellow of the West African College of Surgeons in 1996.
He went into full-time business in 1996 after eleven years of active medical practice. He co-founded Seplat in 2009 and became the Chairman, spearheading new business developments and fundraising, as well as providing leadership on strategy and stakeholder relationships.
He has served as a Non-Executive Chairman of Seplat Petroleum Development Company Plc since March 3, 2010. He is also the Chairman of Neimeth Pharmaceutical International Plc, which is also listed on the NSE.
ABC Orjiako has 47,251,325 shares in the company which are valued at N31.4 billion going by his shareholding, as at the cut-off date.
Mike Adenuga
Adenuga got an MBA at Pace University in New York, supporting himself as a student by working as a taxi driver. Adenuga, Nigeria's second richest man, built his fortune in telecom and oil production.
His mobile phone network, Globacom, is the second largest operator in Nigeria, with 37 million subscribers. His oil exploration outfit, Conoil Producing, operates 6 oil blocks in the Niger Delta.
Mike Adenuga has direct holdings of 103,259,720 shares and indirect holdings of 516,298,603 shares through Conpetro Limited in Conoil Plc. Conpetro Limited holds 74.40% of Conoil's issued share capital.
At Conoil's share price of N30.80 on our cut-off date, this gives him a net worth of N3.1 billion for his direct holdings. Indirect holdings have a value of N15.9 billion.
Wale Tinubu
Mr. Tinubu has a Bachelor of Laws Degree from the University of Liverpool, England and received his LLM from the London School of Economics, where he specialized in International Finance and Shipping.
He started his career with the family's law firm, where he worked on corporate and petroleum law assignments.
He has been Chief Executive Officer and Managing Director of Oando Plc since July 2001.
Wale Tinubu has a total of 2,857,483,572 shares in Oando Plc through his personal holdings, as well as Ocean and Oil Investments (OOIL) and Ocean and Oil Development Partners (OODP) respectively.
Wale's holdings in Oando Plc are thus valued at N17 billion.
Mofe Boyo
Boyo has a Bachelor of Laws Degree from King's College, University of London, England. He is the  Deputy Managing Director of Oando Plc.
Mofe Boyo has a total of 1,426,794,497 shares in Oando Plc held in his personal capacity, as well as Ocean and Oil Investments (OOIL) and Ocean and Oil Development Partners (OODP) respectively.
Mofe's total holdings are valued at N8.5 billion.
Macaulay Agbada Ofurhie
Macaulay Agbada Ofurhie graduated with a B.Sc Honours in Geology from the University of Ibadan in 1971. He has been a Non-Executive Director of Seplat Petroleum Development Company Plc since December 2009.
Mr. Ofurhie had an outstanding career in the oil and gas industry at the Nigerian National Petroleum Corporation (NNPC) and the Directorate of Petroleum Resources (DPR) where he served at various executive positions.
During active service, he was Managing Director of NPDC and Nigeria Gas Company, both subsidiaries of NNPC.
Ofurhie has 4,901,611 shares in Seplat Plc.  Going by our cut-off date, his shares in Seplat are worth N3.2 billion.
Sayyu Idris Dantata
Dantata studied Mechanical Engineering at the Morris Brown College Atlanta Georgia, USA.
Alhaji Dantata started his career as Director of the Engineering and Transport Division of Dangote Group.
Sayyu is a shareholder in MRS Holdings Limited. Corlay Global SA owns 100% of MRS Africa Holdings Limited. MRS Africa Holdings owns 60% of the shares in MRS Oil Nigeria Plc.
At our cut-off date, MRS Africa's stake is worth N4,3 billion. Sayyu is believed to hold a significant stake in MRS Africa Holdings.
Notables
While these investors may not be billionaires, they are worth keeping an eye on.
Dr. Charles C. Okeahalam
Dr. Okeahalam has two Masters Degrees in Economics and Finance respectively, and a Ph.D. in Econometrics from the University of London. He also received a D.Sc. in Financial Economics and Banking and Finance from the University of Exeter.
Dr. Okeahalam is a Co-Founder of the AGH Capital Group where he oversees all investment decisions, portfolio management, capital raising and trading operations.
He has been an Independent Non-Executive Director of Seplat Petroleum Development Company Plc since March 01, 2013.
Okeahalam holds 597,238 shares in Seplat Plc. Going by our cut-off date, this amounts to N391 million.
Basil Efoise Omiyi
Mr. Omiyi graduated with a B.Sc. in Chemistry in 1969 and obtained a post-graduate diploma in Petroleum Technology in 1970 from the University of Ibadan. Most of his career was at Royal Dutch Shell, where he spent 40 years in various roles, both in Nigeria and Europe.
Mr. Omiyi is currently an Independent Non-Executive Director on the Board of Seplat Petroleum and he holds 495,238 shares in the firm. This amounts to N329 million.
Afolake Lawal
Mrs. Lawal Afolake has an Upper Second Class (Hons) in Law (LLB) from Anglia Ruskin University, Cambridge U.K.
She is an alumnus of Obafemi Awolowo University and holds a Masters Degree in International Law and Diplomacy from the University of Lagos. She also obtained a Master's of Science degree in Corporate Governance and Finance from the Liverpool John Moores University in U.K.
She serves on the Board of International Breweries Plc and Eterna Plc (both companies are quoted on the Nigeria Stock Exchange).
Afolake Lawal is a co-founder of the GTI Group alongside her husband and she is currently the Group Executive Director with over 15 years' wealth of experience in Investment Banking, Corporate Governance, and Business Strategy.
She is a certified pension practitioner and an associate member of the National Institute of Marketing of Nigeria (NIMN).
Afolake Lawal is a Non-Executive Director of Eterna Oil and Gas Plc. She has a total of 49,902,892 shares in the company through her personal holdings, GTI Capital Limited and GTI Securities Limited. At the stock's price of N6.29 on our cut-off date, this amounts to N313 million.
*Cut off date used for shareholding valuation is April 6, 2018.
Meet Aig-Imoukhuede, the lawyer-turned-banker who turned an unranked bank into a tier-1 bank  
A switch in career path would normally require some sort of retraining, but not for Aig who learned on the job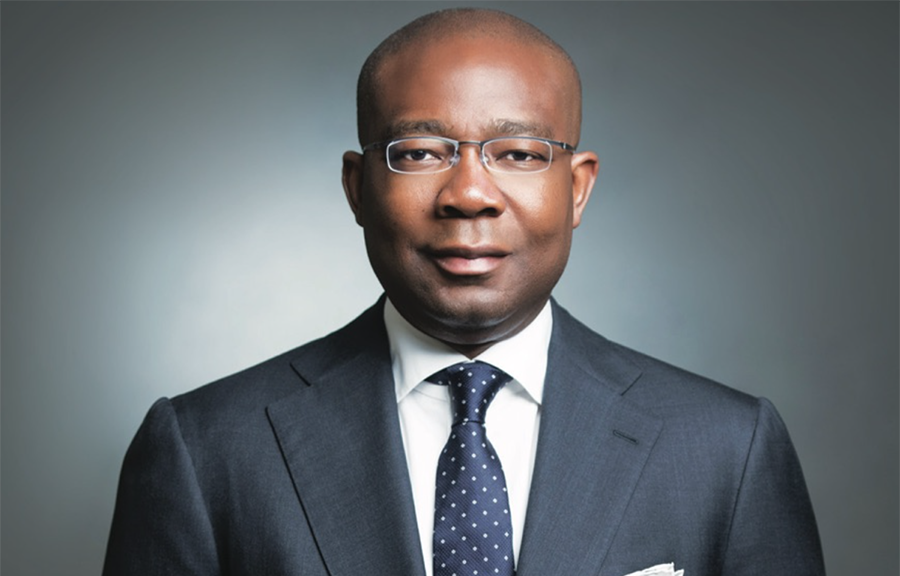 After, thirteen years of operations, Access bank still grappled with capitalization and corporate governance challenges until Aigboje Aig-Imoukhuede stepped in with his team. Almost 2 decades later, the bank's assets have grown unimaginably, and the bank which was once ranked 65 is now ranked among the top 5. Meet the man who led the team that changed the narrative. 
Aigboje Aig-Imoukhuede was born on 24th of September 1966 in Ibadan, present-day Oyo State, though he hails from Sabongida-Ora, present-day Edo State. He had his early education in Kaduna and later in Lagos State, before enrolling for a degree in law at the University of Benin, Edo State, Nigeria.
Early in his life, Aigboje had decided that he was not going to work with the civil service. Both of his parents were civil servants – His mother was the first curator of the National Museum of Nigeria after independence, and his father later became the Minister for Culture. He would recall that this was a period in Nigeria where the best talents went into the civil service to pursue a career.
However, the military's entry into the civil service turned things around as they did not seem interested in investing much there. "For people like me, I saw the impact on great men and women, and the almost decimation of their relevance and importance of their contribution to the governance, and I decided that I was not going to work for the government," Aig-Imoukhuede said.
READ MORE: Oil firms' debt status: How it affects Nigerian banks
Having struck out what was then the most viable option for the best talents, Aigboje had to decide where he wanted to pursue a career. Multinationals were among the best companies in the private sector at the time, and the idea of working at the helm of one of them held appeal for the young Aig, and he later stated that his decision to study law was based on his observation that the foremost multinationals were then headed by lawyers.
"I felt that law was a good way to get into the hallowed boardrooms," he later said.
In 1987, he was called to the Nigerian Bar, and served his compulsory National Youth Service Corps, working as a lawyer with Chase Merchant Bank during his NYSC year. Owing to stories he had previously heard from friends who had experience in the banking sector, he had been encouraged to work with the bank and he soon got involved in core parts of the business of banking. In his words, "Very soon I discovered that I enjoyed making deals more than doing legal work so I made the transition to core banking."
Lawyer-turned-banker
The switch in career paths would normally have needed some sort of retraining but not for Aig. He had to learn on the job, and due to his efficiency in getting things done, he was not the kind of staff the management was willing to allow to go for any prolonged training.
"I was doing things at the age of 22, that most people did when they were 35 to 40 years. My life has been one where people look at my talent and basically, put me at things," he said while speaking at the OXFORD Business Africa forum 2019.
READ MORE: Nigeria confirms no plans for fresh Eurobond issues
Having shown great skills in closing deals, he joined Guaranty Trust Bank as a pioneer staff, driving his career over the next decade to become a top executive there. He, thus, had the best point grooming his skills in what had become one of the best banks in Nigeria.
Despite being an Executive Director with enough challenges on his plate, Aigboje wanted more. He was both restless and dissatisfied, despite having a career most people would break an arm for.
He did not figure out the missing link until he went to the Harvard Business School at the age of 32 years, for an Executive MBA.
At this time, he read the book Buyout, written by Rick Rickertsen a corporate buyout specialist. It was a Eureka moment for Aig, where he realized, "I wanted to become an owner-manager."
There and then, he resolved to buy a bank upon his return to Nigeria.
Founding Access Bank
Buying a bank turned out to be more difficult than was envisaged. Although Aigboje had set his eyes on the top-tier banks, he found that even after pooling resources with his trusted partners, they still could not afford to buy controlling shares.
READ MORE: Bank loans not main funding option for Nigerian MSMEs -PwC
They eventually had to move down the rung, and look for something they could afford.
"We were both worth about two million dollars, and even then, our $2 million plus $8 million worth of leverage got us 52% of the bank," Aig recalled.
Access Bank was incorporated on February 8, 1988, as a privately owned commercial bank and commenced business operations on 11 May, 1989 after obtaining its licence. It later converted to a public limited liability company on 24 March, 1998, and by November of the same year, was listed on the Nigerian Stock Exchange.
READ MORE: Banks push customers towards self service in the "new normal" 
Dealing with several boardroom squabbles in its years of operation, and the challenges of undercapitalization based on the apex bank rules, Access bank was then rated number 65 among Nigerian banks.
"I was betting my financial future and that of my family on this move, but I had a burning desire to transform our bank into a world-class financial services provider. What was more important to me was that this was the beginning of something, but not the end. I was going to buy the bank but I had no plans to tie my life around the bank so I knew we needed a framework for continuity.  I wanted it to continue irrespective of what happened to me" he later said.
Having recapitalised the bank, the team had a 13-point plan to turn around the fortunes of the bank, and have it listed as one of the top 5 banks in the next 5 years. This became the aim of the team led by Aigboje as pioneer MD.
READ MORE: Nigeria's tier-1 banks pay N29.8 billion worth of taxes in Q1 2020
Though they did not meet this target, in 2006 exactly 5 years after recapitalising the bank, Access Bank won the Thisday 'most improved bank' in Nigeria, and was classified by Augusto & Co, a respected rating agency, as a tier 2 bank alongside Diamond Bank, Afribank, Fidelity Bank, Bank PHB and the Nigerian International Bank (Citibank).
The bank also expanded into other African countries including Gambia, Cote D'Ivoire, Democratic Republic of Congo, Rwanda, Zambia and Sierra Leone.
Notwithstanding, the change in ownership and management of the bank was visible in the balance sheet from the first year. In 2002 alone, the bank posted an impressive N1 billion profit before tax, much more than the cumulative profit made by the bank in the previous 12 years.
READ ALSO: Unity Bank: Repositioned to grow profits, lending to the real sector
This also marked the beginning of what would be a six-year record triple-digit growth trend. Similarly, earnings per share had rebounded to 21 kobo from a negative 2 kobo position, leading to a declaration of a 5 kobo dividend to shareholders for the first time in three years.
When the team embarked on its first capital raising exercise in July 2007, it turned out very successful with an oversubscription of over 300%. The public offer comprised an Over-The-Counter GDR placement of US$250 million which was similarly oversubscribed by 700%.
Access Bank today is now the largest bank in Nigeria, and Africa's leading bank by customer base. It has a network of more than 600 branches and service outlets, across three continents, 12 countries and 36 million customers.
Good times!
READ MORE: France's Orange move into Nigeria spells trouble for resident Telcos
Reflecting back, Aig would say that his experience in Chase Merchant Bank prepared him in advance for the task of owning and running a bank.
"One thing you will find about many of the men who have founded great banks in Nigeria is that they have worked for banks that crashed. That way, you learnt what not to do in banking," he said while speaking at the presentation of Jim Ovia's Africa Rise and Shine.
He recalled also how Jim Ovia, founder of Zenith bank, had advised and mentored him when he took the driver's seat at Access bank, and stated that this played a great role in the success of the bank.
Leaving Access bank for higher call
After 12 years at the helm, Aig handed over to co-founder, Herbert Wigwe as MD.
Leaving the bank gave Aig the time to pursue other passions. He founded Coronation Capital Nigeria Limited, an Africans focused private equity fund manager, whose aim is to invest and create value for multiple stakeholders who believe in Africa. He also founded the Africa Initiative for Government (AIG), a non-public institution established as a catalyst for high public sector performance in Africa, and is the chairman.
He has won many awards including the EY entrepreneur of the year.
Apart from his philanthropic ventures, he sits on many boards including Marina Securities Ltd, Global Business Coalition on HIV, and Petralon Energy Ltd.
READ MORE: Nigeria's tier-1 banks earn N18.4 billion from account maintenance charges in Q1 2020
He is an alumnus of Harvard Business School Executive Management Programme and graduated as Class Speaker PMD 75. He has also attended several other business schools and institutes including, the Citicorp Institute of Finance, Euromoney Capital Markets Bootcamp, and IMD Lausanne, Switzerland.
He is a member of the sub-committee of the Banker's Committee on Professional Ethics, Harvard Business School Association of Nigeria, as well as on the boards of FATE Foundation where he assists in inspiring entrepreneurial driven youths to realize their potential. He is also a Fellow of ASPEN Leadership Initiative.
He is a Commander of the Order of the Niger (CON), and has also won the National Productivity Order of Merit Award in 2009.
Download the Nairametrics News App
He is a member of the Presidential Committee on the establishment of the African Investment Bank, a honourary member of the Chartered Institute of Bankers of Nigeria, and a Governing Council member of the Financial Institutions Training Centre.
Aigboje is a pastor of the Promised Land Ministries in Lagos, and is married to Ofovwe Aig-Imoukhuede; they have four children together.
Note: Information was sourced from here, here, and here.
Meet the new Co-CEOs of Tizeti Network
Kendall Ananyi voluntarily relinquished the position of CEO of Tizetti Network limited, Ifeanyi Okonkwo and  Patricia Aiyedun will hold the fort pending the outcome of the investigations.
The scandalous drama, which commenced on June 3, 2020, with a tweet thread from Kelechi Udoagwu, co-founder of Skrife, eventually forced Kendall Ananyi, founder and CEO of Tizeti Network limited (also known as wifi.com) to step down on Monday, June 8, 2020. The decision was not taken because he is guilty as charged but to allow investigations into the sexual harassment allegation.
With Ananyi voluntarily relinquishing the position of CEO, his co-founder – Ifeanyi Okonkwo, Tizeti's Chief Operating Officer (COO) and Patricia Aiyedun, its Chief Financial Officer (CFO), have been announced as the co-CEOs who will hold the fort pending the outcome of investigations.
Let's learn a little about the duo, who will now pilot the affairs of wifi.com.
READ MORE: Tax reform, policy uncertainties to cause oil drop in Nigeria, WoodMac warns
Patricia Aiyedun
Just like Ananyi, Patricia Aiyedun worked with PricewaterhouseCoopers for over 13 years. She served as a Senior manager, Senior Associate and Experience manager at different times, and her years at PwC accounts for the most part of her professional accounting and financial management experience. She also had a brief stint at Diamond bank as an executive trainee.
Patricia Aiyedun obtained her first degree from the University of Ibadan. She has also acquired several other certifications and trainings since then.
READ MORE: Profiles of the men who determine your internet experience
She obtained Technical Skills Training at PwC including the Go Audit trainings, Business Control Matrices, Global Best Practices, Petroleum Academy, Flow-charting with Vision, and other leadership, and team building.
She also participated in soft skills trainings such as Management Bytes, Presentation, IFRS, among others.
She is a member of the Institute of Chartered Accountants of Nigeria (ICAN), as well as the Association of Chartered and Certified Accountants (ACCA).
— Tizeti Network (@tizeti) June 8, 2020
---
Ifeanyi Patrick Okonkwo
Ifeanyi Okonkwo is a telecommunications expert and has been in the industry for over 14 years. Before co-founding Tizeti, he worked with prominent telecom firms such as Blackberry and Eircom.
He obtained his first degree from the University of Benin, Edo state, and later an MSC in Quality Management from the University of Sailford.
Okonkwo has a varied work experience, starting with a 21 months experience with Eircom in Dublin, Ireland as the Customer Support/Product training officer. He went on to work in Vertex Data Science, Manchester, United Kingdom as the Customer Service Advisor.
READ MORE: 7 female executives under 40 in FinTech
He returned to Nigeria in 2009 as a Training Executive in TertiaryDNS Limited, and later went to work for Blackberry in 2012 as the Training Manager, West Africa.
He co-founded TIzeti in 2014 to provide high-speed broadband internet services in Nigeria, and also provides public Wi-fi Hotspot to locations across Africa. He became the Chief Operating Officer (COO) supervising all departments at Tizeti including the most critical ones, IT, Marketing, Sales, Finance.
He has now stepped in as co-CEO after Ananyi step-aside move to allow investigations take place.
The allegations 
The issue of sexual harassment has dominated the social media landscape in the last couple of weeks, and at the height of it, Kelechi Udoagwu took to her handle @anti_ratrace to recount an experience she had with Ananyi during her time as Entrepreneur-in-Training at the Meltwater Entrepreneurial School of Technology (MEST).
Ananyi was one of the guest speakers during the program, and according to Udoagwu, he was supposed to offer her advice and mentorship in her start-up journey.
READ MORE: COVID-19: Lagos receives N200 Million, 5 ambulances from BUA Foundation
Udoagwu is now the co-founder of Skrife, after meeting her cofounder during the MEST programme. Skrife is an online content development platform she launched in 2015. She also served as MEST Africa's Head of Communication shortly after.
Her first tweet did not disclose the name of the person involved, but appeared to give enough pointers. There were other responses in the thread to also suggest that some others might have suffered a similar fate, but kept quiet for fear of what would become of their careers if nothing came of it.
In response to his denial tweet, which he eventually deleted from his handle, Udoagwu sent another tweet, this time a series of pointed questions directed at him.
He is yet to provide answers to the question. Meanwhile, MEST Africa replied to the thread, promising to stand behind her if she chooses to take legal action.
READ MORE: Dangote Sugar appoints new Chief Operating Officer
It said, "We have zero tolerance for sexual harassment and assault at MEST and within the MEST community. We will stand behind you and help escalate action if you wish."
There were pressures from several industry big-shots asking Ananyi to give room for his co-founder to step in, in order to avoid upsetting the shareholders who have entrusted their funds under his management. This culminated in a statement from the company issued on Sunday evening, announcing the new co-CEOs.
---
About Kendall Ananyi 
Erstwhile CEO Kendall Ananyi has a Masters in computer engineering from the University of Victoria, Canada, and over 15 years' experience in Telecommunication and Software. He has also worked in various notable firms including Microsoft Canada, Pricewaterhouse Coopers. He is said to have in-depth knowledge of wireless networking, project management, and software experience.
Stocktaking: Ebenezer Onyeagwu's year as CEO of Zenith bank
Today marks one year since Ebenezer Onyeagwu became GMD, and this article seeks to highlight strides achieved in the last one year.  
On June 1, 2019, Ebenezer Onyeagwu assumed the position of Group Managing Director/CEO of Zenith Bank Plc, replacing Peter Amangbo whose 5-year tenure ended the previous day.
According to the bank's official statement, his appointment was in line with the succession strategy of grooming leaders from within. Onyeagwu, at the time, already had almost 30 years' banking experience, with 17 years spent in Zenith Bank, so if anyone knew the bank well enough to take up the position, it surely would have been him.
He had served as Executive Director, General Manager, Deputy General Manager and Senior Manager, and had basically covered all of the bank's departments, from Financial Control and Strategic Planning, to Risk Management, Retail Banking, Institutional and Corporate Banking Business Portfolios, IT Group, Credit Administration, and Treasury and Foreign Exchange Trading,
Today marks one year since he became GMD, and this article seeks to highlight strides achieved within that period.
Coming in at the end of the second quarter, the impact of Onyeagwu's leadership would first be seen in the Q3 results. When the results were released sometime in November, the first thing that was obvious was that gross earnings increased by 4% to N491.3 billion when compared to Q3 of the previous year where the group recorded gross earnings of N474.6 billion.
(READ MORE: GTBank, Zenith Bank, Nestle emerge Renaissance Capital's top stock picks)
With the expansion of channels and platforms of services, fees from electronic products doubled to N35.3 billion from N17.6 billion in Q3 2018. Profit Before Tax (PBT) grew by 5% from N167.3 billion in Q3 2018 to a record N176.2 billion in Q3 2019.
The conclusion at that point was that the group had applied cost optimization strategies and aggressive retail banking to get the results it was showing. Earnings Per Share (EPS) also grew by 5% from N4.58 in Q3 2018 to N4.80 in Q3 2019.
The group increased its share of the industry deposits, with customer deposits growing to N3.95 trillion from N3.69 trillion.
All of these gains would be consolidated by the end of 2019 when the Group released the FY 2019 results.
Compared to FY 2018, the Zenith Bank Group recorded 5% growth in gross earnings from N630.3 billion to N662.3 billion, with fees on electronic products growing by over 100% from N20.4 billion in 2018 to N42.5 billion in 2019.
Total assets also increased by 7% from N5.96 trillion to N6.35 trillion, and Earnings per Share (EPS) grew 8% from N6.15 to N6.65 in 2019. Profit before Tax increased, by 5% from N232 billion in 2018 to N243 billion in 2019.
The group increased its share of the market as it secured more customer deposits across the corporate and retail space, with deposits growing by 15% to close at N4.26 trillion. The strategy, according to the bank's report, was efficient cost management while employing digital innovation and digital assets to expand retail franchises.
(READ MORE: Zenith Bank clears air, denies binding offer to acquire any bank)
Among all five tier 1 banks, Zenith Bank Plc registered the highest profit after tax, which also increased from N193.42 billion in 2018 to N208.84 billion in 2019.
The Q1 2020 result was released on April 29, and again, there was an all-round improvement compared to Q1 2019. Gross earnings were 6% higher than last year's first quarter (N158.1 billion in March 2019 to N166.8 billion), Non-interest income practically exploded by 43% (from N32.7 billion in Q1 2019 to N46.6 billion in Q1 2020).
Profit before tax improved by 3% from N57.3 billion in Q1 2019 to N58.8 billion in Q1 2020.
Customer deposits increased by some N200 billion in the quarter, increasing the total customer deposits from N4.26 trillion in December 2019 to N4.46 trillion by the end of the first quarter of 2020.
As with other banks, the COVID-19 pandemic posed challenges for Zenith bank, but as contained in the report, the bank activated its business continuity plan, while deploying enhanced digital channels to handle the increased volumes of customer transactions.
It is clear to both shareholders and board management, at this point, that picking an MD from within the existing structure definitely paid off.  Currently, using Profit after tax, market share value, and earnings per share, one can say that Zenith Bank is cruising at the number one position among Nigeria's top banks.