Here Is What Happened When Money Stopped Flowing Into MMM South Africa
All that glitters….
Nigerians have recently been introduced to the popular MMM scheme. The controversial scheme who most "savvy investors" refer to as either a ponzi or pyramid scheme has garnered a lot of support from those who participate in it. Operators of the scheme in Nigeria have also not been ashamed to defend it vehemently despite the warning of the Security and Exchange Commission (SEC) that it did not recognize such a scheme.
It's quite easy to understand why a lot of people defend this scheme. Firstly, it is highly profitable and very easy to understand. All you need to do is deposit money into someone's account and then wait patiently for one more for someone else to deposit money into yours with an interest of about 30% in one month. No investment or business out there can beat such return.
The second reason of course is the fear that it could actually blow up if the media and critics in the social media continue to write negatively about it. This is because the scheme relies heavily on new incomers to sustain so the more circumspect  people are to invest, the higher the rate of failure for the scheme which could mean millions of naira lost for early investors.
So what does it look like if this scheme fails? Luckily it is easy to find out. MMM is new in Nigeria but not new in Africa or indeed the world. A trip down to South Africa provides us an idea of what could happen if things go bad and early investors stop coming.
---
Just a few months ago (March 2016), MMM crashed in South Africa, forcing the scheme to reset. As such, members of the scheme who had invested and were awaiting their returns lost millions of rands. According to this article from a South African Website Fin24. Here is the full article as culled from the website including comments from frustrated investors.
MMM resets system causing panic among members

Cape Town – MMM SA members stand to lose thousands of rands after their accounts were frozen and the mavros points system was reset due to a lack of new money entering the alleged pyramid scheme.

Anonymous leaders of the South African wing of the alleged Russian pyramid scheme blamed "media panic" for the reboot on April 30.

MMM SA told members: "We have to declare a restart and start all over again. We have no choice."

MMM members have voiced their concern on social media, with one claiming he is set to lose R30 000.

Facebook user BM Abinet said the last time he checked he had 35 798 mavros (which is equivalent to the rand currency), "but now the system says my old mavros is 5 798, so where's my R30 000?"

MMM SA told members that all mavros from before April 30 were frozen and were now called "old mavros" and that "any operations with them are impossible".

"With the development of the system, we will send 10% of total input to pay back the 'old' mavros.

"According to the experience of other countries, we can definitely say that in the normal course of events all the old mavros debts will be paid off in about six months."

It said "new mavros (mavros bought from the moment of this announcement) are introduced. You can use them on a common basis to 'acquire' and 'withdraw' them at any time."

"We will quickly pay off 'old' mavro debts, no doubt about it. You just have to wait."

The same message was given to another alleged SA pyramid scheme Kipi, which last paid out "dreams" to its members in 2015. The system is very similar to MMM, but instead of "donations", it uses "dreams".

Kipi, also known as Mydeposit241, is one of several schemes under investigation by the National Consumer Commission. Others include WorldVentures, Make Believe, NMT Investments, Instant Wealth Club, Sikhese (Pty) Ltd and Wealth Creation Club.

Facebook user NK Njokweni wrote in April 2016: "Talk about Kipi because people are waiting for their money since December."

MMM SA members are promised between 30% and 40% in returns for paying other people money on request. This donation model has been described as a pyramid scheme by most financial experts and is being investigated by the Directorate for Priority Crime Investigation (Hawks) as such.

It has also being described as a stokvel, which it is not, according to the National Stokvel Association of SA. It is not regulated by the SA Reserve Bank or any other regulator, so members who lose money won't be able to seek justice.

However, the Hawks has requested the public to report the scheme to the police should they have a complaint. This will assist them in their investigation.

Facebook user EN Zamadlomo said: "What's up with MMM with inability to pay our money, but want us to provide help how? Is MMM going down?"

Facebook user IO Oluhle said: "Something is not right. What's going on? Where is our money? My dashboard is wiped clean."

Facebook user I Maja said: "Mine too is wiped out. MMM systems have been frozen. Is it the end of MMM?"

Facebook user DM Luzitu said: "How am I going to take back my money, what am I going to tell people who get in behind me? Please help me."

Responding to users querying what had happened to their promised future "donations", a MMM member said: "To all members who requested ph (provide help) and they did not make any payment, your orders will be automatically cancelled because they are restarting from old mavros to new. So please if your request to ph is cancelled kindly make new ph with same amount or more again.

"We will not gh (get help) for two weeks because of we still updating the system. If you requested any gh and your order is not out yet, may you kindly cancel the requests because you will not be given any order for the next two weeks.

"All this is because of the long queue of gh that was requested after the panic pause caused by media … so now the system is restarting again for the better of our people.

"MMM is not crashing, but we are fixing the system to recover and operate as normal as before."

In a line that reveals the potential pyramid scheme nature of MMM, the user said: "please recruit, recruit, recruit and ph, ph, ph to help the system to recover quickly".
Part of this article originally appeared on Fin24.
Lagos State government seals warehouse repackaging expired curry powder
Following an anonymous tip, LASCOPA has sealed off a warehouse where expired curry powder was being packaged.
The Lagos State Consumer Protection Agency (LASCOPA), under the aegis of the Lagos State Government, has sealed a warehouse for repackaging unwholesome and expired curry powder.
This disclosure was made this morning in a press release to the general public, which was seen by Nairametrics, via the official website of Lagos State Government.
Acting on an anonymous tip-off from a member of the public, the Special Monitoring Team of LASCOPA, led by its General Manager, Mrs. Kemi Olugbode, paid an unscheduled assessment visit to the warehouse, to verify the claim. The tip turned out to be genuine.
This decision is in line with the State Government's core mandate of protecting consumers from unwholesome products. The warehouse which was sealed by LASCOPA, for repackaging unwholesome and expired curry powder with the name Chinchilli and Ducross for sale, was said to be owned by Canvest Nigeria Limited. The warehouse is located at Plot 4, Cocoa Industrial Road, Ogba, Ikeja.
The General Manager, speaking after the exercise, said the enforcement team discovered thousands of expired products stored in cartons, while some were found in sacks that were ready to be repackaged for sale in the market.
(READ MORE: Lagos to remove illegal structures obstructing Lekki Regional Road project)
The Head of LASCOPA, emphasized that the staffs of the company involved in the fraudulent operation have been arrested. Olugbode disclosed that the property will remain sealed until the government commences prosecution of the owners of the warehouse, and all those involved in the illicit activity are apprehended.
Mrs. Olugbode, also encouraged members of the public to support the present administration's determination to rid Lagos of all illegal activities, by reporting those who are engaged in unwholesome activities that are detrimental to the health of residents.
FG to seek international cooperation to curb illicit financial flows
FG hopes to strengthen international cooperation in curtailing the menace of illicit financial flows.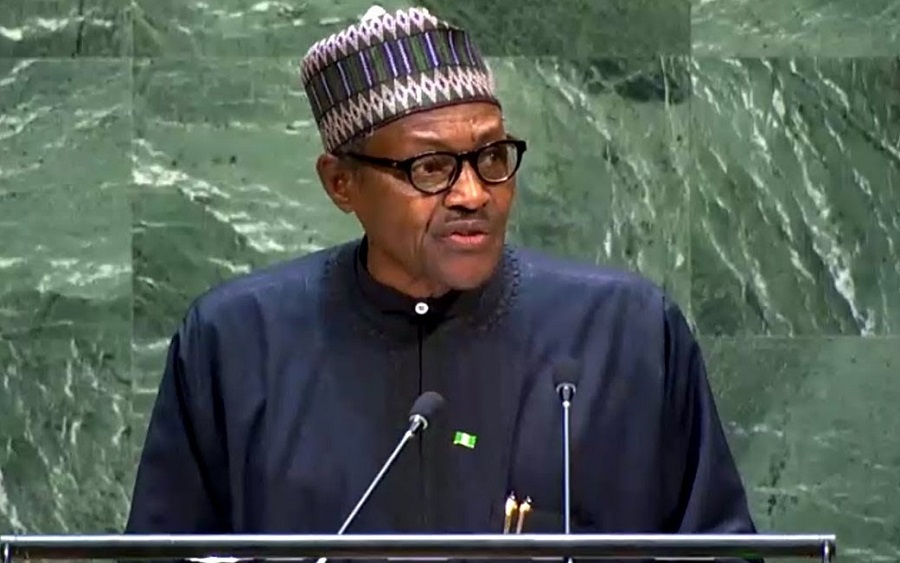 The Federal Government has said that there is a compelling need to strengthen international cooperation in the global effort to curtail the menace of illicit financial flows, as current international mechanisms are not strong enough.
This was disclosed by President Muhammadu Buhari in a speech delivered on his behalf by Vice President Yemi Osinbajo on Thursday at the Financial Accountability, Transparency and Integrity (FACTI) Panel Video Conference.
Osinbajo's spokesman, Laolu Akande, in a statement in Abuja, explained that the event was held at the sidelines of the ongoing United Nations General Assembly (UNGA).
The session also featured presentations by the immediate past President of the United Nations General Assembly, Prof. Tijjani Muhammad-Bande, and Amb. Mona Jul of the Economic and Social Council (ECOSOC).
He said, "The current international mechanisms for asset recovery are not good enough as can be seen in the amount lost to illicit financial flows and the length of time taken before the repatriation of just a small fraction is made.
"The FACTI Panel report can play an important role in bridging the expectations of source and destination countries as well as in harmonising the process of assets recovery and return. We agree with the Panel on the importance of having a balanced approach that reflects the situation in different regions and the priorities of different stakeholders. I believe that for the global aspiration to recover better from the impact of the pandemics and to yield any inclusive result, we must comprehensively address existing structures that make it impossible for countries to generate and retain a sizeable chunk of their resources. The success of the FACTI panel's final report will be measured by the clarity of its recommendations in support of global governance reforms."
According to the President, evidence suggested that the contemporary international tax system used a taxing rights regime that was not fit for purpose.
He added that the system makes combating tax abuses, especially by multinational corporations, difficult for most developing countries.
"It is my hope that the final report of the FACTI Panel would introduce proposals that would lead us towards a fairer international tax regime .I also hope that the report would contain proposals that would address the continuing advocacy for country-by-country reporting, open disclosure and automatic exchange of information on beneficial ownership, as well as eliminate financial secrecy jurisdictions and tax havens that facilitate base erosion and profit shifting. Profit shifting, harmful tax competition–the so-called "race to the bottom–and the taxation of the digital economy should also receive adequate attention and focus in the report of the Panel. FACTI Panel's report should assess how effectively we are meeting our commitments to combating the scourge and strengthening cooperation in dispute settlement and peer learning, particularly in assets recovery and return," he said.
Other leaders who spoke at the forum included the Prime Minister of Norway, Erna Solberg, the Prime Minister of Pakistan, Imran Niazi and Former President of Lithuania, and FACTI Panel Co-Chair, Dalia Grybauskaite.
Ibrahim Mayaki, former Prime Minister of Niger and FACTI Panel Co-Chair, also spoke at the event.
N4.16 billion unpaid lottery revenue recovered by EFCC
The EFCC has made a recovery of the sum of N4.16 billion for the government from lottery companies.
The Economic and Financial Crimes Commission (EFCC) has announced that it recovered over N4.16 billion for the government from lottery companies which they had refused to remit.
This was disclosed by the Acting Chairman. Mohammed Umar Abbah on Thursday evening, at the EFCC Headquarters during a meeting with Williams Alo of the Ministerial Task Force for recovery of unpaid revenues from lottery businesses.
READ: CBN Vs NESG: Waving the white flag for the benefit of Nigerians
The EFCC acting chairman said that the lottery companies were not forthcoming with remitting the revenue which had forced the anti-graft agency to intervene.
"We mapped out strategies which resulted in the recovery of over N1.16 billion from lottery companies, operating in Abuja with over N3 billion from their counterparts, operating in Lagos State," he said.
READ: Marina set to regain its beauty as FG, Lagos, stop barge operations along coastline
He added that the EFCC would continue with its cooperation with the Federal Government to ensure lottery companies owing the Federal Government are made to cough out revenues they owe the government, which has already been handed over to the lottery trust fund.
"Let me acknowledge the efforts of this Commission for the assistance it has rendered not only to the Federal Government of Nigeria but specifically to the lottery industry in Nigeria. It is in our record that the EFCC has assisted the lottery business in no small way, because a lot of recoveries have been made for us by the EFCC and the money recovered has always been handed over to the lottery trust fund," Mr. Alo said.