Nigerian Breweries posts N7.66bn as Q1 2021 profit, shares gain 2.2%
At the close of the market today, shares of the brewer increased by 2.2% to close at N51.2 per share, lifting the company's capitalization to N409.44 billion.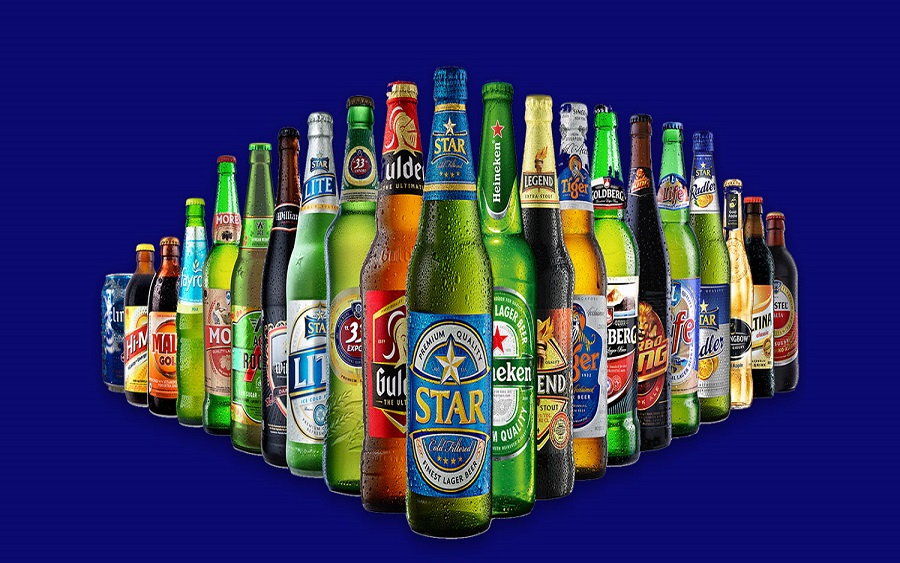 Nigeria's largest brewer and manufacturer of alcoholic and non-alcoholic drinks, Nigerian Breweries Plc recently declared a 38.59% year-on-year growth in profit to N7.66 billion for the first quarter of 2021, up from the N5.53 billion profit it reported in the corresponding quarter of 2020.
Here's what the company reported in Q1 2021 compared with what it posted last year, Q1 2020:
Earnings per share: N0.96 vs. N0.69 last year
Net Revenue: N105.68 billion vs. N83.23 billion last year
Cost of Sales: N66.00 billion vs. N48.33 billion last year
Marketing and Distribution Expenses: N19.80 billion vs. N18.80 billion last year.
Administrative Expenses: N5.74 billion vs. N5.34 billion last year.
Finance costs: N5.74 billion vs. N5.34 billion last year.
Profit after tax: N7.66 billion vs. N5.53 billion last year.
Nigerian breweries' impressive bottom-line growth can be directly linked to the 26.98% increase in net revenue, buoyed by the increase in sales during the quarter. The company's net revenue in q1 2021 was N105.68 billion, up from the N83 billion net revenue it made from sales in the corresponding period of 2020.
The financial performance of the leading brewer during the period is a clear indication of a new turn in the operation of the firm as Nigerian Breweries operating profit increased from N10.94 billion in Q1 2020 to N14.50 billion in Q1 2021.
Despite these impressive performances, the company's profit was pressured by a 36.56% increase in the cost of sales at the back of the persistent increase in input costs. The company's management however revealed that the persistent increase in input costs can be linked to the COVID-19 pandemic, the increase in VAT, currency devaluation and FX scarcity.
Shares of Nigerian Breweries Plc gains 2.2%
The shares of Nigerian Breweries closed higher today as investors priced in the impressive results which the company delivered in the first quarter of 2021.
At the close of the market today, shares of the brewer increased by 2.2% to close at N51.2 per share, lifting the company's capitalization to N409.44 billion.
At the current price, shares of Nigerian Breweries are trading 70.67% higher than its 52-week low of N30 per share, and 19.05% lower than its 52-week high of N63.25 per share.
Dangote Sugar records revenue boost despite inflation and Apapa gridlock
Dangote Sugar has revealed it increased prices in the first quarter of 2021 to mitigate the problems of rising inflation and depreciation.
One of Nigeria's largest Sugar manufacturers, Dangote Sugar revealed it increased prices in the first quarter of 2021 to mitigate the problems of rising inflation and depreciation.
In a note to investors, the company revealed its recent 41.5% surge in revenues was due to an increase in sales volume as well as an uptick in price. In the first quarter of 2021, Dangote Sugar posted a revenue of N67.39 billion compared to N47.6 billion, the same period in 2020. The increase in price was driven by 5.7% pop in sales volume as the company sold 200,510 tonnes of sugar in the quarter compared to 189, 724 the same period in 2020.
But while sales value surged by 41.5%, volumes only rose 5.7% suggesting that price increase was a catalyst for the growth in revenue and the company alluded to this in its statement.
READ: Dangote set to earn N13 billion in dividend from his sugar business
Dangote Sugar's performance
"Group sales volume increased in the quarter by 5.7% to 200,510 tonnes (2020: 189,724 tonnes). Growth continued to benefit from the sustained efforts to drive customer base expansion, several trade initiatives and investments. Group production volume also increased by 4.3% to 200,783 tonnes (2020: 192,584 tonnes) due to our operations optimization strategy despite the challenges of the Apapa traffic situation. Group revenue increased by 41.5% to N67.39 billion (2020: N47.64 billion). Growth in revenue advanced ahead of volume growth due to pricing benefits. Gross profit increased by 41.8% to N18.04 billion (2020: N12.72 billion) on account of better topline performance. EBITDA increased by 34.7% to N17.02 billion (2020: N12.64 billion) on account of increased earnings. Group profit after taxation for the period increased by 30.3% to N8.30 billion (2020: N6.37 billion) reflecting management's unrelenting drive to deliver consistent shareholder value."
The company also explained it had no choice but to increase prices because of the impact of the 2020 devaluation, higher inflationary environment, port congestion issues and a rise in global sugar prices. The company imports raw sugar from Brazil, under the government's backward integration plan.
"We have continued to witness high cost of raw materials, energy costs and other input costs due to rising inflation and FX rate fluctuation. Further cost escalation is anticipated in the year as inflationary pressure mounts," the company said.
READ: Dangote Sugar yearly revenue surge by 33%, announces a dividend of N1.50
Dangote vs BUA Sugar Scarcity Controversy
Just last month, the company's adversary and competitor BUA Group accused Dangote Sugar of conniving with Flour Mills of Nigeria (FMN) in price-fixing and arbitrary collusion to create sugar scarcity and keep the price of the commodity high.
This triggered Dangote Sugar and FMN into issuing a joint press statement denying the accusations.
The allegation made by BUA was triggered by a joint letter written by John Coumantaros of FMN Plc and Aliko Dangote of Dangote Industries Limited, reporting key developments in the Nigerian Sugar Industry to the Minister of Industry Trade and Investment, Niyi Adebayo.
The duo in the letter dated January 28, 2021, pointed out how BUA's new sugar refinery in Port Harcourt may lead to a spike above the import quota as stipulated in the National Sugar Master Plan (NSMP), and how BUA's investment in the sugar industry via the new refinery is non-compliant to the undertakings under its Backward Integration Programme, in line with local production.
READ: Dangote's stakes in his sugar enterprise has earned him N90 billion in 365 days
BUA's response however led to an immediate reply by the duo of Dangote Sugar and Flour Mills of Nigeria.
"In line with this, the Dangote Sugar Refinery wishes to vehemently refute the allegations and assertions made by BUA Sugar Refinery as they are not only false but defamatory, malicious and libellous, as they were geared at tarnishing the good name and brand of Dangote Sugar Refinery Plc and Dangote Industries Limited."
The Group Managing Director, Mr Ravindra Singhvi, explained that the Dangote Group is socially responsible and considers price-fixing to be unethical and disastrous to the nation's economy, and as such, the allegations made by BUA is highly mischievous and defamatory and should be considered a malicious attempt to smear the reputation of DSR.
"DSR does not engage in artificial price manipulation of its products, either during the Holy month of Ramadan or at any other time. We have never ever increased the price of our food items or commodities during the Holy month of Ramadan in the history of our operations," Ravindra Singhvi said.
Outlook for Dangote Sugar
Despite the operational headwinds, the company insist it is on track to improve its operations and seek growth in its sugar sales volumes. It also recently received approval from the government to revise its local sugar production targets to 550,000 metric tonnes annually from over 1 million metric tonnes annually.
"Despite these uncertainties, achievement of our Sugar for Nigeria Backward Integration Project goal remains a key priority, though we anticipate increase in cost to completion in Naira-terms and some delays in Letter of Credit establishment for the importation of plant and equipment. The focus is to achieve the Federal Government's revised sugar production target of 550,000 metric tonnes annually by 2024. We remain confident of the huge benefits the Backward Integration Programme would deliver and the positive impacts it will have on the economy."
Find out why Dangote Sugar is recommended as a buy in our Stock Select Portfolio Newsletter? Click here.
Guinness announces retirement of Chairman, appoints former Minister as replacement
Guinness Nigeria Plc has announced the appointment of Dr Omobola Johnson as the new Chairman of its board, with effect from July 1, 2021.
Guinness Nigeria Plc has announced the appointment of Dr. Omobola Johnson as the new Chairman of its board, with effect from July 1, 2021.
This follows the retirement of the current Chairman, Babatunde Savage, from the position, with effect from June 30, 2021.
The announcement is contained in a notice sent to the Nigerian Exchange Limited, investing public, and other stakeholders on May 4, 2021, and signed by the Company Secretary, Rotimi Odusola.
READ: Guinness, Int'l Brew, Nigerian Breweries spend N65.5 billion on key acquisitions in 2020
Johnson, who has over 30 years of experience from both the private and public sectors of the Nigerian economy, was a former Minister of Communications Technology and a former Country Managing Director in Accenture.
While commenting on her appointment, Johnson who has been serving on the board of Guinness, said, "Guinness Nigeria is an excellent company with tremendous value creation opportunities, and I believe the refreshed board and management team remain committed to maximizing shareholder value."
In his letter addressing the board in compliance with the applicable corporate governance regulation, Savage expressed his pleasure at the opportunity to have been a part of the Guinness story over the last four decades.
He thanked the board of Guinness Nigeria and Diageo UK for the opportunity to have served in several capacities, first as an employee who held various strategic senior roles, then as an Executive Director, and later as Chairman of the board, a role that he held for almost 12 years.
READ: Guinness Nigeria's market value surged by N23.8 billion in March 2021
He said, "After almost 40 amazing years, my journey with Guinness Nigeria is coming to an end. Guinness Nigeria is and will always be family to me."
Nairametrics | Company Earnings
Access our Live Feed portal for the latest company earnings as they drop.