BOI tasks stakeholders to jointly proffer solutions for vulnerable groups in the informal sector
The BOI has called for a stronger public-private partnership to proffer lasting solutions in the informal sector.
The Executive Director of the Bank of Industry, Toyin Adeniji has revealed that joint efforts and partnerships between the government and private sector players will help to proffer lasting solutions for the vulnerable groups in the Nigerian informal sector.
She made this statement during a conversation between key industry players and the media on ways to secure the Nigerian informal economy amidst a post-COVID reality.
Adeniji highlighted key interventions by the Bank of Industry, especially through the Government's Economic Empowerment Program (GEEP) initiative, a channel created for effective targeting of some of these interventions.
She stressed that the government in an effort to ward off the economic impact of the pandemic on vulnerable business owners in the informal sector reduced interest rates by at least 2%.
According to her, the government also expanded the reach of its services through its technology platform to onboard additional micro-enterprises to benefit from the BOI initiatives. While survival funds, artisan grants are still being disbursed, micro-enterprises received payroll support and guaranteed offtake support from the government.
She stressed that more collaborative efforts by the government and private sector will help in reaching out to more people and vulnerable Nigerians in the country. Adeniji also stressed the need to embrace digitization to drive key solutions as the pandemic revealed in no small way the very important role of technology in creating an inclusive economy.
Contributions by private players in the industry
The Chief Executive Officer of Bankly, Ms Tomi Adejana explained that stakeholders must leverage key determinants which include digitization, collaboration and data to fully secure the informal sector, post-COVID-19.
Adejana called on the government and the private sector to continuously educate participants in the informal sector on how to build resilient financial buffers to withstand future shocks and also avoid loan sharks with predatory interest rates that drive the cycle of poverty for the vulnerable ones in the society.
Dr Godwin Ehigiamusoe, Former CEO, LAPO Microfinance Bank, who spoke on the impact of the COVID-19 pandemic on the vulnerable people in the society, explained that the pandemic was more of an economic crisis than a health crisis, looking at its impact on poor people and owners of microenterprises.
Ehigiamusoe explained that many micro-enterprises closed down as a result of the impact of the pandemic, while those that survived are still struggling and underperforming.
According to him, it is now more pertinent than ever to institutionalize programmes that have worked, so that the informal sector can actually start to build wealth and grow, rather than look to it as a fallback for hard times. He added that these programmes would allow efforts to scale beyond business credits, over to areas that require huge expenditure from lean financial resources by households at the bottom of the pyramid, like micro-insurance for healthcare and educational support.
Ehigiamusoe advised that private sector-led social interventions should be encouraged to create direct supply linkages and collaborations with micro-enterprises as well as a consideration of the concept of social business as a way to reduce poverty rates and improve economic outcomes.
Onyeka Akpaida, Chief Impact Officer, Rendra Foundation, explained that the pandemic exacerbated pre-existing gender inequalities and vulnerabilities including gender pay gaps, access to finances, education and resources, as many women-owned businesses experienced closures and drops in income levels thereby affecting their ability to support their families.
Onyeka noted that the interests and peculiarities of the informal sector are not well represented in policy formulation while existing policies are not well implemented. She said that carrying beneficiaries along, by either working directly with them or partnering with organizations who already work with them, is one of the most effective ways the right structures can be built and made to work, as this will help policymakers understand real pain points and how they can solve them.
What you should know
The Nigerian informal sector makes up about 65% of the nation's GDP, and in some very good years contributed as much as 90% of all the new jobs created in the country.
The COVID-19 pandemic disrupted the activities of business entities in the Nigerian informal sector, leading to a backdrop in the income of households in this sector. This further led to economic recession, widening poverty gaps, increasing inflation and unemployment rate.
In February Nigeria's headline inflation rate increased to 17.33%, while the nation's food inflation rate is at 21.79%, the highest recorded in over 15 years. The Q4 2020 unemployment figures released by the NBS revealed that about 23.2 million Nigerians are unemployed, representing a 6.5% increase from 21.7 million recorded in Q2 2020.
These results demand prompt actions and the implementation of workable policies from the government and private sector players, with the view to ensure that recovery policies address the problems in the informal sector, and also the challenges faced by vulnerable Nigerians.
Unemployment: Tech can be used to reduce youth unemployment – BOI
The FG disclosed that technology can be used as a catalyst to solve the youth unemployment crisis in Nigeria.
The FG disclosed that Technology can be used as a catalyst to solve the youth unemployment crisis in Nigeria, citing that embracing tech and infusing it into business processes will make organisations and the country more competitive.
This was disclosed by Mr Olukayode Pitan, Managing Director,  Bank of Industry (BOI), at the inauguration of BOI-UNILAG Incubation and Co-Working Hub, on Thursday in Lagos.
What Mr Pitan said
Tech can help solve some of Nigeria's social problems particularly youth unemployment which has been further exacerbated by the pandemic.
At the Bank of Industry, we believe that corporate organisations that are privileged to be in business at these difficult times need to bring groups of like-minded young individuals together to help create wealth and prosperity for future generations.
Embracing tech and infusing it into business processes will make organisations and the country more competitive.
It can create exciting jobs that encourage our young people to stay in Nigeria even as they work and compete globally," he said.
The BOI boss also revealed that 2 additional hubs have been completed in Kaduna and Kebbi, citing that the bank will also provide funding to support credible and bankable ideas that emerge from the tech hubs to enable them start operations and scale into viable businesses.
"At the Bank of Industry, we believe that with the collective will of our young people's positive passion, the right government policies, mentorship, and private capital, this can become a reality in a short period," he said.
What you should know
Nigeria's unemployment rate as of the end of 2020 rose to 33.3% from 27.1% recorded as of Q2 2020, indicating that about 23,187,389 (23.2 million) Nigerians remain unemployed.
According to the last Gross Domestic Product Report, released by the National Bureau of Statistics (NBS), the information and communication sector grew by 13.8%% in full-year 2020 compared to 11.08% recorded in 2019 and 9.65% in 2018.
FG deploys undercover agents to check touting, extortion, others by passport officers
This is part of measures to make the passport application process easier, seamless and transparent.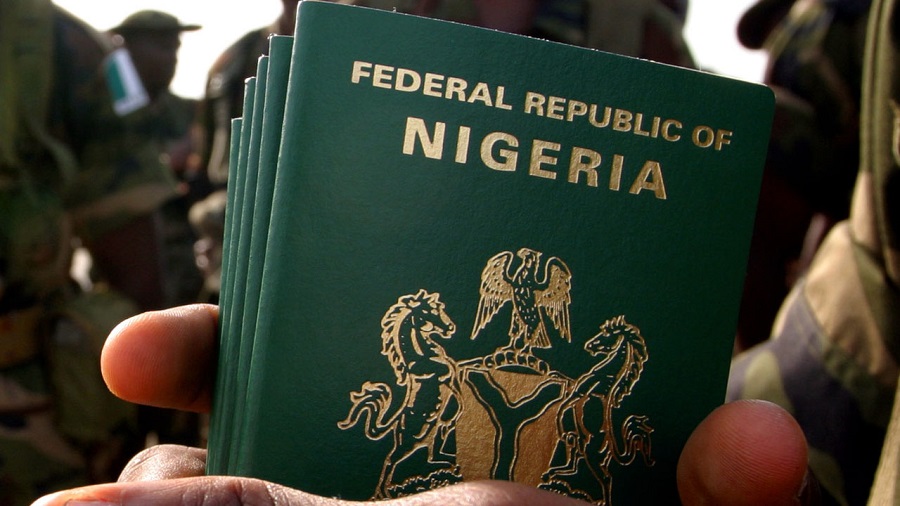 The Federal Government, on Thursday, announced plans to deploy undercover security operatives in a bid to check touting, extortion and other sharp practices by passport officers across the country and at Nigerian missions abroad. This is part of measures to make the passport application process easier, seamless and transparent.
This disclosure was made by the Minister of Interior, Mr Rauf Aregbesola, in Abuja on Thursday, April 22, 2021.
The Minister stated that the country had in the past witnessed several challenges, which included shortage of booklets, touting, racketeering, inflating the cost of passports being issued to ineligible persons, and so on.
What the Minister of Interior is saying
Aregbesola, in his statement, said, "We are turning round the entire passport application process in a way that is going to be easy, seamless and transparent. We will also accord human dignity to applicants and fulfil citizenship integrity.
Therefore, I am declaring a zero-tolerance stance to all forms of touting. No applicant will be made to pay any illegitimate fees. We are going to embed security operatives, seen and unseen, in all our passport offices. They will wear body cameras.
They will also detect and report any form of solicitations, inflation, improper communications, extortion, diversion, hoarding and other corrupt practices. Applicants will have no basis for further communication officers, other than to complete their application process and leave the venue.
The date for the collection of their passports or any challenge to the application will be communicated to them. The technology for the efficient running of this system has been acquired and will be deployed. Those caught will be dealt with according to the law."
The Minister said that an ombudsman would also be created for members of the public to receive complaints and reports on officers trying to deviate from prescribed guidelines and subvert the process.
He explained that 2 special centres for expedited services had been created, adding that the special centres would run on a public-private partnership basis.
He said, "We are publishing on our website the list of the backlog of passports that are ready which are yet to be collected by the owners. They will be required to go to the state commands to collect them."
In case you missed it
It can be recalled that in March 2021, the Federal Government in partnership with the private sector, launched the Nigeria Immigration Service Passport Express Centre.
This is to enable the government offer passport services to Nigerians and make passports available within a maximum period of 72 hours after a successful application.