SEC warns against high returns fraudulent schemes
The SEC has warned potential capital market investors against putting their funds in fraudulent investment schemes.
The Securities and Exchange Commission (SEC) has warned potential capital market investors against putting their funds in fraudulent investment schemes that promise unreasonably high returns that cannot be justified. The capital market regulator also outlined some of the tactics used by these fraudsters in deceiving unsuspecting members of the investing public.
This caution was given by the Head, Investor Education of SEC, Mr Tunde Kamali, at a webinar titled "The ABC of Savings and Investments" in Abuja, organised by SEC in collaboration with the Financial Literacy Technical Committee (FLTC).
READ: SEC reacts to CBN's ban on cryptocurrency transactions
What the SEC top official is saying
Kamali, while revealing that these fraudsters usually attract their investors through offer of commissions, pressure tactics and fictitious track records, among others, encouraged investors to always ask, check and confirm with the commission before investing in those companies.
He said, "Our duty at SEC is to protect investors by ensuring only fit and proper professionals are allowed to provide financial services. Most times, because of the ways and strategies of the fraudsters, many people do not have enough time to consider before we part with our money.''
READ: What new EFCC boss, Bawa, intends to do differently
Speaking at the event, the Chief Executive Officer of Greenwich Merchant Bank Limited, Mr Bayo Rotimi, called on investors to always seek professional advice to enhance their knowledge before investing in any asset class.
He called for more companies to have their equities traded on the floor of the Nigerian Stock Exchange (NSE), to add to the current 164 companies, for better investments.
What you should know
The CBN and SEC have both consistently cautioned Nigerians to beware of fraudulent investment schemes, sometimes referred to as Ponzi schemes, warning the investing public not to fall prey to the activities of illegal fund managers across the country.
SEC had in 2019 and 2020 clamped down on some identified fraudulent Ponzi scheme operators with their bogus investment and return claims and warned the investing public against dealing with them.
Sanwo-Olu flags off Red line rail project as Lagos compensates property owners
The 37-km Rail Mass Transit Red Line will traverse from Agbado to Marina, moving over 1 million commuters daily.
The Lagos State Governor, Babajide Sanwo-Olu, has flagged off the construction of the 37-km Rail Mass Transit Red Line, which will traverse from Agbado to Marina, moving over 1 million commuters daily.
This is as the state started the compensation of identified project-affected persons of the Lagos Rail Mass Transit Red Line project with the Governor handing over cheques to displaced property owners who were affected by the right-of-way.
The groundbreaking ceremony which took place at the Ikeja Train Station on Thursday was witnessed by the Minister of Transportation, Rotimi Amaechi, who was represented by the Director-General of the Nigerian Maritime and Safety Agency (NIMASA), Dr Bashir Jamoh, and the Deputy Governor of Lagos State, Dr Obafemi Hamzat.
What the Lagos State Governor is saying
Sanwo-Olu said the Red Line project which is to be fully operational in the last quarter of 2022 with 8 train stations from Agbado to Oyingbo, is another initiative of his administration to deliver enduring infrastructure for the transport system and make Lagos a competitive megacity.
The Governor said: "Today's flag-off of the construction of infrastructure for the standard gauge Red Line is another promise kept and it demonstrates, in practical terms, our commitment to achieve the objectives of traffic management and transportation pillar in our development agenda. This is because we recognise the role which an efficient transportation system plays in enhancing people's quality of life and as a major driver of socio-economic development.
The State's Strategic Transport Master Plan, which encompasses a number of projects that are germane to achieving our vision for a Greater Lagos, is founded on imperatives that seek to increase transport choices for all users and make the transit system integrated, attractive, convenient, affordable and accessible.
Since efficient transportation is the backbone of any economy, we are happy to be committing this investment in our transport infrastructure, so that our people can meet their daily targets and aspirations. This all-important transport project we are all gathered to witness today represents a major step in this direction."
Sanwo-Olu said that in order to facilitate smooth operations of the Red Line, the State Government would be constructing ancillary infrastructure, including 6 overpasses at strategic level crossing points along the rail corridor to eliminate interactions between the rail system, vehicular and pedestrian traffic.
The overpasses will provide grade-separated crossings that will enhance safety for the rail system and road users.
He said: "The unique characteristics of the Red Line is its integration with the Ikeja Bus Terminal, Oshodi–Abule Egba Bus Rapid Transit (BRT) lane, the future Orange Line, which goes from Ikeja to Agbowa, and the General Aviation Terminal One of the Murtala Muhammed International Airport through a skywalk.
Another unique feature of the Red Line is that all the stations have elevated concourses with either at grade island or side platforms for easy boarding and alighting of passengers. The Red Line also integrates with our Bus Terminals at Oyingbo, Yaba, Oshodi, Ikeja and Iju, giving modal options to our people in their daily commute, either for business or leisure."
The Governor presented cheques of different amounts as compensation to 25 residents whose properties, businesses and accommodation will be affected by the project. Over 263 properties are affected with many of the property owners and tenants smiling as they got their cheques.
What you should know
The Red Line is part of the state government's vision of an integrated multimodal transportation system contained in the State's Strategic Transport Master Plan (STMP), developed by LAMATA, which aims ultimately to birth a world-class transportation network that will support the state's profile, as the economic capital of Nigeria and Africa.
It is to raise mass transportation capacity in the State, complementing the Blue Line that traverses from Okokomaiko to Marina.
The rail corridor will be constructed in three phases. The first phase (Agbado-Iddo), which will be completed in 24 months, will be sharing the track with the Federal Government's Lagos-Ibadan Railway Modernisation Project up to Ebute – Metta and will have its dedicated track from Ebute – Metta to Oyingbo and reduce travel time from about two and a half hours to just 35 minutes.
CBN includes sugar, wheat on FX restriction list
The CBN is set to include sugar and wheat in the forex restriction list.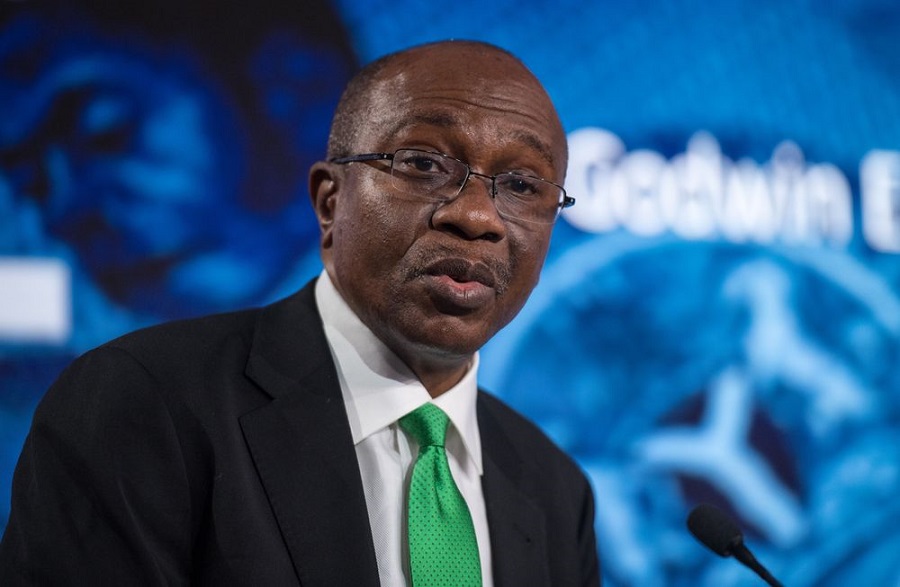 The Central Bank of Nigeria has announced plans to place sugar and wheat on its FX restriction list.
The plan was disclosed by the apex bank via its verified Twitter handle in a statement credited to the CBN governor, Godwin Emefiele.
The tweet stated: "Sugar and Wheat to go into our FX restriction list. We must work together to produce these items in Nigeria rather than import them. #Emefiele."
Sugar and Wheat to go into our FX restriction list. We must work together to produce these items in Nigeria rather than import them . #Emefiele

— Central Bank of Nigeria (@cenbank) April 16, 2021
It would be recalled that over the years, the CBN has been reviewing its list of restricted food items to include more items, with the most recent being the addition of maize, a widely-consumed staple food in the country.
What you should know
The CBN governor, Mr Godwin Emefiele, had earlier (on Thursday) given this hint while on an inspection visit to the proposed $500 million sugar processing facility in Nasarawa state, belonging to Dangote Sugar.
In 2015, the CBN listed 41 items that had been placed on its FX restriction list citing that the move was necessary to conserve the nation's foreign reserve and boost local production of the items on the restriction list.
Some of the items which made the 2015 list are margarine, poultry and eggs, rice, and cement.
In 2020, the apex bank included maize in its FX restriction list as it directed all authorised dealers to immediately discontinue the processing of Forms M for maize/corn importation into the country.
Nairametrics had also earlier explained in its publication following the new policy shift, that the government's premise for deciding to restrict FOREX on food is faulty, especially since Nigeria has not attained full food security and the agricultural sector is still struggling.
Nairametrics | Company Earnings
Access our Live Feed portal for the latest company earnings as they drop.