#Fuelpricehike: PPPRA says no increase in fuel price
The PPPRA has insisted that there is no increase in the pump price of petrol in the country.
The Petroleum Products Pricing Regulatory Agency, (PPPRA) has bowed to pressure after deleting an earlier published template announcing that the new price of petrol has reached N212.6 per litre.
Following reactions to the development, the PPPRA has in a new press release on its website clarified that its publication of monthly template, does not amount to increasing the price of petroleum products, as it does not fix the price of Premium Motor Spirit, otherwise known as petrol.
In the statement signed by its Executive Secretary, Abdulkadir Saidu, the agency's said the template was only indicative of current market trends and do not translate to an increase in the pump price of PMS.
The statement read as follows:
"The attention of the Petroleum Products Pricing Regulatory Agency (PPPRA) has been drawn to speculations about the increased pump price of PMS.
"The PPPRA by this release wishes to state clearly that the Guiding Prices posted on our website was only indicative of current market trends and do not translate to any increase in pump price of PMS. However, publications by the media to this effect have been misconstrued and thus misleading.
"The Agency wishes to remind the general public of the introduction of the Market Based Pricing Regime for PMS Regulation 2020 as gazetted by the Federal Government. Based on this regulation, prices are expected to be determined by market realities in line with the dictates of market forces.
"One of the conditions for the implementation of the Market-Based Pricing Regime for PMS Regulation 2020 is the monthly release of Guiding Price to reflect current market fundamentals.
"The PPPRA in line with its mandate to maintain constant surveillance over all key indices relevant to pricing policy, monitors market trend on a daily basis to determine Guiding Prices.
"The Agency is not unaware of the challenges with the supply of PMS due to some concerns leading NNPC to be the sole importer of PMS. PPPRA is also mindful of the current discussion going on between the government and the Organised Labour on the deregulation policy. While consultation with relevant stakeholders is ongoing, PPPRA does not fix or announce prices and therefore there is no price increase. The current PMS price is being maintained while consultations are being concluded.
"Even though market fundamentals for PMS in the past few months indicated upward price trends, the pump price has remained the same and we are currently monitoring the situation across retail outlets nationwide.
"While assuring the public of adequate products supply as the average PMS Day Sufficiency as of March 11, 2021, is over 35 days, the PPPRA pledges to continue to perform its statutory function in ensuring that the downstream sector remains vibrant as well as support both government and members of the public."
Hopefully, the statement by the PPPRA puts to rest the fears of a new increase in the pump price of petrol in the month of March, as fuel queues had already surfaced in most fuel stations across the country.
In case you missed it
The Nigerian National Petroleum Corporation (NNPC) has insisted that the ex-depot price of Premium Motor Spirit (PMS), popularly known as Petrol, will not be increased in March.
The statement on PPPRA's website announcing the new pump price was deleted hours after the Nigerian National Petroleum Corporation (NNPC) insisted that there was no increment in the ex-depot price of petrol.
Review of the V bank version 3.0: Nigeria's first intelligent digital banking app
V Bank has upgraded its application to offer new services to its users and improve operational efficiency.
Nigeria's fully digital bank, V Bank, a product of VFD microfinance bank Launched March 8, 2020, has upgraded its application to offer new services to its users and improve operational efficiency.
The new VBank app will enable users to securely access their accounts to automate recurring bills, manage multiple cards from different banks, send and receive funds using a unique QR code, track spending, generate virtual cards for online payments, buy airtime and data, fix deposits and make free transfers, all within a sleek, responsive and easy-to-use interface.
This review explains how to download and use the new V bank version 3.0 app. During the review, we took into consideration the design, user experience, usability, new features of the App, and how it functions well.
The device used for the review: Apple iPhone Xsmax
Getting started with V bank
These are the following information required for successfully registering as a user on the V bank app:
Sign Up by downloading the V bank app and creating your account
Input your BVN-linked phone number on the app and date of birth
Take a photo with a white background to Validate your identity
Verify your identity by inputting your BVN number on the app or use your existing bank account.
Finally, a signature for validation and a four-digit pin password.
What's New on the V bank App?
The new app, version 3.0 comes with some new cool features that are rather unique. Let's talk about all the new features and our experience while setting up and performing different transactions.
New V bank Interface
After you log in or sign up, the first thing you see is the V bank dashboard and it is pretty cool. The UI and interactions are super neat. The use of colours and components under the analytics section is simple and clean. This is perfect!!
New V bank interface
Send and receive money using Proximity payments and QR payment features
V bank users can now send or receive money easily through the proximity or QR payment features. You can pay or receive money from a nearby V bank app user using the proximity payment feature. Click on the proximity payment icon and start searching for a nearby user to pay while receiving payment wait for the user to start searching.
Recipients using the proximity payment feature must have their phones at close range.
Another interesting way you can make a transfer easily is by scanning the QR code of the user receiving the payment.
To receive a payment, each user must generate a QR code which will be used to scan while making a transfer.
The QR payment feature is actually unique as it enables users to make or receive payments from near and far locations. The only requirement is to have the QR code to scan for payment.
QR Code
Intelligent Mobile Top-up feature
We always want to send airtime or data to people as a surprise and most times we have the mobile number but don't know the network provider. The new V bank app comes with an intelligent mobile top-up feature that detects each network provider automatically with just the phone number. You don't need to call the recipient asking for his network provider, the app does that for you.
Airtime top-up
Cardless Withdrawal
It is not always convenient and secure to carry a wallet or purse with ATM cards. You can make a careless withdrawal without your ATM cards using the V bank app by generating a code. The app also helps you in locating the nearest ATM locations for your careless withdrawal. This feature is convenient and more secure.
Transfer funds to multiple recipients at once
Imagine how tired Don Jazzy will feel after paying each follower that won his giveaway separately. It actually is exhausting but the V bank eliminates that stress with the new multiple beneficiary feature. You can send money with just one transaction to up to 5 people.
Multiple transfer feature
Track your spending
The Analytics dashboard shows a beautiful interface with total inflow (payment made) and total outflow (Amount withdraw or debited). This gives you a clear pictorial overview of your income and expenses.
Under categories, users can track their spending such as online/POS, utility, mobile, family. work, lifestyle, food, utility, transport, and more on a monthly basis. This feature enables you to Identify bad spending habits and make adjustments to improve your finances.
Overview of income flow, expenses, and budget
Manage Multiple cards from different accounts
One of the App's latest features is managing multiple cards from different accounts.
We requested a new virtual card which cost 500 Naira ($1) for a new one and it expires in three years. You can also request and activate V bank physical card using the app. The new feature enables users to add ATM cards from different bank accounts on the app and all the debit cards can be managed using the V bank app under the cards section.
Managing your cards section
Automate Recurring Transactions
The new feature allows users to automate recurring transactions weekly, monthly, or on a yearly basis depending on the type of service requested. You can easily schedule payment for your DSTV bill on a monthly basis.
Other features you would be interested in
Make free transfers i.e there are no hidden transfer/ transaction fees.
You can open a target savings account, fixed deposit account, or a joint account using the V bank App.
Request a loan
Chat with a customer care representative using the app
Earn money when you invite your friends
Become a Veelager and earn profit
Final thoughts
The new version of V bank is well designed for both new and existing users of digital banking. The app enables users to easily navigate and perform seamless transactions. The design interface and user experience make it a great option for anyone looking for a perfect digital bank.
With the rise of technology, everything is possible with just a few clicks on the mobile phone. In the next version, we expect to see a voice-activated virtual assistant feature on the app.
The new V bank 3.0 app comes with innovative and sophisticated digital banking features which will help V bank users manage their money effectively, spend wisely and perform transactions easily with guaranteed security.
VBank 3.0 is available as V by VFD on the Play Store and Apple store. For more information, visit vbank.ng
CBN includes sugar, wheat on FX restriction list
The CBN is set to include sugar and wheat in the forex restriction list.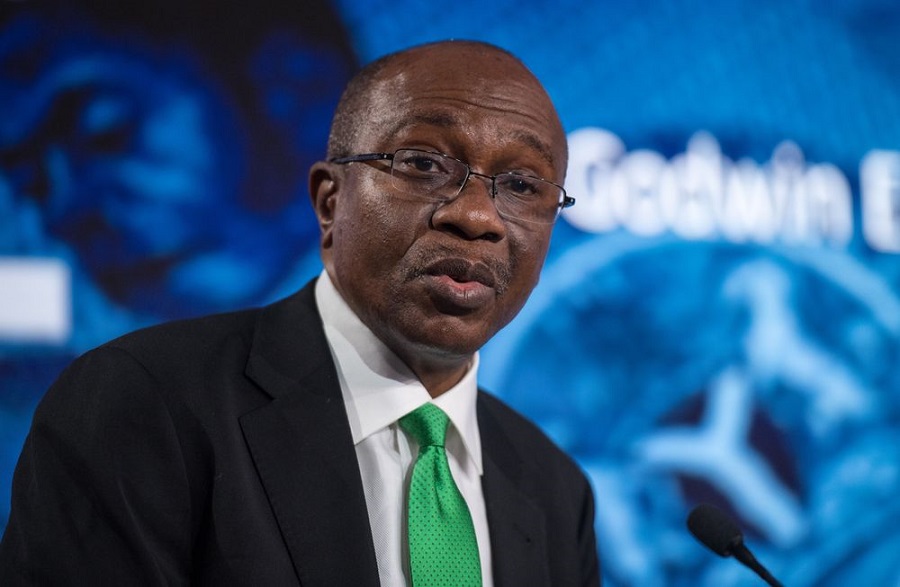 The Central Bank of Nigeria has announced plans to place sugar and wheat on its FX restriction list.
The plan was disclosed by the apex bank via its verified Twitter handle in a statement credited to the CBN governor, Godwin Emefiele.
The tweet stated: "Sugar and Wheat to go into our FX restriction list. We must work together to produce these items in Nigeria rather than import them. #Emefiele."
Sugar and Wheat to go into our FX restriction list. We must work together to produce these items in Nigeria rather than import them . #Emefiele

— Central Bank of Nigeria (@cenbank) April 16, 2021
It would be recalled that over the years, the CBN has been reviewing its list of restricted food items to include more items, with the most recent being the addition of maize, a widely-consumed staple food in the country.
What you should know
The CBN governor, Mr Godwin Emefiele, had earlier (on Thursday) given this hint while on an inspection visit to the proposed $500 million sugar processing facility in Nasarawa state, belonging to Dangote Sugar.
In 2015, the CBN listed 41 items that had been placed on its FX restriction list citing that the move was necessary to conserve the nation's foreign reserve and boost local production of the items on the restriction list.
Some of the items which made the 2015 list are margarine, poultry and eggs, rice, and cement.
In 2020, the apex bank included maize in its FX restriction list as it directed all authorised dealers to immediately discontinue the processing of Forms M for maize/corn importation into the country.
Nairametrics had also earlier explained in its publication following the new policy shift, that the government's premise for deciding to restrict FOREX on food is faulty, especially since Nigeria has not attained full food security and the agricultural sector is still struggling.
Nairametrics | Company Earnings
Access our Live Feed portal for the latest company earnings as they drop.