U.S biggest listed companies post best monthly gains since January 1987
The Dow jumped 11.8% in November, posting its best one-month gain since January 1987. The S&P 500 and Nasdaq Composite surged by 10.8% and 11.8%, respectively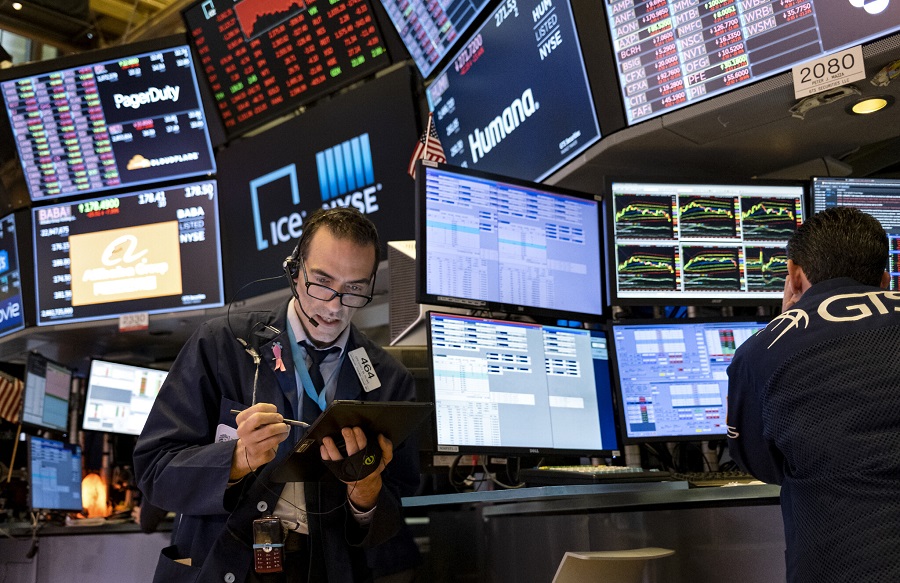 U.S biggest listed companies were all fired up in the month of November, as they posted incredible gains, amid three promising Covid-19 vaccines presently in play.
This triggered investors buying pressure in the world's largest and most liquid equity market.
The Dow jumped 11.8% in November, posting its best one-month gain since January 1987.
The S&P 500 and Nasdaq Composite surged by 10.8% and 11.8% respectively, for their strongest monthly advances since April.
What this means
November gains are coming amid a slew of positive COVID-19 vaccine news, which lifted the broader market sentiments up and sparked a surge of blue-chip brands that include Apple, Amazon, Coca-Cola, Salesforce, Intel, IBM, Google, Chevron, IBM, JP Morgan Chase, Goldman Sachs, Amgen, Boeing, Visa, Walmart, and Walt Disney.
The iShares Russell 1000 Value ETF (IWD) rallied 13.4% for the month and outpaced its growth counterpart, the iShares Russell 1000 Growth ETF (IWF), by 3 more percentage points.
What they are saying
Stephen Innes, Chief Global Market Strategist at Axi, in a note to Nairametrics, advised stock traders to be wary of recent data showing a plunge seen in Dallas Fed November Manufacturing activity data, following the Chicago PMI miss earlier on Monday.
"The Dallas Fed miss was consistent through most of the sub-indices, with new orders falling to 7.2 from 19.9, though the number of employees increased to 11.7 from 8.7. Prices paid rose to 35.0 from 29.4, while prices received fell to 4.7 from 6.8, indicating potential margin pressure.
"However, even worse for these firms are the year-on-year comparisons, it seems. It is usually in these last couple of months where many retailers make their annual profit.
"The weakness of data outside of Asia highlights lockdowns (forced or self-imposed) have begun to affect. Simultaneously, early reports suggest Black Friday may have been underwhelming — even taking into account online activity, one of the new 'norms' of 2020."
What you should know
The Dow Jones or Dow Jones Industrial Average (DJIA) is a popularly known stock market index that measures the stock performance of the 30 biggest companies listed on stock exchanges in the United States.
What to expect
In the coming days, global investors are anticipating an even stronger 2021 profit outlook possibly coupled with a quick inoculation-driven economic recovery at least for the mid-term.
Ethereum breaks $4000 and 5 Big Takes for the week
The 2nd week of May promises to be a profitable week, spurred on by the activities of last week.
The 2nd week of May promises to be a profitable week, spurred on by the activities last week. Here are the key events that affected the economy and markets last week.
What are the regulators doing?
CBN made the news in two major ways. Firstly, the apex bank indefinitely extended the Naira4dollar scheme for diaspora remittances. The initiative rewards recipients N5 for every $1 they receive through IMTOs and commercial banks. It was initially supposed to end on May 8th. Many analysts we have spoken to seem to believe this is another form of naira devaluation.
Another interesting news from the CBN was its plans to reject the continuous importation of maize in Nigeria.
READ: Why Ethereum is becoming more attractive than Bitcoin
What fixed income opportunities are available?
Last week the DMO (Debt Management Office) announced an offer for subscription of the May 2021 Federal Government Savings Bond to investors.
The Debt Management Office (DMO), on behalf of the Federal Government has announced the offer for subscription of the May 2021 Federal Government Savings Bond to investors.
This disclosure is contained in a circular issued by the DMO on May 3, 2021, and can be seen on its website noting that there are 2-year and 3-year savings bonds. The breakdown of the bonds shows that the 2-year FGN savings bond will be due on May 12, 2023, at 7.753% per annum and the 3-year FGN Savings Bond which will be due on May 12, 2024, at 8.753% per annum.
The offer has an opening date of May 3, with a closing date of May 7. Although this window is closed. Portfolio diversification is critical for any investor and bonds are one of the safest asset classes.
READ: Nigerian stocks that outperformed Bitcoin, Ethereum and Cardano in April
Should volatility in Crypto shock anybody?
Over the weekend, another incredible market volatility transpired with the Dogecoin going down about 21.34% for the day on Sunday. Elon Musk´s appearance on SNL seems to have had a negative effect on the crypto asset's price.
Ethereum at the time of writing this report is currently trading at an all-time high of $4,053, up by 2.72% in 24 hours. There are many investment opportunities in cryptocurrencies but because of the tremendous market volatility, it is important for investors to invest with caution. The rule of thumb is not to invest more than you are willing to lose.
READ: Why Ethereum transaction fees are often expensive
Stock market bounce?
The Nigerian Stock Exchange made a bullish recovery on Friday. Its year-to-date stands at -2.66%. There is still a lot of upside for Nigerian stocks which remain relatively cheap compared to other emerging markets. In a Twitter Spaces conversation with Ugodre Obi-Chukwu, analysts stated that the true value of the Nigerian economy is not reflected in the NGX. ¨Out of the 166 listed companies, only about 30 are tradeable,¨ according to one analyst.
In a period where there should be a lot of capital allocation to emerging markets like Nigeria, a major deterrence to this is our FX situation. Investors have issues getting their money out of the Nigerian economy.
Another Corruption case
It was reported that the FG will probe the suspended MD of Nigerian Ports Authority, Hadiza Bala-Usman for the alleged non-remittance of over N165 billion operating surplus to the Consolidated Revenue Fund by the NPA management.
Bill Gates' cash can buy Nigeria's Stock Market
Founder of Microsoft, Bill Gates' cash in the bank can currently buy Nigeria's stock market.
Founder of Microsoft, Bill Gates' cash in the bank can currently buy the Nigerian stock market.
Most recent data postulates that the tech billionaire currently holds about $59.1 billion in the bank, far surpassing Nigeria's Stock Exchange valuation of $53.7 billion (N20.4 trillion) at the time this report was drafted.
Bill Gates Net Worth amid Divorce With Melinda
The American billionaire is currently the fourth richest man in the world and his net worth is at a record high despite transferring nearly $2.4 billion in securities to Melinda Gates via Cascade Investment, Bill Gates investment vehicle, after filing for a divorce.
The troubled couple however affirmed their plan on remaining co-chairs and trustees of the Bill & Melinda Gates Foundation. Bill Gates' close confidant, Warren Buffett is the foundation's third trustee.
Bill Gates' wealth is currently valued at $146 billion and he is estimated to have gained 14.1 billion in barely four months.
READ: Bill Gates holds far more cash than Nigeria's foreign reserve
Gates has earned more than $50 billion in stock and dividends, including a $3.3 billion payout from Microsoft in 2004, as he owns about 1% of the world's biggest software company.
He is the biggest shareholder of Canada's biggest railroad operator, the Canadian National Railway.
Bill Gates made his wealth when he simplified the computer operating system by creating Microsoft Windows, the leading operating system in personal computers globally.
The billionaire has also disclosed that he doesn't have any Bitcoin and spoke on the high price swing of the flagship crypto, often driven by "mania" prevailing in crypto markets making it hard for a normal investor to predict the crypto asset's trajectory.
READ: The Gates Divorce: Bill Gates' Holding Company transfers $1.8bn of equities to Melinda Gates
The data above shows that Bill Gates holds a significant amount of his wealth in cash, although it is noteworthy that he also has exposures in global equities, real estate, and collectables, which are also significant wealth creators for him.
Market experts have opined that the rationale behind holding so much cash amid rising inflation is to fund his philanthropic missions as he donates much of his wealth to causes that help better the world.
Gates's current wealth valuation can at present, buy 80.2 million troy ounces or 2.14 billion barrels of crude oil.
Nairametrics | Company Earnings
Access our Live Feed portal for the latest company earnings as they drop.