Wealth.ng launches Ola – A personal wealth advisor on WhatsApp
Artificial Intelligence-enabled chatbot solutions like Ola make it easy to interact with users by providing virtual assistance 24-7.
Wealth.ng has announced the launch of a personal Wealth Advisor – Ola an AI-powered conversational investments chatbot developed to optimize Investment service delivery via WhatsApp, the preferred social and communication network. Ola aims to make it easy for Wealth.ng customers to Invest and manage their portfolio easily via social media.
WhatsApp allows its users to communicate using less data while protecting shared data (conversations, media content, banking details, etc). Ola also processes authenticated transactions via one-time-passwords (OTPs) sent to users' registered phone number or email.
Users can chat with Ola through the dedicated WhatsApp Chatbot number +234 904 444 8652 or via the link – https://bit.ly/ChatwithOla. You can perform pretty much all the Investment Services such as: Creating a Wealth.ng account, link your Wealth.ng account, browse investment products, Fund Cash Balance, Invest, View your Portfolio, View Market Summary, Check Order Status and ask Ola a question.
Artificial Intelligence-enabled chatbot solutions like Ola make it easy to interact with users by providing virtual assistance 24-7, just as a human would.
Here is Ola's Profile
I am Ola – a Chatbot on WhatsApp By Wealth.ng
My name Ola means "Wealth"
I am an investment strategist.
I am easy to chat with; I am able to understand English, as well as other local languages, including pidgin and French. If you speak a bit of Yoruba, Hausa or Igbo to me, I'll understand that too!
I'm your 24/7 chat buddy. You can talk to me any day and at any time.
I never take breaks or vacations. My goal is to make investing easier for you.
I can tell you all you need to know about Investment products and services available on Wealth.ng
I'll help you create a Wealth.ng account, link your Wealth.ng account, browse investment products and view Market Summaries and you can ask me any question.
For security purposes, I verify transactions via an OTP (one-time password) sent to your registered phone number and email.
I am always professional, polite and friendly in my responses to you.
What's more, I'm a fast learner and I gain new skills from past interactions (much faster than your average customer service support)
Chat with me (Ola) on WhatsApp Now….
Speaking on the initiative, Wealth.ng Digital Marketing Manager, Ifeoluwa Apampa mentioned that the decision to deploy the service is part of Wealth.ng's strategy to deliver optimum  customer experience through technology while also increasing the investment participation of customers by providing a scalable and efficient service for managing their investments and portfolios.
She further mentioned that African tech users like to be guided, to know what it is all about and how it can benefit them. They also want quick answers to their questions and Ola is well positioned to render assistance to users by helping them understand and navigate Wealth.ng and manage their investment portfolios smoothly.
Ola will augment Wealth.ng's existing customer touch points and be available to receive multiple queries and promptly respond with relevant investment information to various customers at the same time. However, customers cannot call the number since it is only reachable through WhatsApp chat.
Wealth.ng offers premium investment products such as Treasury Bills, Stocks, Bonds, Eurobonds, Agriculture and Wealth Cash and you can get all these done with your buddy Ola.
Have an account on Wealth.ng and want to view your portfolio? Link your Account with Ola
Don't have a Wealth.ng account yet? Let Ola help you get started.
Already Investing and want to do more? Ola is just a chat away.
Ola promises to deliver a consistently great experience every time you chat with her, so if you have any questions, need investment advice or guidance, she's got you covered!
Chat with Ola on WhatsApp Now
Here's how to chat with Ola
All you need to do is:
Save the number +234 904 444 8652 to your phone contacts or use the link – https://bit.ly/ChatwithOla
Search for Ola Chabot on your WhatsApp
Say hi to Ola
Accept Terms and Conditions
Get chatting with Ola and invest on the go
It is our desire to ensure that we put Ola everywhere, but for now Ola has been rolled out to customers on WhatsApp and will soon be available on other platforms such as Facebook Messenger and Telegram to guide customers through the wealth building journey.
About Wealth.ng
Based in Lagos, Wealth.ng is your personal finance platform that gives you access to diverse investment options. It is a user-friendly Self-service platform set up to equip the everyday person with simple tools and advise needed to create wealth while meeting your short and long-term finance needs.
Launched over a year ago, Wealth.ng has over 68,000 customers to its belt, 3 partner Integrations and processed over N4 Billion Investment Transactions.
To learn more about Wealth.ng, please visit www.wealth.ng
Ola is powered by WealthTech, an entity registered with the Securities and Exchange Commission as an Investment Advisor. All investments on Wealth.ng are carried out by Sankore Securities Limited, a Fund/Portfolio Manager as registered with the Securities and Exchange Commission.
Ola is the 3rd AI (Artificial Intelligence) chatbot from the stables of WealthTech Limited (A Subsidiary of Sankore Securities), besides Diamond Bank ADA – launched in March, 2018 and FCMB Temi launched in 2019.
CHI Limited celebrates its maiden Hollandia Dairy Day
The Hollandia Dairy Day Conference is a public interest initiative created to highlight the importance of dairy in everyday nutrition and healthy living in Nigeria.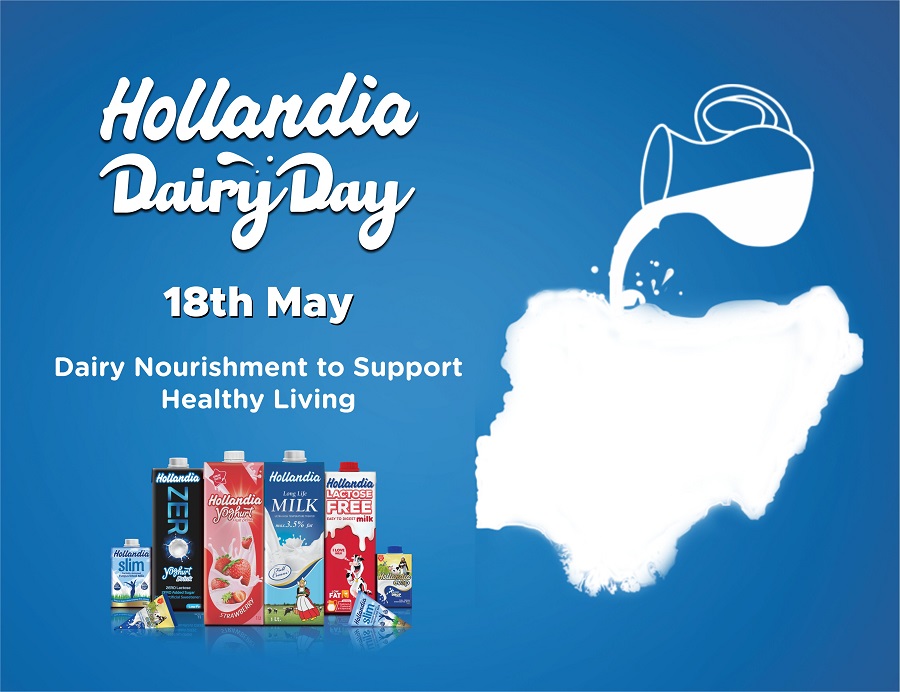 Nigeria's leading dairy brand, Hollandia, is set to hold the maiden edition of its Hollandia Dairy Day. The event which will be celebrated on the 18th of May 2021 will provide a veritable platform to drive national discourse on the unrivaled health and nutrition benefits of dairy consumption to people of all ages.
Set to be hosted as a conference, the theme of this year's event is "Dairy Nourishment to Support Healthy Living", and it focuses on the vital role dairy consumption plays in our everyday nourishment, its benefit to our overall health, and why dairy products should be included in our diets every day.
This conference, which is designed as a hybrid of physical and virtual event, will feature presentations, interviews and panel discussions from health experts and nutritionists as they provide insights and share perspectives to guide informed decisions about dairy consumption as part of a daily balanced diet. The event is opened to the public through the brand's multiple social media platforms.
According to a report by the Food and Agriculture Organization of the United Nations, 2019, Nigeria has low dairy consumption levels per head – 15 to 20 liters' per capita consumption. This is partly attributable to low purchasing power of the average Nigerian household, who rank milk and dairy products as non-essential luxuries and prioritize other staple foods such as rice, beans, and yam.
By provoking the conversations and stimulating public action/intervention, Hollandia aims to drive consciousness for dairy consumption and its importance to achieving optimum health, and to get many more Nigerians drinking, using, and consuming dairy products.
The past year has presented unprecedented shocks and disruptions, including a global COVID-19 pandemic. As communities throughout the world look for ways to minimize the risk of COVID-19, maintaining and boosting good health is top of mind for many. Dairy foods such as milk and yogurt contain essential nutrients, including Vitamins A and D, Zinc and Protein, which support immune function.
The Hollandia Dairy Day Conference is a public interest initiative created to highlight the importance of dairy in everyday nutrition and healthy living in Nigeria.
Key learnings from the Fintech Rising webinar with SEC
The main benefit of being regulated has to do with investor confidence, security, and scale.
Last week, Nairametrics hosted a webinar tagged "Fintech Rising: Creating synergy between fintech players and regulators" to discuss the regulatory environment within which the wealth-tech ecosystem operates and how it is transforming the sector.
The recent announcement by the SEC about its first license for Fintechs – Digital Sub-broker license – has led to several questions being asked about what this type of registration would mean for players within the space. Tosin Osibodu of Chaka, a digital trading platform for local and foreign stocks, who was present on the panel, provided insights into what being regulated by SEC means, and the benefits to the sector.
Being regulated does not limit your business:
He highlighted that from the start, Chaka has been extremely focused on being regulator friendly, explaining that being regulated does not mean that one's business would be limited. Regulators are committed to ensuring development and innovation within the ecosystem but will first make sure that businesses are aligned with their goals and are beneficial to the public.
SEC's intention for creating this new license:
The regulators' intention is to make sure that everyone participating is registered and structured in line with set guidelines, and it is incumbent for players to engage SEC to do that. The right approach to take is to engage regulators, show the benefits of your business to the economy as being an enabler of digital investing, making sure it is easier for people to tap into the markets, and so on; then get requisite registration.
The importance of regulation:
Tosin further highlighted that the main benefit of being regulated has to do with investor confidence, security, and scale. When a wealth-tech company just starts out, it is exciting both for the operators and the customers, but as it grows, it is necessary to scale, and that would require business and regulatory compliance according to set guidelines that obtain within the sector. Customers would want to know that in the long-term their money is safe, which the SEC is trying to ensure.  The disadvantage of not having regulation in this sector is the uncertainty for the investing public, which the SEC is guarding against.
With this new license, which Chaka is in line to receive, the SEC is ensuring that only compliant platforms would be allowed to operate so that investors will be more confident knowing that their assets are safe and stable. It would further encourage more people to invest, and encourage more players to enter the market, therefore spurring innovation.
Nairametrics | Company Earnings
Access our Live Feed portal for the latest company earnings as they drop.