Lagos Internship Programme: Over 1,275 companies to accept post NYSC graduates
Over 1,275 companies have indicated willingness to accept 4,000 post NYSC graduates for internship programme.
The Lagos State Government has disclosed that over 1,275 companies have already indicated their willingness to accept 4,000 post NYSC graduates for an internship, which follows an earlier announcement by the Lagos State Government to engage unemployed graduates in the state for a 6-month internship programme.
This disclosure was made known by the Lagos State Commissioner for Wealth Creation and Employment, Mrs Yewande Arobieke, on Friday, November 8, 2020, when she addressed a press conference on the year 2020 Lagos State Graduates Internship Placement Programme (LASGIPP) at Alausa, Ikeja, in the company of the Commissioner for Youth and Social Development, Mr Segun Dawodu.
Arobieke recalled that LASGIPP has so far been able to place about 2000 unemployed youths on internship – temporary and full employment with organizations like Ecobank, Fidelity Bank, WEMA Bank, Main One, Health Plus Ntel, Meyer Plc, Ikoyi Club 1938, Mantrac Nig. Ltd, Sterling Bank, Cars 45, and Lagos Tax Project among others.
She noted that the involvement of the Ministry of Youth and Social Development in the internship programme is to give the needed leverage and opportunities to the beneficiaries, who are majorly youths, stressing that the present administration believes in inter-ministerial collaboration for quality governance.
She explained that the State Governor decided to increase the number of beneficiaries from the initial 2,000 unemployed graduates to 4,000 as a way of accommodating more beneficiaries for the internship programme.
According to her, the Lagos State Graduate Internship Placement Programme would offer unemployed post-NYSC graduate residents one-month intensive employability training to develop work-related skills and knowledge.
Arobieke said, "This is in addition to six-months hands-on work experience with Private organisations and selected Ministries, Departments, and Agencies towards promoting their career and personal development, as well as, connect with the right opportunities to contribute to the State's economy."
She stated that the programme would also assist Micro, Small and Medium Enterprises (MSMEs) and other companies to choose from the State's database of groomed talents/interns, to enhance productivity and boost their businesses, thereby promoting economic growth at no cost, through the intervention of the State Government.
On the method of application, the Commissioner affirmed that applications are invited from unemployed graduates with a minimum of Bachelor's Degree or Higher National Diploma and must be a resident of any of the 57 Local Governments/Local Council Development Areas (LGA/LCDAs) of the State.
She added, "All applicants must have completed their NYSC programme or exempted with proof, and must show evidence of their residence in the State with their ID issued by Lagos State Resident Registration Agency (LASRRA)."
The Commissioner for Youth and Social Development, Mr. Segun Dawodu, said that the Ministry of Youth and Social Development, Ministry of Women Affairs and Poverty Alleviation, and other relevant MDAs are also working together to provide employment and empowerment opportunities for other residents of the state.
He advised the youths to take advantage of the internship programme, saying that it is through their registration with the Ministry of Wealth Creation and Employment that the State Government would be able to have data of the unemployed and plan for them accordingly.
JAMB bans use of email by candidates for UTME, DE registration
JAMB has announced that candidates for the UTME and Direct Entry will no longer be required to provide their email addresses at the point of registration.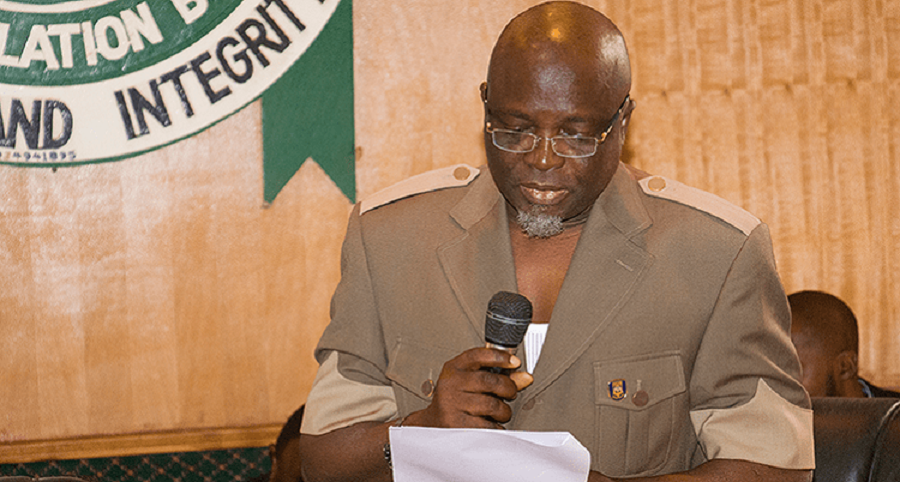 The Joint Admission and Matriculation Board (JAMB) has announced that candidates for the Unified Tertiary Matriculation Examination (UTME) and Direct Entry will no longer be required to provide their email addresses at the point of registration.
The new adjustment is to protect candidates from various forms of manipulation and distortion of their personal details by some fraudulent cyber café operators.
The Registrar of JAMB, Prof. Is-haq Oloyede, who made the disclosure while addressing newsmen at the board's headquarters on Wednesday in Bwari, Abuja, said the change, would take effect from Thursday, April 15, 2021.
What the JAMB Registrar is saying
Oloyede said, "They gain access to profiles of these candidates under the pretense of creating an email address for them. Then they change and block the candidates from receiving messages from the board. They also extort them after they change their passwords.
In view of this, the board has come up with adjustments to our operations. The first decision is that beginning from Thursday, April 15, candidates would no longer be required to provide any email address during registration from this year onwards.
It is by going to these cyber cafes to open emails that these candidates are open to abuse and stealing of their personal data,'' he said.
He said that the board now had a mobile app that would allow candidates to deal directly with the board with their smartphones or via SMS to '55019' code option.
The code option, he explained, would allow candidates to check admission status as well as all other verifications via SMS.
He said, "Printing of examination slips, results notification or raising tickets can be done anywhere by using candidates' registration number only. However, at the close of registration every year, we would need the email addresses of the candidates so we can have access to as many of them as possible.
At the conclusion of registration, candidates are expected to send their email addresses through the mobile app or text message to the 55019 code twice, for validation. This is to update their profile with JAMB as the email will no longer be used as access to their profile, but rather as a communication tool with candidates.''
While advising candidates to guard their phones with utmost care as it was the weapon for all transactions, Oloyede said that henceforth, all JAMB owned Computer-Based Tests (CBT) centres across the country, would only allow candidates with ATM cards into its centres.
He said that in order to cut down on the activities of fraudsters who hijack candidates to extort money from them, the centres would no longer allow candidates go outside the centres to pay for their e-pins and other cash transactions.
The JAMB Registrar said, "Only candidates with ATM cards will be allowed into all JAMB owned CBT centres, it can be that of their parents as long as they have the pin for the transaction.
"Those without ATM cards can go to other privately owned CBT centres where they can pay cash to register but we will not take cash or transact outside our centres.''
What you should know
Meanwhile, in a related development, JAMB had said that the board lost over N10 million in 2020 to activities of fraudsters who penetrated their payment portal for ad-hoc staff.
The JAMB Registrar said that the money, which was meant to pay JAMB ad-hoc staff from the 2020 Unified Tertiary Matriculation Examination (UTME), was hijacked by the suspected fraudsters.
JAMB had a few days ago confirmed the commencement of registration for the 2021 UTME/DE examinations after the initial hiccup.
It stated that applicants must provide NIN at the point of registration with the registration by Direct Entry candidates to run concurrently with that of UTME candidates.
FG grants 8 barge operations licenses as cargo movement to Onitsha port, others set to commence
The government is likely to generate billions of naira in revenue from the movement of cargo from Lagos ports to other inland ports across the country.
The Federal Government has issued operating licences to about 8 barge operators to move containers from Lagos Ports to Onitsha River Port and other inland ports through the country's inland waterways.
This is as the government is likely to generate billions of naira in revenue with the planned movement of cargo from Lagos ports to Onitsha River Port and other inland ports across the country.
According to a report from Thisday, the Federal Government would likely generate as much as N30 billion annually from that operation if well managed, although the Nigerian Inland Waterways Authority (NIWA) is yet to make the estimated revenue from the effort public so as not to jeopardize the project.
This is coming after some government officials had in August 2020, announced that some government maritime agencies are working on modalities for the commencement of transportation of containers from Lagos ports to Onitsha River port through barges.
The Managing Director of NIWA, George Moghalu, at a meeting with the stakeholders in Lagos, said that moving cargoes by waters through barges would be cheaper than roads adding that the initiative was part of ongoing efforts to solve the gridlock in Lagos ports.
What the Managing Director of NIWA is saying
He said that NIWA management decided to have a meeting with the barge operators that it has already licensed to fashion out ways to make the project successful.
Moghalu specifically said, "So it is all about moving cargo between Lagos and Onitsha and other inland ports. We have licensed about eight barge operators. A lot of people have applied but we are being very careful because we have the Standard Operating manual, which we strictly insist that you have to meet all the requirements. At the same time also we do not lose sight of the fact that NPA also licenses barge operators. We try to synergise our operations so standards are not compromised."
He said the use of the nation's waterways would save the country's decaying infrastructure and the money spent on repairing and rebuilding them and increase revenue generated by the government.
On the security of cargo, the NIWA boss said: "Even on the road, there are security challenges. So, there are security challenges everywhere and there is no way we would discuss the movement of cargoes without looking at the security challenges. There's a case of getting everybody involved, the Navy, Police, the NIWA Police, Marine Police and even the local communities because security is everybody's concern and we all have to address it."
He pointed out that the charges for using the waterways would be cheaper than moving cargoes by road as the modalities for moving cargoes from Lagos to Onitsha is being worked out.
He said, "People are creating unnecessary fear about insecurity, when I came into the office and made up my mind to explore the possibility of using our inland waterways, everybody discouraged me. Then we did a trial run using Onne to Onitsha and it worked.
It is about identifying the channel, and surveys on a regular basis. We have our report guiding those that are going to use it and they will use it. I don't want to be discouraged and I don't want anything to dampen my enthusiasm like the enthusiasm of those working with us, the channels are navigable and the consignment will move."
In case you missed it
The National Inland Water Ways Authority had last month, made public its intention to move 1000 containers per trip from Lagos ports to Onitsha river port within a maximum duration of 4 days.
It said that the idea of hauling containers from Lagos ports via Burutu Ports to Onitsha River Port is to deliberately avoid the two small bridges of Gbarekolo and Bumandi, which are too tiny and shallow for sea-moving badges or vessels to ply.
Nairametrics | Company Earnings
Access our Live Feed portal for the latest company earnings as they drop.