Oil supply feared to drop by 3%, as new cases of COVID-19 infections increase
Growing concern that oil supply could fall by 3% continues as a result of increasing cases of COVID-19 in the US and Europe.
There is a growing concern that oil supply will fall by 3%, escalating last week's losses as a result of growing cases of COVID-19 in the United States and Europe.
This has raised worries about the market conditions – the demand and supply of crude oil. The United States reported its highest number of new coronavirus infections in two days – Saturday inclusive, while in France, new cases hit a record of more than 50,000 on Sunday, underlining the severity of the outbreak.
On the supply side, Libya's National Oil Corp on Friday ended its force majeure on exports from two key ports and said production would reach 1 million barrels per day (bpd) in four weeks, a quicker ramp-up than many analysts had predicted.
OPEC+, a grouping of producers including the Organization of the Petroleum Exporting Countries (OPEC) and Russia, is also set to increase output by 2 million bpd in January 2021, after cutting production by a record amount earlier this year.
What you should know
Recently, Nairametrics reported that the oil prices had continued to decline as a result of worsening COVID-19 pandemic cases which are threatening to bring more restrictions on movement and consumption and ultimately hit demand for crude products.
What they are saying
According to Avtar Sandu, Senior Manager of Commodities at Phillip Futures in Singapore, "New barrels of Libyan oil come at a time when the crude oil market had just faced the disappointment from the recently concluded OPEC+ ministerial panel, when the organization made no new policy proposals."
Last week, Russian President, Vladimir Putin, indicated he may have to agree to extend OPEC+ oil production reductions if that could be beneficial in stabilizing the market.
Gold drops to $1,700 territory for the first time since June
Gold futures lost about 1.3% to close at $1,1781.90/ounce, dropping as low as$1,770.65, a price not seen since June 22.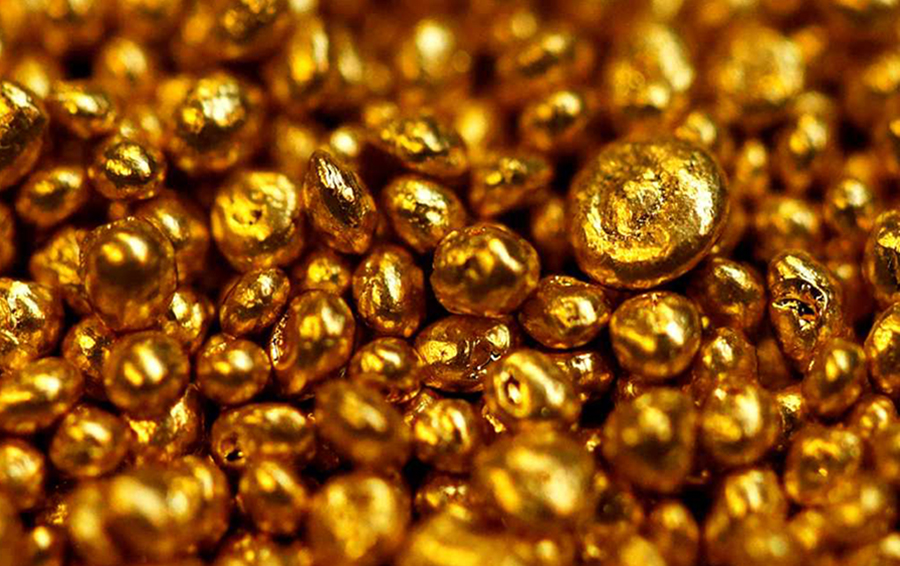 The demand for gold diminished at the last trading session of the week, as it fell to $1,700 territory — the first time since June.
What we know
Gold futures lost about 1.3% to close at $1,1781.90/ounce. It dropped as low as $1,770.65, a price not seen since June 22.
READ: Nigerian billionaire, Benedict Peters Plans to mine Platinium in Zimbabwe
Gold bulls have been under intense pressure amid significant sell-offs recorded in recent times, amid positive news on COVID-19 vaccines coupled with strong bias coming from the world's largest economy, hinting that there would be a smooth transition of power. All of these factors have kept gold bulls in the dust.
What this means
Gold traders are arbitrarily reducing their long bets, as it seems odd for any investor to go bullish on the precious metal, taking to account that it's set for the third straight weekly loss.
READ: Pigs on a rampage, Bitcoin drops $2,000
Stephen Innes, Chief Global Market Strategist at Axi, in an email sent to Nairametrics, gave key fundamentals giving the gold bears enough gas to break the precious metal below the $1,800 price level:
"The positive correlation between gold and the SPX since March flipped after Pfizer's vaccine announcement on Nov. 9, while negative real yields are not having a positive effect on the precious metal. A transition from disinflationary to inflationary support for gold could take time and ultimately leaves prices vulnerable to more profit-taking and the establishment of more shorts in the near-term.
READ: $385 million worth of Bitcoin moved by unknown identity
"Gold rout continues as investors embrace vaccine news. The break of USD1,800/oz support may take prices near USD1,750/oz as surging investor optimism due to promising COVID-19 vaccines has undermined gold and silver."
What to expect
The precious metal will continue to be under immense pressure from the gold bears, taking into account the commanding macro theme related to a vaccine recovery and the reduced risks associated with central bank's debt monetization, or the pursuit of quasi-modern monetary theory.
READ: ValuAlliance distributes value fund of N10 per unit for H1, 2020
Vaccine, Backwardation and OPEC+: Hope for oil?
There is a renewed hope for oil prices as backwardation in the oil markets and OPEC+ production cuts prop up the markets despite COVID-19 cases.
Oil prices finished higher on Wednesday, with help attached to progress made on vaccines for COVID-19.
There is also renewed hope for oil prices as backwardation in the oil markets and OPEC+ production cuts prop up the markets despite the coronavirus cases that keep rising worldwide.
Brent oil rose to as high as $48.90. Also, West Texas Intermediate rose as high as $46.20 a barrel on the New York Mercantile Exchange.
"Optimism around vaccine developments continues to buoy sentiment, despite the current lockdowns that we are seeing across Europe, and with the numbers of U.S. COVID-19 cases now passing the 12 million mark," said Warren Patterson, Head of Commodities Strategy at ING.
READ: Mike Adenuga: The journey from petty trade to Conoil and Glo
This rise in Oil, moved prices to their highest price since March, after AstraZeneca also declared a great update to the advancement of its COVID-19 vaccine.
The drugmaker in a joint effort with the University of Oxford – said its vaccine was 70% powerful at preventing COVID-19 in a preliminary trial of about 20,000 volunteers.
AstraZeneca's vaccine progress denotes the third sure vaccine from organizations after Moderna inc., Pfizer and BioNTech, are hurrying to put up a reasonable drug for sale to the public.
In any case, possibilities for an immunization are needed ahead of a potential third wave of the COVID-19 virus. The US recorded more COVID-19 cases this week as indicated by the COVID Tracking Project.
READ: Investment bank with over $35 billion assets plans investing in bitcoin
Backwardation
Another reason why prices are rising is because of what traders call Backwardation. Oil prices are historically bullish when backwardation occurs in the markets. It is a situation where traders no longer have an incentive to store oil and sell it later.
Right now, they are selling it because prices could be lower in the future. The demand from Asia also makes the market feel balanced now.
When the current price of oil is higher than prices trading in the futures market, traders sell live barrels and buy oil futures contracts, which leads to a convergence of both prices.
This can occur because of a higher demand for oil than the contract in the futures market. Traders use backwardation to make a profit, by selling short at the current price and buy at the lower futures price.
OPEC+
To bring support to prices, OPEC+ and partners including Russia will expand the span of their production cuts when they meet soon, to balance frail demand over the winter months.
Recall, OPEC+ cut production in April, as oil demand imploded during lockdowns. Though there were talks about returning about 2m barrels a day of production to the market in January 2021, there is a strong possibility that they will postpone the return of these barrels.
READ: CBN launches Private Sector-led Accelerated Agriculture Development Scheme
Goldman said it expects OPEC+ to delay its planned 2 million bpd January production ramp-up for three months, citing coordinated measures to curtail output as "the optimal near-term action," according to their experts.
There was a lot of purchasing demand, which has pushed prices to this level. This was overshadowed, as there is a worry over worldwide demand, as COVID-19 flare-up proceed far and wide. Prices were likewise increased by information demonstrating a bounce back in China, Japan and other Asian buyers.
The gathering, known as OPEC+, has been cutting production by about 7.7 million barrels every day (bpd), with compliance seen at 96% in October, and had wanted to maintain cuts by 2 million bpd from January.
OPEC+ is set to hold a meeting on Tuesday that could prescribe changes to production cuts when all the members meet on Nov. 30 and Dec. 1.
READ: Gold prices under pressure, U.S dollar ticks up
"There is no denying that the oil market is fully in the hands of OPEC+," said Bjarne Schieldrop.
The organisation is the only reason why oil prices today are not $20 a barrel. As such, their upcoming meeting on Nov 30-Dec 1 is hugely important.
Nigeria, however, wants to increase production and their quota as the revenue of the country dwindles with foreign currencies getting scarcer.
The more production means Nigeria would be able to make more oil sales. Hopefully, the meeting would give more room for Nigeria to increase its quota.
Oil prices up, energy demand up
Brent oil futures gained 0.51% to trade at $48.86/barrel and the West Texas Intermediate futures ticked up by 0.46% to trade at $45.92/barrel.
Crude oil prices continued their bullish trend at London's trading session on Thursday morning. Oil traders are going long, as recent data from the world's largest economy reveals a surprise draw in U.S. crude oil stockpiles, coupled with high buying interest from Asia, strengthened the resolve of oil traders to go long.
READ: FG says recent petrol price increase linked to Pfizer Covid-19 vaccine success
At about 6.15 GMT, Brent oil futures gained 0.51% to $48.86/barrel.
West Texas Intermediate futures ticked up by 0.46% to trade at $45.92/barrel.
Data from the EIA revealed a plunge of 754,000 barrels for the week to November 20.
However, Gasoline stocks gained 2.2 million barrels in the week to 230.2 million barrels, the Energy Information Administration said.
READ: NNPC, only Nigerian company to cut losses by N800 billion in one financial year – GMD
What they are saying
In an explanatory note to Nairametrics, Stephen Innes, Chief Global Market Strategist at Axi, gave deep insights on key fundamentals pushing oil prices up amid a COVID-19 era.
"Oil traded higher on Wednesday in a very tight range until the rally midday in New York. WTI attempted a clean push through $46, and Brent printed through $49 before retracing some.
READ: Nigeria's 5,000 BPD refinery will produce 271 million liters of petrol every year
The inventory numbers released earlier in the NY session helped push the market higher, with the EIA figures more bullish than the previous days' API estimates and bullish to consensus."
He also elaborated on the buying interest seen lately from the Asian economic juggernauts, China and India, which is giving oil bulls enough gas in roaring hard, "Asia's unquenching demand remains for all to see. Chinese and Indian buying interest continues with tenders issued for both spot and term cargoes, directly responsible for increased demand and reflected in the Brent curve, which has moved to a mild backwardation this week."
READ: How Cash flow, Liquidity, and Leverage impacts your financial plans
Bottom line
The colossal moves prevailing in the crude oil market over the past two days echo optimism amid positive vaccine development. The flattening of the curve suggests that a positive surprise on current demand is also being reflected.