Earnings Online: Currencies, Bitcoin, Stocks, Gold, Oil
Trading in the financial markets can be one of the most promising and profitable types of such earnings.
There are a huge number of ways to make money online nowadays. You can do it sitting at home on the couch, at a table in a cafe or even in parallel with the main work. In general, anywhere, you just need an internet-connected computer or a smartphone.
Trading in the financial markets can be one of the most promising and profitable types of such earnings. Why? Let's figure it out in this article.
What is Online Trading?
It is an opportunity to make money on fluctuations in the price of various financial assets. Simply put, you buy, for example, a currency and wait for it to rise in value. Or, conversely, you sell in the expectation of a fall in the rate. This is the basic principle of trading. But brokers offer more than just currency trading, which is a huge advantage. For example, working with a brokerage company like NordFX, you can trade a wide variety of asset types. For example, stocks, oil and gold, stock indices and even cryptocurrencies. Such a rich selection allows you to significantly diversify your earning opportunities. Moreover, you can earn not only on the growth, but also on the fall in the price of any of these assets.
Currency and Cryptocurrency Trading: Features
Let's say you have chosen currency trading. What should you pay attention to? First, on the fact that all currencies are in pairs on Forex. That is, you do not just buy, for example, euros, but you automatically sell another currency in return. Basically, it all looks like in a standard exchange office. The thing is that you do not need to have all these currencies in stock, the broker will automatically convert funds from your trading account.
For example, when buying a EUR/USD currency pair, you purchase euros and sell US dollars. When selling the same currency pair, you, on the contrary, sell euros and buy US dollars. On Forex, all currency pairs are divided into major ones, for example, GBP/USD (British pound/US dollar) or USD/JPY (US dollar/Japanese yen) and cross rates (in such pairs, currency exchange is performed directly, bypassing the US dollar), for example, EUR/GBP (Euro/British Pound) or NZD/CAD (New Zealand Dollar/Canadian Dollar). Apart from this, there are also exotic pairs in which rare currencies are present, such as the African rand, for example, or the Norwegian krone. In total, 33 currency pairs are available for NordFX clients to conduct transactions.
In addition, you can make transactions with digital currencies. The principle of trading here is the same as in Forex. Trading operations can be carried out with any of 11 cryptocurrency pairs, including the leading cryptocurrencies against the US dollar: BTC/USD (Bitcoin), ETH/USD (Ethereum), LTH/USD (Litecoin), EOS/USD (Eos), XRP/USD (Ripple), etc.
Stock Trading
The principle of stock trading is quite simple. You are not buying the stock itself, but a contract for the difference (CFD). That is, ownership is not transferred to you. You kind of make a bet with a broker whether a particular stock will rise or fall in price. And it gives you the chance to make a profit both if its value soars to heaven and if it collapses to zero.
Broker NordFX offers a large selection of CFDs on shares of nearly 70 companies, including such world-famous brands as IBM, JP Morgan Chase, Coca-Cola, Mastercard, McDonalds, Microsoft, Twitter, UBER, eBay, Alibaba, Deutsche Bank and many others.
Trading in Precious Metals and Oil
NordFX also offers the opportunity to profit from the difference in quotations of the most popular metals and raw materials. And if gold and silver are more often used as insurance assets to hedge risks, oil prices, on the contrary, are subject to fairly strong fluctuations reaching hundreds of percent. This combination with the addition of trading positions for stocks, currencies, and cryptocurrencies, allows you to form the most balanced investment portfolio that brings maximum profit with minimum risk.
What if I Do Not Know How to Trade Yet?
The overwhelming majority of those who come to online trading do not have relevant experience and generally know practically nothing about the financial markets. To help novice traders, the broker NordFX has posted a lot of useful videos and articles on its website. on the topic of Forex trading. In particular, you can learn about the basics of trading, strategy creation, market analysis, wealth management, and risk. Finally, a whole section is devoted to how to use the MetaTrader 4 (MT4) trading platform, on which, in fact, all transactions are performed.
It is clear that before buying a particular currency or another asset, it is necessary to analyze for the development of a trend, that is, to predict where the quotes will go, and, accordingly, open a buy or sell transaction. There are two types of analysis here: technical and fundamental.
Using the MetaTrader 4 (MT4) platform, you can carry out technical analysis of quotes using all kinds of built-in indicators and various charting tools. MT4 has a built-in news feed as well, which allows you to quickly learn about important macroeconomic events and, accordingly, perform another type of analysis, fundamental. In addition, you can find regular analytical reviews and forecasts for the main financial markets on the NordFX website, for which the company has even been awarded the prestigious international award as Best News & Analysis Provider.
Also, you will find an economic calendar on the website of this broker, thanks to which you will know in advance on what day and at what time certain economic events, decisions of Central banks or important macro statistics are expected.
How to Profit Without Trading Yourself
You can make money on financial markets not only by trading yourself. Clients of the broker NordFX are also offered various services with the help of which they can make a profit without even having an idea of what market analysis is and without making a single transaction on their own.
For this purpose, the broker offers PAMM accounts (Percent Allocation Management Module) which is a special platform where a client can choose an experienced and successful managing trader (one or more) and entrust them with managing the client's funds.
In addition to PAMM, CopyTrading service is also offered. Here you also choose an experienced trader as your "partner". But, unlike PAMM, you do not transfer your funds for management, but you copy on your account all those transactions that the trader you have chosen (the provider of trading signals) makes on their account, in a fully automatic mode. Moreover, you can work with one or many signal providers.
The use of robot advisors is another opportunity to profit from trading in financial markets, which does not require special knowledge. A robot advisor is a computer program that will make transactions for you according to the algorithm embedded in it. You just need to purchase or download the robot free of charge on the Internet, install it on your MT4 platform, after which it will trade for you 24 hours a day.
There are nuances here, however. Thus, NordFX does not offer specific robots to its clients. Accordingly, all of these will be third-party programs. Therefore, you need to test them and optimize their settings (for example, the volume of transactions, levels of stop orders and take profit) before working. This can be done using a special tester already built into MetaTrader 4. Also, any Expert Advisor needs not only one-time optimization, but also periodic monitoring.
How to Increase Your Profits Tens and Hundreds of Times
Trading conditions, margin and leverage are three things that can multiply your income from trading in the financial markets.
First, you need to be mindful of the trading conditions. All brokerages charge a spread fee for ongoing trading transactions. This is their earnings, and for some such commissions are quite large, while for others, like NordFX, they are minimal, which allows clients to earn even with insignificant fluctuations in quotes.
As for the leverage, in fact, this is a loan that the broker provides to its clients automatically and without any collateral, and which, like in NordFX, when trading currency pairs, can exceed your own capital 1000 times. That is, having in your account, for example, $100, you can make transactions of up to 100 thousand dollars. Accordingly, your profit grows too. Imagine that your deposit is 10,000 USD. In this case, with the help of such leverage, for only 100 transactions your turnover can reach a billion (!) dollars, and this is already a very large business on an international scale.
The same goes for cryptocurrency trading. With NordFX margin trading, you can open buy or sell positions with just $150 in your account. This despite the fact that the price of bitcoin is above 10.000 USD now!
And most importantly, everything that is described above is not a fairy tale or fantasy. This is a reality that is available to everyone. And you don't have to graduate from Harvard, work on Wall Street in New York, or have a start-up capital of millions of dollars to open your way into the world of finance. Once again, you need just an internet-connected computer or smartphone and… $10. This is the minimum deposit in order to become a client of the NordFX brokerage company.
To achieve a lot, you can start with a little. The main thing is to start.
Audiomack partners Slum2School to support the education of students from underserved communities
These funds will go towards supporting 38 learners with tablets in the virtual learning program.
Moving music forward means empowering the next generation of creatives. In that spirit, Audiomack will be donating $5000 USD worth of tablets and headsets that will support the Slum2School initiative in Africa, which is a volunteer-driven development organization empowering underserved children in slums and remote communities with quality education, entrepreneurial skills, and psychosocial support to enable them to realize their full potential and become social reformers.
These funds will go towards supporting 38 learners with tablets in the virtual learning program which was designed to combat the impact of COVID-19 on education in disadvantaged communities in Nigeria.
Speaking about the initiative, Charlotte Bwana, Head of Business Development and Media Partnerships for Audiomack Africa reiterated Audiomack's commitment to empowering its host communities. She said, "While the Coronavirus pandemic has impacted all aspects of our lives including the education sector, we recognize the increased gap on children from underprivileged communities as they are unable to access quality education and learning materials. This donation demonstrates our efforts to bridge this gap because we are committed to fostering a world where everyone has the opportunity to learn and prosper."
Also commenting, Otto Orondaam, Founder of Slum2School Africa said, "We are glad to collaborate with Audiomack who shares in our vision to transform the society by empowering underserved children in slums and remote communities with quality education. We also call on individuals and organizations to support this cause and help make an impact in Nigeria's educational development".
This donation comes on the heels of Audiomack donating to Girls Who Listen and Pretty Girls Sweat for Women's History Month.
Dangote: Cement price from our factories is between N2,450 and N2,510 per bag, VAT inclusive
…says Nigeria price is in line with or lower than prices across the West African coast.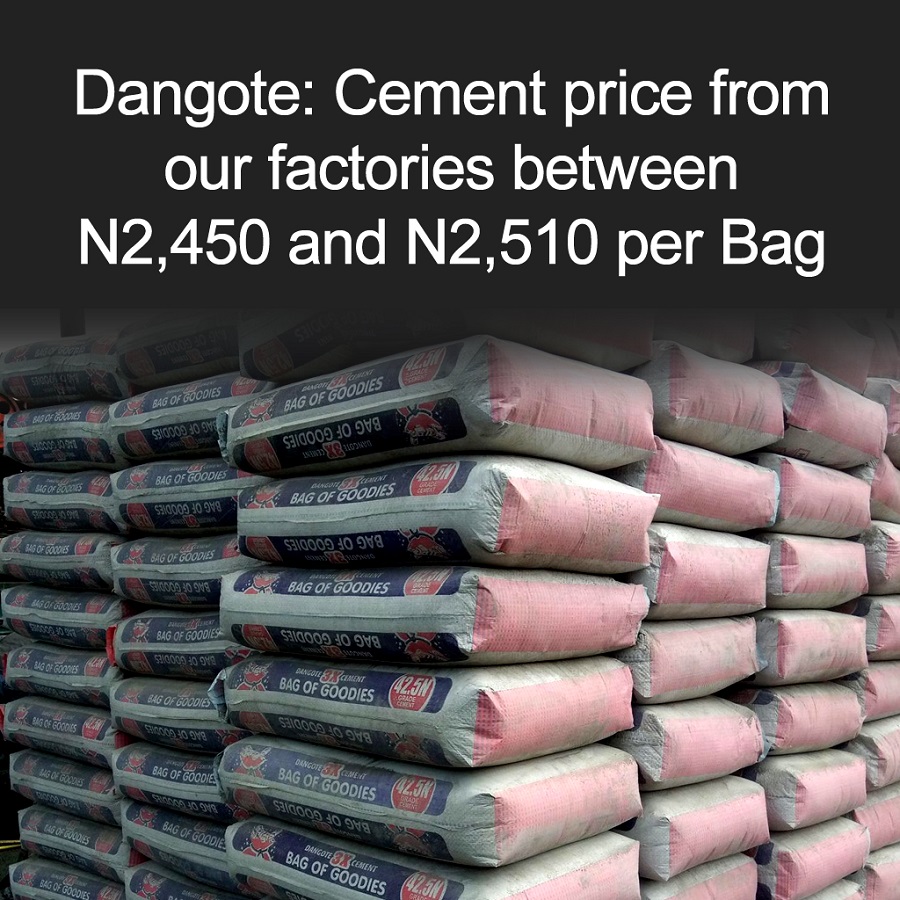 Management of Dangote Cement Plc has clarified that the price of a bag of cement from its factories and plants across Nigeria (as at 12th April, 2021) is N2,450 in Obajana and Gboko, and N2,510 in Ibese inclusive of VAT. The clarification was made in view of recent insinuations that the company sells cement in Nigeria at significantly higher prices relative to other countries, particularly Ghana and Zambia.
Dangote's Group Executive Director, Strategy, Portfolio Development & Capital Projects, Devakumar Edwin revealed that, while a bag of Cement sells for an equivalent of $5.1, including VAT in Nigeria, it sells for $7.2 in Ghana and $5.95 in Zambia ex-factory, inclusive of all taxes. He said that though the company has direct control over its ex-factory prices, it cannot control the ultimate price of cement when it gets to the market. He advised that it is important to distinguish Dangote's ex-factory prices from prices at which retailers sell cement in the market.
READ: Dangote Cement pays N1.1 trillion in dividends in 5 years.
He, therefore, frowned at intentional misinformation or demarketing, allegedly sponsored by some individuals, that Dangote sells its cement at higher prices in Nigeria relative to other African countries at the expense of Nigerians. He described the allegation as false, misleading, and unfounded, while giving the media persons present at the press conference copies of invoices from Nigeria and some other African countries (Cameroun, Ghana, Sierra Leone, Zambia), and urging them to conduct independent investigations on the price of cement across the West African coast.
Edwin further explained that while Dangote cement has 60% share of the market, other companies have the remaining 40%. DCP has no control over neither the prices charged by other cement manufacturers nor the prices charged by retailers in the markets.
READ: Dangote Cement joins MTN in the trillion-naira club, as 2020 revenue surpassed N1 trillion
He further explained that "Demand for cement has risen globally as a fallout of the COVID crisis. Nigeria is no exception as a combination of monetary policy changes and low returns from the capital market has resulted in a significant increase in construction activity. To ensure that we meet local demand, we had to suspend exports from our recently commissioned export terminals, thereby foregoing dollar earnings. We also had to reactivate our 4.5m ton capacity Gboko Plant which was closed 4 years ago and run it at a higher cost all in a bid to guarantee that we meet demand and keep the price of Cement within control in the country."
READ: Dangote Cement considers debt funding options under 300 billion bond issuance programme
He said: "Over the past 15 months, our production costs have gone up significantly. About 50% of our costs are linked to USD so the cost of critical components like: gas, gypsum, bags, and spare parts; has increased significantly due to devaluation of the Naira and VAT increase. Despite this, DCP has not increased ex-factory prices since December 2019 till date while prices of most other building materials have gone up significantly. We have only adjusted our transport rates to account for higher costs of diesel, spare parts, tyres, and truck replacement. Still, we charge our customers only N300 – 350 per bag for deliveries within a 1,200km radius. We have been responsible enough not to even attempt to cash in on the recent rise in demand to increase prices so far." 
Nairametrics | Company Earnings
Access our Live Feed portal for the latest company earnings as they drop.